Recognized as Leaders in Their Fields, 20 Charles River Campus Faculty Have Been Promoted to Full Professor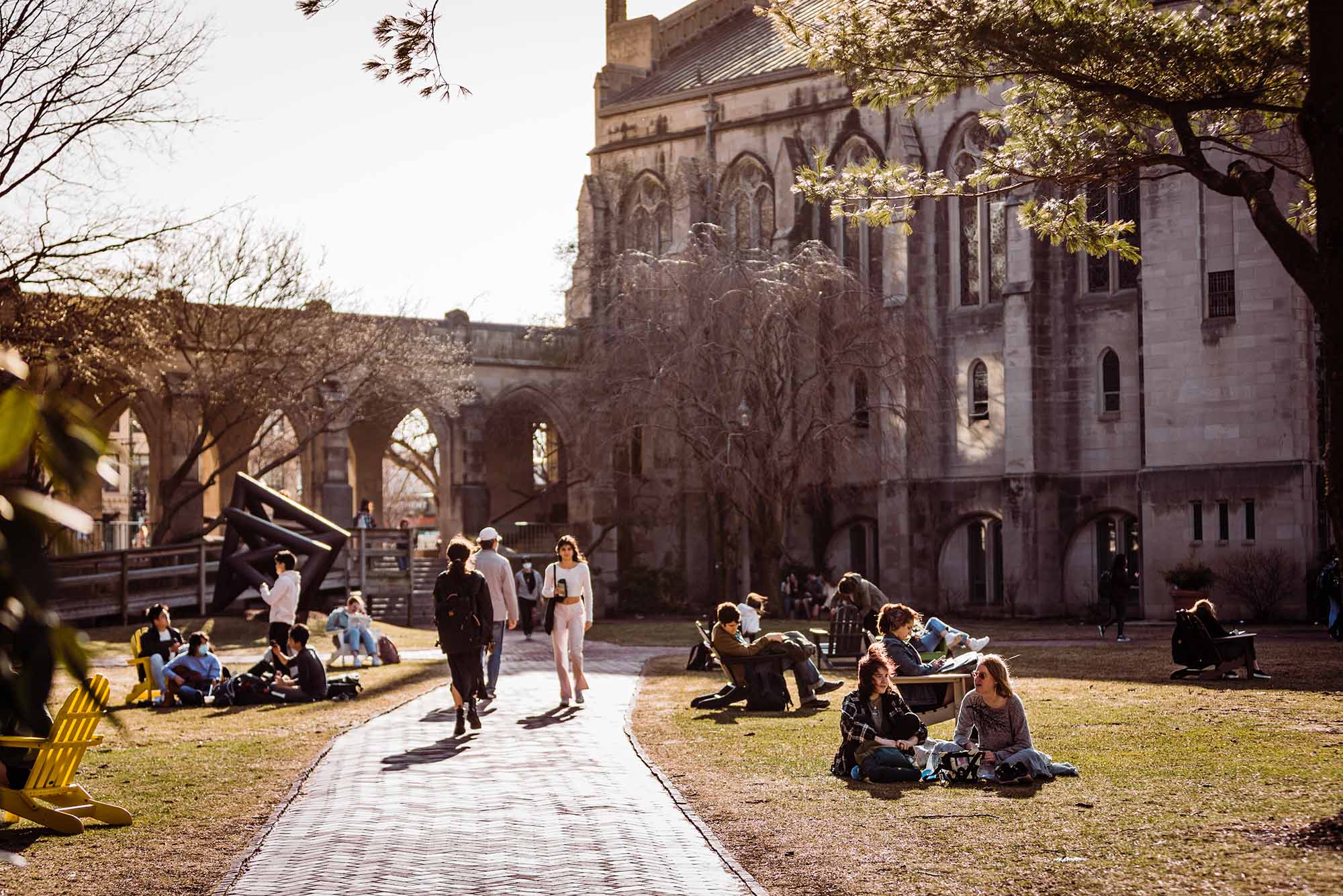 Promotions
Recognized as Leaders in Their Fields, 20 Charles River Campus Faculty Have Been Promoted to Full Professor
 Areas of expertise include printmaking, neurotechnology, the British monarchy, and more
One is an award-winning theatrical lighting designer, another a leading expert in silicon photonic network architecture. A third has earned a national reputation for work in the field of gender studies and economic sociology. They are among the 20 talented faculty on the Charles River Campus who have been promoted to the rank of full professor. Each has demonstrated extraordinary leadership in their individual areas of expertise and have helped to advance the caliber of research and scholarship at Boston University.
"The faculty members we recognize today…are pushing their respective fields forward, forging multidisciplinary collaborations to discover solutions to pressing societal challenges, authoring foundational texts that help advance our understanding of the world, and working to inspire a new generation of young scholars and professionals," says Jean Morrison, University provost and chief academic officer. "In doing so, they exemplify each day the excellence and impact of Boston University's talented academic community."
Those faculty on the Charles River Campus promoted to full professor are:
Cynthia Becker, College of Arts & Sciences professor of history of art and architecture, specializes in African art, focusing on the art forms and visual culture of North Africa. She has authored several acclaimed books, including the Choice book award–winning Amazigh Arts in Morocco: Women Shaping Berber Identity (2006), and most recently, Blackness in Morocco: Gnawa Identity through Music and Visual Culture (2020). A frequently invited lecturer at museums and universities around the world, she has been supported by multiple grants from Fulbright and the Council of American Overseas Research Centers, among others, and is a past winner of the Innovative Teaching Award from the Arts Council of the African Studies Association.
Arianne Chernock, CAS professor of history, is a scholar of modern Britain (post-17th century) whose work examines aspects of feminist thought, gender history, and the monarchy. Recognized internationally among the leading historians in her field, she is a member of the Royal Historical Society and the author of two books: 2019's The Right to Rule and the Rights of Women: Queen Victoria and the Women's Movement and 2010's Men and the Making of Modern British Feminism, which received the John Ben Snow Foundation Prize from the North American Conference on British Studies. She has published three book chapters, and numerous journal articles and essays, including a forthcoming entry in The New Cambridge History of Britain.
Aaron Garrett, CAS professor of philosophy, is an expert in the history of early modern philosophy (1600–1800), focusing on ethics, political philosophy, method, metaphysics, and the philosophy of art and film. A scholar in the writings of Baruch Spinoza and David Hume, he is a frequently invited speaker at universities in America and Europe, and is the former editor of History of Philosophy Quarterly and the inaugural editor in chief of The Journal of Modern Philosophy. He is a past recipient of the CAS Neu Family Award for Excellence in Teaching and has authored three books, edited seven others—including the Routledge Companion to Eighteenth Century Philosophy—and published dozens of journal articles, reviews, and encyclopedia entries.
Walter Hopp, CAS professor of philosophy, is an expert in the philosophy of perception and knowledge, integrating phenomenological (experience and consciousness) approaches with the philosophy of mind and epistemology. He is coeditor of Husserl Studies, the leading research journal devoted to the writings of German phenomenologist Edmund Husserl, and has authored two well-received books, including 2020's Phenomenology: A Contemporary Introduction, along with 7 book chapters, 15 journal articles, and 5 book reviews and encyclopedia entries. He is associate chair of philosophy and a past recipient of the CAS Templeton Prize for Student Advising and Gitner Award for Distinguished Teaching.
Malika Jeffries-EL, CAS professor of chemistry, focuses on the development of organic semiconductors and their use in optical and electronic devices—research that has resulted in numerous novel advances, including the design of new blue light–emitting material. An elected fellow of the American Chemical Society, she is associate editor for the Journal of Materials Chemistry C, has published over 40 widely cited articles in leading science journals, and has delivered over 100 lectures domestically and abroad. She is a past NSF CAREER Award winner, and her research has been consistently supported through grants from the NSF. In addition to her scholarly work, she is associate dean of the Graduate School of Arts & Sciences.
Sanjay Krishnan, CAS professor of English, is a scholar of English-language postcolonial literature from the Caribbean, Africa, and Southeast Asia, as well as globalization and the history and theories of the novel as a genre. He has published two widely praised books—most recently, V. S. Naipaul's Journeys: From Periphery to Center (2020)—along with 3 book chapters, 40 conference papers, and 8 articles in top literary studies journals. A third book, on the challenge of world literature, is forthcoming. A past recipient of major fellowships from the National Humanities Center in North Carolina and the Mellon Foundation, he is a frequently invited lecturer and has delivered talks in South Africa, Trinidad, Singapore, and Hong Kong.
Ashley Mears, CAS professor of sociology, specializes in gender studies and economic sociology, focusing on the intersection of culture and markets and the commoditization of beauty and glamor. She has emerged as a nationally recognized scholar in sociological literature, authoring two acclaimed books, including 2020's Very Important People (VIP): Status and Beauty in the Global Party Circuit. She has also published nine book chapters and more than a dozen articles in top peer-reviewed journals, including American Sociological Review (where she is an editorial board member) and Socio-Economic Review, exploring the impact of race, gender, and class inequalities on culture. She is a past recipient of the Best Publication Award from the American Sociological Association's Body & Embodiment section. Her work has been funded by the National Science Foundation (NSF) and the Marion and Jasper Whiting Foundation.
Sean Mullen, CAS professor of biology, is an evolutionary biologist who uses genomic tools to study the origin and maintenance of species diversity. He has garnered significant attention in his field for seminal research on speciation genomics and the adaptive evolution of butterfly wing color pattern and mimicry. Recent work has focused on the role ecological interactions play in shaping adaptive diversification among neotropical adelpha butterflies. His research has been supported by major NSF grants, and he has published over 40 articles in top-tier biology journals, including Evolution, Nature, and Molecular Biology and Evolution.
Stephanie Nelson, CAS professor of classical studies, is a scholar of Greek and Roman epic works (particularly those of Hesiod, Homer, Virgil, and Ovid), Greek comedy and tragedy, ancient philosophy, translation, and the works of James Joyce. Recognized internationally among the leading academic voices in the classics, she has authored three widely praised books, most recently, Aristophanes' Tragic Muse: Tragedy, Comedy, and the Polis in Classical Athens (2016), with a fourth volume exploring James Joyce's Ulysses and Homer's The Odyssey in development. She has published seven book chapters, delivered numerous invited lectures and conference papers in the United States and abroad, and won the CAS Neu Family Award for Excellence in Teaching and Susan K. Jackson Award for creating community.
Michael Prince, CAS professor of English, specializes in 18th-century British literature, particularly fiction and the novel, as well as rhetoric and composition. His scholarship examines how literary texts respond to debates of that period in Britain over moral virtue, the existence of God, the nature of human thought, and the possibility of human freedom. He has published three acclaimed books, including 2020's The Shortest Way with Defoe, which won that year's Walker Cowen Memorial Prize for the best book in 18th-century studies. A regularly invited speaker at national and international conferences, he has also authored a book chapter and numerous book reviews, editorials, and articles for leading literary journals.
Kim Sichel, CAS professor of history of art and architecture, is an art historian who explores European and American modern art, focusing specifically on the history of photography. A past department chair, she has written two well-reviewed books, including Making Strange: The Modernist Photobook in France (2020), in addition to an edited photobook, six book chapters, and numerous exhibition catalogs examining from aerial photography to early works of African American photographers. Her work has been supported by the Samuel H. Kress Foundation, Radcliffe Institute for Advanced Study at Harvard University, and the National Endowment for the Humanities. In 2020, the College Art Association named her one of the 20 most prolific PhD advisors in art history.
C. Allen Speight, CAS professor of philosophy, provides philosophical explorations of art, literature, and religion through the lenses of German romanticism and idealism. Recognized among the nation's leading scholars of the philosopher Georg Wilhelm Friedrich Hegel, he has written two books and coauthored or coedited seven more, including 2020's The Future of the Philosophy of Religion, in addition to over 50 journal articles and book chapters. He is a past Fulbright Professor at Leuphana Universität Lüneburg in Germany and a Berlin Prize Fellow of the American Academy in Berlin. He has twice won BU's Undergraduate Philosophy Association's Excellence in Teaching Award, and serves on numerous editorial advisory boards and as a manuscript referee for Cambridge University Press and the Journal of the History of Philosophy.
Susanne Sreedhar, CAS professor of philosophy, examines early modern political thought—namely the relation of 17th-century British thinker Thomas Hobbes' writings to foundational issues (including natural right, civil liberties, civil disobedience, and toleration) and their relevance to contemporary public policy, as well as how other philosophers of that era treat gender, sexuality, and marriage. She has authored an acclaimed book, Hobbes on Resistance: Defying the Leviathan, with another volume exploring Hobbes' thinking on sexual morality in production. A frequent conference speaker, she has published 24 articles and book chapters and is a past recipient of the CAS Neu Family Award for Excellence in Teaching and the Outstanding Mentor Award from BU's Undergraduate Research Opportunities Program. She is also codirector of the Mentoring Project for Pre-Tenure Women Faculty in Philosophy. 
James Uden, CAS professor of classical studies, researches and writes about Latin literature and the transformation of Greek and Roman ideas in later eras, particularly the 18th and 19th centuries. He has produced seminal scholarship on Roman satire and first-century CE Roman cultural history, authoring two books, including 2020's Spectres of Antiquity: Classical Literature and the Gothic, 1740–1830, with a third book in development (funded by a New Directions grant from the Andrew W. Mellon Foundation) exploring medicine and literature in the Roman Empire. He has published six book chapters and seven book reviews. He is a past Peter Paul Career Development Professor and winner of the CAS Gitner Award for Distinguished Teaching and sits on the editorial advisory board for Cambridge University Press.
Douglas Densmore, College of Engineering professor of  electrical and computer engineering, specializes in design automation, blending electronic design techniques with synthetic biology to build synthetic biological systems primarily expressed as software packages. He was named a 2021 American Institute for Medical and Biological Engineering Fellow, is a past National Science Foundation CAREER Award winner, and a past recipient of his department's Award for Excellence in Teaching and BU's Reidy Family Career Development Professorship. His computational research has generated two textbooks, two patents, three book chapters, and dozens of widely cited conference papers and articles in well-known journals, including Science.
Xue Han, ENG professor of biomedical engineering, specializes in neurotechnology, developing a variety of genetic, molecular, pharmacological, optical, and electrical tools to correct neural circuits and help treat brain disorders. Supported by numerous major grants from the National Institutes of Health, NSF, and the National Academy of Engineering, she is a past Peter Paul Career Development Professor, and the winner of a Presidential Early Career Award for Scientists and Engineers, a Defense Advanced Research Projects Agency (DARPA) Young Investigator Award, and the recipient of BU's Graduate Women in Science & Engineering Mentor of the Year award. Her work has produced 2 patents, 6 book chapters, and 57 widely cited articles in top journals, including Nature and Journal of Neuroscience.
Ajay Joshi, ENG professor of electrical and computer engineering, specializes in computer architecture and digital VLSI circuit design, with additional focus on silicon photonics, network-on-chip design, machine learning, and hardware. He is regarded among the top authorities in silicon photonic network architecture, and his recent work using AI in microelectronics is garnering significant praise. Supported by major grants through the NSF and DARPA, he is a past recipient of the Google Faculty Research Award, an NSF CAREER Award, his college's Dean's Catalyst Award, and his department's Award for Excellence in Teaching. He has published dozens of articles and papers in leading engineering journals and conference proceedings.
Deborah Cornell, College of Fine Arts professor of printmaking, creates immersive environments in print, video, installation, and collaborative multimedia that combine nature, technology, color, and light. She is head of printmaking in the School of Visual Arts and has presented at over 200 international exhibitions, including the Museum of Fine Arts and the Institute of Contemporary Art in Boston, the Hangzhou Contemporary Art Museum, and the Krakow Print Triennial, where she received the 2015 Grand Prix d'Honneur. A regularly invited lecturer in North America and abroad, she has been supported by the Massachusetts Cultural Council and the Deya Majorca Archaeological Foundation, is a past Bunting Fellow at Harvard University, and has published articles in numerous top-tier arts publications, including Grapheion and Contemporary Impressions.
Mark Stanley, CFA professor of lighting design, is among the nation's leading designers of lighting for theater and dance, having worked on over 225 world premiere productions over the last four decades with top choreographers, artists, and performers, including Peter Martins, Paul McCartney, and Santiago Calatrava. He has been the resident lighting designer for the New York City Ballet for 35 years, served as resident designer for the New York City Opera, and has designed plays for the Kennedy Center in Washington, D.C., Long Wharf in New Haven, Conn., and the Huntington Theatre Company in Boston, as well as productions for PBS' Live from Lincoln Center and Great Performances. A founding director of the Gilbert Hemsley Lighting Programs, he has been recognized with a Primetime Emmy for his contribution to Balanchine 100 and is the author of The Color of Light Workbook.
Timothy Simcoe, Questrom School of Business professor of strategy and innovation, is an expert in the policy levers that drive innovation within industries—particularly the impacts of intellectual property laws, innovation policy, and voluntary standard-setting organizations. He is a dean's research scholar in his school and has written six book chapters and over two dozen articles in top-tier management publications, including Journal of Political Economy, examining standards development. In addition to his scholarly work at BU, he is a faculty research fellow at the National Bureau of Economic Research and an editor at several journals, including Management Science. From 2014 to 2015, he served as a senior economist on President Obama's Council of Economic Advisers.