Eight Artists to Look for at the BU Bazaar
Innovate@BU's campus-wide shopping event will feature thrifted, upcycled, vintage, and original projects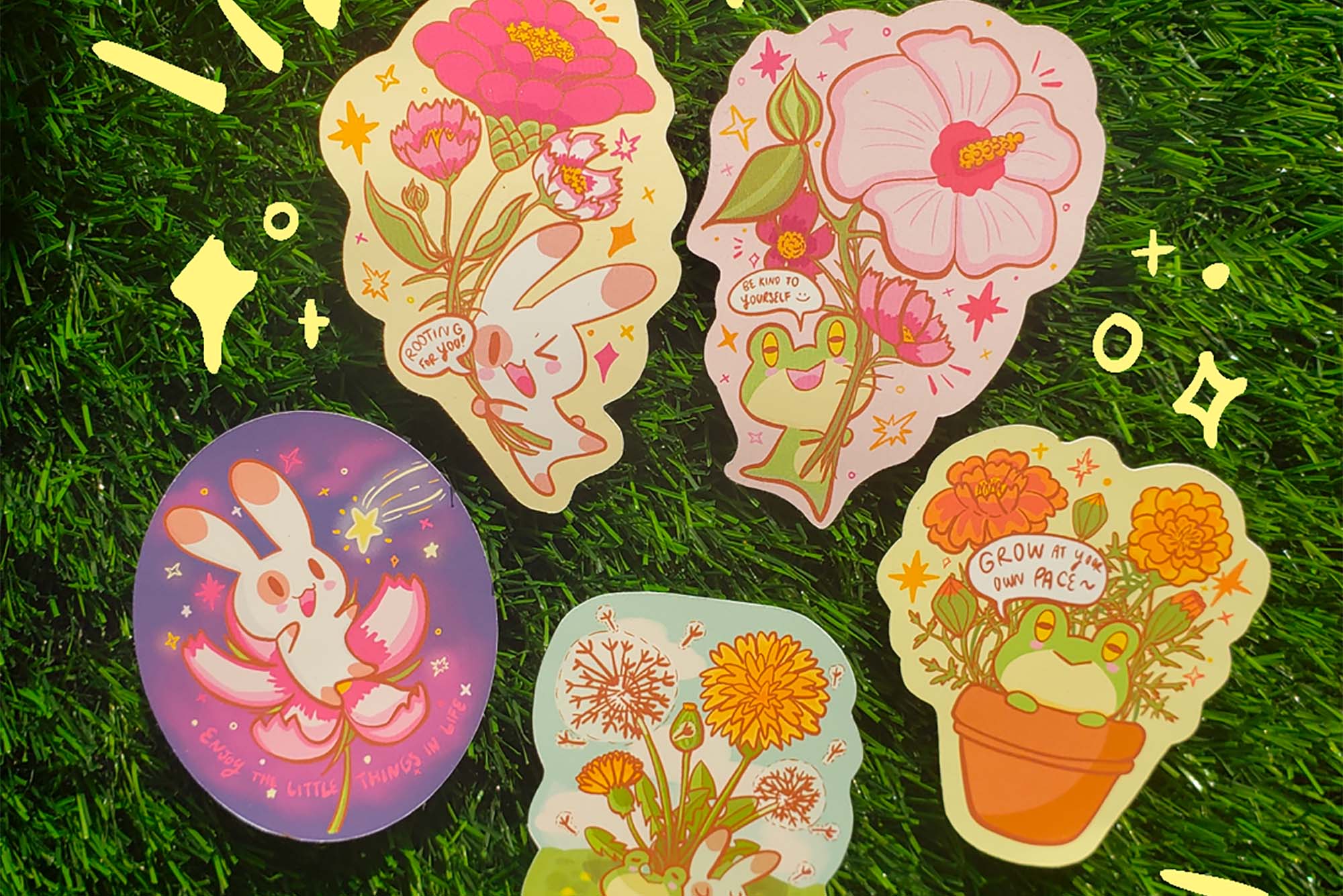 Thrifting
Eight Artists to Look for at the BU Bazaar
Innovate@BU's campus-wide shopping event will feature thrifted, upcycled, vintage, and original projects
Tired of seeing the same BU uniform of a long puffy coat, leggings, and short Uggs? Need something to jazz up your living space (or yourself)?
Break out of the mold and support BU artists at the first-ever BU Bazaar, a campus-wide sale of fine art, vintage clothing, home goods, jewelry, and more, most of it for sale. The event is Friday, January 28, from noon to 5 pm, at nine kiosks across the Charles River Campus (find the map here).
Sponsored by Innovate@BU, the Bazaar is also meant to be a meetup that celebrates "diverse student creativity, innovation, and togetherness." There will also be live music, food, and performances.
Event organizer Janos Stone (CFA'07), founder of the consultancy firm the Maker Space Program, says this type of creative program was needed because of the mental strain of living in a pandemic for two years. "Because a student's creativity and socialization diminish when under stress, they lose a critical mode to process what they need to feel safe, express their anxieties, and communicate their needs," Stone says. "The Bazaar was designed to be a joyful celebration of BU student culture, creativity, and innovation to promote healing and repair the gap in BU's institutional memory from losses we have all had over the last two years apart."
A few of the Bazaar's creative students and alums talk about their original creations and recommend where to find more unique pieces around the Boston area.
---
Emily Wu (CAS'22, Wheelock'22)
My mom has a big green thumb and plants a bunch of different flowers around the house. The cosmos and hibiscus in our backyard give me a sense of comfort and safety, so I thought it'd be cool to draw them. Drawing frogs and rabbits helps me relieve stress, so I thought it'd be nice to combine the two.
I'll be selling individual stickers for $1.99 each and packs of 5 for $8.99. I personally really like cute stationery because it helps bring a smile to my face and motivates me to do the things I want to do.
Local business to support: I really like the store We Are Uprisers. They're an Asian American–owned streetwear brand dedicated to telling stories of underrepresented groups of people.
---
Arianne Banda (CFA'22)
This field and kitchen guide offers hand-drawn images of plant inhabitants, mostly from the northeastern United States, along with their descriptions and uses for both food and medicine-making. I offer this guide to encourage our reconnection with the earth, as is our birthright. It's $11 for either a physical copy or a PDF version.
I've found great meaning and purpose through reconnecting with the earth by getting to know it more intimately. It's inspired by my newfound, though ancient, knowledge. I am eager to share this medicine with all, and I have always connected with community care, finding plant medicine to facilitate creating a community or deepening its growth. I think a lot of art created from a traditional and indigenous perspective is inherently unique in western society today.
Local business to support: I find a lot of good herbs and ritual practice objects at family-owned and -operated Cambridge Naturals and Ritual Arts in Allston.
---
Perry Sosi (CFA'23)
This is a digital illustration of rapper A$AP Rocky made in Adobe Illustrator. I'll be selling this 16×20 print for $50. This project was inspired by A$AP's album Testing. The toxic symbol in the background is derived from different iterations of the album cover art, and the piece as a whole serves to reflect A$AP's purpose in making the album, which was to "test new sounds, experiment, and have his crowd grow and reach new crowds."
I like to tell stories in my artwork. This artwork reflects my personality through the use of orange, which represents creativity, butterflies that represent transformation, and a public figure that cultivates different communities through his music, just as my artwork does. I'm an artist for the people.
Local business to support: For unique finds, honestly, Goodwill on Comm Ave has some pretty cool stuff. If you go in on the right day, you could leave with something superdope. Also, Boston Open Market on Newbury Street, when it's warm again.
---
Anita Emokpae (CFA'25)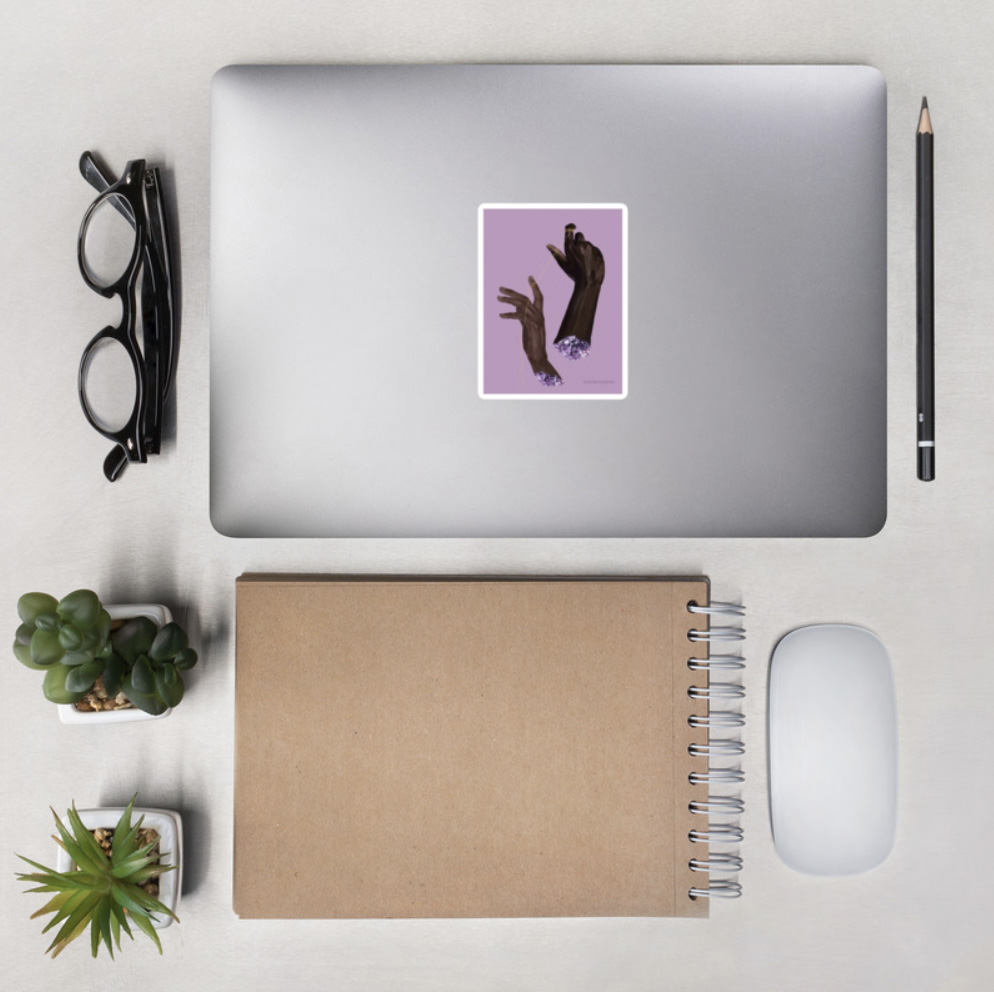 The posters and stickers are based on a series of illustrations I composed during my senior year of high school. It was around this time that I was becoming a fully realized artist, and I knew I wanted to create work that was a reflection of me or my culture.
I'm selling the stickers for $6, the bracelets for $10-12, and the posters for $25. I think the compositions of the subjects in my illustrations are what make them unique.
Local business to support: I'm sure most people know about this store, but Boomerang's is a good thrift store to find outerwear.
---
Corinne Vietorisz (GRS'25)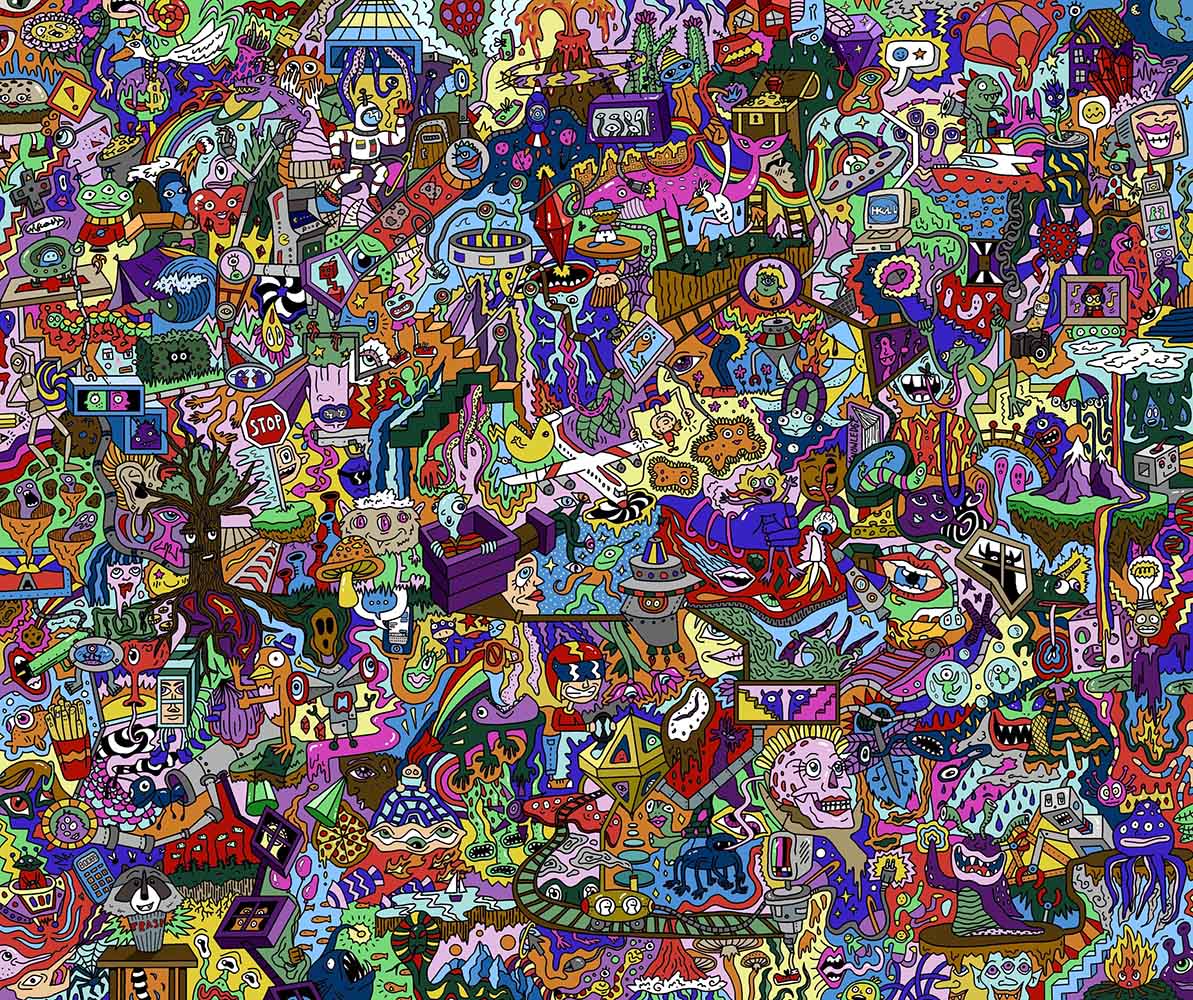 I've always drawn inspiration from cartoons, pop art, and surrealism and have worked to incorporate aspects of all three art styles into my work to create bizarre worlds. I love cartoon styles because they speak to the child in all of us.
As a kid, I used to watch Cartoon Network on repeat and try to copy different shows' art styles. I still try to go through life with the excitement and appreciation kids give the world. But life isn't as simple as we thought as children, which is why I add detail and complexity to my work, as the surreal aspects reflect that what we think of as simple is often more confusing than we thought. Each print is $13.
Local business to support: I love Brookline Booksmith to find new books and graphic novels as well as quirky knickknacks.
---
Ameera Hammouda (Questrom'18)
Scrunchie-O's are a safer alternative to traditional hair elastics. They are gentler on your hair and better for the environment. We plant one tree for every purchase and the packaging is made of FSC-certified recyclable cardstock.
The scrunchies themselves are really special, and I wanted to make the experience of getting something as mundane as a hair accessory like getting a gift—and make it a bit nostalgic. I was inspired by the retro packaging of the '90s and ultimately landed on a mini vintage-inspired cereal box. Despite the thousands of scrunchies on the market, I have yet to find any, especially in washable silk, with the vibrancy of colors and quality of finishing as our Scrunchie-O's. It's $39 for a box that comes with four washable silk scrunchies.
Local business to support: The one thrift store I love is the Raspberry Beret. It's in Cambridge, and I actually got my graduation outfit from there.
---
Morgan Anderson (COM'22)
I have six fine art photography prints from pre-pandemic traveling. Photography tells a story through images. As a media science grad candidate, I study the influence of media and how it shapes people's reality. I also was a writing major in undergrad, so writing and storytelling have always been near and dear to my heart, regardless of the medium.
These images are focused on travel, in particular pre-pandemic travel in Peru and Mexico. My pieces also have little blurbs on the back about where they were taken and the significance. Each art print is 8×11 inches and $20.
Local business to support: I'm a sucker for Buffalo Exchange, a store with secret gems, for thrifting.
---
Shulan Holmes-Farley (ENG'22)
My project is a collection of origami models, from simple to super complex. The price for my origami ranges from $3 for the simplest flower to $100-plus for a super complex model, like ones with multiple pieces of paper, patterns, or animal models, to name a few. My love for origami started a little over 14 years ago. I taught myself from a book given as a present, and in the end it has inspired my choice of major and given me an appreciation for art, geometry, and engineering.
One unusual thing people will note about my latest folds is my usage of Subway sandwich paper for complex models. Moving on campus, it is difficult to safely bring my high-quality papers, as they can be up to a meter in width and more in length. So, I have begun to thrift paper from Subway, both reusing paper and asking for new sheets, and would highly recommend it to any moderate-to-advanced level folders.
Local business to support: For anyone interested in origami or art in general, Blick is a local and rather affordable store.