Defining, Not Debating, Critical Race Theory
Law
Defining, Not Debating, Critical Race Theory
CRT, LAW dean says at BU panel discussion, is "a movement by activists and scholars who are interested in studying and transforming the relationship between race, racism, power, and the law"
Critical race theory, an obscure academic concept only a couple of years ago, has become a political and cultural Molotov cocktail today, inciting book bans, turning school boards across the country into battlegrounds, threatening the jobs of teachers, and upending elections.
But what exactly is critical race theory—or CRT? Amid the obfuscating din of partisan debate and talking heads and judging from recent polls, most Americans would be hard-pressed to define the concept. Enter Angela Onwuachi-Willig, dean of the School of Law and a leading scholar of CRT. Kicking off a multidisciplinary panel discussion on CRT February 10 at the Howard Thurman Center for Common Ground, Onwuachi-Willig delivered a concise, compelling exploration of the concept—its history, its meaning and purpose, and perhaps most important, what CRT is not. 
"This program is designed to educate," said Onwuachi-Willig, BU's Ryan Roth Gallo & Ernest J. Gallo Professor of Law, looking out at the rows of students in the audience (a few hundred people attended virtually), echoing the welcoming remarks of Andrea Taylor (COM'68) the University's senior diversity officer, who hosted the evening in collaboration with LAW, the Dean of Students office, Wheelock College of Education & Human Development, and the School of Public Health. "It is not a partisan panel. We are not informing you what side to take. We are simply disseminating knowledge."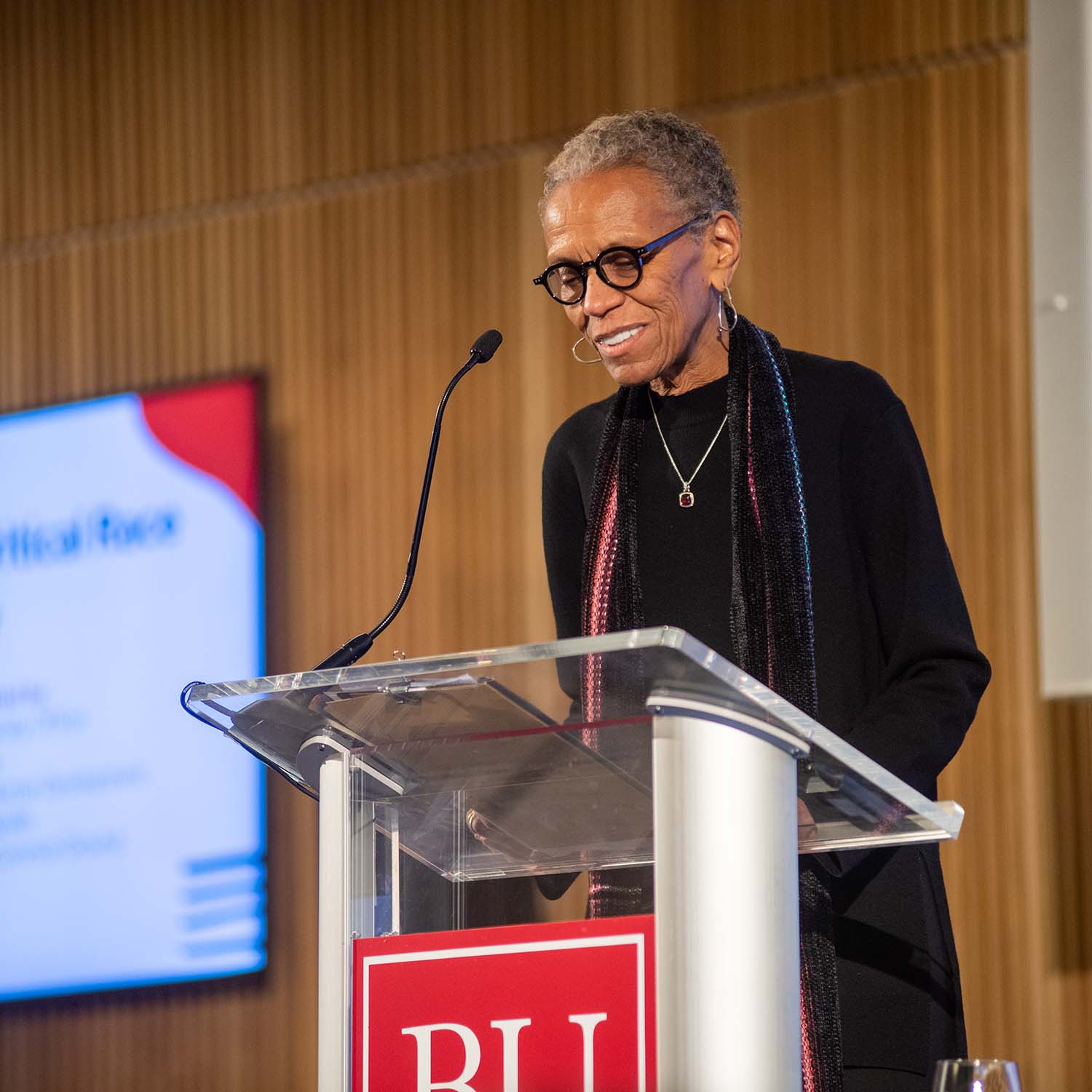 She emphasized the purpose of the event as defining the meaning, not debating the merits, of critical race theory.
"Critical race theory is a movement by activists and scholars who are interested in studying and transforming the relationship between race, racism, power, and the law," Onwuachi-Willig said, flashing the first in a series of slides on the screen. "Contrary to what some have said, critical race theory does not contend that a person is inherently racist or oppressive because of their race. Critical race theory is generally not focused on individual bad actors and recognizes that such explicit racism is learned.
"Critical race theory recognizes that racism is systemically embedded in laws, policies, and institutions that uphold and reproduce racial inequalities."
The dean defined structural racism as "a social structure in which policies, practices, cultures, and other norms both produce and reinforce racial inequalities"—a structure "that systemically privileges white people and that routinely disadvantages people of color."
She credited other scholars throughout her brief talk, but when it came to explaining racial subordination, she quoted a cultural, rather than academic, star. She said racial subordination is "about the psychological wages of whiteness, the meager compensation for some of knowing they are not on the bottom of the social hierarchy if those other people, for example, Blacks, are there." That's when she turned to the words of Black comedian Chris Rock: "[T]here ain't a white man in this room that would change places with me. None of you, none of you would change places with me. And I'm rich!"
The audience, which had been listening raptly, erupted in laughter.
Onwuachi-Willig ticked off a number of other core tenets of critical race theory: that race is not biological, but is socially constructed; that color blindness cannot end racism; that people of color have a unique voice, due to their experiences with race and racism, and so it's important to pay attention to those voices; that CRT endorses a multidisciplinary approach to scholarship and endorses storytelling and narrative in making the law more accessible.
As the evening's moderator, Onwuachi-Willig then turned the discussion over to the panelists, communications expert Janet Dewart Bell, LEAD InterGenerational Solutions founder and president, a lifelong social justice advocate, and veteran of the Civil Rights Movement; Laura M. Jiménez, Wheelock's associate dean of diversity, equity, and inclusion and a senior lecturer in language and literacy; and Craig Andrade, an SPH associate professor of community health sciences, associate dean for practice, and director of the SPH Activist Lab.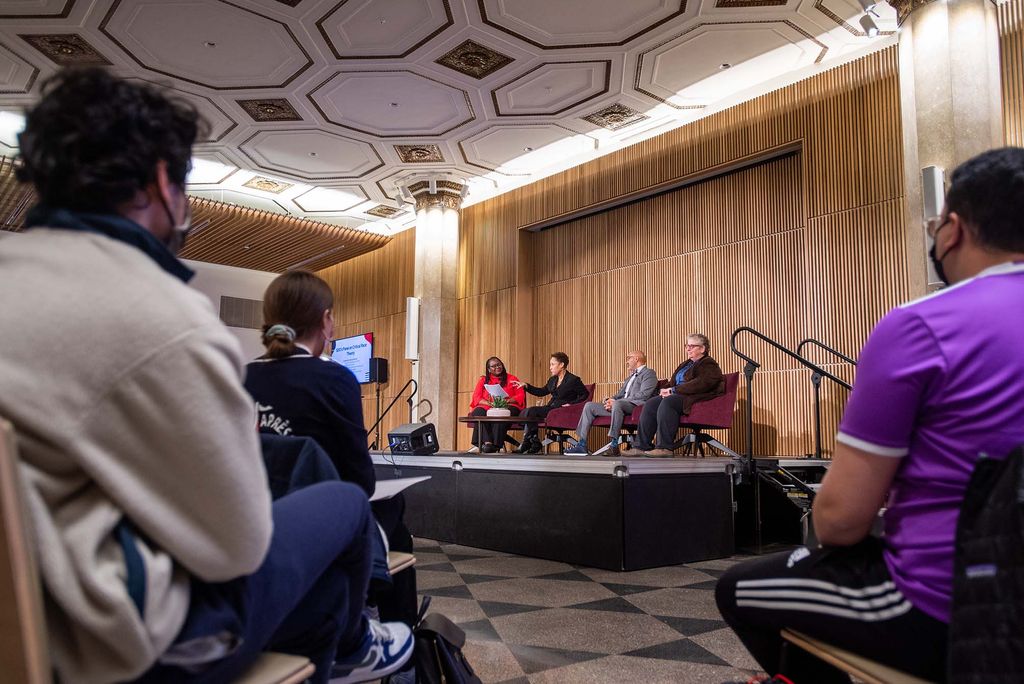 Bell, widow of Derrick Bell, the scholar who helped create CRT in the 1980s, began talking about the backlash that followed the election of President Obama in 2008, then stopped herself to address Onwuachi-Willig: "I have to tell you, that was just the most excellent presentation on critical race theory that I have heard."
It made her feel hopeful, Bell said, to see so many young people, "who could be doing something else tonight, who are here because you want to learn and you want to know what this is. You could just take one of her [Onwuachi-Willig's] slides and you'd have a term paper."
The words critical race theory have become a battle cry in Republican-controlled legislatures across the country. Three dozen states have considered proposals to limit teaching about racism or sexism and 14 have put those restrictions into law, according to an analysis by Education Week. The publication said CRT "has now become a catchall term conservatives apply to any topics or lessons dealing with race and racism, gender identity, sexuality and sexism." 
During the panel discussion, Andrade talked about how CRT can help open up the classrooms of higher education. "We have to acknowledge that we are at a historically white-led University," he said. "The classrooms that I did my MPH and my doctorate in were majority white classrooms. I never saw faculty of color. And so now we have a choice to make it a different space. We are now at the School of Public Health working to review our curriculum through a racial equity lens and through a diversity, equity, and inclusion lens."
Jimenez addressed CRT in the context of education, where, she said, "it's become a boogeyman—this thing to fear and to malign." And yet, she said, echoing other experts across the country: "In education, we're not teaching critical race theory. We may be using it as a lens to look at the system of education, but we're not teaching it. We haven't had it in K-12 classrooms. We don't teach it as part of education courses. I think we should.
"It's such a simple, elegant framework," Jimenez said. "It's literally saying to us, 'Let's look at these power structures—where do they come from? How do we change them?' And the wonderful thing about CRT is [that] it says, 'How do we, as individuals, function within these systems? How do we change these systems?' In some ways, it's almost nonjudgmental. It's not saying, 'I'm good,' and 'This person is bad.' What it's saying is we are all responsible for the system."