School of Medicine Class of 2022: "Unprecedented Times Created a Truly Unprecedented Class"
MED presented 318 master's degrees, 17 PhDs, and 164 medical degrees, 10 of them combined: 5 MD/PhDs, an MD/MPH, and 4 MD/MBAs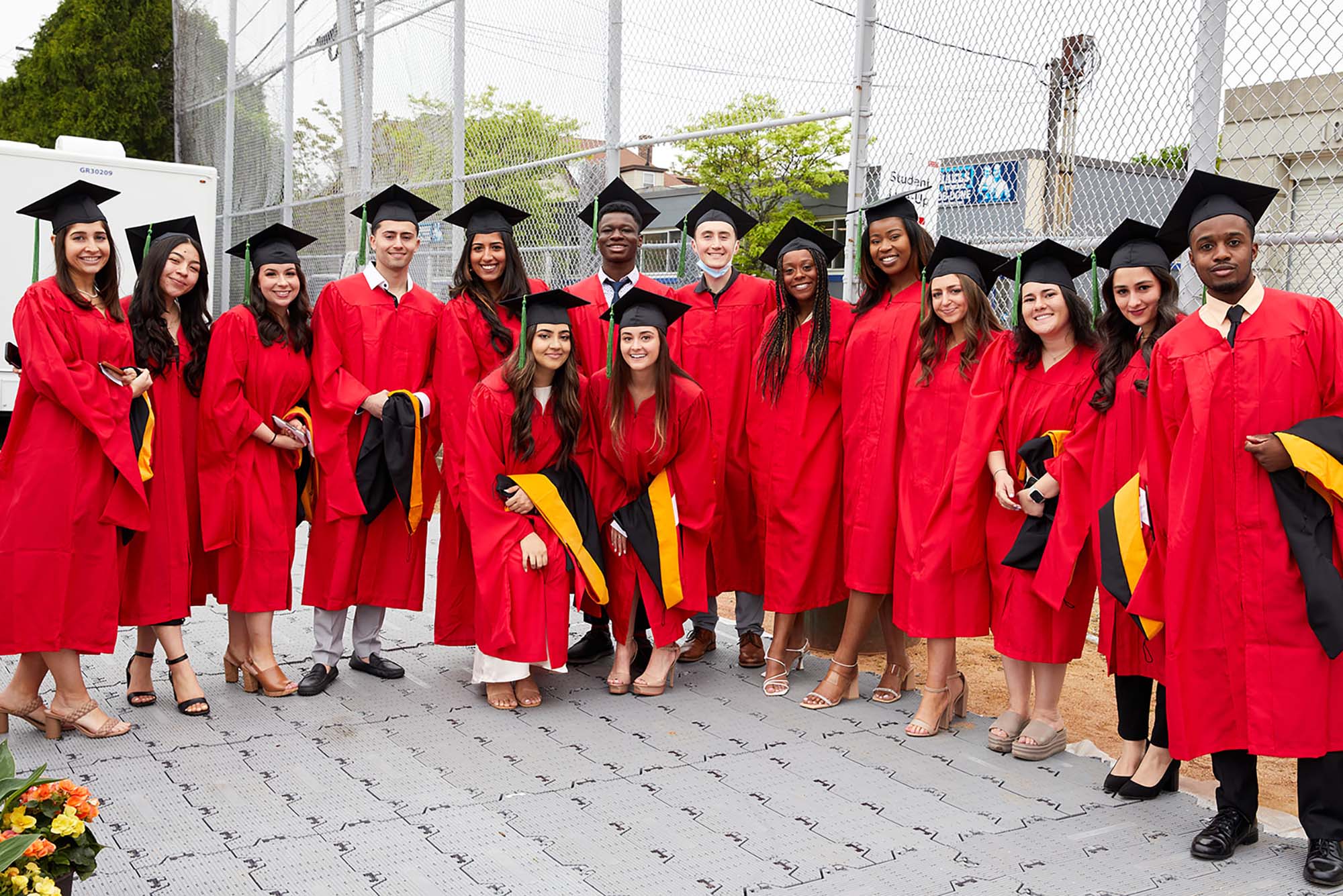 MED CLASS OF 2022
School of Medicine Class of 2022: "Unprecedented Times Created a Truly Unprecedented Class"
MED presented 318 master's degrees, 17 PhDs, and 164 medical degrees, 10 of them combined: 5 MD/PhDs, an MD/MPH, and 4 MD/MBAs
Even a cold, drizzly day Thursday couldn't dampen the high spirits of graduate students and doctors from the Boston University School of Medicine celebrating the first in-person convocation since 2019.
"Graduation is one of the most joyous annual events of academic life, a day of celebration with your family and friends," Karen Antman, dean of MED and provost of the Medical Campus, told two groups of students and guests at BU's Track & Tennis Center. MED held two separate convocations: a morning ceremony for Graduate Medical Sciences master's degree recipients and an afternoon ceremony for those who earned MDs and PhDs.
The graduating MD/PhD students asked convocation speaker Nahid Bhadelia, a MED associate professor of medicine, infectious diseases, to address healthcare inequities. As founding director of the BU Center for Emerging Infectious Diseases Policy & Research, Bhadelia, who has served as a subject-matter expert at the state, federal, and international levels on issues of pandemic preparedness and impacts, is well-positioned to reflect on the past two years and on the road ahead.
"You cannot speak about epidemics without speaking of inequities," she said. "The fact that we can create silver bullets like safe and effective vaccines and treatments and continue to have a global pandemic rage into a third year is a reflection of the fact that not everyone has equal access or voice."
MED's primary teaching affiliate, Boston Medical Center, is New England's largest safety net hospital, and many who attend the BU school are attracted by the opportunities offered in learning how to help low-income, underserved, and marginalized communities.
"Today you are graduating at perhaps the most medically challenging time in the last century," Antman said. "Your unique experiences in medical school and graduate school, that you certainly did not anticipate when you applied, required creativity, adaptability, and commitment—all skills that are essential in science and medicine."
MED presented 318 master's degrees and 164 medical degrees to the Class of 2022, including 10 combined degrees with 5 MD/PhDs, an MD/MPH, and 4 MD/MBAs; 17 candidates received a Doctor of Philosophy in their respective specialty.
In an especially poignant moment, Aram Chobanian (Hon.'06), BU president emeritus and former MED dean and Medical Campus provost, hooded his granddaughter Vanessa Torrice as she became a newly minted Doctor of Medicine.
"This was a very moving experience for me, one of the best in my life," Chobanian said. "She amazed us all the way through, so it's very special…and I never thought I'd make it to the day when a granddaughter actually became a physician."
Speaking for the PhD class, Jeffrey Kuniholm (MED'22), who completed a doctorate in microbiology, with a focus on immunology and infectious diseases, saluted classmates for their efforts in treating patients and doing vital research work on COVID-19 even as the rest of the world shut down.
"Today, we reap the rewards of the hard work and tenacity of those in the medical and research community who dropped everything to answer the call of our times," he said.
Medical student speaker Tiffany Chan (MED'22) told her classmates that the reality of medical school was different from what she'd imagined, and not just because of the pandemic.
"Being a doctor was supposed to be about being a hero, but instead it's about being a supportive role in the patient's story," Chan said. "Our proudest moment as doctors won't be something we do…but will be the day our patients no longer need us and can be on their own again."
Bhadelia commended the efforts of students over the past two years in mobilizing to alleviate the shortage of personal protective equipment, conducting critical research, meeting patient needs despite interruptions to rotations and schedules, educating others on the science behind the disease, and their activism on behalf of the voiceless and underserved.
"(W)hen the fault lines that already exist in our society were magnified during this crisis, disproportionately affecting some of our communities, you spoke up," said Bhadelia. "My hope for you is that no matter what you choose to do with the rest of your life, that you remember these last couple of years and the lessons they have brought to the forefront. Be an advocate for change. Be a force for good."
Thursday marked the first time Physician Assistant (PA) Program graduates participated in the GMS convocation; in prior years, they had a separate ceremony later in the year.
"Your class will always have a unique perspective," said C. James McKnight, GMS dean and associate provost, told the master's candidates at the morning ceremony. "Some of you were locked out of your research labs for months, and then only allowed back in shifts and small groups. Some of you were unable to do in-person clinical rotations for several months. But your class made a difference to GMS by their patience, perseverance, and resiliency in meeting this challenge."
"These unprecedented times created a truly unprecedented class," said Kara McNeil (MED'22), PA Program class president and student convocation speaker. "I spent the first months locked in my apartment, getting groceries delivered, doing classes via Zoom, and only seeing friends and family via Facetime."
"I have watched this class grow and learn, not only the science, but also the importance of compassion, dignity, and health equity," she said. "We've explored issues of race, sexuality, weight stigma, homelessness, substance abuse, and countless others. This is the part of our education that will shape the kind of providers we become."