Everything to Know about COVID and BU Campus Life
Campus Life
BU to Provide Masks to BU Community, and Other COVID Updates
Details on masking, testing, isolation and quarantine, Omicron and vaccines, and campus life
It's hard to keep up with all the campus news about COVID-19, but it's important to stay up-to-date, with the majority of Boston University's in-person classes scheduled to begin January 20. What are the changes to protocols? What old rules are still in place? If you're feeling a little like Bill Murray in Groundhog Day when your morning alarm goes off, you're forgiven.
To try and put everything you need to know in one tidy package, we've compiled this cheat sheet, if you will. We break it down into five categories: Masking, Testing, Isolation and Quarantine, Omicron and Vaccines, and Campus Life.
Additionally, we've included some of the questions posted by students, faculty, and staff to social media, with answers provided. We hope this is helpful.
Please include other questions you have in the Comments section. We will try and get them answered
MASKING
Will BU provide masks to the community?
Yes. Free KN95 masks are coming. This news came out late Friday in notes from BU officials: "Starting on Wednesday, January 19, the University will make available KN95 masks to all faculty, staff, and students. These masks can be safely worn for up to 40 hours or approximately one week as long as they are not visibly soiled and have not lost their shape." It will be a one-month program, with enough masks distributed to individuals to cover about four weeks.
A few points about these masks: experts have suggested several ways to help extend the usable life of a KN95. After wearing a mask for a long period, like a full day, set it aside in a dry, clean spot, or in a mesh bag to let it breathe, for 24 to 48 hours, and switch to a different mask. A mask that has a little bit of moisture from breathing all day is natural, and letting it sit and dry helps extend its effectiveness, but a mask that's saturated and wet probably needs to be replaced. Last, make sure the elastic is still taut and not stretched out, causing the mask to hang more loosely.
Are fabric masks banned?
No. If it is a three-ply cloth mask, those generally offer good protection and are more readily available. However, gaiters, bandanas, neck fleeces, scarves, and masks with exhalation valves should not be used. N95s, KN95s, KF94s all provide the greatest level of protection when worn properly. The most important thing about masking is the snug, comfortable fit to cover the nose, mouth, and chin. ​​Cloth masks can also be worn over surgical masks or respirators, which can allow them to be used repeatedly.
Where are masks required again?
As the Back2BU website explains: "Masks are not required in private offices or in private rooms, individual residence hall rooms, or suites and apartments in University residences. Masks may be removed while actively eating in dining halls and lunch or break rooms, but we strongly encourage physical distancing whenever masks are removed. Masks are not required outdoors, except as required by a town mandate or for unvaccinated individuals who are in crowded environments with poor air circulation."
---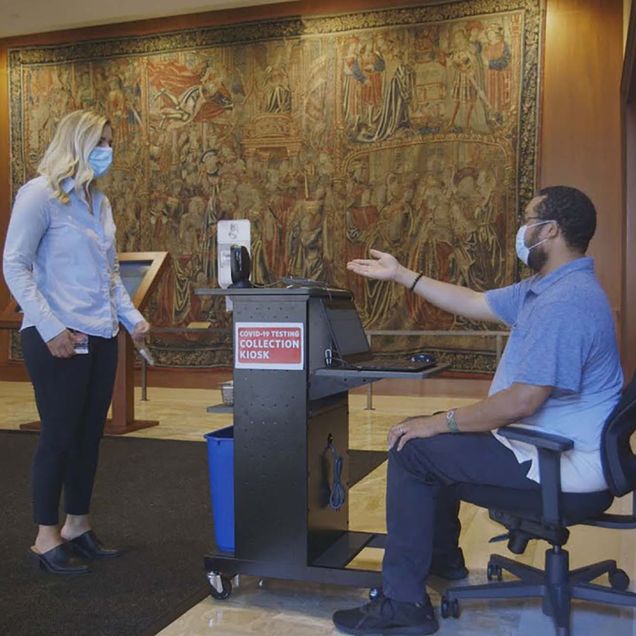 TESTING
What is "unsupervised" or "unobserved" testing?
Exactly what it says. Nobody is watching as you swab your nose. Unobserved testing, which will begin in early February, is a method of testing where BU provides students with testing kits, including their swab and vial. Students will perform the test in their homes or dorm rooms and then drop off the completed test at one of the University's drop-off locations on the same day that they swab. (Faculty and staff were already doing this.)
So, how will that work exactly, and will it be different for employees and students?
Employees no longer have to specify a location for where to drop off their sample. Instead, they just click "Drop-Off Kiosk" and can drop it off at any of the drop-off locations on the Charles River Campus: 179 Amory St., One Silber Way, George Sherman Union, and 1019 Comm Ave. Graduate and undergraduate students, however, will still need to make appointments at specific locations and times through Patient Connect. At this time, we are maintaining separate drop-off locations for students and employees. During drop-off, you will then receive a kit for the next test (put it in a place where it's easy to find and won't get lost). Online, you will make an appointment to drop off the next kit. In order to ensure a smooth return to campus, all students will start the semester using the "observed" method at the 808 Gallery or the BU Medical Campus. Early in the spring semester, BU will begin transitioning students to the unobserved method. It is vital that the completed test is dropped off on the same day the sample swab is taken to ensure the validity of the sample.
From @reginajiawenw on Instagram: "So can you open more testing centers or 😐"
Kevin Gonzales (COM'08, Questrom'15), collection site operations director, replies: "For the spring semester, we are developing an additional location on East Campus for students to drop off their kits. Final details regarding exact location and operating hours will be announced very early in the semester."
It will be vital that students remember their unsupervised test must be dropped off on the same day the swab is done. Important point: the collection site at 808 Commonwealth Avenue will remain open. Student appointments for the correct site, day, and time will be required.
If I test positive through BU, what happens next?
One change is you will no longer get a phone call from Healthway about a positive result. Instead, your result will be released immediately to your patient portal, so you'll know if you need to isolate as soon as possible, says Judy Platt, BU's chief health officer and executive director of Student Health Services. An important next step is to let any close contacts know as soon as possible and notify them of their potential exposure. (Healthway will no longer be handling contact tracing.) Any further messaging and instructions about your isolation will be sent directly to students through Patient Connect and to faculty and staff through BU's secure email platform DataMotion. Look for the subject line "COVID Results."
Do I still have to submit a daily attestation about how I feel, and if not, what happens if I feel lousy?
No. Daily attestations are no longer required. You are responsible for monitoring your own symptoms. If you feel a stuffy nose, a scratchy or sore throat, muscle aches, or you have a dry cough, those are all early signs of possible infection. If you feel symptoms, schedule a symptomatic test (those are processed faster) through Healthway at the Health Services Annex.
Why are undergraduate students required to test twice a week now, but not others? What if faculty, staff, or graduate students want to test twice a week, rather than the required once per week?
Surveillance, or routine testing frequencies, are determined by prevalence and risk of transmission, says Platt. She adds, however, that on-demand testing for symptoms or exposure is available for faculty, staff, and graduate students. So don't wait for your next week's test if you have symptoms or have been exposed—in that case you can test sooner.
If I test positive using a rapid test, or at an outside testing facility, do I need to report that to BU?
"Yes," Platt says. If you test positive outside of BU, you should upload proof or a photo of your test result to the appropriate student or faculty/staff portal and isolate for five days.
If I test positive before getting my booster, should I still get my booster shot or postpone it?
If you test positive, you will not be required to receive a COVID-19 booster within the 90-day period after your positive test. The booster, however, is required after the 90-day period has elapsed and is strongly recommended after your isolation period ends and the appropriate time has passed since the initial vaccination series (five months past completing the Moderna or Pfizer vaccination series, and two months past the Johnson & Johnson vaccination).
After testing positive, is regular community testing still required?
No. If you test positive, Healthway will remove you from regular community testing for 90 days from that initial positive test. You should not test during that period unless a healthcare provider suggests you take a test.
---
ISOLATION AND QUARANTINE
What's changed with isolation rules if you test positive?
BU has adopted the CDC guidance and shortened isolation to a minimum of five days. When a person can come out of isolation is based on the date of your positive test. But if you are still having symptoms at the end of five days, you should continue to isolate until you are fever-free for 24 hours and have significant improvement in your symptoms. You're then required to wear a mask for an additional five days.
The new quarantine rules are a little overwhelming. How do I know if I need to quarantine? And what do you mean by "masking for a full 10 days is a critical component of these newer guidelines." Does that mean I need to wear my mask around my roommate?
Roommates do not need to mask up. But BU has adopted the CDC and Massachusetts updated quarantine policy. If you learn you have been exposed to a confirmed COVID-19 case, you may need to quarantine based on your vaccination and symptom status. If you develop symptoms after an exposure, schedule an expedited test at the Health Services Annex and stay in place until you receive a negative test result. If you are eligible for a booster but are not yet boosted, or are not vaccinated, you will need to quarantine for five days after an exposure, even if you do not have symptoms. You must schedule a test on the fifth day after exposure. Masking around others, especially those outside your household, is important until 10 days after your exposure. Follow this helpful quarantine graphic to learn more.
---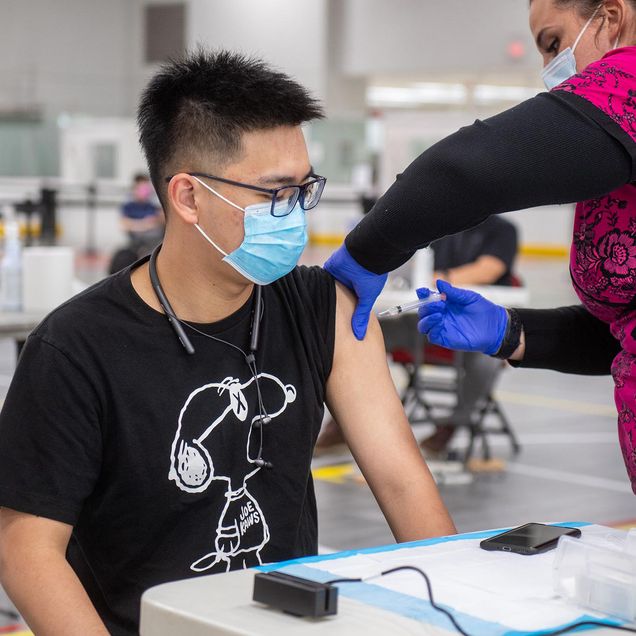 OMICRON AND VACCINES
With the deadline of February 4 coming for BU community members to receive a COVID booster shot, will BU offer any booster clinics?
Yes. There will be three upcoming Moderna COVID-19 vaccine booster clinics: January 25, 26, and 27 for students, staff, and faculty 18 years or older. Eligible people must meet any of the following criteria:
Received a primary series of the Moderna COVID-19 vaccine at least five months prior
Received a primary series of the Pfizer-BioNTech COVID-19 vaccine at least five months prior
Received a primary dose of Janssen (J&J) COVID-19 vaccine two months prior
If I am an unvaccinated new student or new employee, how long do I have to get in compliance with the vaccine mandate?
Platt says new students and employees are required to follow the COVID-19 vaccine mandate, including the booster mandate. In other words, submit vaccine documentation or a medical or religious exemption immediately. If you have received one dose of an mRNA vaccine series within the last four weeks, you will be compliant until you are eligible for the second dose. Similarly, if you have received your second mRNA dose within the past five months, you are compliant during that time until you are officially five months past the second dose.
What if I am not eligible for a booster shot until after the February 4 deadline?
If you are not eligible for a booster shot as of February 4, you will be compliant for the requirement until you're eligible. At the time of eligibility (five months past completing the Moderna or Pfizer vaccination series and two months past the Johnson & Johnson vaccination), you will need to upload documentation.
From Daryl Healea (STH'01, Wheelock'11), reader's comment on a BU Today story: "Out of curiosity, can you share what our sequencing efforts have revealed over the past month? When, for example, was Omicron first detected on our campus? What proportion of our positive cases have been Omicron and how has that evolved to date?"
"The first case of Omicron at BU was detected the second week of December," Platt says. "The first week it was detected within our community, it made up less than 10 percent of the cases. In the third week of December, Omicron made up roughly 60 percent of cases and that percentage, consistent with percentages across the state, has continued to increase week to week."
---
CAMPUS LIFE
From @damnyjammy on Instagram: "So can I check into my dorm and then go get tested or do I have to get tested to go to my dorm?"
David Zamojski, assistant dean of students, replies: "Yes, you are welcome to check in to your residence first and then get tested. I would recommend that once you schedule your move-in date and time block via the My Housing Portal, you then schedule your COVID-19 test via Patient Connect. Your test should be scheduled for the same day as your move-in. You should plan to stay in place until you receive one negative COVID-19 test result via a BU collection site."
Can students living off campus use isolation housing on campus if they test positive? What about students on campus who share a sleeping area with roommates?
This is another shift. The isolation housing units are now reserved only for students in on-campus residential housing who share a common sleeping area. If the University exceeds its isolation housing capacity, students will be allowed to isolate in their on-campus residences. Students in on-campus residential housing who have a private bedroom, and students who reside off campus, will be expected to isolate in place at their residence and only leave for food and medical appointments.
Is BU providing any special arrangements for faculty, staff, and students who test positive (lecture capture, teach from home, caregiver dispensation)?
There have been some arrangements put in place, temporarily, for the start of the semester. Some faculty may provide recordings of lectures to students who are in isolation (through February 18, at which point it will be reassessed to see if the date should be extended). Also, through February 18, faculty who test positive may pivot to remote teaching during their isolation period, which is typically a minimum of five days. And similarly, in the event of a temporary disruption of care, those who are caregivers for elderly or immunocompromised individuals or who have children, can work with their dean or supervisor to make remote or hybrid work arrangements or teach via Zoom until the issues resolves.