BU Athletics Will Continue 10-Year Partnership with Team IMPACT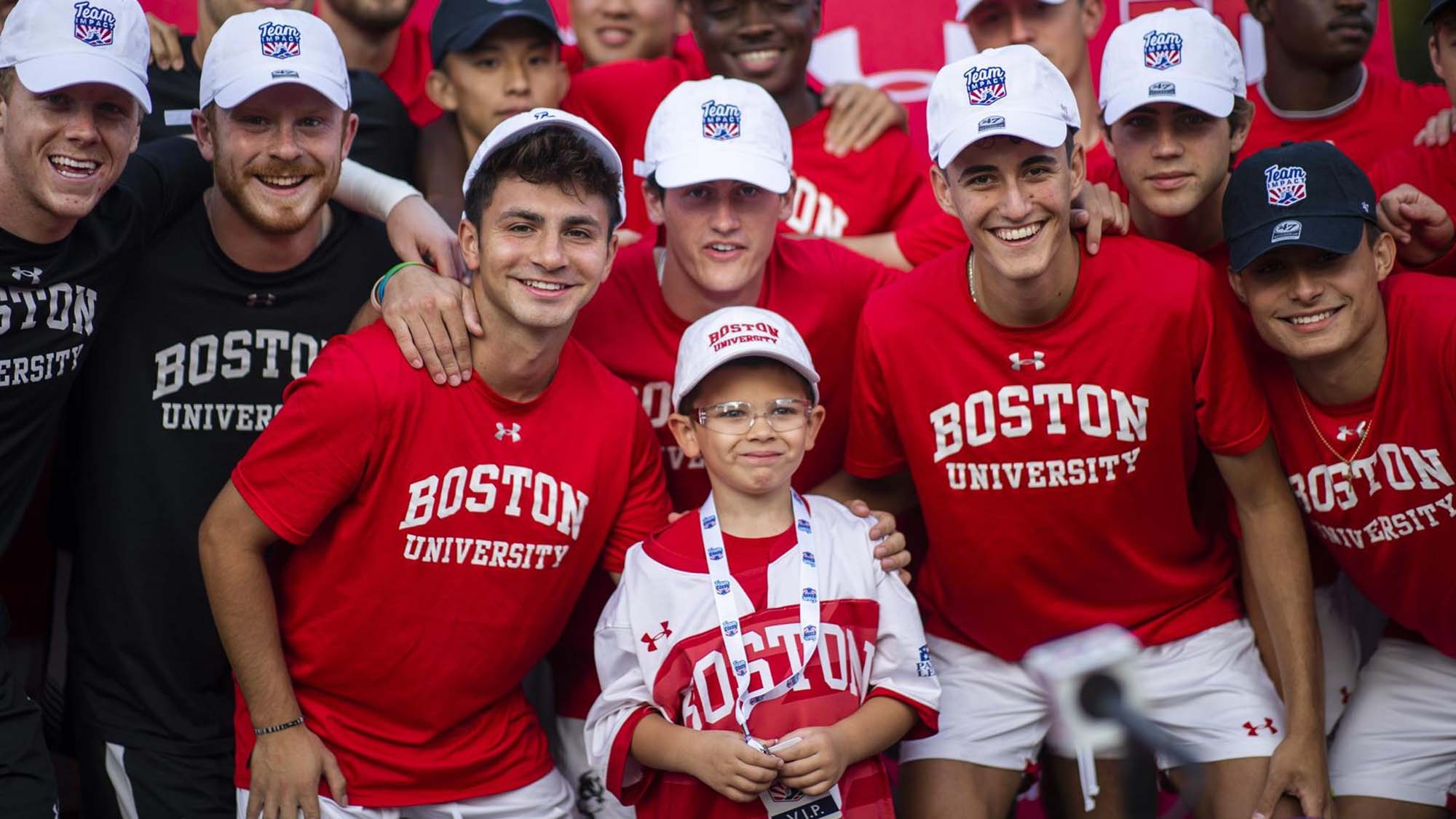 Varsity Sports
BU Athletics Will Continue 10-Year Partnership with Team IMPACT
Nonprofit pairs children battling serious or chronic illnesses with college athletic teams
Boston University is extending its partnership with Team IMPACT, the athletics department announced. The Boston-based nonprofit pairs college sports teams with children battling serious or chronic illnesses.
"It is with great pleasure that we formally announce an elevated partnership with Team IMPACT," says Drew Marrochello, director of athletics, in announcing the two-year commitment. "We are honored to continue working with such a wonderful local organization that has enhanced the lives of so many across the country."
Team IMPACT was founded in 2011 and for the last decade has matched more than 2,200 sick children from 5 to 16 with over 60,000 student-athletes at 700-plus colleges and universities across the country.
BU Athletics began its involvement with Team IMPACT in 2012 with matches for field hockey and men's basketball. Since then, six more teams—men's and women's soccer, men's and women's lacrosse, women's basketball, and women's ice hockey—have welcomed a Team IMPACT child to their program, the most recent on October 16, when the men's soccer team added seven-year-old Pierce Sabin to their roster. Midfielder Aidan Holmes (ENG'24) says the team has rallied around its youngest signee.
"Since the first day we met him, Pierce's smile and passion for BU soccer has brought us closer together on and off the field," Holmes says. "Pierce is the heart of the BU soccer family and this relationship will only continue to grow. Team IMPACT is a great organization and I'm really thankful they connected us with Pierce."
This sentiment is echoed by Kevin Nylen, men's soccer head coach. "If we think about BU soccer, we immediately think about Pierce," Nylen says. "He is resilient and such a great young boy. We are all so lucky to call him a friend and a teammate of our BU soccer family." 
Both players and coaches say that the day Pierce was introduced to the program was one of the highlights of the season, with the Terriers and their new teammate celebrating one of the two goals.
The announcement of the two-year commitment means that there will be plenty more moments like that to come. BU has said it will maintain or increase its involvement with Team IMPACT, and in turn, the nonprofit will provide BU student-athletes with opportunities for development in areas of diversity and inclusion, advocacy, and professional development.
Those interested in enrolling a child in the program or learning more about Team IMPACT can find additional information here.