Biannual Cross-College Challenge Expo, Featuring Projects That Address Real-World Problems, on Tuesday
Event will also include BU Spark! Demo Day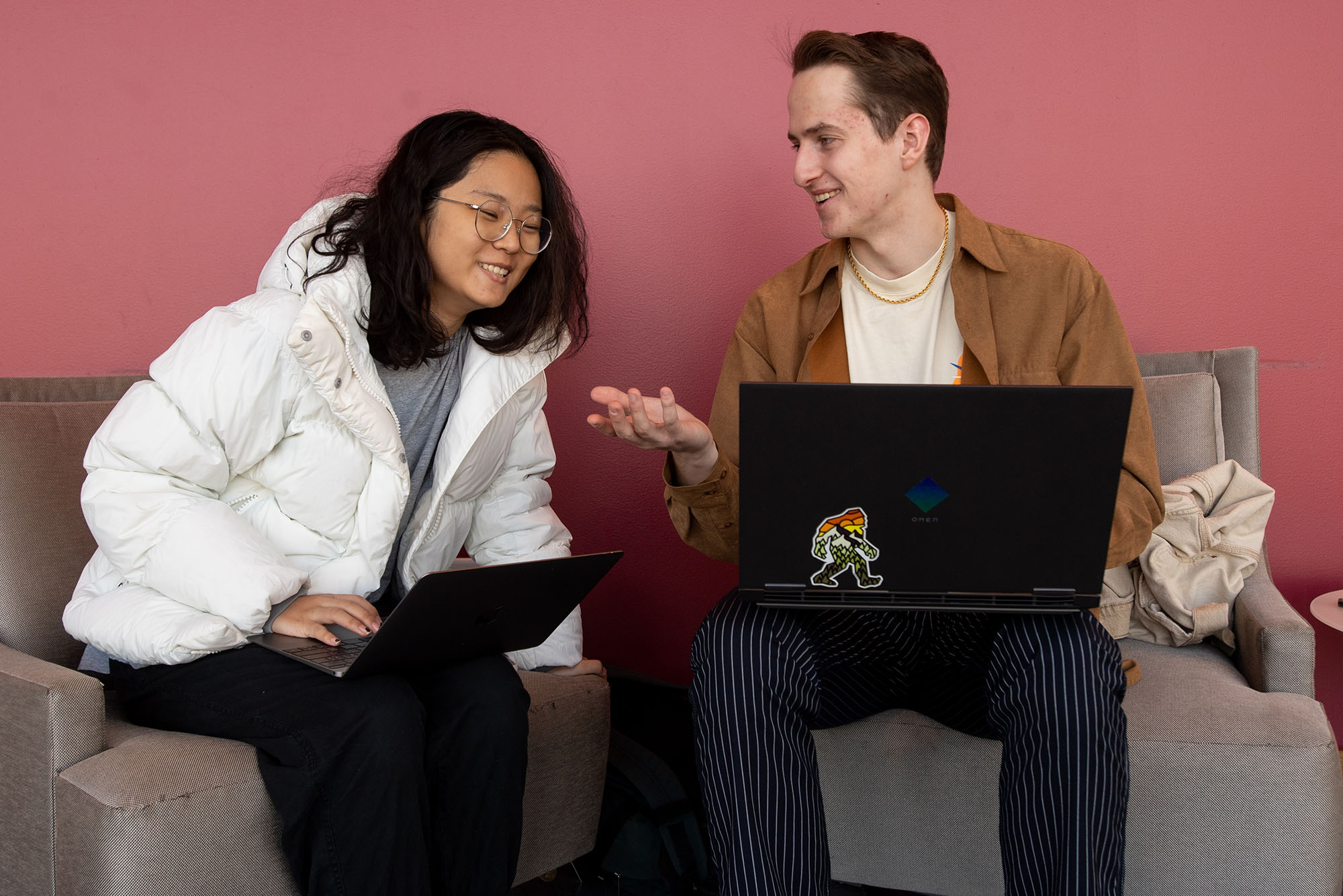 Academics
Biannual Cross-College Challenge Expo, Featuring Projects That Address Real-World Problems, on Tuesday
Event will also include BU Spark! Demo Day
Some of BU's best, brightest, and most interdisciplinary undergrads will show off their work Tuesday night at the biannual Cross-College Challenge Expo, now paired with the BU Spark! Demo Day.
The Cross-College Challenge—or XCC, as it's known—is the BU Hub's signature interdisciplinary project-based course, open to juniors and seniors from all of BU's undergraduate schools and colleges. XCC engages students in dozens of team projects that address real-world problems or enduring human questions. Each section is coled by two faculty members from different disciplines.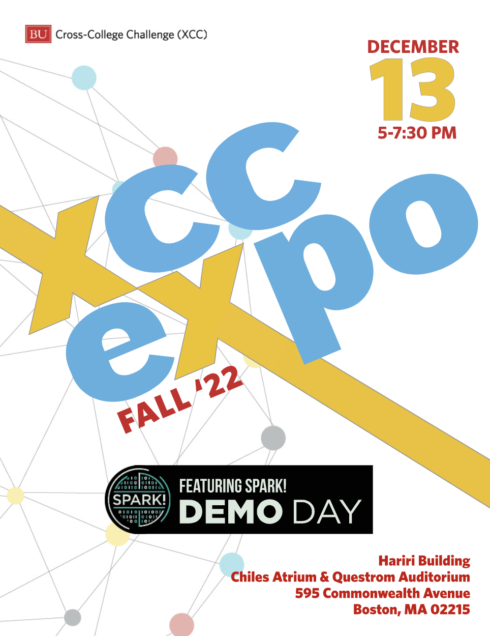 "The spirit of it is to bring faculty from different disciplines together to model what it's like for people from different schools to work together," says Phillip Jacob, XCC manager.
BU Spark! is the University's technology incubator and experiential learning lab for student-led computational and data-driven projects, and its work often overlaps with XCC. The biannual Demo Day showcase, presented in the Questrom auditorium, will feature projects from seven mostly undergraduate teams in the Spark! Innovation Program.
The event will fill the atrium at the Questrom School of Business with about two dozen XCC presentations from 5 to 7:30 pm Tuesday.
Among the XCC classes represented this year are HUB XC 410 A1 (Justice Media Computational Journalism Co-Lab) and HUB XC 420 A1 (City Stories: Boston + One).
The City Stories class "will make videos for the city of Boston public websites that in the words of Michael Vanetti—who is the current director of the city's department of tourism, sports, and entertainment—help Bostonians feel like tourists in their own city," says Andrea Berlin, a College of Arts & Sciences professor of archaeology and religion and James R. Wiseman Chair in Classical Archaeology, who coteaches the class.
"The goal of that is to get them out and about to get them to appreciate things about Boston, both its present and the way in which some of those things have come into being," Berlin says, "and in a larger sense, help Bostonians understand that Boston has some urban DNA that makes it a great city in common with other great cities around the world and even in the past."
And doing it in a video: that's where Tom Anastasi (Questrom'01), a Questrom adjunct assistant professor of management and organizations and a documentary filmmaker, comes in.
"I think that doing something for the community and bringing our community partners in and having them be in our classrooms is very valuable," Anastasi says. "And the students are given the same sort of challenges they'll be given when they're in the workplace."
For both students and faculty, working with others from different disciplines may be the most eye-opening part of the experience.
"A lot of students just don't get teamwork and collaboration," Berlin says. "They really don't get why it matters and they don't get how it looks in practice. A Cross-College Challenge course that functions well brings people with really different skill sets together.
"I have a content piece, and Tom has the technical piece, and these things have to work in tandem," she says. "We have learned a lot from each other, and he and I have benefited from that and we enact that in front of the students when we're giving them feedback, when we're talking to each other, and they see how successful collaborative work leads to something greater than the sum of its parts."
Will Shore (CAS'24) and Xin Liu (COM'22) discovered that themselves while partnering on a project. Shore studies psychology, with a minor in business administration and management, while Liu majors in media studies. Together they are making a video comparing the Boston Public Library and the ancient Library of Alexandria.
"Sometimes when you get to be a junior or senior, you start seeing all the same faces in your classes," says Shore. "Taking a break from that, meeting people outside your major who have other interests and are pursuing other fields, is really enlightening. Now you're not just focusing on your own textbooks, you're [also] talking to people who are going into engineering or another completely different field. And what comes with that is a whole new interest you can explore."
---

Sometimes when you get to be a junior or senior, you start seeing all the same faces in your classes. Taking a break from that, meeting people outside your major who have other interests and are pursuing other fields, is really enlightening.

---
"During our process of collaboration and communication, you share a lot of various different perspectives," says Liu. "It's really challenging at first…but when you get used to it, it's much better."
The Computational Journalism class enables student journalists to work with student data science majors on data-driven investigations—cotaught by faculty members in journalism and computer science. Students in the class have published stories with the Boston Globe, USA Today, Dig Boston, and other media outlets.
"Data-driven investigative reporting is arguably our highest calling as journalists," says Brooke Williams, a College of Communication associate professor of the practice of computational journalism and one of the coteachers of the class. "It's reporting that's precise and holds government and the powerful accountable—not using anecdotes and what people say, but rather using documents and data and really looking at systemic problems. This class enables students to get into this deep reporting and get into advanced computational methods."
Previous semesters' stories looked at issues like gender pay disparities at UMass and the difficulty state prisoners face in making claims of abuse behind bars.
While the journalists learn how to use data in reporting, the data science students learn how to adapt their work to real-world purposes, says Langdon White, a Faculty of Computing & Data Sciences (CDS) clinical assistant professor of computing and data sciences and technical director of BU Spark!
"This is the first time it's like, 'Here's some stuff, now turn it into something usable,'" White says. "One of the things that they're learning here is how to actually communicate with nontechnical people about a shared problem, which is something you don't get a lot of exposure to when all your classes are with tech people, but in the real world is something that is incredibly important."
And from Williams: "The data science students and the journalism students—really, truly, we encourage them not to build silos. They work together, and they get credit together."
Bringing in a Spark!
Some XCC classes overlap with Spark! and bringing the two together made sense to everyone.
"I really believe in the concept behind XCC, which is all about interdisciplinary project-based learning experiences," says Ziba Cranmer, director of BU Spark! who connects it to the mission of the CDS. "This concept is a primary inspiration behind CDS, which is about applying the computing and data sciences to make real impact across disciplines. XCC offers a mechanism for cutting across the many departments and colleges at BU.
"We've been able to create courses and collaborations with faculty from the College of Fine Arts and COM's journalism department and bring our students together around interdisciplinary computing and data science–focused projects," she says.
Asked for a couple of innovative favorites among this semester's Demo Day student projects, Cranmer says she is "particularly inspired by" one called Empoworker, which aims to give undocumented construction workers an opportunity to protect themselves from wage theft.
"This project comes from a student, Daniel Gonzalez (CAS'24), who has many family members who have experienced this issue firsthand, so this is personal for him," she says. "When Daniel applied to the program, he wasn't sure he was ready to lead, but he was, and I'm so impressed with the progress they've made this semester and am excited he'll continue after this semester, and I hope other students passionate about this issue will join his team."
Another notable project she named is WhatWorks, led by Ashley Hsieh (COM'23), which seeks to help people who are suffering from chronic acid reflux to find information on which everyday products to avoid or use based on how they impact people with this condition.
"The opportunity for students to solve problems in their lives and help others in the process is so powerful," Cranmer says.
Another project, CollaborART, is creating an immersive experience for collaborative painting projects, "which is such a cool idea," she says. "And that team wins the persistence award for overcoming technical hurdles and maintaining a sense of humor along the journey."
"The XCC team has been incredibly supportive. I think we are kindred spirits—we get each other," Cranmer adds. "We are learning a lot by working together and producing greater value as a result."