2022 BFA Thesis Show a Dazzling Display of Graduating Seniors' Work
Watch it again
2022 BFA Thesis Show a Dazzling Display of Graduating Seniors' Work
Fine Arts
2022 BFA Thesis Show a Dazzling Display of Graduating Seniors' Work
There's something thrilling about the School of Visual Arts BFA Thesis Show 2022. Featuring 133 works by the 39 graduating seniors majoring in painting, printmaking, sculpture, and graphic design, the show demonstrates the myriad ways students are experimenting with materials and developing their own unique aesthetics to tell visually compelling stories. The Thesis Show is on view at the CFA Faye G., Jo, and James Stone Gallery through May 20.
Ashley Zhou (CFA'23) says she is constantly seeking out new techniques and applications in her painting that she's never seen done before. She uses found materials like yarn, drywall, and scrap wood and works with a range of surfaces to create paintings that investigate her social and cultural identity. For her thesis project, she uses silk yarn suspended from planks of wood and painted with mahogany watercolor of varying opacity to illustrate moments from her parents' childhood. Other than their stories of their childhood in China, Zhou says, she doesn't feel a strong connection to her culture. The gaps between the strings in her work are aimed to reflect the distance she feels from her heritage.
"The sheer and transparent nature of the image is meant to convey a sense of looking through—me looking and reflecting on who I am as a result of social structures and cultural past," Zhou says.
Graphic designer Kylie Carroll (CFA'22) started her thesis project hoping to educate the public about how consumer culture is damaging the environment. But the focus shifted, she says, "from a singular narrative of saving the world against environmental despair to a lighthearted and digestible way of exploring personal accountability and up-cycling." Carroll began working with single use plastics she'd been saving in her apartment to explore ways to repurpose her trash. "I used these plastics to crochet, heat fuse, weave, and ultimately transform them into new and functional items"—including a basket, a reusable clutch, and a reusable tote, all on view in the show. Even her thesis book is made with repurposed paper from her design studio.
Carroll says she immersed herself in sustainability—a subject she's long been interested in—last semester when she and classmate Davide Bianchi (CFA'22) challenged themselves to execute a zero waste process. "We made our own paper, vegetable dye from food scraps, and created a garment," she says. That project allowed her a chance to create a tactile, graphic design product, and forced her to rethink her design process and make it more environmentally conscious.
"As designers we have the toolbox to be innovative, we are taught how to think outside the box and how to question everything…this project was my first experience with treating my resources as sacred and pushing the boundaries of what I can do with 'trash,'" Carroll says
Another graphic design major—Jonathan Pinchera (CFA'23)—has been experimenting with the art form of embroidery through the creation of wearable embroidered pieces. For him, embroidery is a way of making that addresses hyperconsumerism, mass production, and gender norms.
The title of this year's show—Connection Lines—is meant to reflect the adaptability, resilience, and connectivity shared by the graduating seniors, and it has both literal and figurative connotations.
"These artists, 2022 BFA graduates, demonstrate deep care for their work and community, which manifests in intrepid drawing, design, sculpture, and installation," says show curator Leah Triplett Harrington, a Boston-based writer and curator of the nonprofit public art accelerator Now + There. "These artists are linked by a sense of interdependence in their work; collectively, through a range of interdisciplinary approaches, they consider shared experiences that shape their artistic vision."
Each of the show's artists, Tripplett Harrington says, are working with lines, both aesthetically and conceptually. "Be they blurring hierarchical lines between art and craft, or using compositional devices, many of these students are investigating the potential of the line in their work," she says. "There are also lines of time, or connections through time via lineages of ritual, process, and art historical genealogies."
Brianna Howard (CFA'22), a major in both printmaking and painting, says her work ties into the show's title directly and indirectly. "Directly, I use a lot of line and gesture in my works to create space," Howard says. "My lines aren't usually linear. Rather, I refer to them as actions, meaning actions of my body or space. Indirectly, a lot of my exploration this past year has been creating a wide range of work and then trying to find connections between those works."
Triplett Harrington began working with the students at the start of the spring semester, she says, to "really develop the trust needed for a successful artist-curator relationship." She met with each of the painting, sculpture, and printmaking students after introducing the "connection lines" theme. Each student shared work with her they thought responded to that theme and together they discussed how and where it could be included in the show. "It was very much a dialogue," Triplett Harrington says.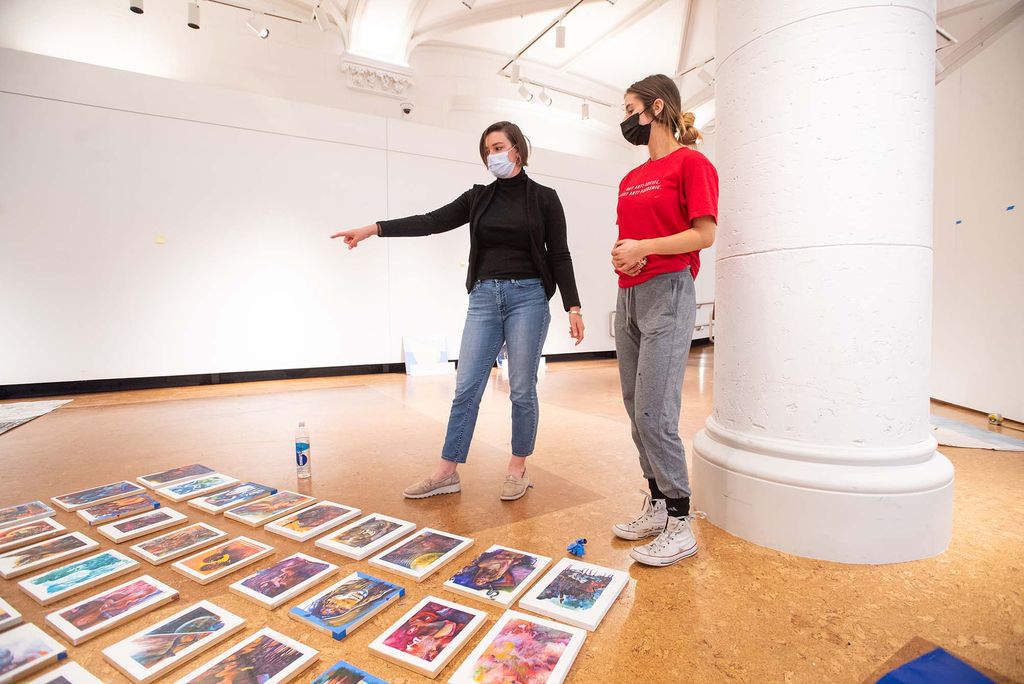 This year, in keeping with tradition, a committee of senior graphic design students created the branding identity for the show, under the guidance of Mary Yang, a CFA assistant professor of art, graphic design.
Playing off the Connection Lines title, after several brainstorming sessions, the students hit on the theme of elasticity. The team—Carroll, Ashlie Dawkins (CFA'22), Joyce Hu (CFA'22), and Ken Rudoph (CFA'22)—wanted to create a visual narrative that was representative of the collective experience of this year's graduating students, who had to deal with years of pandemic-caused disruption.
"Both faculty and students were forced to prove how adaptable and resilient we really are," Howard says. "Adaptability and resilience became a recurring theme throughout our brainstorming process…graphic designers, painters, printmakers, and sculptors alike, we have all been trained to work in a way that is flexible and explorative."
A graphic artist and veteran exhibition designer, Yang helps the students gain real-world experience in collaboratively designing the typography used in the digital postcards, catalog, exhibition graphics, and posters. The team created a color palette inspired by classic multicolored rubber bands, experimenting with different hues before settling on the final red, blue, green, and yellow shades used across the various platforms. Even the typeface the students selected—Grover—was chosen because its bold and rounded look helps convey elasticity.
A number of works by this year's graphic design students speak directly to this idea of elasticity.
"The stretching process presents an opportunity to challenge oneself and others, in part by approaching difficult topics or conversations," Yang says. Perpetual Foreigner, the thesis project by graphic design major Cindy Chan (CFA'22), is a response to recent attacks and hate crimes against Asian Americans that have often gone unreported by the media. "The project combines research, interviews, and individual anecdotes into a visual body of work that brings awareness to the struggles that Asian Americans face and to empower the Asian American community," Yang says.
Another thesis project—Full—by Geo Ferrari (CFA'22)—uses their identity as a Brazilian and nonbinary individual to address issues around trauma, queerness, sex, and community. "Ferrari's thesis project ultimately serves as a form of healing," Yang says, "while illuminating subject matters that are often ignored or too complex for words."
Dana Clancy, CFA School of Visual Arts director and an associate professor of art, says that being able to be part of an exhibition of this kind, curated by an outside professional, is invaluable experience for the young artists as they prepare to embark on their careers.
"Through the exhibition process, the students make more ambitious work and demonstrate focus and material and conceptual decisions appropriate to their work as young professionals. They gain confidence that is critical to continuity in their field after graduation," Clancy says, "confidence in scaling up, refining, and presenting their work and ideas, confidence in speaking and writing about their work for a larger public in cogent, but nondidactic ways, and confidence about how to advocate and negotiate professionally with a group."
Clancy says the show is also an opportunity for the BU community and the community beyond to interact with the students' work.
"I hope that both visitors and the seniors take away the overall sense of resilience that these young artists have displayed in highly inventive, personal, humorous, and ambitious ways…we hope that people will come in to simply enjoy and spend time with this exciting group show," she says. "We need viewers in the gallery to complete what the work is about—seeing the scale, material, interaction of surface and form. Reaction to the work outside the studio is important for our students to complete the thesis year."
The 2022 BFA Thesis Exhibition is on view at the Faye G., Jo, and James Stone Gallery, 855 Commonwealth Ave., through May 20. The show is free and open to the public. The gallery is open Tuesday to Saturday, 11 am to 5 pm.