Alternative Service Break Trips Stay Local This Year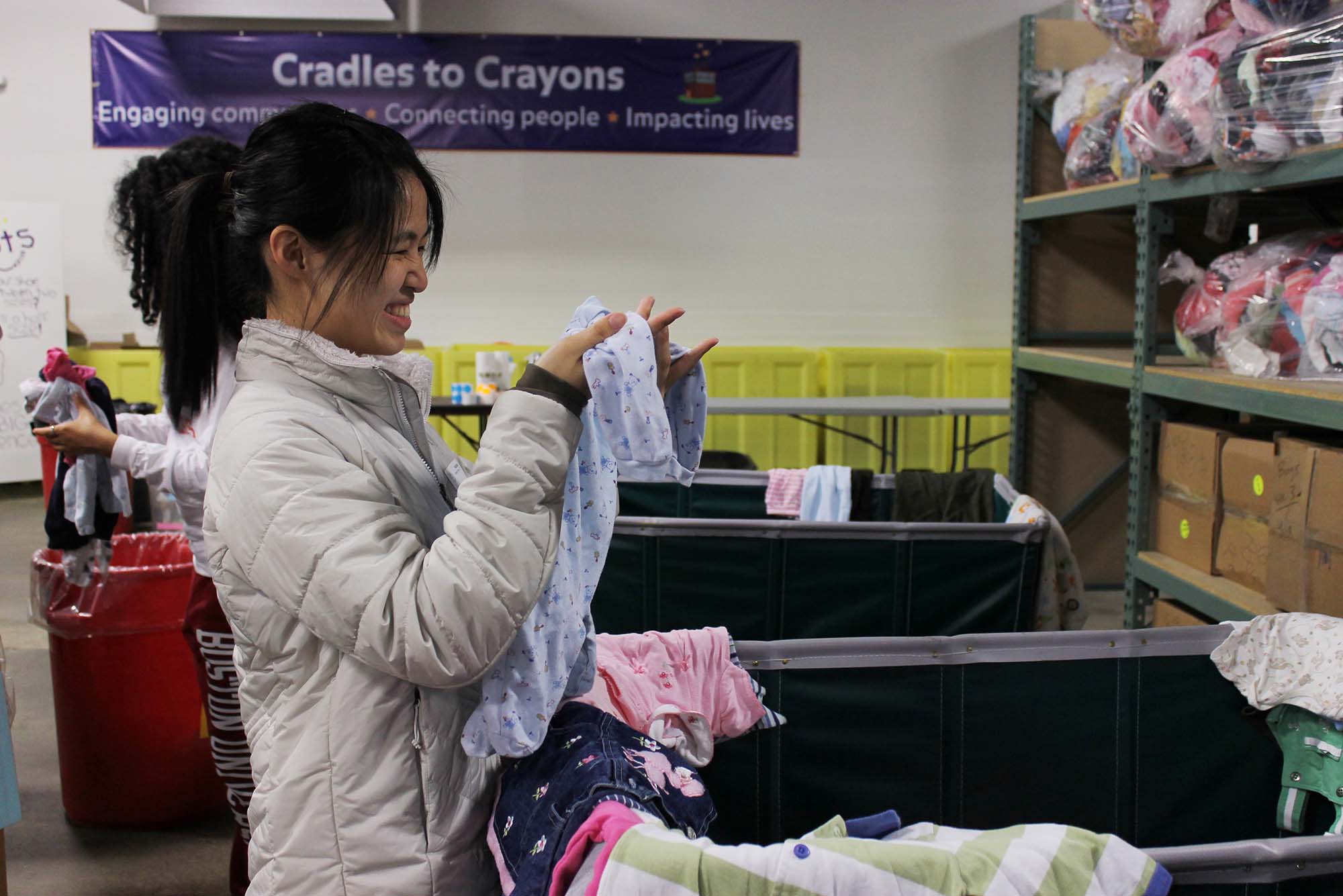 Community Service
Alternative Service Break Trips Stay Local This Year
Students joining the annual community service initiative will help groups like Cradles to Crayons and Mothers' Milk Bank Northeast
It's the third year that the pandemic has disrupted BU's Alternative Service Breaks (ASB), an annual weeklong program run by BU's Community Service Center (CSC) that offers students the chance to volunteer with nonprofits during their week off of classes for Spring Break. But while the program was canceled in March 2020, and held virtually last year, this year's iteration will finally take place in person, in and around the Greater Boston area.
Founded in 1988, ASB's goal is to bridge communities and teach students about the importance of inclusivity, diversity, and social justice, according to the CSC website.
Prior to the pandemic, ASB offered service trips to other states, such as Tennessee, Florida, and California. The ASB team was hoping that this year could offer the same experience and were actively planning logistics for national travel. But the Omnicron variant emerging in full force this winter made the organizers hesitant to send students "throughout the country and not knowing what impact that would have on local communities," says Danielle Cavendish (Sargent'14), CSC assistant director. "We made the really tough decision that we can't control the future." So, the coordinators were forced to quickly pivot to Boston-only trips.
In response, the program began searching for local partners through BU's other community service programs, like the First-Year Student Outreach Project (FYSOP).
"Our first step [was to partner with] FYSOP, because they've been so receptive to hosting volunteers for a more short-term experience," says Cavendish. "Fortunately, many of them were happy and available to host during Spring Break."
This week, the 52 students who signed up will partner with one of 10 local organizations in areas such as food justice, human rights, environment and sustainability, and education and youth advocacy; these organizations include Cradles to Crayons, Boston Area Gleaners (a surplus farm crop rescue organization), and Mothers' Milk Bank Northeast, a volunteer favorite.
The theme for ASB 2022 is "Full Moon," chosen by organizers to emphasize the idea that, no matter where a student travels during ASB, they can look up to the moon and know that they are connected and supported. "Our hope is for students in ASB to fall more in love with Greater Boston and gain an appreciation of the unique challenges and triumphs that make the city so special," they say on their website.
Although ASB's geographical reach is limited this year, students will still be able to have a face-to-face experience with community partners. Students will work with two organizations throughout the week and participate in reflection activities and other get-togethers with their coordinators.
Farah Alam (CAS'23) was unable to participate in ASB due to the lockdown in March 2020.
"I knew about ASB and signed up to volunteer, but that's when COVID sprung and we all had to get sent home," she says. "I knew I wanted to get involved, just because community service is a passion of mine."
Alam decided to revisit ASB the following year and applied to become a program manager, a position that has her leading 22 of her fellow students. Her co–program manager, Nhi Nguyen (CAS'22), participated in FYSOP in 2019 and enjoyed it so much that she wanted to help with the event planning side of ASB.
The organizations that ASB partners with benefit from "a group of students who are really enthusiastic about coming there and doing the work…and having the resources to be able to finish a project in one week." Despite the convenience of working with just Boston organizations, Nguyen says she hopes that ASB can travel nationally again next year.
"We believe, even though it's only five days, you'll make meaningful connections after it," Nguyen says.