26.2 for a Cause: Terriers Running the Boston Marathon with a Mission
Boston Marathon
26.2 for a Cause: Terriers Running the Boston Marathon with a Mission
Charities, personal struggles, and lost loved ones motivate this year's group of runners
The only thing stranger than an October Commencement? How about an October Boston Marathon? Traditionally the third Monday in April, instead the 125th running of the world's oldest marathon begins at 8 am on Monday, October 11, and it will be the first in-person Boston Marathon since 2019, one of scores of traditions worldwide canceled by the COVID-19 pandemic. The Boston Athletic Association expects about 20,000 people to run in the race, with entrants qualifying based on their time or by running on behalf of a charity.
Boston University will be well-represented at the starting line in Hopkinton, Mass., on Monday morning. Here are the stories of six members of the BU community—two students, an alum, two faculty (one also an alum), and one staff member—who are running for a cause.
Nicole Homerin (Wheelock'17) is running the Boston Marathon for Boston Children's Hospital Miles for Miracles.
Homerin had open-heart surgery three decades ago, at six months old. She was born with a large ventricular septal defect, a hole in the left ventricle of her heart. A month after the 30th anniversary of her surgery, she will run her second marathon, defying what doctors told her parents.
"I was told very young that I would never do anything really strenuous, and I was supposed to sit out in gym class," she says. "For some reason, life didn't turn out that way."
Homerin had countless doctor's appointments as a child, and her family was told she would have to have a second surgery when she was seven. At that point, her doctor said she could wait a year. That happened again and again, then the surgery was scrapped completely.
Her physical activity was restricted as a child, but her parents let her release her energy by dancing. Homerin tried Irish dance at BU, and credits its short, intense spurts of activity with strengthening her heart, allowing her to run marathons. Another factor motivating her to overcome her heart issue was her dislike of being singled out. She wanted to participate in school gym class so classmates wouldn't look at her differently. That's the main reason she works with disabled people, she says.
Things were not, and still are not, totally normal for Homerin. Her running consists of intervals of running and walking. She'll run for five minutes and then walk for one minute for the entire marathon. "Out there training, a lot of times, people would pass me and say, 'Oh, are you okay?' because they saw me walking," she says. "I have to explain, 'Yeah, I'm fine at this moment, but this is the way I train.' It was definitely mentally challenging to accept that it doesn't work to run the entire race together like a lot of people do."
An early childhood education major at BU, Homerin began running when she was working with disabled children. After graduating, she started out in the deaf-blind program at Perkins School for the Blind, then worked at the Boston College Campus School while getting a master's at BC.
The children "got through their difficulties and just pursued life and really tried to live to the fullest," Homerin says. "Unfortunately, I started losing a lot of my students to their disabilities. [Running] reminded me that I'm very fortunate to be in a position I wasn't really supposed to be in…able to do physical activity."
Since 2017, seven students with disabilities Homerin has worked with have died. To help cope with her grief, she would run before she went to work.
"How do you go into a preschool classroom and tell your kids, 'Your classmate is no longer coming back,'" she says. She continued working with disabled students when she moved to Los Angeles for a doctorate, but needing a break from the stress, left the classroom. "It just got to be a lot. I would see my student one day, and the next day I would get a call that they were gone."
When Homerin flew to Boston to run the marathon route with her Miles for Miracles teammates in early August, she got a call that her dad was "on his final days." He died on August 27.
"I'm running for the children, I'm running for myself, but now I'm also running in memory of my dad," Homerin says. "I know I'll be crying the entire way."
Caroline Adamson (Sargent'22) expected to run from Hopkinton to Boston on April 20, 2020. Then the city and the BAA pushed the race to September 14, 2020, because of the COVID-19 pandemic. Fine, Adamson thought, I have more time to train.
Next the BAA announced the marathon would be virtual, and she had to put her dream of crossing the Boylston Street finish line on hold.
Almost a year and a half later Adamson will race through the streets of eastern Massachusetts towns to Boston with a new view on the same purpose. She raised over $10,000 for the Leukemia & Lymphoma Society before the 2020 Marathon because her mother had twice been diagnosed with the disease. In November 2020, doctors diagnosed her mom with leukemia for the third time, and she died in January.
"The mission has changed, almost, since the first time when I was trying to run it," Adamson says. Her mother "was such a big part of my fundraising team and my encouragement, so now it's turned into a mission where I want to cross that finish line for her."
Adamson says fundraising for the race took a mental toll. She had to talk about her mom's illness every time she spoke about the cause she was running for. After exceeding her $10,000 goal for the canceled 2020 Marathon, the Leukemia & Lymphoma Society halved her minimum fundraising goal to $5,000 for the 2021 race.
"My mom was my biggest champion when I was training the first time," Adamson says. "I'm more focused on the actual act of running the marathon than fundraising this time."
Her loss is motivating Adamson to do all she can to cross the finish line. As she does, she'll be listening to "Lose Yourself" by Eminem—and thinking of her mom.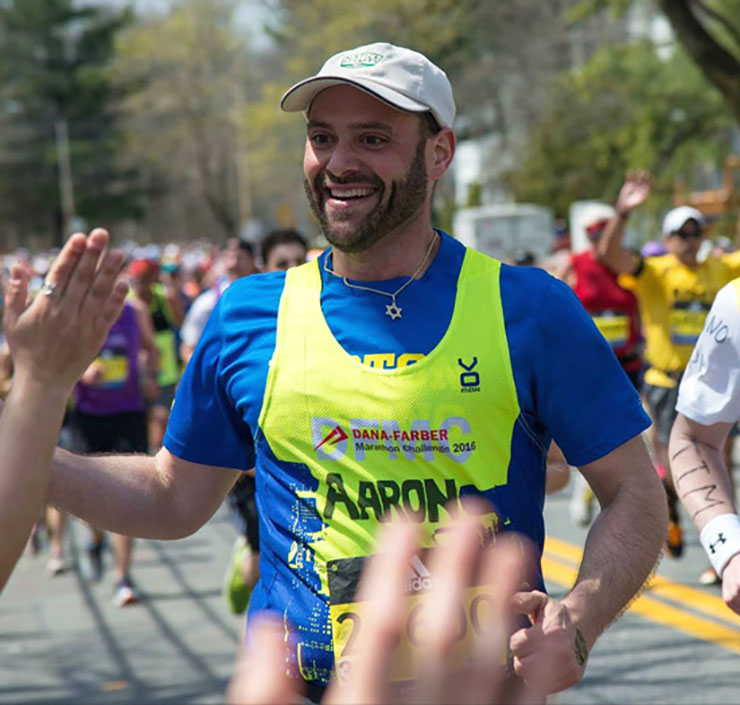 Aaron Stevens (MET'02), a Questrom senior lecturer in finance and College of Arts & Sciences senior lecturer in computer science, is a food addict. At his peak weight, he carried close to 290 pounds.
From the time he began his undergrad studies at Indiana University in the late 1990s until he moved to Boston in his late 20s, Stevens never discovered a way to make himself run regularly. He found some consistency 15 years ago when he met his first running partner, built up to running seven miles, and cut his weight to 238 pounds—his record-low adult weight at the time. But soon after that milestone, his first child was born and he became too busy to run, and his weight climbed back up to 290.
When he turned 36 eight years ago, his youngest child was born and he changed his eating and exercise habits for good. His weight dropped to 200, and he has been running ever since.
"What has made me successful is that I have a core group of running friends that I meet at 5 o'clock in the morning," Stevens says. "When it's cold or it's dark or it's raining, it's so easy to cancel on yourself. But if you tell a friend you'll meet them at 5 o'clock in the morning, you don't cancel."
He gained a new perspective on his food addiction when a neighbor asked to store a case of hard lemonade in his refrigerator. When he asked if she was out of space, she said no, but if she kept it in her house, she would drink the whole thing that night. Stevens feels the same way about cookies, brownies, and ice cream.
"I still see myself as being obese," he says. "I spent 35 years being the fat kid. That's pretty well ingrained."
In December 2014, while Stevens was training for the 2015 Boston Marathon, his father was diagnosed with bladder cancer. He made multiple trips home to Chicago for hospital visits. "I'm totally powerless—most of us are—when a loved one is sick with cancer," he says. "My biology and chemistry skills are never going to help [cancer treatment research], but my running skills and my enthusiasm can help."
Stevens' dad received an immunotherapy treatment developed by the Dana-Farber Cancer Institute that helped him regain his health, so his son will represent the Dana-Farber Marathon Challenge team on the course.
"This is my way of giving back," he says, "but also to help support primary cancer science research so other breakthrough treatments will be available to help other people."
Now that marathons are starting up again post-pandemic, Stevens aims to run 10 to 12 a year (he ran 11 in 2019). He will run marathons on back-to-back days later this month.
Madison Jolly, a financial analyst in BU's Study Abroad office, is running to raise money to keep the after-school programming at the Boston Public Library free to local students.
Growing up in Carlisle, Mass., she did after-school reading programs at her local library, so she wanted to make sure the next generation of students had the same opportunity. "People have been really generous," she says. "What I appreciate most is people send little notes with their donations, and it's just great to hear words of encouragement."
Jolly started running with her middle school cross country team, and hasn't stopped since. She ran her first marathons—Chicago, Disney, and Quebec—during a gap year before she started college. Her most recent was the 2017 New York City Marathon, which she ran while she was at Johnson and Wales University in Rhode Island, her alma mater.
"I have, over the course of my childhood, been adding miles," Jolly says. "I started with a 5K in middle school, then got up to a 10K and a half [marathon] in high school, so I just wanted to see if I could do the full marathon."
She is used to running long distances, but was not used to this past summer's heat—the average temperature of 74.5 degrees was 2.9 degrees over the previous 20-year average. "I feel like every time I was going to go for a long run, it was either over 90 degrees or it was raining," Jolly says. "Honestly, I got to the point where I didn't really mind the rain compared to the heat."
Sarah Sherman-Stokes is a School of Law clinical associate professor of law and associate director of LAW's Immigrants' Rights & Human Trafficking Program, where she teaches immigration law and supervises students who represent immigrants in court proceedings.
She is raising money for the Political Asylum/Immigration Representation (PAIR) Project, which provides pro bono legal services to asylum seekers and unjustly detained immigrants in Massachusetts.
Sherman-Stokes worked at the PAIR Project from 2011 to 2013 before coming to LAW, and the school has a close relationship with the project, she says. Her work with immigrants during her undergrad years at Bates College motivated her to enter immigration law.
"I was a union organizer working with janitors in Washington, D.C., in college," she says of how she entered immigration rights work. "I got to spend a lot of time in office buildings listening to janitorial staff tell me about why they fled their home countries and came to the United States for safety."
In addition to that work, she studied abroad in Central America. "I got to hear stories from folks whose parents or grandparents or siblings had made the journey north to the United States. I also learned a lot about the history of US involvement in Central America and the violence that we had wrought on the region that had driven many people to go to the United States."
Last year Sherman-Stokes started running with ultramarathoner Kathryn Zeiler, a fellow LAW professor. Zeiler gave Sherman-Stokes a book about marathons and said she should run one.
"I thought, 'I can only be motivated to do that if I'm doing it for a good cause,'" Sherman-Stokes says. "The opportunity to run for PAIR came along, and I jumped at it."
Matthew Reiss (MED'22), a fifth-year PhD student studying pharmacology, graduated from Binghamton University with an engineering degree, earned a master's in bioengineering at the University of Pennsylvania, and worked in a cancer research laboratory.
Former swimmer and soccer player Reiss turned to a more experienced runner when he decided to start running: his stepbrother, who helped him adjust to running.
"I used to think to myself, what's the point of running if there's not a ball to chase after?" Reiss says. A first-time marathoner, he is representing the Boston Medical Center team, raising money for the hospital.
"My feet were so sore at the end of my first half-marathon that I said to myself, never again," Reiss says. "And…here we are. You forget the hard parts of it eventually, and it really is a fun experience."
The sense of accomplishment at the end of a race is a great feeling, but the camaraderie of running with other people during marathon training keeps Reiss, who missed the team environment he had with swimming and soccer, coming back.
"The most recent long run I did in training was 22 miles," he says. "That's something I literally cannot fathom having been able to do. It's these little goals and realizing you can do more than you thought you could."
The 125th Boston Marathon, on Monday, October 11, begins with the wheelchair division, the men at 8:02 am and the women at 8:05 am. Professional male runners begin at 8:37 am, professional female runners at 8:45 a.m. The rolling start for amateur runners begins at 9 am. Prime viewing spots on and near campus are on Beacon Street and in Kenmore Square. Wheelchair racers will enter Coolidge Corner via Beacon Street around 9:15 am.