BU to Permit Remote Work for Eligible Staff, Up to Two Days a Week
University News
BU to Permit Remote Work for Eligible Staff, Up to Two Days a Week
Recruitment, retention, morale seen as key factors for pivoting toward a new work culture
In a seismic shift in the 182-year history of Boston University, and a nod to how dramatically the COVID-19 pandemic has altered societal expectations around the culture of work, BU leaders announced Wednesday that certain staff members will be eligible for flexible schedules permitting remote work up to two days per week.
The new policy applies only to staff—and not all staff will be automatically eligible. Managers may approve employees whose jobs can be done independently and without supervision, who don't require extensive in-person contact with students, clients, or the public, who don't need access to files or equipment accessible only on campus, and whose performance evaluations have shown them to be high-performing. (The changes cover nonunion staff members; discussions with unions, representing about 1,400 workers, will take place separately.)
The adoption of remote work emerged from a 72-page report by the Committee on the Future of Staff Work at Boston University. BU President Robert A. Brown formed the committee and asked for recommendations to policy changes around making remote and flexible work a permanent part of the culture at BU—no small pivot for an urban residential and research institution that thrives on the energy produced by 32,000 students, over 3,700 faculty, and more than 6,100 staff members on its Charles River and Medical campuses. After digesting the committee's report, Brown and committee cochairs Ken Freeman, interim vice president for human resources, and Natalie McKnight, dean of the College of General Studies, sent a letter Wednesday to the BU community outlining the changes.
The new policy, still awaiting final guidelines from Human Resources that are likely to come in early August, should be considered a privilege that is earned, Brown, Freeman, and McKnight wrote: "It is not a right."
In the end, three key factors drove the committee's recommendations and Brown's decision that the status quo—with staff required to commute to campus jobs five days a week—was no longer sustainable:
Retention: Current employees might seek new jobs at workplaces that embrace more flexible work schedules.
Recruitment: Potential employees in a competitive job market where higher education institutions are a dominant player will no doubt compare perks like remote schedules.
Morale: The assumption is that happy, productive employees with remote work schedules will make for a happy, productive BU.
In their letter, the officials touched on the challenge of allowing remote work without harming BU's residential environment. "The mission is intensely collaborative, carried out in our classrooms, laboratories, studios, and in countless formal and informal meetings in conference rooms, offices, and around dining tables across our campuses," they say in the letter. "Traditionally, face-to-face contact between our faculty, students, and involved staff is at the core of these activities. After 15 months of disruption caused by the pandemic, we are beginning to return to these activities."
But that return comes with new expectations by employees and their managers, who learned that remote work does not lead to reduced productivity.
"The world's changed," says Freeman. "The choice for BU is not should we change, but how will we change to this new world. Individuals have discovered that in many cases, they can perform much of their job remotely. For BU, how do we respond to that trend, while preserving the residential community that is so important to what Boston University represents?"
Up to two days a week of remote work should preserve that, the committee's report said. If an employee wants to work remotely three or more days a week, or be fully remote, that request will be evaluated individually and approved only in exceptional cases.
"We have to maintain that vibrant residential community," McKnight adds. "This is a balanced approach."
Remote works
The much-anticipated news comes at a stressful moment not only for BU, but for employers large and small around the country. As people emerge from more than a year of largely sheltered, isolated living into a world where vaccinated people now outnumber the unvaccinated—and where masks are coming off and crowds are once again gathering—adjusting to life post pandemic is proving easy for some, challenging for others.
In their letter, Brown, Freeman, and McKnight noted that before the pandemic, approximately 10 percent of BU's staff worked partly or fully from home. And the committee report broke it down further, explaining that 57 employees were fully remote and 729 had some flexible work arrangement. "As our campuses return to full in-person operation in the fall," the letter said, "the question is how to balance the importance of the in-person connectivity and its role in departmental and University culture and mission with the flexibility of off-campus work."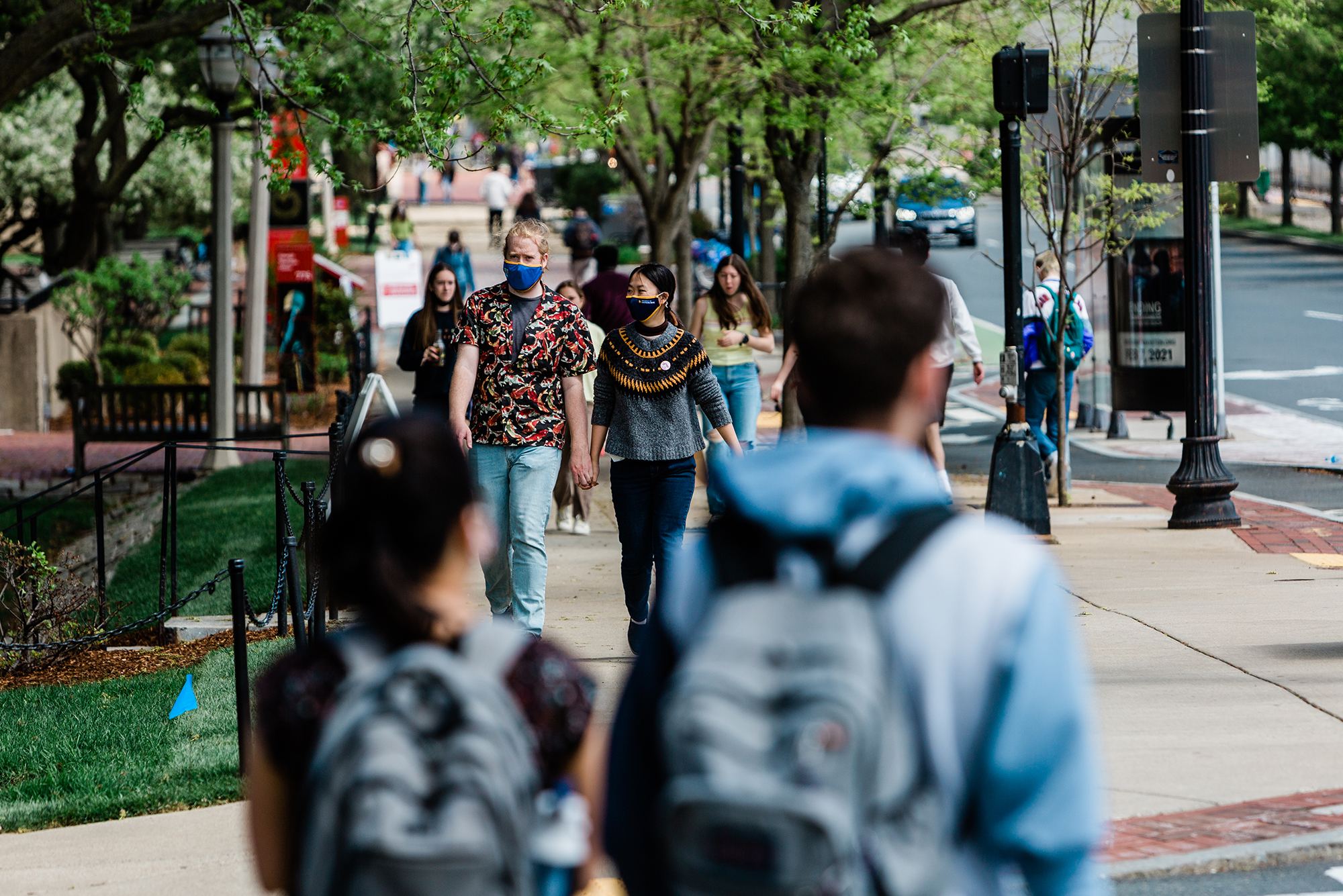 ---

As our campuses return to full in-person operation in the fall, the question is how to balance the importance of the in-person connectivity and its role in departmental and University culture and mission with the flexibility of off-campus work.

---
Photo by Janice Checchio
Students, and the impact on them of having staff working remotely some days, was top of mind for committee members. "Students' world has changed too," says Freeman, who is also dean emeritus of BU's Questrom School of Business. "What are their expectations as they come back to campus? They've learned to access certain services remotely. We need to understand which of these services are better in person and which are better remotely."
To that point, McKnight adds that she has heard from many students who appreciated BU's Learn from Anywhere approach, which combined remote and in-person learning, because it gave them greater access to advisors, either in the evening or on an occasional weekend. "As a dean, I have never interacted with my students more than I did in the last year," she says. "Having staff have flexibility can serve the students, and be a real advantage."
The forthcoming changes apply to staff, not faculty. Students in the fall will be back in classes, where instruction will be entirely in person. McKnight, a CGS professor of humanities as well as dean, says there was a good reason that faculty were not included in the policy shift. "Faculty have flexibility already," she says.
Housing and commuting
If the work from home forced by the highly contagious coronavirus pandemic affirmed one thing, it's that more than anything, people want a better work-life balance. They want less time stuck in traffic or on crowded buses and trains and fewer hours sitting isolated in offices or cubicles. They want more time doing their jobs from the convenience of home, or wherever they choose to be.
But one point the committee made in its report involved caring for dependents—either children or elders. Childcare was a particularly sensitive issue that surfaced during the pandemic when schools were predominantly remote and daycare facilities were closed, forcing parents to have to juggle working at home while managing children at home. In its report, the committee recommended that under the new policy, staff members should not be the primary care provider for dependents on days they are working remotely, and should make regular arrangements for work hours.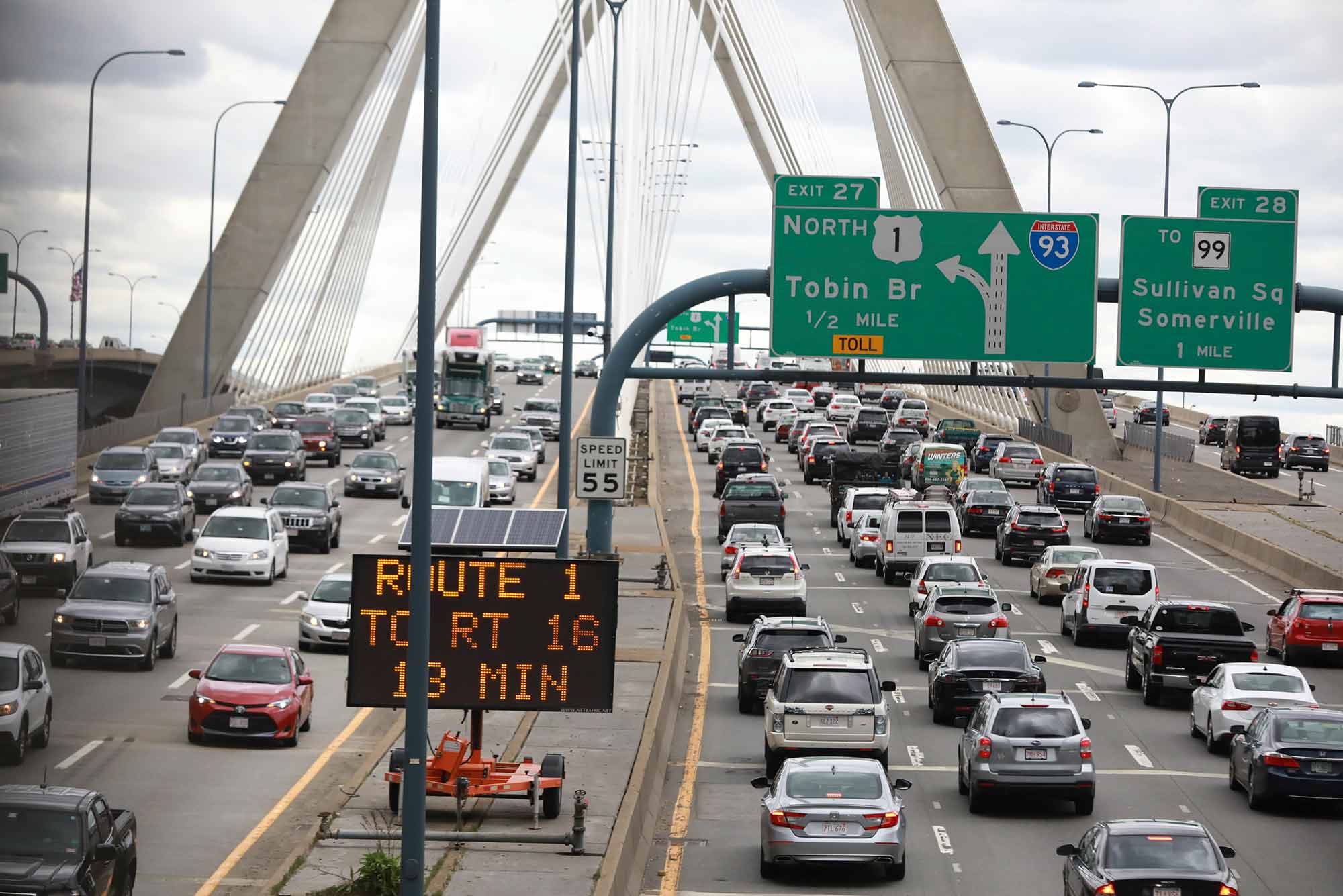 ---

If you're only commuting three days a week rather than five, you might get back four or more hours a week. It's an environmental issue, as well as about productivity.

---
Photo by Nicolaus Czarnecki/MediaNews Group/Boston Herald
Those challenges aside, as the pandemic has proved, today's technology allows for remote work. With powerful laptops and cell phones, all equipped with video cameras, employees discovered they could log in to BU's systems, Zoom in or call in to meetings, and easily accomplish much of their work from a kitchen countertop, living room couch, or makeshift home office. And they didn't have to spend long hours and significant expense commuting, coughing up money on T passes, parking passes, and gasoline.
Related to commuting, two other factors in the conversation around remote work was Greater Boston's combination of soaring real estate prices, making it hard to own a home within a reasonable commute of BU, and its worsening traffic—a 2020 study ranked Boston as the most congested city in America.
"If you're only commuting three days a week rather than five, you might get back four or more hours a week," McKnight says. "It's an environmental issue, as well as about productivity.
"Individuals are leaving organizations that require full-time on-site presence. Our peers are coming out with flexibility plans, real competitors for us."
As the report noted, Northeastern, Tufts, and Harvard Medical School are allowing research administration jobs to be fully remote, "an explicit strategy to recruit the best across the country."
Both Freeman and McKnight say it is also important that all BU staff recognize that the benefit of remote work won't be available to every staff member, because certain full-time employees, like teachers at the BU Children's Center or officers in the BU Police Department, have to "keep the campus running," as McKnight says.
The employee survey helped
One major factor in the committee's work was the results from a May BU survey of staff and faculty who supervise staff about remote work. Participation in the survey was high—nearly 3,000 respondents (almost 50 percent)—and 98 percent of the respondents were full-time employees. The results were striking, particularly one key finding: supervisors said employees were as productive, or more productive, working at home than in the office during the pandemic.
"Productivity is up," McKnight says of the survey results.
When employees were asked how many days, ideally, they would prefer to work from home, the most popular answer by far was three days, followed by two, then five.
When asked how likely it would be to influence their decision to stay at BU if they did not get the opportunity to work from home at least one or more days per week, 38 percent said, "very likely," the highest total.
The survey also explored hiring and retention trends, and found that "corporations look forward to raiding companies not willing to provide staff flexibility." And when the BU committee examined why University employees were leaving their jobs, a key reason was: "They are leaving for fully remote and hybrid work opportunities."
Among the survey's other telling numbers: 90 percent of staff respondents said they prefer to work from home two or more days per week and 90 percent said they believed they were equally or more productive while working from home, and 82 percent of the faculty supervisors who responded said the level and quality of support they got from staff was the same or even better during the pandemic than before it. Also, faculty supervisors overwhelmingly supported flexible work options for staff.
But Freeman adds that even though the survey results were overwhelmingly in favor of allowing remote work, the committee's deliberations were not without tension. Some members argued for more than two days of remote work, while McKnight thought the committee might land on just one day of remote work per week.
Ultimately, when debating the question of one day versus two days versus three days of remote work, the committee did not pick a number. It merely recommended that a "majority" of employee time should be spent on campus, not remotely. It was Brown who settled on two days rather than one day or three or more. "This allows change, but doesn't create a revolution," Freeman says.
In the end, he says, managers "hold the key to the kingdom." Managers, deans, and vice presidents will decide if an employee's job description and level of performance warrant permitting two days a week of remote work, knowing that it can also be revoked if the employee abuses the privilege. "We don't want it to be bureaucratic, but there has to be an orderly and deliberate process," he says.
"If everybody says, I want to have Monday and Friday off, that won't work either. That's why you need a couple of layers of approval."
Implementing change
The committee laid out in detail how the new remote work policies could be put in place so that employees feel empowered without being micromanaged at home, while managers also feel like they can hold their workers accountable. Although managers and employees can begin conversations about flexible schedules now, they would not be implemented until the final HR guidelines are issued by the end of summer.
"Give staff members, to the extent feasible with our residential research university environment, the flexibility to accomplish their performance goals and objectives working partly or, in a limited number of cases, totally away from campus," Brown, Freeman, and McKnight wrote.
"Create an environment that enables managers to effectively supervise staff who are working away from campus. Create an environment where all employees—whether fully on campus or working partially remotely—are equally part of the Boston University community and culture, and the location where one performs their work does not negatively impact chances for advancement."
The committee's guidelines laid out the types of roles for which remote work is easily adaptable:
Roles that lend themselves to hybrid or remote work are generally those that require nonsupervised independent work
Roles that do not require ongoing access to equipment, materials, and files that can only be accessed on University property may be appropriate for hybrid or remote work
Roles that do not require extensive face-to-face contact with students, supervisors, other employees, clients, or the public on a BU campus may be appropriate for hybrid or remote work
Roles that must be conducted on BU premises for security, logistical, and other business-related reasons are not appropriate for hybrid or remote work
More specifically, managers, along with deans and vice presidents, will decide which employees qualify for flexible work, based on their job performance and job expectations and responsibilities, and all flexible work arrangements will have to be approved by an employee's manager, and their dean or vice president. Remote work that takes place outside Massachusetts—for example, employees who live in New Hampshire or Rhode Island—also requires approval by Human Resources because of tax and legal considerations, according to the letter from the BU officials.
"Institutionalizing flexible staff work is an important step for continuing to attract and retain the talented employees that advance the mission of Boston University every day," they wrote. "Maintaining our culture of collaboration and connectivity with a more distributed staff will require change by all of us."