Ms. Marvel Gets the Scholarly Treatment
The '70s-era comic book series is the focus of a research project by a a CGS lecturer and student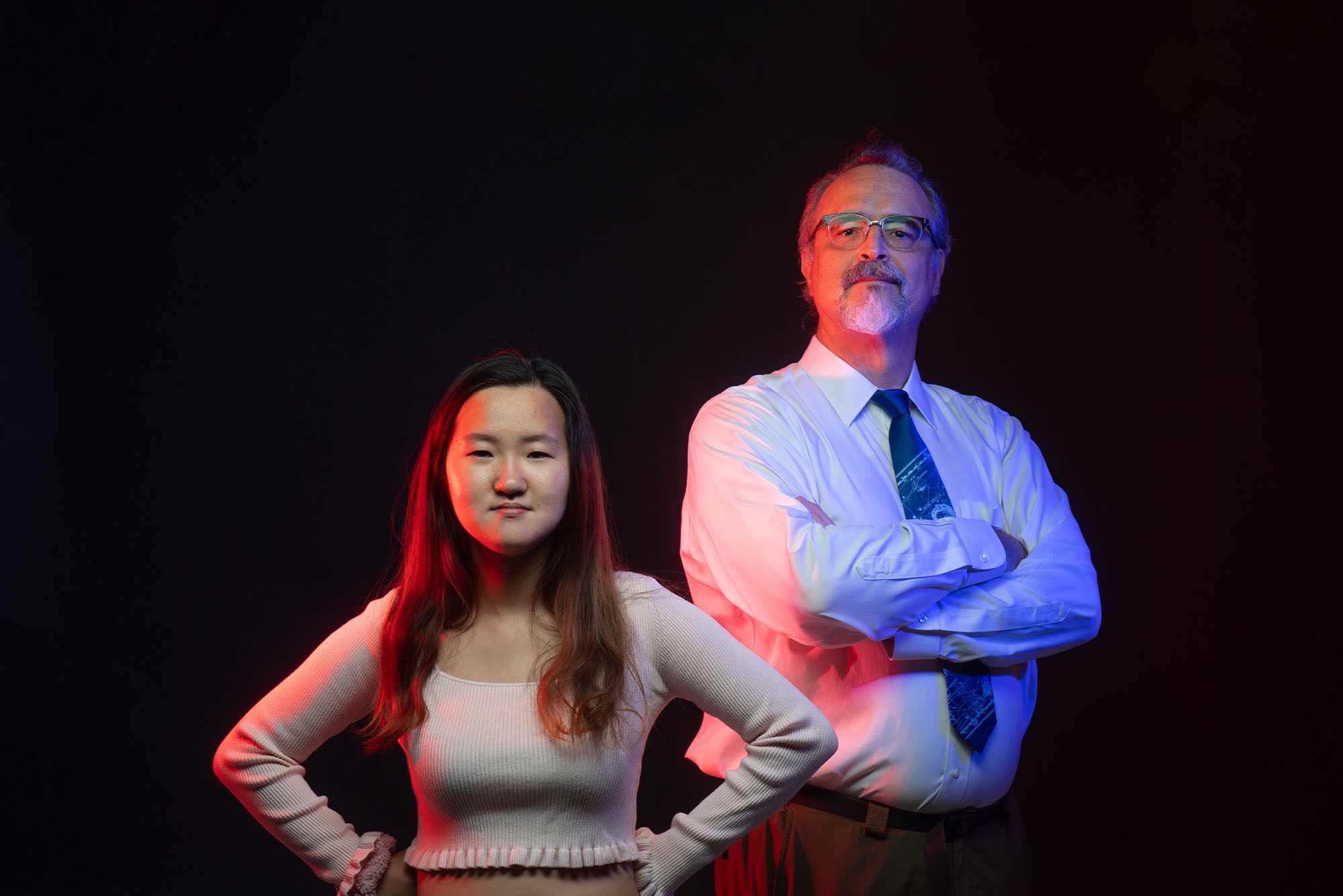 Arts & Culture
Ms. Marvel Gets the Scholarly Treatment
The '70s-era comic book series is the focus of a research project by a CGS lecturer and student
Long before Disney execs approached Oscar-winning actor Brie Larson about taking up the Captain Marvel mantle—in fact, before Larson was even born—there was Ms. Marvel, the late-1970s-era feminist Marvel comic created by Gerry Conway and John Buscema about journalist-turned-superhero Carol Danvers.
Just a few years earlier, Gloria Steinem, Patricia Carbine, and others launched Ms. magazine, a first-of-its-kind feminist periodical that would go on to inspire generations of readers and activists. (Its first cover star: DC superhero Wonder Woman.)
Coincidence? Maybe—and maybe not, say Charles Henebry, a College of General Studies senior lecturer in rhetoric, and Rachel Do (CGS'22). How these two Ms.'s intersect—and what that means for first-wave feminism—is what the two longtime comic fans are trying to uncover in their joint research project.
The project was Do's idea. As a student in Henebry's rhetoric class, a required course for first-year CGS students, a lesson analyzing issues of the Iron Man comic series inspired Do to turn an academic lens on comic books. "I did my research project for that class on first-wave feminism, and I wanted to continue that," she explains. "I love comics and Marvel and thought the [superhero] lessons were really interesting, so this felt like it really fit my interests."
For Henebry, this is far from his first spin at comics research. Previously, he'd researched and written about Iron Man, the Justice League, Superman, and Sin City, among others. When Do approached him about undertaking the project, it revived his earlier interest in issues of Ms. Marvel. "I'd written a conference paper at one point, but then set the whole thing aside during COVID-19," he says, adding that he's glad Do prodded him to return to the series.
Do estimates that so far she's read about 50 digitized issues of Ms. Marvel and The Avengers (in which Ms. Marvel appears) for the project. Ultimately, she and Henebry hope to turn their research into a scholarly article, or a book.
Their big takeaways so far?
Ms. Marvel—and her alter ego Danvers—experienced the same challenges as any feminist in the '70s, they say. The comics depict her (albeit unusual) struggle with work-life balance, and the patriarchal figures in both worlds: as a superhero, Ms. Marvel fends off would-be rapists and misogynists. In her civilian life, she works as the editor-in-chief of Woman magazine—a nod to Ms. magazine, Do and Henebry say—where she often tussles with sexist colleagues.
The comics also show the heroine as a mentor, both as Danvers and as Ms. Marvel. One of Do's favorite moments is a cameo by Spiderman's Mary Jane Watson, who comes to Danvers for career advice. As Ms. Marvel, Danvers delivers a speech to fellow Avenger Scarlet Witch about choosing a career over having children—a stance that was right in line with Ms. magazine's pro-choice politics.
---

It's one thing to say, 'I don't need a man!' and it's another to simply not need a man.

---
But writing a blatantly feminist superhero in the '70s wasn't an easy charge—especially for a team of all-male writers—nor was it always appreciated. Readers' letters (preserved in the digitized copies of the comics) reveal that many found the hero and her declarations "shrill" or over-the-top. That very likely impacted her storyline, Henebry says. Over the course of Ms. Marvel's two-year run, the hero quits her job and goes from beating up misogynists to fighting villains like Deathbird, thought to be a caricature of a "harpy" feminist.
"A lot of people think there was a deliberate effort [by the comics' different writers] to destroy this idealistic character," Henebry says. "They believe there was something about this character that rubbed a certain kind of person the wrong way, and led the writers [to temper her assertiveness]."
It's not dissimilar to Ms. magazine's experience. In its first decade, the magazine was boycotted, banned, and even trashed by Richard Nixon, then US president. The covers were often controversial—including one from 1976 depicting a bruised woman meant to be a domestic violence victim—and drew ire from advertisers and the public alike. By the '80s, the covers had lost their edge, and by the '90s, the magazine began covering more entertainment and fashion in a bid to court advertisers.
The bottom line: Ms. Marvel—and to an extent, Ms. magazine—was ahead of its time, Do and Henebry say. At least with the Captain Marvel film, Disney's re-upping of the Ms. Marvel franchise, we finally get to see Marvel do right by Carol Danvers, they note.
"Captain Marvel is more subtle than Ms. Marvel," Do says. "Captain Marvel exhibits strong feminist characteristics, but she [communicates that] through her behaviors and her actions [instead of monologues]. When she [simply] tells Jude Law's character, 'I have nothing to prove to you'—that's powerful. She sends the same messages, but in a more effective way."
Henebry agrees: "It's one thing to say, 'I don't need a man!' and it's another to simply not need a man," he says.

It's a lesson their next research subject, Diana Prince—also known as Wonder Woman—could probably take, he posits. Henebry's big problem with the recent Wonder Woman movies? Chris Pine's love-interest character, Steve: "He weighs her down."