Superman Is Queer: Is That a Big Deal?
CGS comic book expert Charles Henebry on the boy-on-boy kiss that has fans talking
Comics
Superman Is Queer: Is That a Big Deal?
CGS comic book expert Charles Henebry on the boy-on-boy kiss that has fans talking
OK. So the Man of Steel is queer. Apparently, Superman is not only faster than a speeding bullet, more powerful than a locomotive, and able to leap tall buildings in a single bound, as we all know, but he is also interested in cozying up to people of different genders.
Confused? Let's back up, and then we'll talk to Charles Henebry, a College of General Studies senior lecturer in rhetoric, whose research interests include comic books and graphic narratives, and who has given presentations on Superman.
Here's what happened for those in the dark: Clark Kent married Lois Lane. Finally. They had a son named Jonathan (after Clark's father). That boy grew into a strapping 17-year-old with all the powers of his dear old dad. And now Jonathan has kissed his close friend, Jay, thus prompting such lines as this from the New York Times: "Up, up, and out of the closet!"

Maybe this news should not have shocked comic book fans or even the general public. After all, Batman's sidekick Robin just confessed his own romantic feelings toward a male friend. But still, we at BU Today needed someone to walk us—or fly us—through this DC Comics drama. So, it's Charles Henebry to the rescue!
BU Today:
Superman coming out would seem groundbreaking—this is not a niche comic book character, this is the symbolic, historic, iconic Man of Steel.
Henebry: Well, he is and he isn't Superman. He wears the outfit and bears the name, but he's actually the son of the character we've known since 1938, Clark Kent. And in a way, that makes this Superman being bisexual all the more interesting. We get to watch him come out to his parents as a teenager. A young man uncertain of his place in the world, eager to prove himself, anxious to live up to the example set by his father. Parents who aren't upset, but might nonetheless still be caught off guard. That's a coming-out experience that's increasingly common these days in the United States.

The story can also be read as a passing of the torch between generations. That's not a theme that's gotten much play in comics, traditionally, since the characters don't need to age (and since their copyright is so valuable). But Marvel recently killed off and retired most of the heroes in its Cinematic Universe due to the aging of the actors. Perhaps DC has an eye on 2033, when Superman's copyright is due to expire?

Reading through the first four issues of this new series, Superman: Son of Kal-El, I'm struck by all the ways that the writer, Tom Taylor, presents this new Superman as a young idealist—standing up to cops on behalf of protesters, insisting that it's time to stop focusing attention on the symptoms and instead deal with the causes of societal inequity. The son of the original Superman channels the current generation in more ways than his sexuality.
BU Today:
Were you surprised DC Comics would do this?
Henebry: Am I surprised? I was certainly caught off guard. But I'm not shocked. Comics are in a really experimental place right now. In the Golden Age (1938-1956) and Silver Age (1956-1969), comics were conservative, not just in the sense of avoiding hot button issues, but in always sticking to the "winning formula" within each series: just as you could tune in to any given episode of Gilligan's Island [the mid-60s TV sitcom about a group of castaways trying to survive on an island after being shipwrecked], so too could you pick up any given issue of Superman and expect to read a story just like all the others you'd enjoyed on other days. The 1970s and early '80s brought in multi-issue story arcs and a new focus on real-world social issues, while the late '80s, '90s, and early 2000s were dominated by major "events" (Crisis on Infinite Earths, Infinite Crisis, etc.) in an effort to revive comic sales. The truth is that the bottom dropped out of the market during this period, as comics shifted from newsstand sales to specialty shops.

But the industry gained a new lease on life with the success of superhero movies. Lots of commentators have suggested that these days DC/Warner and Marvel/Disney are running their comics publishing arms as R&D divisions: they don't need to make money, they need to come up with ideas, storylines, and characters that 10 years from now can be raked over and recombined to make the next blockbuster. Five years ago, DC announced a Chinese Superman, written by Gene Luen Yang, famous for the graphic novel American Born Chinese. It had a pretty favorable critical reception, but ran only two years. That might be the fate of Superman: Son of Kal-El. We'll see.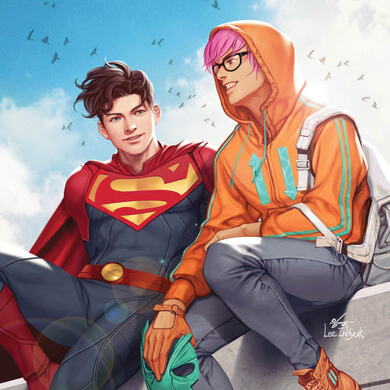 BU Today:
Some people are upset, arguing the plotline is just a weak attempt by DC Comics to appear "woke" or to attempt to tap into a different market, while supporters say, "It's about time!" What do you think?
This accusation, that DC is trying to appear "woke," is such a loaded one. Is DC hoping to make a splash, get some free publicity? Yes, of course. Does that invalidate the significance of the political gesture? Absolutely not.

Think of it this way: Almost 30 years ago, DC ran "The Death of Superman" crossover storyline. Beyond a bid for publicity, that was an effort to sell comics not on the strength of the art or storyline, but on the premise that collectors would pile in. And they did, but the short-term bump in sales likely hurt the company's long-term prospects by embittering fans.

This feels different. Like Gene Luen Yang's Chinese New Super-Man, Tom Taylor's Superman: Son of Kal-El strikes me as driven by the writer's vision far more than by marketing. Yes, of course DC wants heroes that can tap into the zeitgeist of the current generation—just as the company is eager to tap into the burgeoning Chinese market. But in pursuit of those goals the company is drawing on writers with a reputation for compelling story-driven comics and not marketing gimmicks.
BU Today:
You touched on this earlier, but are comic books and comic book characters like Superman even relevant today? Does news like this register beyond a small niche audience? Or have the big blockbuster movies saved them from irrelevance?
Clearly comic book characters still are relevant, as evidenced by coverage in the New York Times and BU Today. And blockbuster movies have certainly played a part in keeping them relevant. But Superman would likely matter even without any superhero movies. He's a cultural touchstone, an enduring icon. When they came out with a Flash Gordon movie and a Buck Rogers TV show during my childhood, it didn't matter that those characters had been out of print for decades. I'd heard of them. The same was true of the (terrible) Lone Ranger movie a few years back. Characters like these continue to resonate in the culture despite long absences from the spotlight.
BU Today:
How do we think Lois and Clark will take this news about their son?
As of Issue #3, Clark/Superman has left Earth on some sort of mission, two issues before the guy-on-guy kiss featured in all the publicity, so it may be a while before we get that coming-out story. But so far the series portrays Lois and Clark as a pair of liberal idealists.

I'm guessing they will respond as so many loving parents do these days, with love. The trick will be for the writer to inject drama into the script, lest the big moment fall flat. Lois and Clark won't be able to react in the unpleasantly dramatic manner of parents back in the dark ages of the 1980s. My money is on humor: "This is your big news?"