Get Ready for BU's Biggest Matriculation Ceremony Yet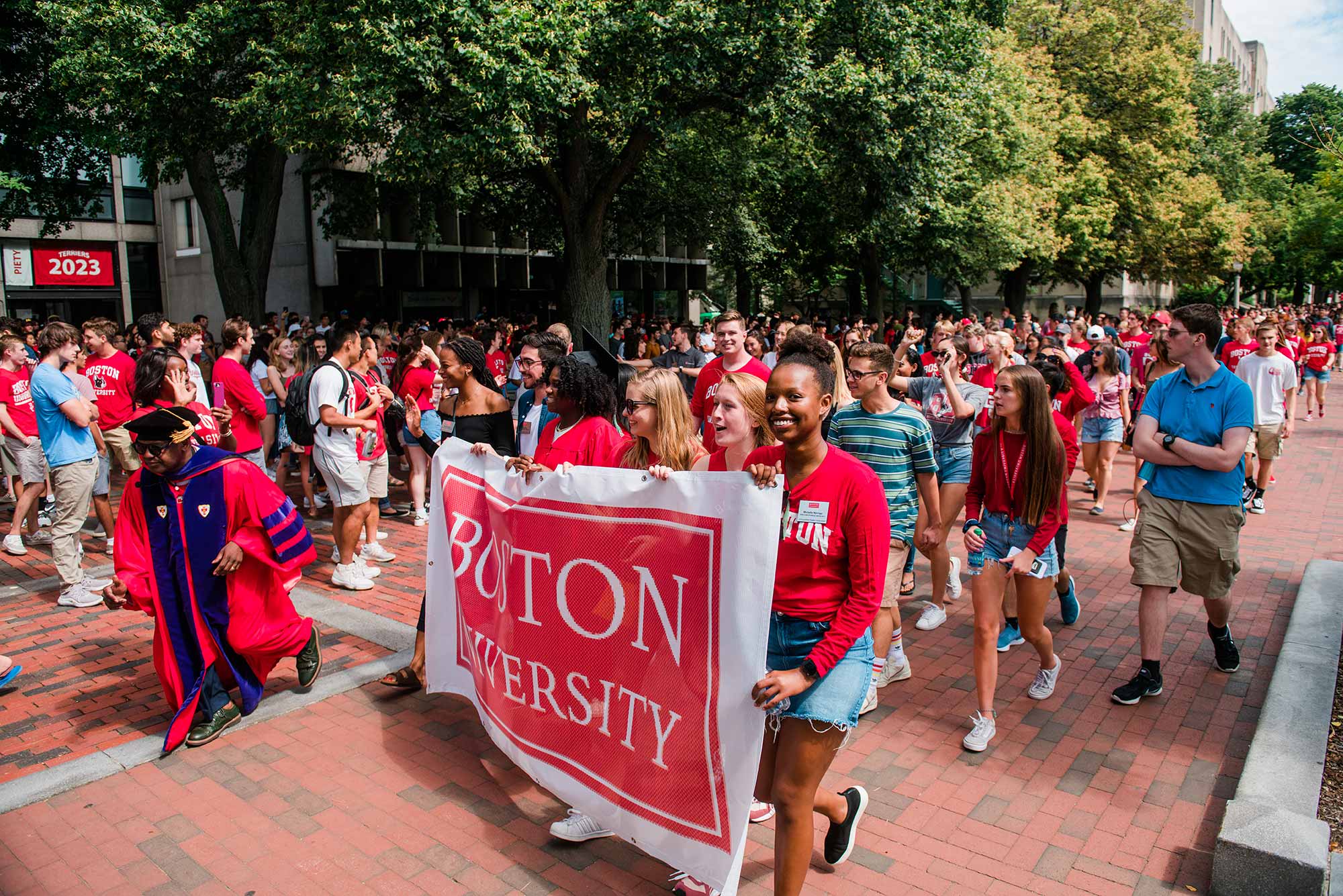 Student Life
Get Ready for BU's Biggest Matriculation Ceremony Yet
Sunday's official welcome for the Class of 2025 will be followed by a University-wide Terrier Tailgate
A workout session, a punched-up breakfast, and one heck of a tailgate—in-person Matriculation is back, folks, and this year the festivities are bigger than ever.
The Class of 2025 Matriculation, BU's official welcome to campus for its  incoming class, is Sunday, August 29. The ceremony marks the beginning of the academic year and is the first of only two occasions the class will gather together (the other is Commencement). This year will be the first in-person ceremony since 2019, when the Class of 2023 arrived on campus. This Sunday's scaled-up celebration is set to match the larger-than-average Class of 2025, comprising 4,023 new Terriers. 
What's new this year? A post-Matriculation Terrier Tailgate on Nickerson Field, starting at 3 pm—featuring free food and lawn games—that the entire BU community is welcome to attend. Plus, if you stick around, you can cheer on BU women's soccer as the team faces off against UMass Amherst at 4 pm.
Says Kenn Elmore (Wheelock'87), associate provost, dean of students, and Matriculation emcee: "You'll be participating in a tradition—your first at BU. We are fortunate we can still do this, despite everything going on in the world right now. We are going to let the city of Boston know: the Class of 2025 is here. We are thankful that this will probably be the largest gathering of family, parents, and friends to watch the Matriculation ceremony and traditions.
"Put on your red shirt and grab your mask—I'll see you on Commonwealth Avenue."
Here's what you need to know about this year's Matriculation.
Everyone is encouraged to wear their red Class of 2025 T-shirt to Matriculation.
Masks are required for all indoor Matriculation activities. Members of the incoming freshman class will receive a commemorative Class of 2025 face mask during Move-in along with their T-shirt—now's the time to wear it.
Friends and family are welcome to participate in all Matriculation events, with the exception of the Matriculation walk and the evening welcome bash.
Overflow seating for the Matriculation ceremony will be available at the Fitness & Recreation Center Four-Court Gym.
Parents who can't attend the Matriculation ceremony in person will be able to watch via livestream on the "Parents" tab of the Dean of Students website.
So, what's on the docket?
7:30 am
The day starts with an optional 30-minute group exercise session featuring Elmore's specially curated Spotify playlist.
Workout location: George Sherman Union Metcalf Hall, 775 Commonwealth Ave., second floor.
10 am
Breakfast. Head to Marciano Commons, Warren Towers, or West Campus dining halls for a special Matriculation menu courtesy of campus culinary director Chris Bee: goodies will include vegan chorizo breakfast tacos, avocado toast with Aleppo chili, sugared-bacon donut bites, and lemon-poppyseed pancakes.
Breakfast ends at noon. The meal is complimentary for family members who arrive with their Terriers—no need to use a guest meal.
11 am
Marsh Chapel hosts the annual Matriculation Sunday service, officiated by Robert Allan Hill, dean of Marsh Chapel, with music by an in-person choir.
Noon
Join Elmore on the Alpert Mall (located next to the BU Beach) for a reading of On the Pulse of Morning by poet Maya Angelou, which was first read at President Bill Clinton's 1993 inauguration.
12:30 pm
The Matriculation walk begins. Join fellow new Terriers for a long-standing BU tradition: the incoming class march to the Matriculation ceremony at Agganis Arena. There are two walks, one for students residing in East Campus, one for students residing in West Campus.
All members of the Class of 2025 will have received a letter with detailed instructions for the walk. See below for pickup locations:
East Campus: The walk begins at Myles Standish Hall with pickups along Bay State Road, Marsh Plaza, and outside the GSU.
West Campus: The walk begins at New Balance Field and will merge with the East Campus walk at the corner of Commonwealth Avenue and Buick Street.
2 pm
It's time for the Matriculation ceremony—and this is mandatory (all other Matriculation day events are optional). Elmore will emcee and speakers will include University President Robert A. Brown, Jean Morrison, provost and chief academic officer, and Nyah Jordan (COM'22), Student Government president.
Following Matriculation
The annual Terrier Tailgate on Nickerson Field will immediately follow the Matriculation ceremony, at 3 pm. All members of the BU community are invited to attend in addition to the Class of 2025 and their friends and family. Expect food, games, swag, and more.
Staying to watch the soccer game? Find the fall 2021 fan policy here.
8 pm
Class of 2025, wrap up your official welcome to BU at a students-only welcome bash with music, dancing, snacks, and more on the BU Beach.
Matriculation is Sunday, August 29. Visit the Matriculation website for more information.