BU Tanglewood Institute Alum Returns to Direct Orchestra Program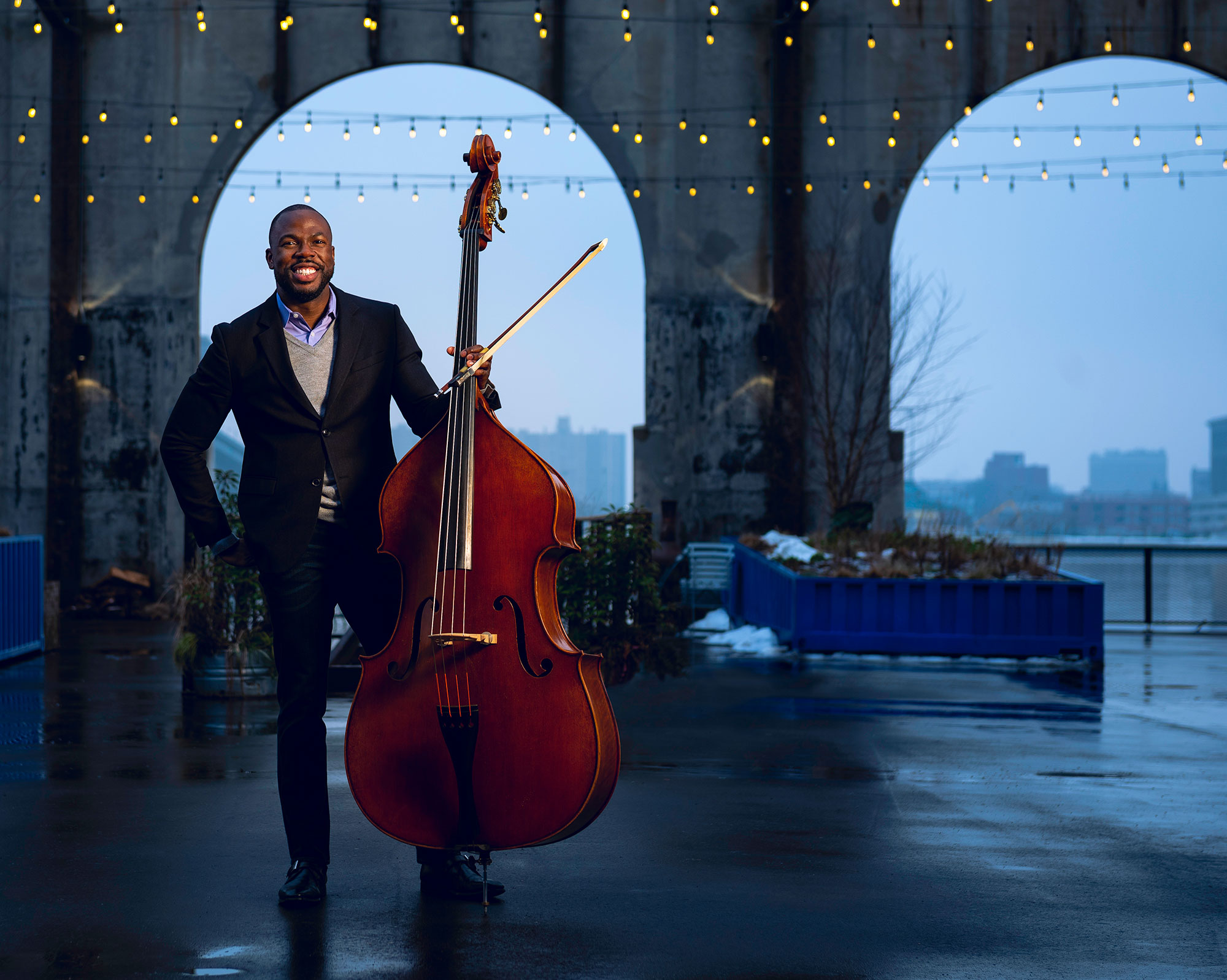 New Appointment
BU Tanglewood Institute Alum Returns to Direct Orchestra Program
Philadelphia Orchestra bassist Joseph Conyers recalls his "magical summer" in Lenox
Listen to Joseph Conyers talk about his time as a student at the Boston University Tanglewood Institute and you'll want to sign up yourself—even if you're long past high school and don't play an instrument.
"It was a magical summer…that forever changed my life, for all kinds of reasons," says Conyers (BUTI'98), acting associate principal bass in the Philadelphia Orchestra. "It introduced me to the Boston Symphony [Orchestra]. It was the first Big Five orchestra I'd ever heard, so that was transformative. And the friends I met there, they're some of my dearest friends to this day.
"Music for me was always an escape," he adds. "I heard somewhere that artists don't do well in high school, because not everyone has that kind of mind. I went from a place [Savannah, Ga.], where very few people had that kind of mind, to a place where EVERYONE had that kind of mind! It wasn't strange that I was 18 hours from home by car, because I was at a place that I could call home and with people who were as revved up and excited about making music as I was. All the quirkiness that made me strange in Savannah made me popular at BUTI."
Now Conyers has signed on as director of BUTI's Young Artists Orchestra, a central component of the renowned summer training program for gifted young musicians in Lenox, Mass. He will begin the newly created position this fall.
"Joseph knows BUTI because he was a student," says BUTI executive director Hilary Respass. "He deeply understands the power that happens when you bring talent and potential in line with opportunity, and that's what happens in this very special place. When you see him teach, there's this exuberance, but also this precision. He knows his stuff. But he doesn't do it with pomposity, he just brings it."
The ebullient Conyers grew up in a musical family, playing piano and, from fifth grade on, bass. "I have a lot inside, and the instrument is the only way I can get it out," he says. He had options for the summer after his junior year of high school, including a free ride to another prestigious summer program, but his high school choral teacher, Erin Freeman (CFA'97), and her husband, Drew Cahoon, were firm.
"They said, 'You ARE going to BUTI,'" he says, sternly, then cracks up. "And they raised the funds for me to go in the summer of 1998."
It wasn't just the sense of belonging or the concerts at Tanglewood down the street that changed his life; he also learned to play the bass in a way that remains with him today, thanks to a Boston Symphony Orchestra (BSO) bassist and CFA lecturer in music who is also a BUTI alum and teaches the bass workshop there. "I had a class with Todd Seeber (BUTI'80)," Conyers says. "Boston is known for their articulation because Symphony Hall is very boomy and warm, and I remember hearing Todd play—I just had not heard playing like that before! It was so clear. And that's something I'm known for in my playing today, is being clear. That's something I totally picked up from that experience."
Also formative was meeting the college-age fellows at the Tanglewood Music Center (TMC), many of whom were on the path to successful careers. "Meeting them as a BUTI high schooler gave me something to aspire to, and two summers later I was a TMC fellow, as soon as I could be. BUTI just began a long series of music—even stronger than guideposts, I would say cornerstones—that started the foundation of my career."
Conyers went on to study at the Curtis Institute of Music in Philadelphia and then held posts with several other orchestras before joining the Philadelphia Orchestra; he is also an artist of the Chamber Music Society of Lincoln Center, among numerous other affiliations. But he was glad to get back to Groton Place, the iconic stone mansion where BUTI is headquartered, when he returned to the institute as a visiting artist in 2018.
---

That summer forever changed my life, for all kinds of reasons.

---
"It was a walk down memory lane," he says. "It was a great way to lose 20 years. I went straight back to being 18 years old. It was great to see Groton Place—it has the same look, the same floors! The Little Red Schoolhouse is still there, although they use it for something different now. It was just magical."
He adds, "While I was there, it was easy to be reflective about what BUTI actually meant to me, and the seed it really planted in my life for success as a musician."
Several fellow BUTI students from 1998 became his lifelong friends, including Ben Levy, a bassist with the BSO and a CFA lecturer in music, and Ira Gold, bassist with the National Symphony Orchestra.
Looking at the students of 2018, he says, "I saw us in them, and I saw them in us. The kids are so talented. You know you're working with the next generation, and I don't take that for granted.
"It's exciting, but it's also terrifying, because there's a big responsibility that comes along with that. While I was there, I heard the Young Artists Orchestra play Stravinsky's Rite of Spring, which is no small feat for any orchestra, and those kids tore that piece to pieces! It was amazing! They blew the roof off of [Seiji] Ozawa Hall."
That visiting artist stint turned out to be the start of a deepening reengagement with BUTI, including a role on the strategic planning committee and an online "BUTI Intermissions" event in last summer's scaled-down program. Currently, Conyers is an artistic advisor and artist-in-residence. With the program all-virtual again this summer due to the pandemic, he is teaching several classes, including a program-wide weekly performance class, as well as a bass repertoire class. He will serve as artistic director/conductor for the Young Artists Instrumental Program's August 25 virtual premiere of a commission by acclaimed composer Valerie Coleman (BUTI'89, CFA'95), another enthusiastic alumni who has been asked for "a work that gives voice to her BUTI experience."
The virtual experience can be more of a challenge for performing arts students, but that doesn't mean a drop-off in enthusiasm. "We have students in Asia renting out studio space so that they can play in the middle of the morning," Respass says. BUTI is expected to return to a vibrant, in-person format next year.
The response to Conyers' 2018 residency, Respass says, was "striking, and these were students who were really, really serious, and I knew them really well. He did a bass class, he coached chamber music, he did a session on engaging with the community. We just kept talking with him. It just became a natural invitation to ask him to take a bigger role."
In his director role, Conyers will help shape the Young Artists Orchestra program year-round. He will arrive in the summer for at least a couple of weeks of working directly with the young musicians, before officially starting the position this fall. The details are still under discussion. He's done some conducting, but says he's more likely to appear, at least at first, in the role of "what maestro actually means—teacher."
As a young man, Conyers says, "my goal was to try to get an orchestra job, and a lot of energy goes into that." But in 2007, while playing in his first orchestra job, at the Grand Rapids Symphony, he founded the nonprofit Project 440 in Savannah, which initially focused on filling gaps in music education there. The now-Philadelphia-based organization has changed from direct music education to, Conyers says, "teaching young musicians how to do that work themselves, how to engage with their communities, and we started adding these life-skills components."
"Not everyone can win a job with the Boston Symphony [Orchestra] or the Philadelphia Orchestra," Conyers notes, "so what skills are you going to have, along with that entrepreneurial spirit, so you can not only survive, but also thrive, regardless of what you end up doing with your [music] profession?
"Instead of people saying, like I was told my whole life, 'You shouldn't go into music because there are very few options,' they'll say that you should go into music because there are so many!" he says, and laughs again.