alerie Coleman Returns to BU Tanglewood Institute as Visiting Artist: Her Work Will Be Performed by Current Students in Boston Concert Wednesday
Music
Current BUTI students will perform her work at Hatch Shell Concert Wednesday
When Valerie Coleman knocks on the door of her old dorm room at the BU Tanglewood Institute, a sleepy-eyed teenager gets out of bed to answer. "I'm sorry," Coleman tells her. "I just wanted to see if the stars are still on the ceiling."

"No, they're not there," the mildly puzzled student says.

BUTI alum Coleman (CFA'95) can't quite remember how long she spent here that summer after high school—could such a life-changing experience have lasted only two weeks?—but she hasn't forgotten the glow-in-the-dark constellations that a previous occupant had stuck to the ceiling of her room for something to dream on.

In the decades since, Coleman has ascended into the firmament herself, as founder and former flutist of the Imani Winds chamber ensemble, anointed one of the "Top 35 Female Composers in Classical Music" by the Washington Post. Now an assistant professor at the University of Miami Frost School of Music, Coleman was back at BUTI last week as a visiting artist, giving master classes to flutists and composers and performing in a trio with two students in a community engagement concert for about 50 children at the Berkshire South Regional Community Center in Great Barrington, Mass.

"Standing in front of the students yesterday, I started to get flashbacks of me and my friends, and my mind automatically shifted to: what advice can I give them to help them appreciate the experience," she says. "They will probably not know how powerful and impactful this experience will be for them. Right now they're living in the moment, but looking back they're going to recognize it changed their lives."

On Wednesday, musicians in BUTI's Young Artists Wind Ensemble program will perform one of Coleman's best-known works, Umoja: The First Day of Kwanza, in a prelude concert at 6:20 pm before the Boston Landmarks Orchestra's 2019 season-opening performance at the Hatch Memorial Shell on the Esplanade. (UPDATE: The performance has been moved to inside Jordan Hall, 30 Gainsborough St., Boston, due to approaching storms. But it will proceed as scheduled at 6:20.)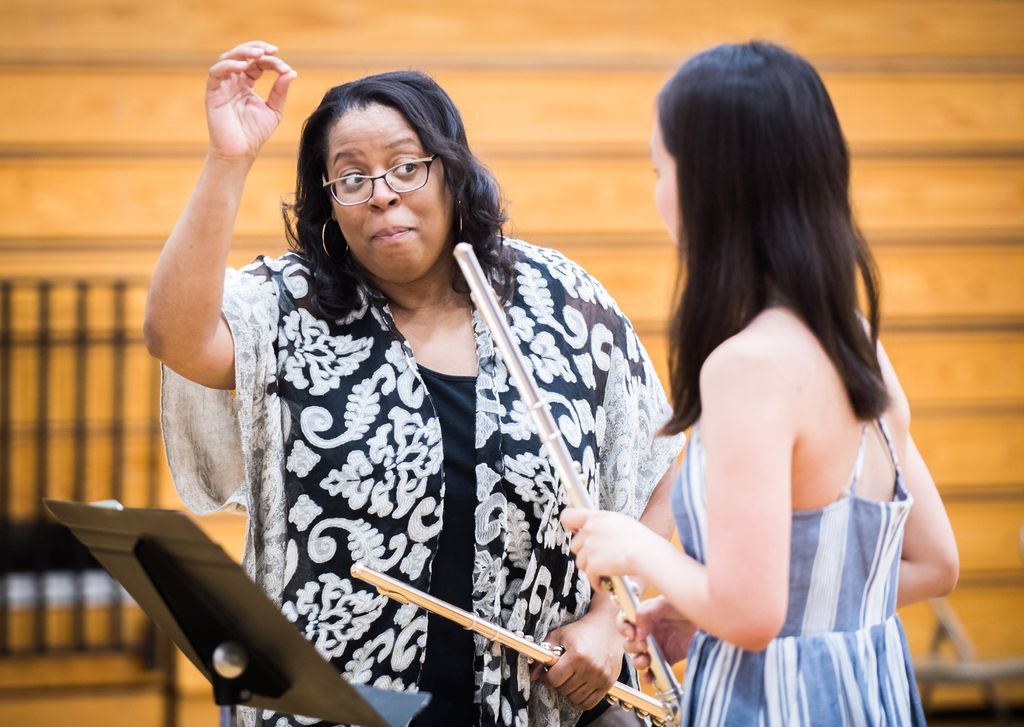 Coleman's mother says she was pretending to play flute on sticks at an early age. A product of Louisville, Ky., public schools, Coleman says she "was fortunate to have great teachers," and she placed high in state competitions. She performed with the Louisville Youth Orchestra, and one day, Robert Sirota, director of the College of Fine Arts School of Music, came by to audition orchestra members one-on-one. Without any preparation, she performed for him on flute and piccolo. Weeks later she got a letter saying she had been awarded a scholarship to BUTI.

Recently she saw a picture of her teenage self at a Boston Symphony Orchestra concert at Tanglewood, taken during one of her first nights in Lenox. "I'm sitting on a blanket with my score—I'm writing while listening?" She laughs and shakes her head.
"I just remember being this hotshot, coming in to BUTI and thinking I could take over the world. But I was coming from being the big fish in a little pond. And I listened to all these other people who were playing at such a high level—I was blown away, humbled. It put a fire in my belly. When I came back home after BUTI, I was this practicing maniac."

---


[BUTI students] will probably not know how powerful and impactful this experience will be for them. Right now they're living in the moment, but looking back they're going to recognize it changed their lives.

---
After her summer at BUTI, Coleman attended the University of Kentucky for a semester before deciding to transfer to BU, where she could study both composition and performance. But she recalls that as a student here 25 years ago, one of her professors wasn't supportive of a black woman composer, and that the overall atmosphere didn't embrace non-Western cultures and techniques. Frustrated, she eventually stopped writing, focusing exclusively on flute performance.
She formed Imani Winds in 1997 after moving to New York City for grad school at the Mannes School of Music at the New School. The group aimed to maintain a high level of artistry while bringing its members' African and Latin American influences to the fore. ("Imani" means "faith" in Swahili.)

Coleman told students that she returned to composing in part because Imani Winds "needed repertoire that spoke to our shared cultural background." She has since become one of the country's most performed living composers, noted for what the New York Times calls her "skillfully wrought, buoyant music." Her work has been performed at Carnegie Hall and the Kennedy Center, but in her music she continues to explore cultural topics that expand the traditional canon. Her 2018 Shot Gun Houses is a suite for clarinet and string quartet based on the life of Muhammad Ali.

Last year she retired from Imani Winds because her daughter, Lisa, now five, was growing fast: "Every time I came back from touring, she was a different person." The Miami job—where she teaches performance, chamber music, entrepreneurship and composition—came along at just the right time. She currently has several major commissions in the works, including one from the Philadelphia Orchestra. But she was thrilled for the chance to spend a few days back at BUTI.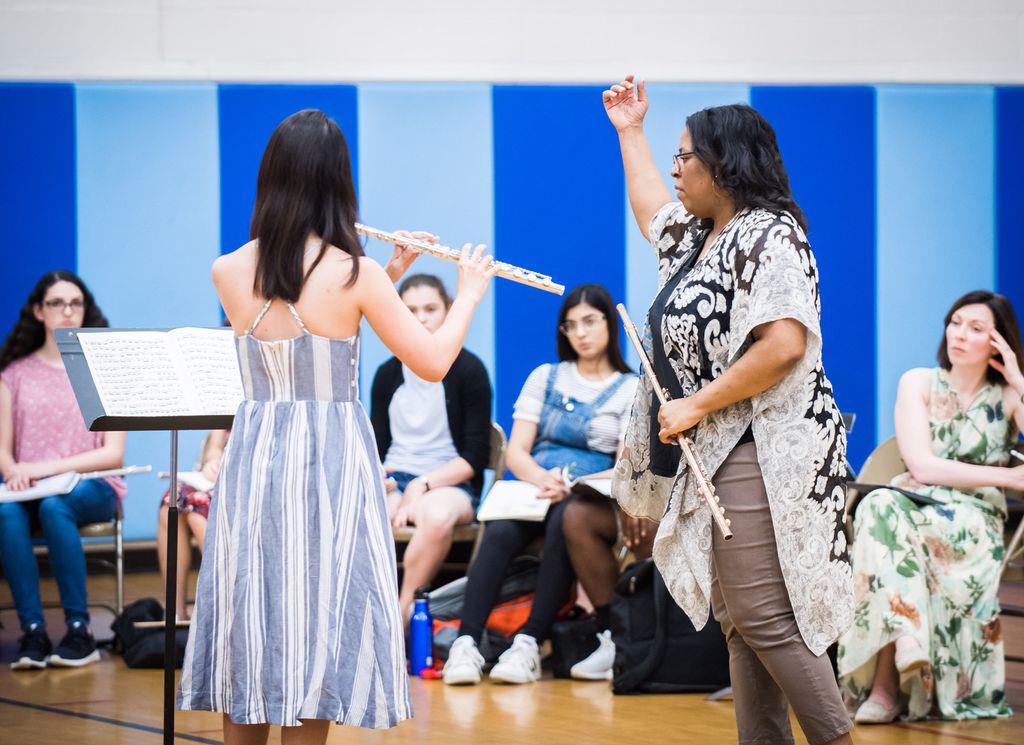 One student who won't forget her visit is BUTI Young Artists Orchestra flutist Mai Nguyen, who was coached by Coleman during her master class in flute. Nguyen rehearsed what she calls Coleman's "very groovy, jazz-inspired" flute trio Ruby Street with the composer and fellow student Nadira Novruzov, which the three then performed for Berkshire South Regional Community Center summer campers. The performance was part of BUTI's Community Engagement Program, comprising more than 30 free performances across the Berkshires for audiences of all ages.

"In the master class, I played Jolivet's Chant de Linos, and she talked a lot about interpretation, about really reading everything that's on the page and turning it into music," Nguyen says. "She talked about music as a gift that can be shared—it's a joy—and that really resonated with me."

"Each generation of musicians beings a higher level of proficiency, but it's the interpretive we have to work on. You have to live life," Coleman says. "Sometimes the ideas we give to younger musicians may or may not register for a while."

As Coleman walks the BUTI grounds with her husband, Jonathan Page, and Lisa, she points out the dorm rooms of friends from that long-ago summer who remain friends today. Much of her return to BUTI is emotional. She cackles with delight tattling on a friend whose romantic rendezvous on the grounds back then was interrupted by a skunk. There are happy tears, too, as when Martin Amlin, a CFA professor of music, says that learning of Coleman's faculty appointment at Miami has "made my whole summer."

"I get a little verklempt every five minutes or so," Coleman says. "That, to me, is the Tanglewood Institute effect."

On Wednesday, July 17, musicians in BUTI's Young Artists Wind Ensemble program will perform a prelude concert at the Hatch Memorial Shell, 47 David G. Mugar Way, Boston, at 6:20 pm as part of the Boston Landmarks Orchestra 2019 opening night concert, titled Symphonic Space Odyssey: 50th Anniversary of the Moon Landing. The concert is free and open to the public. Take an MBTA Green Line trolley to Arlington and walk toward the Charles River Esplanade. Rain date is Thursday, July 18.