Indigenous Voices Speak Out at BU
Arts Initiative series highlights perspectives that are too often erased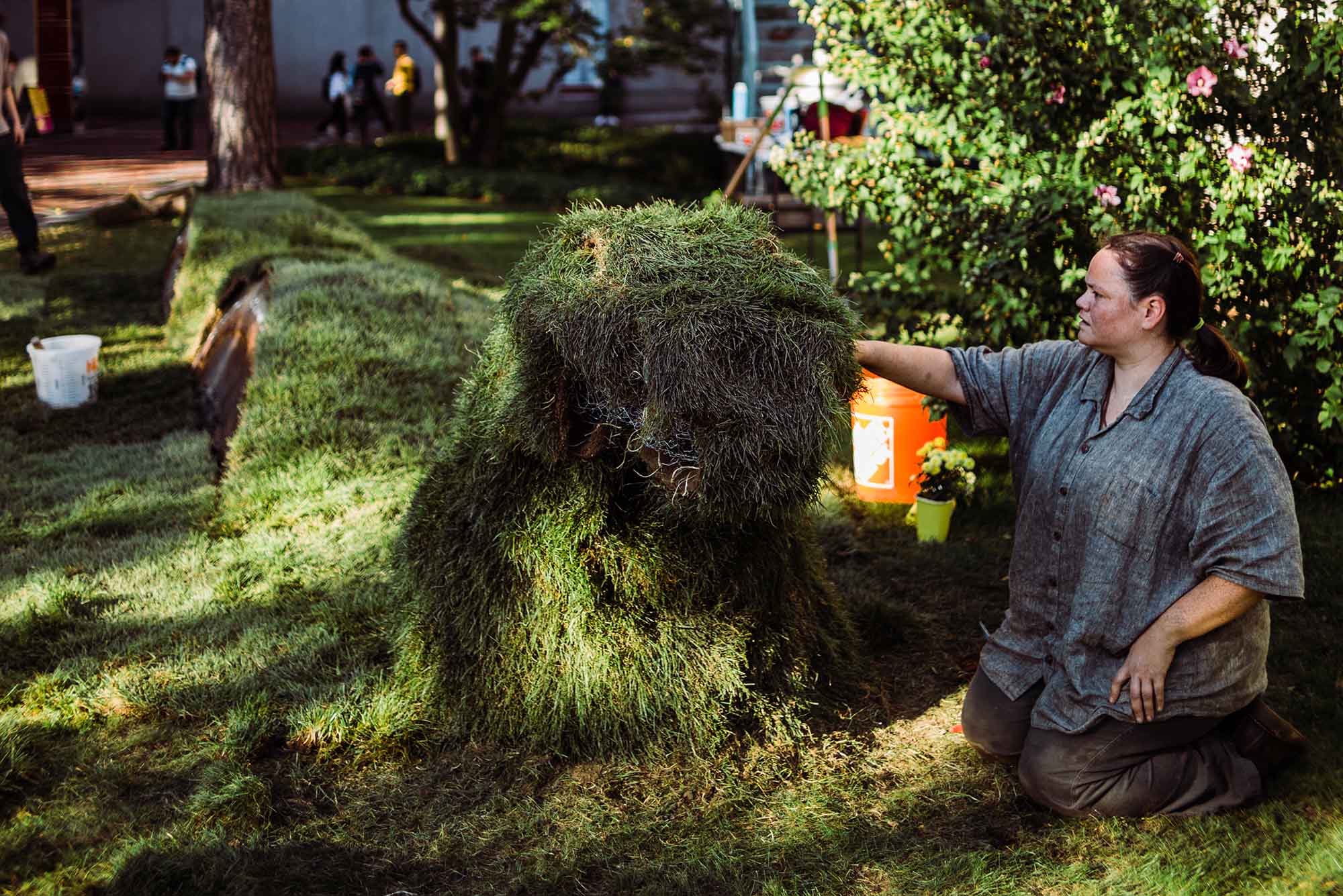 Arts & Culture
Indigenous Voices Speak Out at BU
Arts Initiative series highlights perspectives that are too often erased
The fearsome creature bursts through the turf on the edge of George Sherman Union Plaza like a sea monster but on land, with a serious purpose: to remind all who see it that Boston University's Charles River Campus is built on what was once river and marsh, inhabited by indigenous people who have been largely erased since the arrival of the Mayflower.
"This is Unktehi, a water spirit," says sculptor Erin Genia, a member of the Sisseton-Wahpeton Oyate of the Dakota Nation. "It's a mythical creature of Dakota legend, in which Unktehi goes to battle with thunderbirds, called Wakinyan. The story basically describes climate change, with the Wakinyan being the spirits of the storms and wind. I wanted to recreate the landscape to show the story and how this water spirit is very much alive in this place, even though we filled in the land here. It's a message about the past, but also the present."
The installation marks the full start of Indigenous Voices in the Americas—an interdisciplinary series organized by the BU Arts Initiative to highlight indigenous artistic voices, which runs through the 2021–2022 academic year. In part, the series is an acknowledgement of the fact that the University sits on the unceded ancestral land of the Massachusett people.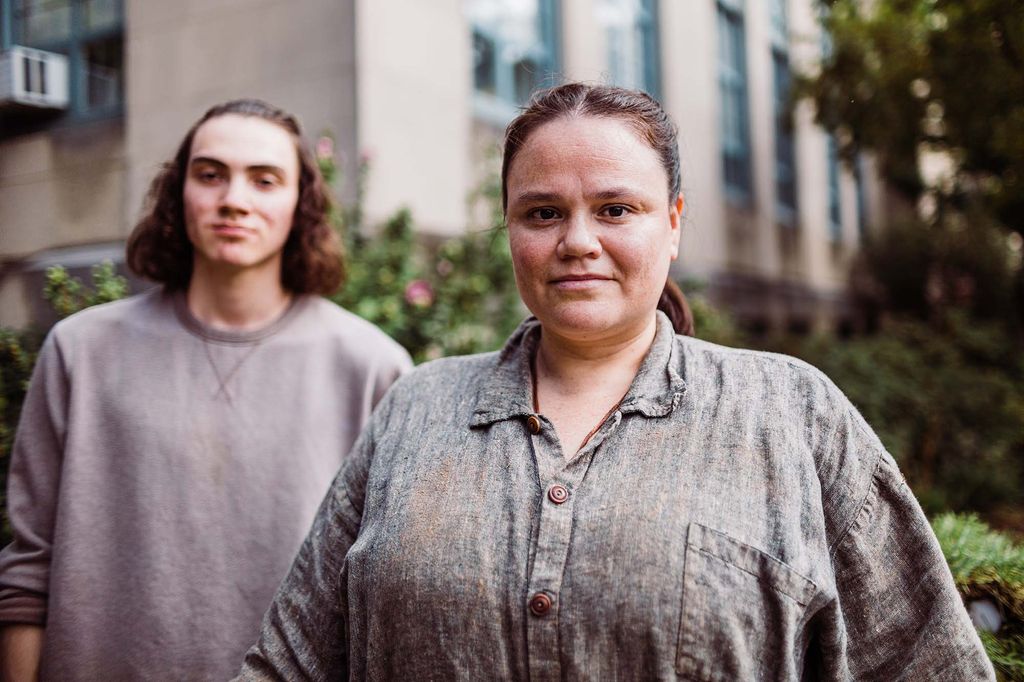 "We need to do better about educating ourselves and our students and our community about the history of this land and the history of who was here," says Ty Furman, managing director of the Arts Initiative, "and I think art is a great way to do that."
Passing students and faculty stopped to watch last week as Genia and her son, Sam, used garden tools to trim and shape the turf covering the creature's chicken wire and wood frame. Titled Caution: Cultural Emergency, the work is intended to raise issues of climate change, ecological destruction and indigenous peoples' dispossession.
"I hope they will have a moment of clarity to think about how the land we are on right now was inhabited by indigenous people, despite efforts toward erasure," says Genia, who grew up partly on a reservation in South Dakota and now lives in Medford, Mass. "There's such a richness there, so much to think about that is relevant. And it's not only in the past, it's also in the present."
As for the Indigenous Voices in the Americas series, "I think it's huge," Genia says. "The pandemic has brought so much into focus, and you're now in a wider sense realizing how important it is to listen to diverse voices. That it's not just decorative, but that it means something on a very deep level about who we are, how we see ourselves, and how we act in the world."
BU President Robert A. Brown's decision to celebrate Indigenous Peoples Day on Monday instead of Columbus Day, and the public discussion about renaming Myles Standish Hall, show an increasing awareness of the issues.
"There's just more awareness and conversation around understanding that we weren't the first ones here," Furman says, "that this wasn't always Boston, that it was inhabited for thousands of years and, whether intentional or not, the erasure of that history has been significant. And I see that very much as something the arts can do, to help instigate those conversations."
The series kicked off in earnest in September with the appearance of the Eastern Medicine Singers, an Algonquin troupe from Rhode Island, at the BU Global Music Festival. Now it is offering its most public face with Genia's installation at the edge of the busy GSU Plaza, which is on view through October 24.
"She walked around campus with us, and she saw the line on the sidewalk, over near Hillel on Bay State Road, showing where the river was," Furman says. "Unktehi is angry because of the erasure of our history and our lack of caring for the earth and the water. And as it's coming out of the ground, what you see are the layers on which Boston has been built. Where we are right now is landfill."
---

I come from Dakota people, and our philosophies are very different from the dominant Western, American philosophies, and it's given me perspective to see there are different approaches possible to dealing with societal issues.

---
Genia had an artist residency with the city of Boston last year, working with the Office of Emergency Management, and was fascinated to watch that office leap into action during the pandemic.
"It was around the time of the murder of George Floyd, so it was the pandemic and it was Black Lives Matter, and Mayor Walsh had just talked about racism as a public health emergency, and I started to really think about what that means, emergency," she says. "Whether it's increased storms from climate change, or racism that's killing people, and these horrible disparities around COVID, and economic equality—I started to think that we are in a state of cultural emergency.
"I come from Dakota people, and our philosophies are very different from the dominant Western, American philosophies, and it's given me perspective to see there are different approaches possible to dealing with societal issues. Why don't we have an emergency effort toward the cultural reasons we are in this state we are in? It's our culture that is creating these emergencies.
"Climate change, for example. In Dakota philosophy, humans exist in this web of life where the natural processes of the world are respected for the power and agency they inherently have. Humans are tasked with being stewards of that. And I started to think about how in this site, Boston University right here, this place being a tidal estuary, and the genocide that happened here, the removal of native people, and how that erasure continues to be so present in public spaces."
Another part of the Indigenous Voices in the Americas series now on view comprises two artworks by Elizabeth James-Perry, an artist enrolled with the Wampanoag Tribe of Gay Head (Aquinnah) on Martha's Vineyard. Bear Map, on display through the end of the semester outside the Arts Initiative office on the second floor of the George Sherman Union, "decolonizes" southern New England by replacing current place names with others, like Sinnechetaconnet, Pocutahunk, Assonet, and Monponset, which are descriptive village names in the closely related indigenous languages here. Winter Dreams, also on view on the second floor landing, is a traditional wampum belt painstakingly handmade by James-Perry in traditional styles.
Art & Indigeneity: A Conversation with Elizabeth James-Perry and Erin Genia, moderated by Lynne Allen, College of Fine Arts professor of art and printmaking, will take place Thursday, October 21, at 6 pm in the Conference Auditorium of the George Sherman Union. The event is free and open to the public with registration, but masks are required.
Among other events, the School of Theatre will host a residency by artist Ty Defoe of the Ojibwe and Oneida Nations later this semester. His visits will culminate in performances of Patterns of Wind at the Booth Theatre, December 3 to 5, a devised theatre piece developed by Defoe in collaboration with guest artist Katherine Freer, interweaving indigenous oral storytelling traditions and contemporary multimedia performance, with both students and indigenous performers.
"There's a large movement in theater and a lot of places now to start your performance or your meeting or your event with a land acknowledgement," says Susan Mickey, director of the School of Theatre and CFA professor of theatre, design, and production/costume design. Generally that's a brief announcement nodding to the original inhabitants, and "I felt we needed to dig deeper into the meaning and the purpose of those words.
"It's important that we respond to the times and how we are approaching identity in the theater, both our own and others," Mickey says.
The Arts Initiative has also made grants available to others in the University community who had an idea for the Indigenous Voices in the Americas series, including Adam Hannah (CFA'24), a trombonist and doctoral student at the School of Music who is also a member of the Chickasaw Nation and affiliate faculty with BU's Center for Antiracist Research.
"I've always wanted to become a trombone soloist," says Hanna, adding that he wanted to step up to that role with a work connected to his Native American heritage. "There aren't that many indigenous composers that are in the public eye, and I don't have the gift of composition. So, I thought, OK, I've got to commission the work."
He began googling, and the most prominent indigenous composer he found was Jerod Impichchaachaaha' Tate, another member of the Chickasaw Nation. The Chickasaw Tribe is quite small, says Hanna, who grew up in southern Oklahoma.
"I said, that name sounds familiar. Well, it turns out we are from the same town and the same tribe," Hanna says. "Wow, what an opportunity."
Tate just released a CD with the San Francisco Symphony and writes music for the series Westworld on HBO. Hanna's plan is to commission Tate to write a concerto for trombone and orchestra and perform it as soloist here at BU. It's an ambitious plan, but with a seed grant from the Arts Initiative, he is well into fundraising to make it a reality, with grants from the city of Boston, the Chickasaw Nation, and others.
"The concerto will be based on Chickasaw legends and melodies that have yet to be heard by people outside the tribe, so it will also be a big deal musicologically," Hanna says.
"That's the dream," Furman says, "when I put out there that there are grants and somebody submits a cool proposal like that. That's exactly what we hope will happen."