Boston Medical Center Immigrant & Refugee Health Center Prepares to Welcome Afghans
Immigration
BMC Immigrant & Refugee Health Center Prepares to Welcome Afghans
Clinic helps vulnerable people from around the world fleeing religious and political persecution, gang violence, civil war, and climate-driven disasters
Fleeing political and religious persecution, torture, gang violence, civil war, floods, famine, drought, and earthquakes, people come to the Immigrant & Refugee Health Center (IRHC) at Boston Medical Center from all over the world—Uganda, Somalia, Ethiopia, Eritrea, Haiti, El Salvador, Guatemala, and scores of other countries.
Now, the center's director, Sarah Kimball, and her staff are preparing for the newest group of people forced to leave their country: Afghans who were airlifted out of Kabul by the US military in the final chaotic weeks before the Taliban seized control of Afghanistan in August.
"I am so happy to receive and support people from Afghanistan," says Kimball, a primary care physician and a BU School of Medicine assistant professor of medicine. "BMC has been doing this work for over 20 years. We have an incredible team." It's a team Kimball is hoping to expand; she says the center will hire a new community health worker to handle the additional caseload.
More than 50,000 Afghans who assisted the US government, or who might fear reprisals from the Taliban, are expected to be admitted into the United States in the coming months, federal officials say. More than 31,000 have arrived already, though about half are being temporarily housed on military bases while they go through vetting and processing. Many are expected to be resettled in established Afghan communities in California and Texas, but given their large numbers, others will probably be scattered across the country, wherever there are available jobs, affordable housing, and resettlement support, the New York Times reported recently.
Resettlement agencies expect 850 to 1,000 Afghans will come to Massachusetts over the next six to eight weeks. There is no official word on when they will arrive, how many there will be, or where they will be resettled in the state. A significant number are expected to go to Worcester, with others going to Lowell. Boston's steep housing prices are regarded as an obstacle for Afghans hoping to resettle there, but Kimball says her center is preparing for as many as 100 or more.
The center will connect these vulnerable Afghans, as it does with all its immigrant, refugee, and asylum-seeking patients, with the health-care and social services—from primary care medicine to therapists to access to immigration lawyers—that will help them heal, thrive, and begin to rebuild their lives. Kimball says she's been talking to potential donors about funding to support the new hire for the refugee center and any additional staffing the Afghans may require, as well as for unmet medical needs, such as wound care supplies. She's also in close touch with resettlement agencies and charities that will help the Afghans with food, housing, and other social services. The center is a virtual point of entry that connects immigrant patients to BMC's social services, and medical and mental health care, and Kimball is taking steps to ensure adequate staffing.
"We're making sure that our clinical team has time and space to accommodate a large number of new arrivals over the next several months," she says.
One area Kimball says she's not worried about is finding interpreters to help arriving Afghans navigate the language barrier. The center offers telehealth services and can connect patients with interpreters who speak 134 languages, including Dari and Pashto, the two most commonly spoken languages in Afghanistan.
The military evacuation of the Afghans—many of whom worked with the US government during the 20-year war in Afghanistan—was haphazard and hasty, and the vetting and resettlement process is a work in progress. Kimball says she had expected the Afghans would be given humanitarian visas known as Special Immigrant Visas, or refugee status, which qualifies them for government benefits and assistance. Instead, she says, many will be arriving at the center as humanitarian evacuees, an uncertain status that comes with far fewer benefits.
"We have to think about how we're going to help them through that lens," she says. "Your immigration status shouldn't impact your health. We are here to help people no matter their immigration status. The Afghan refugees are people for whom the United States has a particular responsibility, but we believe this is true for anyone who comes to the IRHC."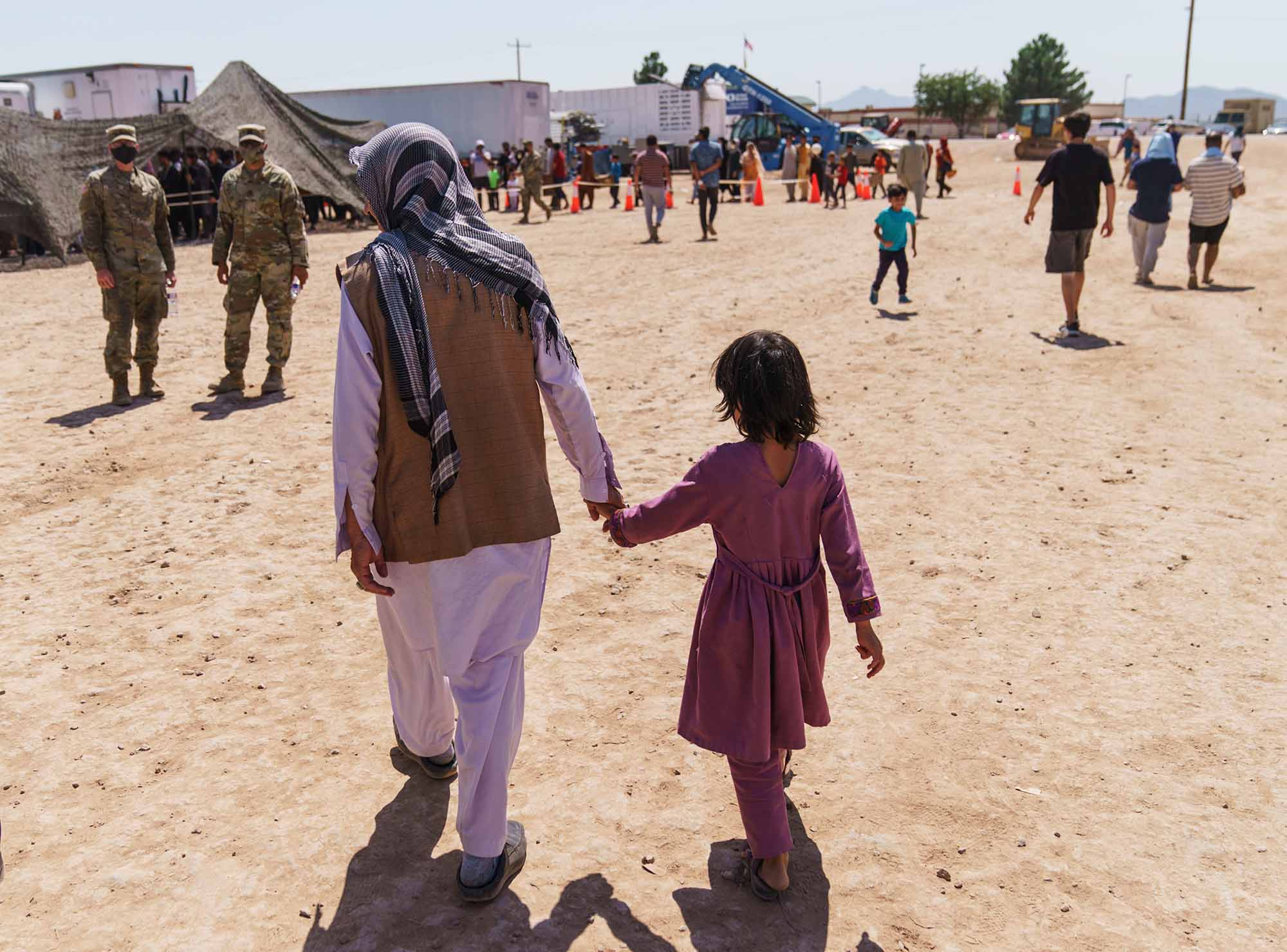 ---

At the drop of a hat, they've had to leave their country. That is a trauma. You're dropped in a country where you've never been before.

---
(AP Photo/David Goldman)
More than 2,000 immigrants and refugees have come through the IRHC in the past year, Kimball says. The top five languages they speak, after English, are Haitian, Creole, Spanish, Somali, Arabic, and French. Between April and mid-August, 36 Haitians have arrived at the center, many of them having traveled on foot through South America, fleeing the crushing poverty and gang violence that were endemic in their country before its two most recent crises—the assassination of President Jovenel Moïse and the magnitude 7.2 earthquake on August 14 that killed more than 2,000 and injured another 12,000. The largest number of the IRHC's patients currently are from Uganda, where arrests and persecution of LGBTQ people have increased in recent months, as rumors have resurfaced of an anti-homosexuality bill that would impose the death penalty for same-sex relations.
After living through 20 years of war, the Afghans left their country in desperation, many fearing reprisal from the Taliban in retaliation for the work they'd done with the US government. Many have been separated from family members who were unable to get out of Afghanistan. "We are expecting high levels of trauma," Kimball says.
That's where the IRHC's team of therapists, who are experienced at treating patients suffering from post-traumatic stress disorder and other forms of trauma, comes in.
"These are people who are coming with chronic trauma history, many of them, because they've been in a war for 20 years," says Sandra Mattar, a clinical psychologist and the IRHC's director of training. "Then, at the drop of a hat, they've had to leave their country. That is a trauma. You're dropped in a country where you've never been before. You don't speak the language. Many have never stepped outside Afghanistan before.
"We understand some of the stressors they face," Mattar says. "We understand the process of acculturation. We are prepared to help them."