FYSOP 2021 Kicks Off, Offering Both In-Person and Remote Service Opportunities to New Students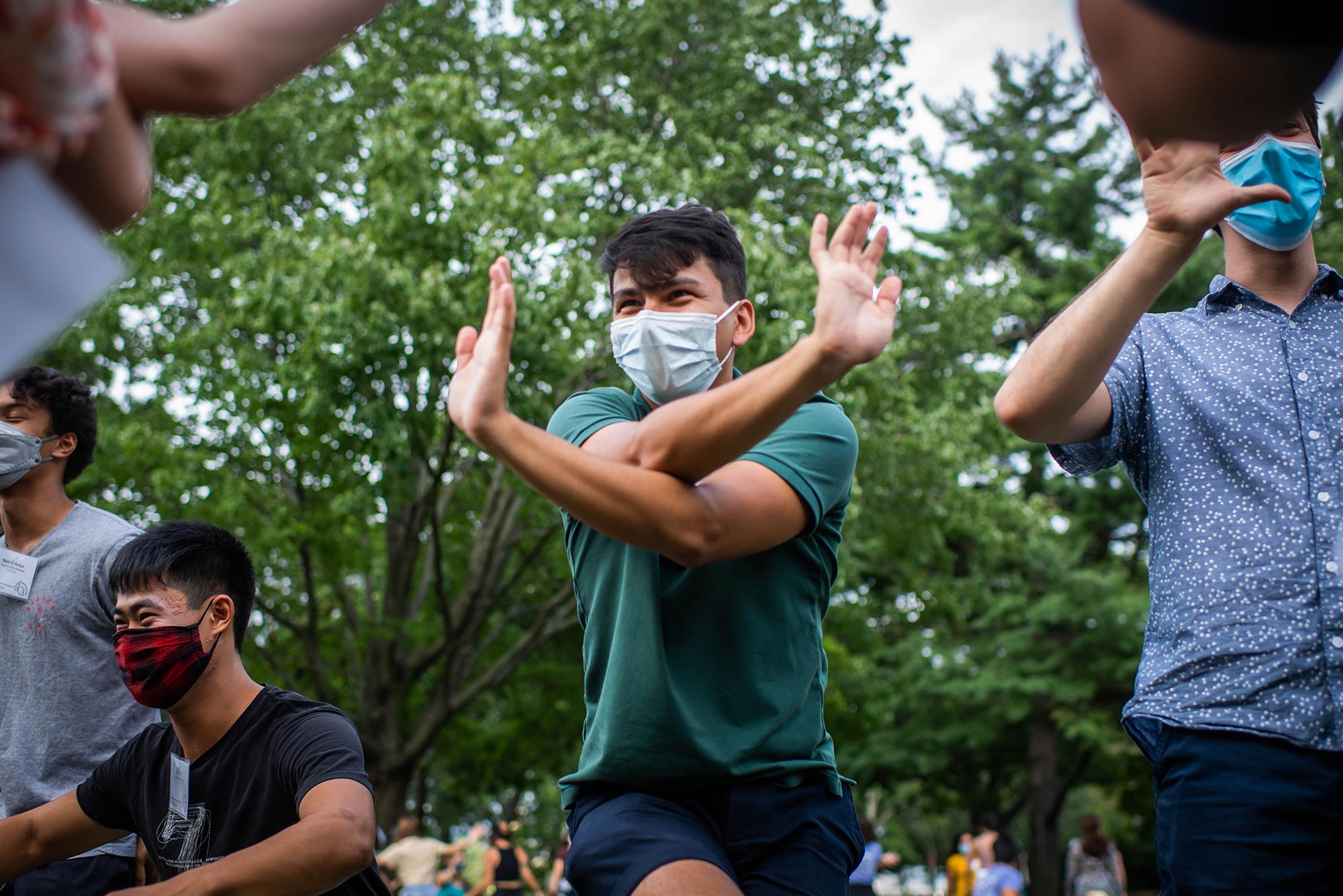 Student Life
FYSOP 2021 Kicks Off, Offering Both In-Person and Remote Service Opportunities to New Students
Theme of this year's week of community engagement and education: "A New Leaf"
Starting Monday, August 23, some 471 entering freshmen and transfer students will gather (in accordance with BU's safety guidelines, of course) on campus, or log on to Zoom, to volunteer for this year's First Year Student Outreach Project (FYSOP). The weeklong program of community service, education, reflection, and social activities kicks off with an opening ceremony Monday evening and concludes with a closing ceremony on Friday. Much like last year's completely virtual FYSOP, 2021's will look different from pre-pandemic FYSOPs, offering students the option to participate either in person or virtually.
First launched in 1989 and run by BU's Community Service Center, FYSOP has been a highlight for many entering students. Over the decades, more than 12,000 Terriers have participated in the program. It "introduces new students to the city of Boston and their community here at BU," says Julia Lee (Sargent'22), one of this year's four FYSOP program managers. "Essentially, their week is filled with community service events, opportunities to meet future classmates, and community-centered activities that connect first year students to upperclassmen at BU."
This year's student volunteers will be sorted into seven focus areas: education, community initiatives, food justice, human rights, sustainability, youth and family advocacy, and public health. "Service opportunities really vary, from working outside and doing landscaping for sustainability to cleaning up schools for education," Lee says. "For our community partners that aren't necessarily in a place where they can have people volunteering in person, we'll have virtual opportunities as well. So this could look like phone banking, data entry and collection, anything that we can help them with."
For those opting to participate in person, FYSOP is striving to make this year's program as safe as possible, adhering strictly to BU's safety guidelines. All participants have to be fully vaccinated for COVID, unless they have a medical or religious exemption. This year will also see fewer students volunteering at sites across the city at the same time. "Our groups are going to be on the smaller side—we're hoping for groups of about 10 to 15 people, as opposed to the usual groups of about 15 to 25," says Hanna Griffin (Sargent'22), another FYSOP program manager. "In terms of community service, a lot of community partners that we work with have smaller capacities, so of course we wanted to include them in our decision-making."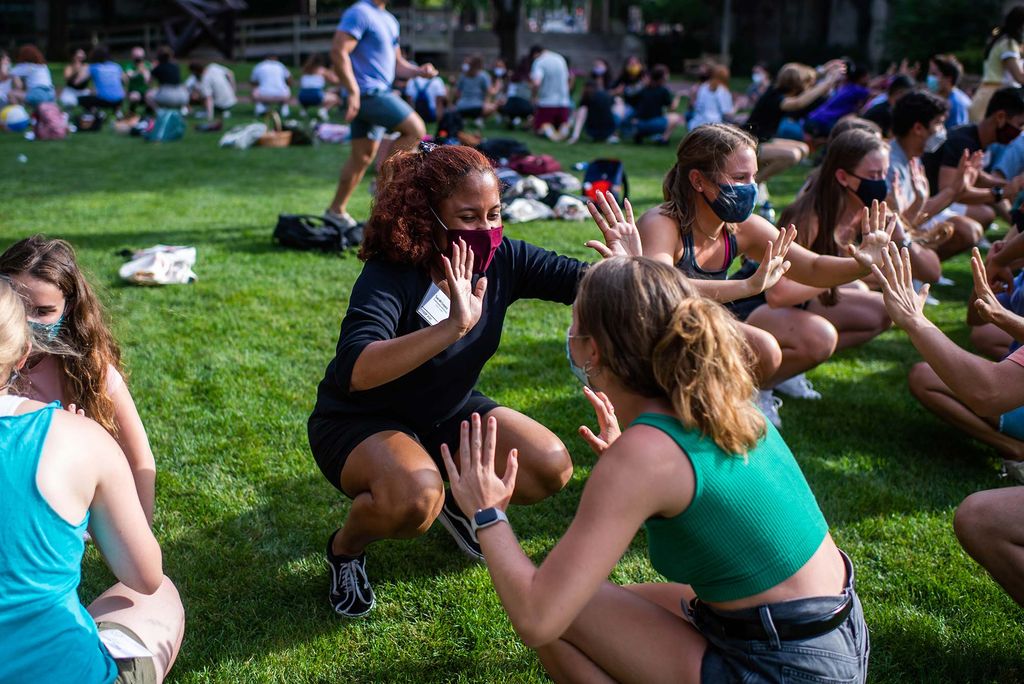 "We're trying to have as many in-person experiences as possible, while also acknowledging that we need to have accessible and remote components of our program," says program manager Arnold Castro (CAS'22, Sargent'22). "We're taking elements of last year's FYSOP, which was fully remote, and thinking about adaptation while trying to adhere to the historical trend of FYSOP being in person, being in groups, having the ability to do cheers and have a fun time together, and exploring Boston."
This year's FYSOP participants will volunteer at one of 53 community partners in 11 of Boston's 16 neighborhoods, as well as around the Greater Boston area, that address a broad range of causes. Among them are the Emerald Necklace Conservancy, which works to restore, protect, and maintain the six interconnected Boston parks designed by famed 19th-century landscape architect Frederick Law Olmsted, St. Francis House, New England's largest daytime shelter for homeless adults, local schools, and more.
The theme of this year's program, A New Leaf, is a reference both to finding a new normal in the midst of a pandemic and the fact that the program marks the start of FYSOPers' BU experience. "We got the theme from the phrase, turning over a new leaf," says program manager Zach Lam (CAS'21, ENG'21). "We want to focus on growth in a broader sense, specifically with COVID-19, transitioning back to in-person activities and school. It will be a big change for everyone. That's especially true for first year students. They're going to a new city and starting a new chapter of their life."
An estimated 90 student volunteers have been training as staff leaders throughout the summer to ensure that the week is both educational and fun. The annual program begins with an opening ceremony, a small group meet and greet, and time for students to get to know their other group members. During Tuesday's daylong education program, they'll learn about their social justice focus area and how it intersects with other focus areas and local communities. Starting Wednesday, they'll spend three days directly volunteering. Each evening offers the volunteers a chance to share reflections on what they've learned that day.
But there are plenty of icebreaker games and social events planned as well. "There will be opportunities for participants to explore the city with their staff leaders," Lam says. "They may have the chance to visit the library and pick up a library card or go visit the Museum of Fine Arts or just walk around Boston and learn how to take the T."
Students can also help curate this year's FYSOP museum, a digital site that features links and web pages meant to inform visitors about community organizations and issues in and around Boston.
"FYSOP is a really great opportunity for first years to be introduced to Boston and the BU community," says Griffin. "At the same time, our program really strives to get you out of your comfort zone and learn new things about the community."
The featured guest speaker this year, Massachusetts State Representative Liz Miranda (D-5th Suffolk), who was elected to the legislature in 2018, will address the students Thursday night. Miranda's brother Michael was killed in a 2017 shooting in Boston, and she has focused much of her attention on issues of gun control and criminal justice reform.