Ibram Kendi Recruited 90 Writers to Tell a 400-year History of Black America, and now "Four Hundred Souls" is a Bestseller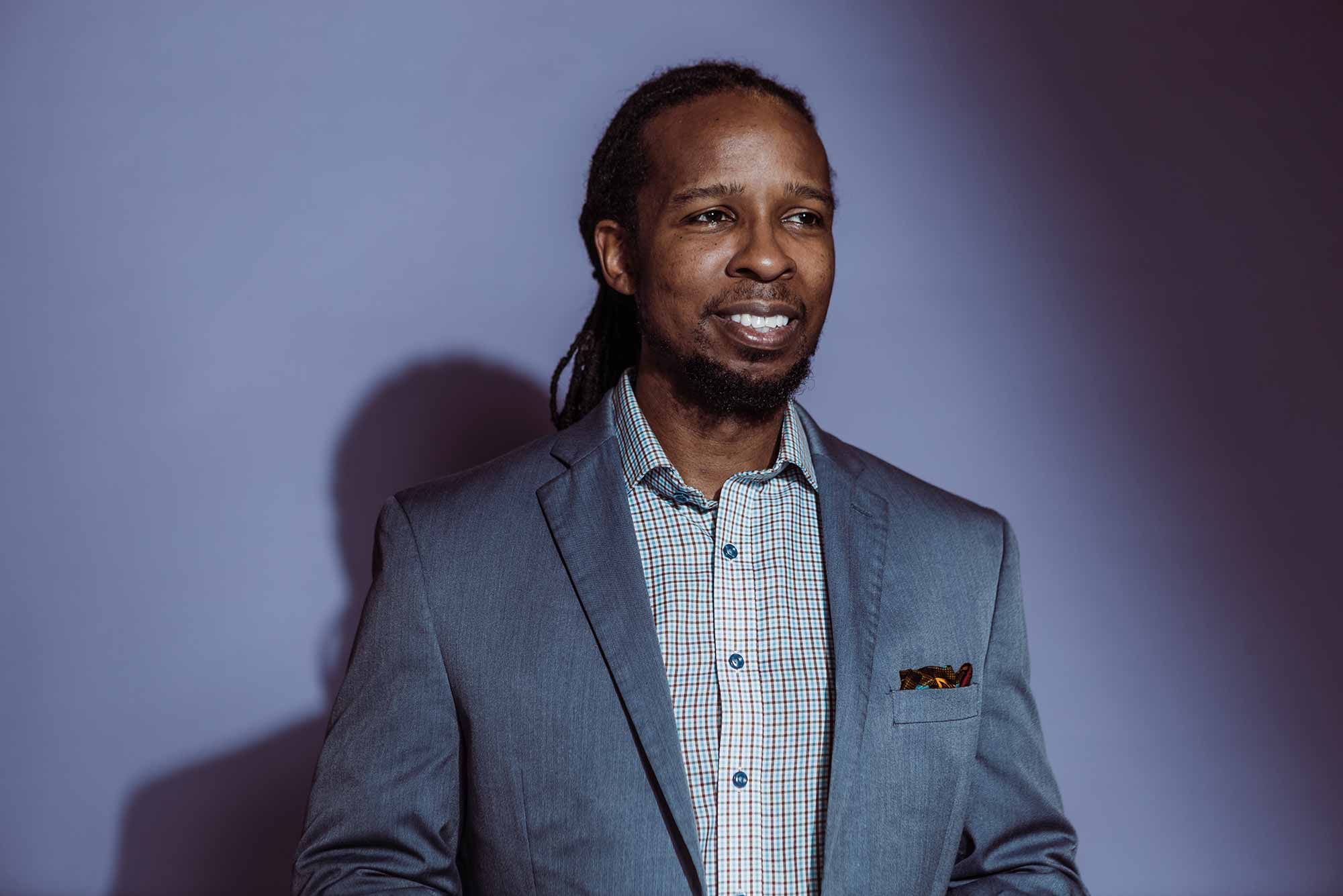 Books
Why BU's Ibram X. Kendi Recruited 90 Writers to Tell Black America's History
Poets, historians, journalists, philosophers, and activists were assigned a five-year period, from 1619 to 2019—and the book, Four Hundred Souls, took off
Ibram X. Kendi wanted to mark the 400th anniversary of the symbolic birthdate of Black America—August 20, 1619, when the first captive Africans were brought ashore in the colony of Virginia. Kendi, a leading antiracism scholar and the founding director of BU's Center for Antiracist Research, thought about writing a book about that history, but decided there were already enough such books by lone male authors.
The story of those 400 years, from 1619 to 2019, is the story of a community and the only way to tell that story, Kendi determined, was with a community. So Kendi, together with University of Pittsburgh historian Keisha N. Blain, recruited 90 writers—historians, philosophers, journalists, anthropologists, activists, lawyers, novelists, and poets—and they all delivered.
The resulting anthology, Four Hundred Souls: A Community History of African America, 1619-2019 (One World, 2021), coedited by Kendi and Blain, is described as the first one-volume communal account of African American history—which is, of course, also American history. The book was published on February 2, and a week later, it debuted at No. 1 on the New York Times nonfiction best-seller list. The Root proclaimed Four Hundred Souls "a groundbreaking, epic, and deeply innovative exploration of how Black America as we now know it began" and "a love story to its descendants."
"Collectively, this choir sings the chords of survival," Kendi, the Andrew W. Mellon Professor in the Humanities and a College of Arts & Sciences professor of history, writes in his introduction. "Of struggle, of success, of death, of life, of joy, of racism, of antiracism, of destruction—of America's clearest chords, years after year, of liberty, justice, and democracy for all. Four hundred chords."
Kendi's belief that the 400-year history of Black America was best told by a diverse community of writers is the same belief that guided his founding of the Center for Antiracist Research—as a community of multidisciplinary scholars who would work together with policymakers, advocates, journalists, and other scholars to eliminate racist policies.
Kendi's and Blain's virtual book tour—with stops at the Smithsonian National Museum of African American History and Culture, in Washington, D.C., the National Civil Rights Museum, in Memphis, Tenn., and the Schomburg Center for Research in Black Culture, in New York City—has been a rolling happening. Thousands of people from across the country tuned in to the Smithsonian and Schomburg events, taking to Chat to thank the authors, praise the book, and celebrate the courage, creativity, and resilience of the Black people who come alive in its pages. They asked: Why didn't we learn this history before? How can we teach this? The Chat streams, along with the comments on Kendi's and Blain's Twitter feeds, have become their own community.
Excluding the book's 10 poets, each of the other 80 authors—among them Angela Davis, Rev. William J. Barber II, Nikole Hannah-Jones, Sherrilyn Ifill, Wesley Lowery, Peniel Joseph, Annette Gordon-Reed, Alicia Garza, and Isabel Wilkerson—tackles a five-year period of history, writing about a place, a person, an object, a law, or an event, connecting the past and the present. They document the construction by whites of a racist America, from the advent of slavery to Jim Crow to the killing of Michael Brown by a white police officer in Ferguson, Mo. They also chronicle Black resistance, from the rebellions of enslaved people in the 18th and 19th centuries to the 20th century Black Power movement to today's Black Lives Matter.
The 10 poets—"the soloists in the choir," Kendi calls them—each write verse, covering 40-year periods. The book is dedicated "to all the souls taken by Covid-19."
BU Today spoke recently with Kendi about what he views as the significance of Four Hundred Souls and how it might be taught in school, why he and Blain chose to highlight stories of resistance to slavery, and how a book like Four Hundred Souls might have altered Kendi's own views of Black people as a high school student.
BU Today:
Why is this book important and who were you and Keisha Blain hoping to reach?
Kendi: First, it's important for Americans to learn the full history of every single topic, and certainly of the Black American experience. But it's difficult for any person to pull out a 1,000-page textbook, or even a single-authored book. And so we were thinking about a way to make a single-volume, 400-year history accessible to every single person and for every single American, who, I think, will be better served by understanding that history of Black Americans.
BU Today:
Can you talk about things in the book that were new and revelatory to you?
Kendi: One of the beauties of the text is we had some novelists who were able to really capture, even in the first person, what it would have been like to be Anthony Johnson in the 1640s, who was the first prominent African American in history, or even learning about Mumbet [an enslaved woman who later won her freedom], who was critical during the American Revolution in getting what ultimately became the state of Massachusetts to chart a more freedom-oriented path. And I think that's the beauty of this text. There are so many stories of ordinary people side by side with a Frederick Douglass or Zora Neale Hurston. That's what allowed even us, as editors, to be fascinated every time we read a new essay.
BU Today:
What was it like for you and Blain to read these essays as they appeared in your in-boxes? Were you constantly calling each other to exclaim about what the authors were producing?
Kendi: That was the process of putting together this book. Obviously assembling 90 writers and corresponding with 90 writers is a grueling process. But what allowed us to get through, what allowed us to stay the course, was that every single time a piece came in, it energized us, because we saw the beauty and we saw this quilt that this book ultimately became continuously coming together.
BU Today:
Was there a lot of brainstorming with the writers about their pieces?
Kendi: We suggested particular topics, broadly, that they could write on, and typically they chose a topic within that broad category, or person, or place, or thing. And most of them, they just ran with it. I think that's partly because many of the writers in the volume are professional writers. They are incredible at what they do.
BU Today:
Ijeoma Oluo writes about how in 1630 a Virginia colonial court ordered Hugh Davis, a white man, whipped for contaminating himself by sleeping with a Black woman, and how that event led to laws and violence against Black people aimed at protecting "white purity." She connects Hugh Davis to her identity as a Black woman whose biological mother is white. How did that essay come about?
Kendi: We suggested that she write on the Hugh Davis case. But Ijeoma Oluo is a brilliant writer and thinker. And so she took that idea and ultimately ran with it. She used her own story to allow for the reader to understand the essence of what this case ultimately meant, and how it still reverberates today. That's the beauty of these 90 writers; they didn't just write about their 5 years, or 40 years, in the case of poets, they also were able to relate it to the current moment.
BU Today:
In How to Be an Antiracist, you write that you still cringe when you think of the speech you gave as a high school student competing in a Martin Luther King, Jr., oratory contest. You write that you had bought into racist thinking—that Black people were to blame for their own oppression. What kind of speech do you think you might have given if you'd had a book like Four Hundred Souls?
Kendi: If I would have read Four Hundred Souls in high school, it would have changed my whole world, in the way that when I ultimately took a course in African American history, in college, it changed my world. In many ways you have a whole course in a book through Four Hundred Souls. And I think the speech that I would have given as a senior in high school would have been less about what's wrong with Black people and more about what's wrong with anti-Black racism. And I would have had the ability to historicize that.
BU Today:
And what about Nikole Hannah-Jones' opening essay, about the arrival of the White Lion, the ship that brought the first captive Africans to Virginia, in 1619—when did you learn that history?
Kendi: I probably learned some about the White Lion in my own reading, but I don't think its importance really dawned on me until I started doing my own research for Stamped from the Beginning [the 2016 National Book Award winner for nonfiction], but I still did not understand the full ramifications and importance of the White Lion and how we don't know about the White Lion until, of course, I read the 1619 Project. Nikole Hannah-Jones [the Pulitzer Prize–winning New York Times journalist who created the 1619 Project] says in her essay for the book that if the Mayflower, which arrived in 1620, is the dawn of American freedom, then the White Lion is the dawn of American slavery, in 1619.
BU Today:
How do you see this book being taught to middle school students, as well as in high school?
Kendi: All the pieces are short, from 1,500 to 2,000 words, sometimes even less, and so I think that a teacher could develop a whole unit around one of the pieces or a few of the pieces, so middle school students could learn this history.
BU Today:
Why was it important to highlight slave rebellions in the book?
Kendi: We included stories of slave rebellions because they are overlooked instances of resistances in American history. Just as those enslaved Africans rebelled for immediate emancipation, there are many activists today who refuse to wait on their freedom.