Meet the Class of 2025: Ash Vasquez
Student Profile
Meet the Class of 2025: Ash Vasquez
Chicago native wants to use art to create safe spaces for students
Wondering what the BU Class of 2025 looks like? For starters, the 4,023 entering freshmen are members of one of the largest classes in recent history. They hail from 48 states (sorry, South Dakota and Wyoming) and 73 countries and regions (23 percent of this year's freshmen are international students). The class is 56 percent female and 44 percent male, 17.7 percent are first-gen students, and 15.2 percent are from underrepresented groups. They boast an average GPA of 3.9 and nearly half (43.5 percent) were admitted Early Decision.

But those are just statistics. To give you a better sense of the Class of 2025, we introduce you this week to four of the class members. Check out their inspiring stories.
Ash Vasquez likes to draw aliens.
Browsing his portfolio, you'll see they figure prominently in much of his work. They're painted in sunset hues, peering over mountainscapes, and gazing out from between centipedes and lilies—and occasionally, even his lilies have eyeballs.
Why all the extraterrestrials? "When I first started drawing them, I didn't think anything of it," says Vasquez (CFA'25), who identifies as queer and Latinx and uses he/they pronouns. "But looking back, I think it represents how I felt like an outsider, [being queer] and being ostracized."
Vasquez's coming-out experience wasn't exactly warm and fuzzy. Art has long been his refuge and a means of self-expression—not to mention an opportunity to find and build a community he hadn't had elsewhere. And now, as he embarks on a degree in arts education at the College of Fine Arts, he hopes to make a career out of art.
But let's take it back a little bit.
By his own admission, the Chicago native was always a shy kid. By his sophomore year of high school he felt isolated, unable to express who he actually was, except in his paintings. Unfortunately, his school lacked the funding for creative programming, so he couldn't continue with art classes, and all of the local youth programs were too expensive and too far from his home on the city's South Side. At the time, he says, he considered quitting art altogether.
That changed after Vasquez got involved with Yollocalli, a free youth initiative run by Chicago's National Museum of Mexican Art. Yollocalli—a name that combines the words "heart" and "house" in the Aztec language Nahuatl—is a little bit of everything: it's a community center, art and radio studio, and social justice hub geared to local teens. Once he joined and connected with other artsy Latinx students and professionals, he knew he'd found a home.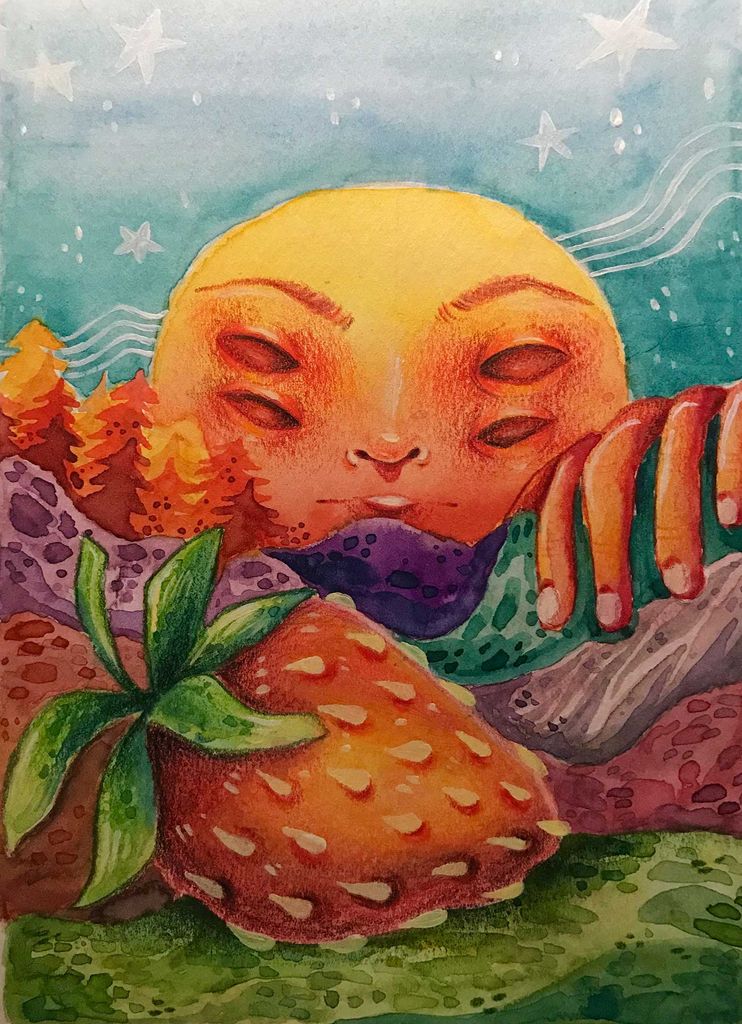 "I never thought of myself as a creator until I joined Yollocalli," says Vasquez, who worked with other creative people involved with the organization to paint murals, design installations for the museum, and teach art classes, among other things. "They're the reason I want to be an art educator."
Crucially, getting involved in the museum initiative and meeting working artists also proved to him that it was possible to make a living in the art world. ("My family didn't think anyone could," Vasquez explains.) In fact, Yollocalli was just the beginning of his teaching career: in early 2020, he also joined Marwen, a nonprofit that offers free art classes and college and career programming for underserved youth.
Through Marwen, he was an assistant teacher for three classes during the pandemic: sculpture, gardening, and digital illustration. Once or twice a week, depending on the class, he would log onto Zoom from his home and greet his students, who ranged from fifth graders to high school seniors. They'd play games, chat, or watch demos from him and the other teachers—"I had to figure out some weird contraptions using my phone and tablet," Vasquez admits, laughing—before going off on their own for work time. Once everyone was finished, they'd go around and share their creations.
Vasquez assigned projects that included growing herbs from seeds, shibori tie-dying (a Japanese manual technique) using natural pigments, and sculpting with clay. Creating a nonjudgmental environment for his students to try new things was his top priority, he says. If he made mistakes in his own work, he'd show them, being careful not to put himself down in front of his classes.
The result? Happy students—a crowd favorite was the herbs project, Vasquez reports, where they all cooked meals at the end using their homegrown plants—and a happy and fulfilled teaching assistant, convinced he'd found the right path.
"Being in these programs made me realize the power of education," Vasquez says. "Seeing and working with creatives who I could relate to really impacted me, and it's what drove me to pursue a career in arts education.
"A lot of these kids aren't necessarily going into arts as a career; they're just doing art because it's an outlet for them as well. And as a teacher, I'll have the ability to create a safe space for people to be themselves. Like, teaching them anatomy or perspective isn't even my priority.
"For me, art is an outlet for your self-expression."