Meet the Class of 2025: Faizaan Firoz
Student Profile
Meet the Class of 2025: Faizaan Firoz
Challenges can't keep this student from Kenya from finding his voice
Wondering what the BU Class of 2025 looks like? For starters, the 4,023 entering freshmen are members of one of the largest classes in recent history. They hail from 48 states (sorry, South Dakota and Wyoming) and 73 countries and regions (23 percent of this year's freshmen are international students). The class is 56 percent female and 44 percent male, 17.7 percent are first-gen students, and 15.2 percent are from underrepresented groups. They boast an average GPA of 3.9 and nearly half (43.5 percent) were admitted Early Decision.

But those are just statistics. To give you a better sense of the Class of 2025, we introduce you this week to four of the class members. Check out their inspiring stories.
Faizaan Firoz loves to talk. Zooming from his bedroom in a suburb of Mombasa, Kenya, recently, he waxes enthusiastic about Boston, BU, Billie Eilish, and the gyro combo platter at The Halal Guys on Stuart Street, among many other things.
But talking hasn't always been easy for Firoz (Pardee'25), a third-generation Kenyan whose family roots are in India.
"When I was six months old, I was diagnosed with a VSD [ventricular septal defect], which in layman's terms is a hole in my heart," he says. "My parents used a lot of their savings and rushed me to India for surgery. It was successful, but one of my vocal cords was damaged and became paralyzed."
He grew up with a breathy, hoarse, wheezy voice that made him a target of bullies. "People asked me why wasn't I normal, why didn't I have a normal voice," he says. "I started to love public speaking, but everyone at school discouraged me. They said there was no way someone with my voice could get up on stage and talk and anyone would listen to me. Back then my voice was a lot worse. I was told it would scare off the audience!"
He can laugh about it now, but not when he was younger. "That was when I was eight or nine, and that really broke my heart at the time," he says. "But I kept on persisting."
When he reached seventh grade, Firoz joined his school's Model United Nations (MUN). "At my first conference I got up to speak, and the entire assembly of 500 people laughed at me because of my voice," he says. "That was the lowest point in confidence that I had. I ran off the stage crying and locked myself in the bathroom and refused to come out for one or two days. But my mom explained to me that having good ideas matters more than having a good voice. And she told me that my ideas were really powerful."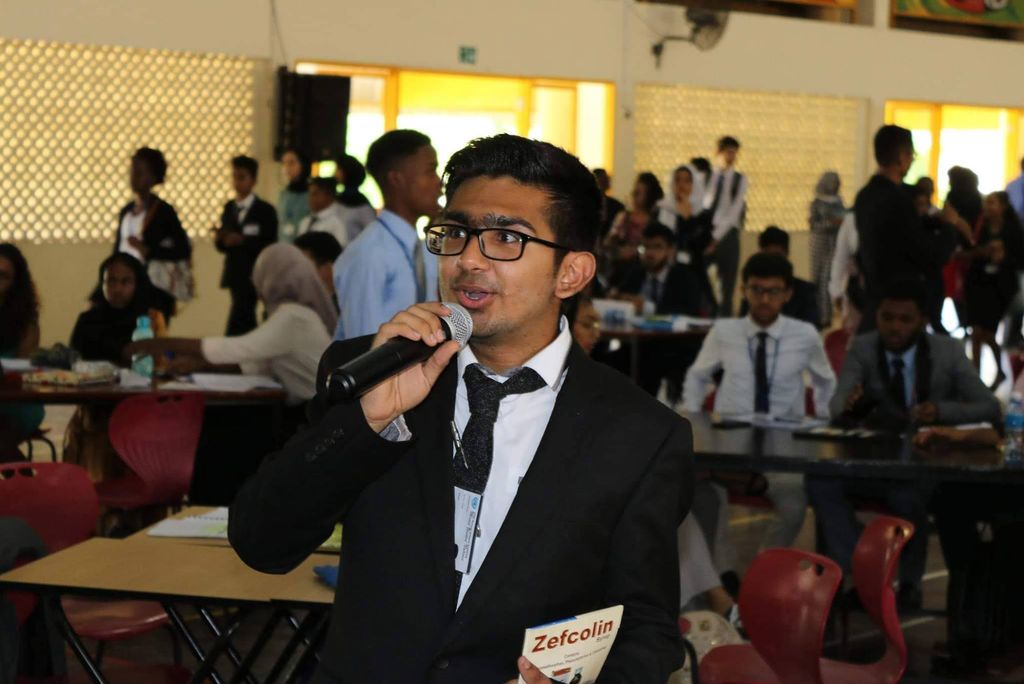 He decided he could use his voice to speak for people who had no voice, people fleeing war and persecution and facing human rights abuses. "I could channel that anger into fighting for people who had no voice, and so I went back to MUN and slowly started introducing resolutions that dealt with refugee rights, child exploitation, people who are fleeing wars and environmental catastrophes, sexual violence, child marriages—I went further ahead and became secretary general of my school's club."
No surprise then that he is looking forward to studying international relations at the Pardee School of Global Studies, although he's also interested in performing in theater.
Firoz says he is particularly proud of a MUN resolution to teach trades such as carpentry to unskilled orphans in his community so they would not be drawn into crime and drugs and hopelessness like so many before them. It was the first such resolution to be implemented in Nyali, the Mombasa suburb where he grew up. It had a budget of 20,000 shillings—the equivalent of less than $200, but sufficient for a pilot project—until it stalled with the arrival of COVID.
The pandemic "is quite tough where I am, because the Delta variant is spreading quite fast, and in Kenya we have much, much lower rates of vaccination," he says. "Like 1 or 2 percent are fully vaccinated. There are curfews and a lot of restrictions. Not a lot of people take it seriously, but that's how it is."
Today, Firoz's voice is distinctive, but you would not immediately think there was a problem. "I've done a lot of speech therapy," he says. "They basically tell me to breathe with my stomach and talk in this very calm, relaxed manner."
Issues with his heart and vocal cord aren't the only medical problems he has faced. He also has blue rubber bleb nevus syndrome, a rare blood vessel disorder that causes large, soft lesions. His most noticeable one basically resembled a double chin—but on only one side of his neck. That brought him to Boston in 2017 for a medical consult and again in 2018 for corrective surgery.
"I fell in love with the city, with the fact that it's so young, so diverse, you have so many students there. I absolutely love that," he says. "I love the green spaces, like the Boston Common. It just felt right."
Firoz's strong academic record and social conscience helped him get admitted to several top US colleges. He chose BU, he says, in part because a Presidential Scholarship provided financial support, but also because of the reception he got during the Zoom admissions process.
"People actually reached out to me from the school, offering to have a chat with me, to connect me to different professors and advisors," he says. "Just that welcome and inclusiveness I got was what sealed the deal for me to come to BU. I felt like I really wanted to be part of this incredible community of thinkers, dreamers, doers!
---

I could channel that anger into fighting for people who had no voice.

---
"That energy that I got, I didn't get at any other school," he says with a grin.
BU feels the same way about Firoz. "I was just very impressed by his poise and how well-thought-out his answers were," says Mitali Dave, a Pardee senior undergraduate advisor, who has met with him online.
"We talked about his interest in international relations and all the work he has done already as a high school student in Mombasa," Dave says. "He's very involved in model UN and had a very specific career path in mind already. He wanted to talk about the best path to maximize his four years and how do you get the most out of BU. That's what I was impressed by from the beginning.
"He just wants to try to soak everything in and truly experience as much as he can," she says.
An only child, Firoz's full name is Faizaan Firoz Abdulshakur Alimohamed. His other interests include TV and video, notably the series Suits and the YouTube travel vlogs of Eva zu Beck. "She has this saying that the world belongs to the brave, and I think that is so true. If you want to do something, you'll not get it by sitting home, by being scared and asking questions like, 'what if…?'" he says. "You have to go out there and get it. I want to leave a mark, and I really identify with that."
He may have grown up in a different place than most of his classmates, but music is truly an international language. "Currently I am obsessed with the new Billie Eilish album," he says. "It's crazy how she's so talented at 19 years of age. It's scary how good she could get."
Firoz also pronounces himself "a total foodie," which brings us back to The Halal Guys, which he discovered on one of those earlier medical visits to Boston. He says he's sure he would be tempted to go straight there when he landed at Logan Airport in late August.
"My favorite Halal Guys dish is the combo gyro platter, which comes with a little of everything, meat, chicken, salad, as well all the toppings," he says, his expression growing a little dreamy. "The reason I like that is because I believe that that platter is a perfect representation of life. Life is a bit sweet, a bit spicy, a little bitter, but you can't appreciate one flavor without the other, and the amalgamation of all these flavors is what makes the Halal Guys worth eating—and life worth living!"