BU Track and Field Teams Gear Up for Long-Awaited Competition
Varsity Sports
BU Track and Field Teams Gear Up for Long-Awaited Competition
Almost a year after last season's abrupt halt, Terriers will host Holy Cross in the Patriot League Challenge on Sunday
It's been nearly a year since Boston University's track and field teams last competed (yet another COVID casualty), but this weekend, the action begins again when they host Holy Cross for the 2021 Patriot League Challenge.
Kristin Fleagle, BU assistant coach for jumps, says it's been great to see the Track & Tennis Center come alive in preparation for Sunday's events.
"You feel that energy and excitement of having more people doing different events—running around the track, jumping in the sand pit, pole-vaulting in the air, throwing in the cage—we're able to experience that again."
Boston University is one of four host sites for the Challenge, which has been organized in lieu of the usual, but pandemic-canceled, Patriot League Indoor Track and Field Championships. Both the men's and women's teams will welcome Holy Cross for their section of the Challenge on Sunday, February 28.
Sprinter Mikajah Hayes (Questrom'21) says she's anxious to resume competition. "It's been such a long time since we've gotten to run in a meet setting, especially at home," she says. "I just want to have fun and enjoy the moment and the atmosphere."
With a shortened 2021 league schedule, the Patriot League Challenge is the lone winter event for track and field, but the teams are anticipating a busier spring, with the possibility of weekly meets. Captain Fred Lu (CAS'22) says the Challenge will help them prepare for the remainder of the season.
"I think the majority of the team is treating it as: we have to train through this meet, instead of peaking for this meet," the thrower says. "It will almost be like a good shakeout for outdoor season."

Despite that, Lu says, he and his fellow athletes have been preparing in earnest for the Challenge. "I expect, myself, to do well in this meet, and so do all my teammates, because I know they've been training hard," he says.
The Terriers have been practicing regularly since the beginning of the academic year with the hope of being able to compete this spring. As part of their COVID protocols, the teams have been grouped into "pods," based on their specialized events, wearing mask brackets, designed, Fleagle says, to make it easier for athletes to breathe without having to sacrifice safety.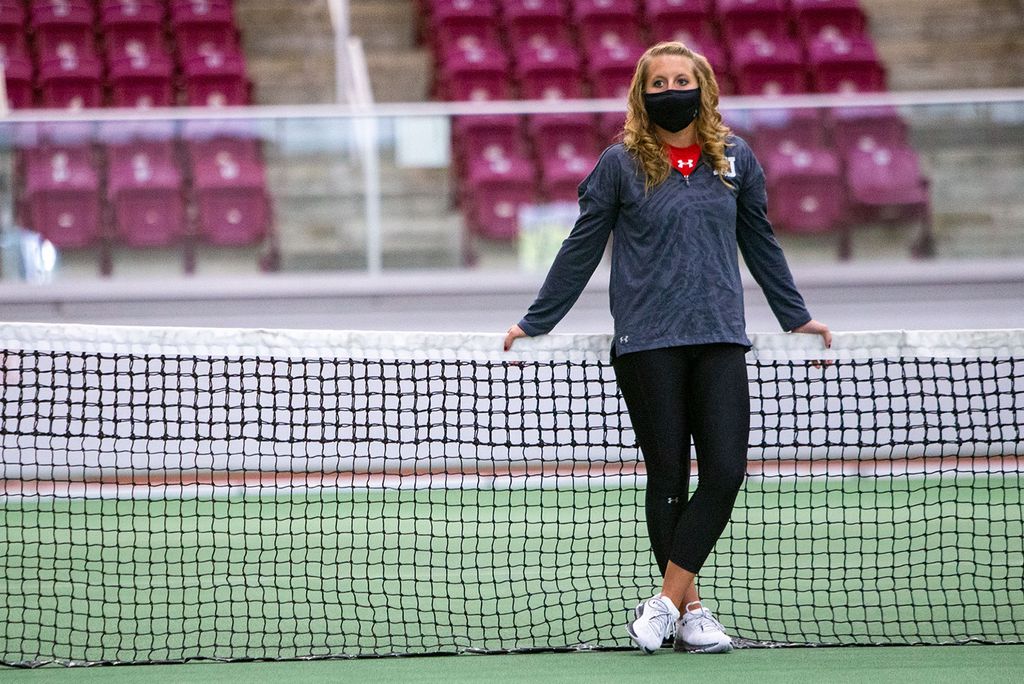 The masks, which the athletes will wear when competing as well, are "not even something we think about, not something we talk about," Fleagle says. "It's just something we've been doing and we're used to it, and it's not really going to affect us at this point."
Hayes says that wearing a mask while running proved more of a mental hurdle than a physical one. "Running with something over your mouth and nose can kind of psych you out mentally, but once you get past that, it's no different than running without a mask or running in extreme heat or running in extreme cold," she says.
According to Fleagle, the adjustments athletes have had to make in response to the pandemic have made them just more determined, rather than deterred them.
"We've obviously been given some trials along the way, and I think that's only made us a better team and better teammates," she says. "I can see the energy and the excitement of our kids never wavering, despite what they're handed."
Hayes says she and her fellow teammates are looking forward to the sense of normalcy that this weekend's competition brings. "I think all of us are just looking at the meet this weekend as an opportunity to get out and do what we've always done," she says. "We've done a lot to get to this point, so I know that at the end of the day, everyone's going to put their best effort forward."
Nothing can simulate live competition, Lu says, especially for the team's newcomers. "Competing, the feeling is different," he says. "I'm just interested to see [the freshmen] compete for the first time in Division 1."
"It's their first exposure to what collegiate athletics is really like," Hayes says of the freshmen. "They've been to practice, they're doing all these grueling workouts, and now they finally get the chance to show up and show out."
Like her fellow seniors, Hayes is thankful for the opportunity to compete one final season before graduating. "Being a senior, having my final year at BU and being able to be on campus with my teammates, is something that I'll forever be grateful for," she says.
"I can't give enough props to our administration and everyone at Healthway for doing all that they can to make it even possible for us to be here."
The Terriers and Crusaders will compete throughout the day on Sunday, February 28. Follow the action on GoTerriers.com and on Twitter, @BUGameday.