Like Father, Like Sons: BU Hockey Runs in the Amonte Family
Sports
Like Father, Like Sons: BU Hockey Runs in the Amonte Family
From Tony to his sons, Ty and Tristan, Terrier hockey is more than a sport—it's been a way of life
The Boston University hockey community knows what to expect from an Amonte.
"Teammates are drawn to them," says Doug Friedman (CAS'94), director of hockey operations for BU men's hockey. "They've earned the respect of everybody on the team."
He would know.
Friedman was on the same Terrier hockey roster as Tony Amonte, who skated for BU from 1989 to 1991 and then enjoyed a long career in the National Hockey League. Now, three decades later, Tony's sons, Ty (SHA'22) and Tristan (CAS'25), are wearing the scarlet and white together.
From one generation to the next, the similarities are apparent. "They all play a relentless style," says longtime BU hockey radio broadcaster Bernie Corbett (CAS'83) "There's certainly a family resemblance there, with a high-energy pace to their game—like father, like sons."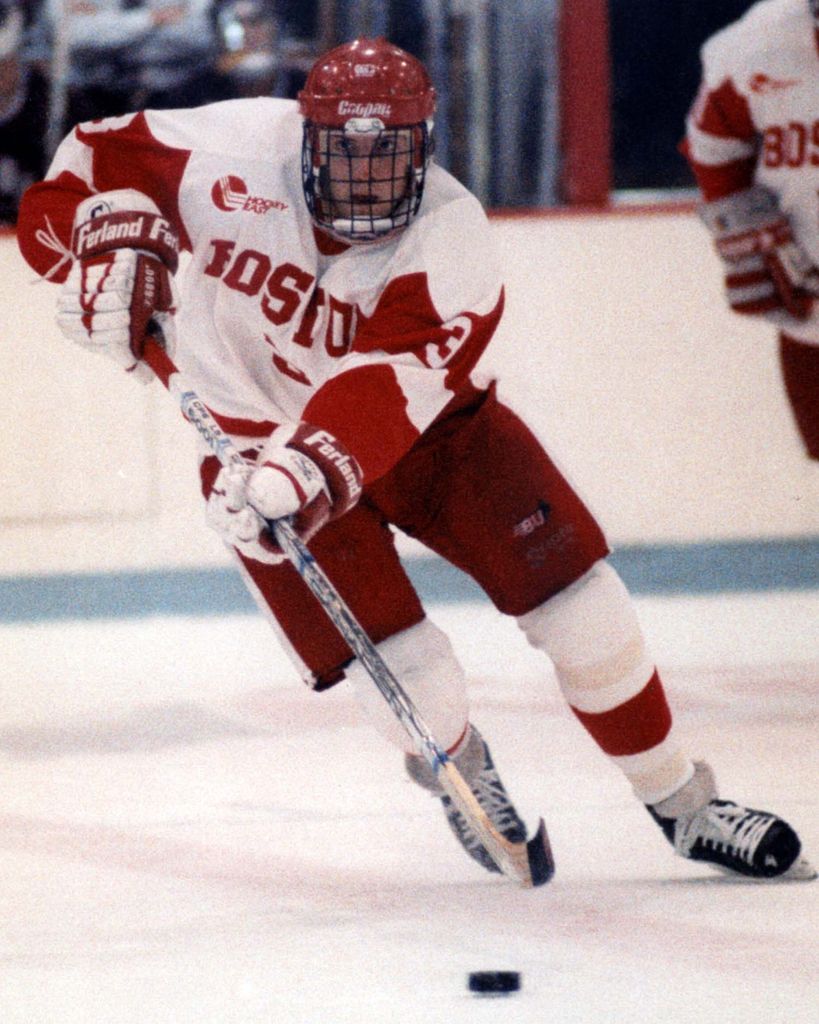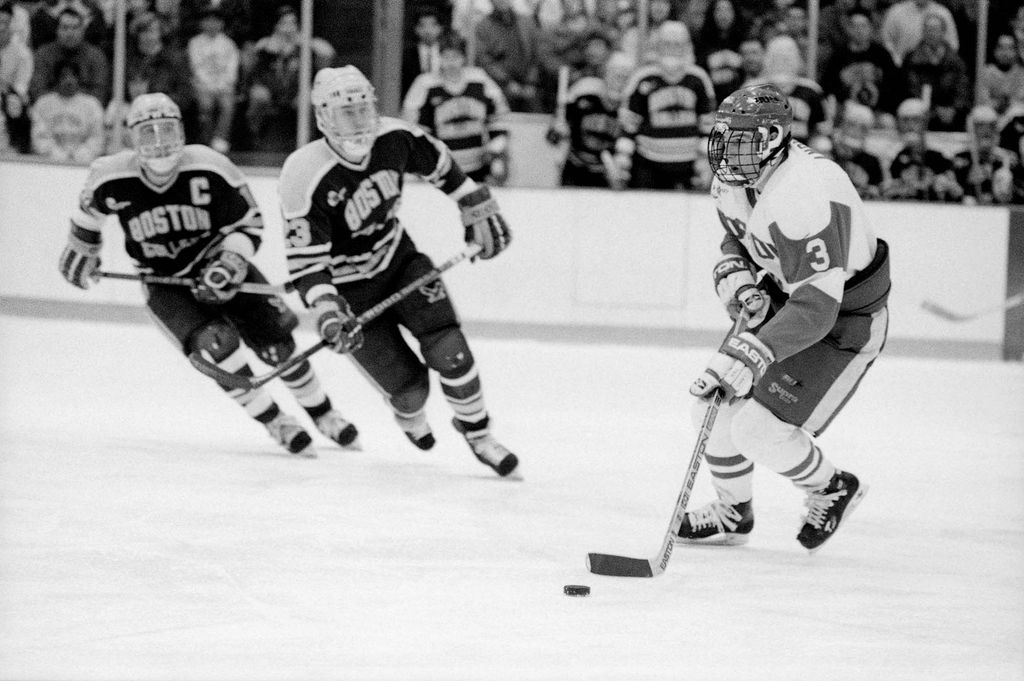 But if there's one quality above all that Tony says connects him, Ty, and Tristan, it's their love of the game. "Hockey is all about fun," he says. "It's incredible to be involved in BU hockey and be in the locker room every day and be around these guys—it should be fun."
The passion for hockey started early with the brothers. As Tony concluded his 17-year NHL career with the Calgary Flames in 2007, his young sons often joined him at the arena. "They would come to the rink with me every day," he says. "They would skip school and they would want to get on the ice. They would skate before practice, they would skate after practice, they just wanted to be around the rink."
Not surprisingly, the brothers were inseparable through much of their hockey development. When their high school years overlapped, from 2014 to 2016, they skated together at Thayer Academy in Braintree, coached, of course, by their father, Thayer's varsity hockey coach since 2010. Tony both appreciated and was challenged by the unique situation.
"You want to support your sons as much as you can," he says. "But then as a coach, you have to do the right thing. It was always a struggle for me, but in hindsight, it did work out well."
But as hockey opportunities beyond high school beckoned, the brothers' age difference caught up with them. Ty graduated from Thayer in 2016 and moved on to play junior hockey in Canada, while Tristan still had two years of high school left.
"I probably assumed that me and Ty would never play together again," Tristan says.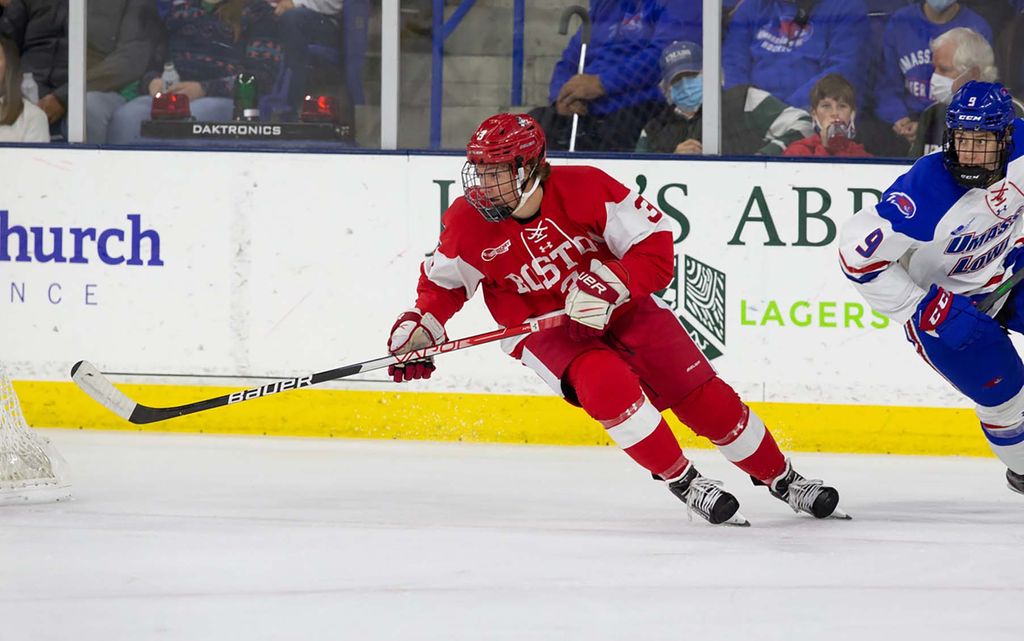 As circumstances evolved, however, the brothers were able to reunite at BU. Two season-ending injuries sidelined Ty for part of his five-year Terrier career, but that also meant he had extra years of playing eligibility, and the chance to skate next to Tristan again.
"Right when he committed [to playing at BU], I got hurt for the first time," Ty says. "I knew I was coming back for the [2021-2022 season], so I already knew we were going to play together. I was pretty excited when I found that out."
Tony says he never expected his sons to follow in his footsteps at BU, but he is happy it worked out the way it did. "To have the two of them there and be able to watch them both play, it's great for us," he says. "It's just nice to see them both on the ice together again."
Even if Tony didn't push his sons towards becoming Terriers, he made sure they were familiar with BU hockey from an early age, often bringing them to Agganis Arena together when they were young.
"It's always fun going to a BU game, and the kids enjoyed it when they were growing up," Tony says. "They had some great players the kids could emulate and want to be like and watch them go from BU to the pros."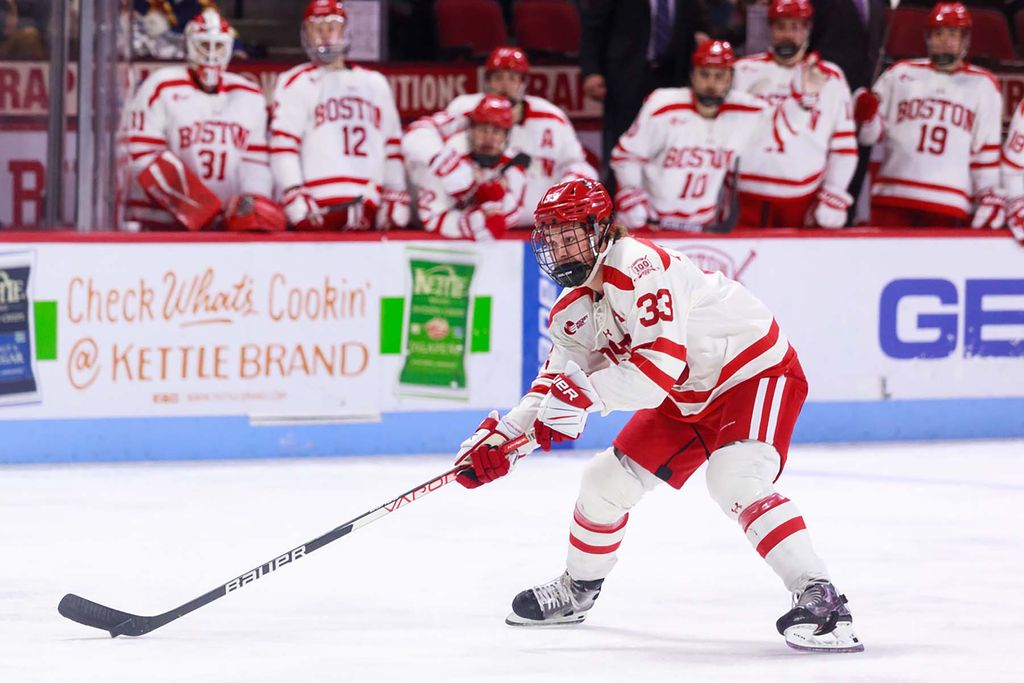 But perhaps the player they were most influenced by was their father. "It's really fun just to be at BU where our dad played," Ty says, "and to be able to share that with my brother." And Tristan adds that "hearing all the stories and how much fun he had when he was here, and when you look at BU's history as a team and as a school, it's definitely somewhere that I thought would be a good fit for me."
After all those years watching their father in the NHL and watching Terrier games together from the bleachers, now the family comes to watch Ty and Tristan play at the same school their father did. Tony and his wife, Laurie, do their best to attend every game they can.
"I think it means a lot to my parents," Ty says. "Just to be able to drive to every game and see us both play, it's kind of like a one-stop shop."
"For those guys growing up around Boston, being able to play at BU and have your family close, it's great for Ty and Tristan's family," Friedman says.
The brothers are as close as ever off the ice, too. They were roommates over the summer as Tristan adjusted to life at BU, and he says Ty has been instrumental to his smooth start in Boston. "Having my brother here is a big help," he says. "I've been picking his brain, whether it be about school or out on the ice. He's been there all the way. It definitely wouldn't have been as easy a transition without him."
And Ty is happy that he can be there for his younger brother. "Being able to help him along the way and help him learn the ropes, it's been a lot of fun," he says.
Friedman says he and the rest of the staff, including head coach Albie O'Connell (CAS'99), are aware of the bond between the brothers. "Any time that Albie has them on a line together, you can see their eyes light up," Friedman says. "They're very tight-knit. They really care about each other a lot, and they enjoy being around each other."
Tony Amonte credits their passion for the sport as being behind it all. "They both love the school, they love being at BU, and love playing hockey at Agganis Arena in front of the BU crowds," he says.
"It's an unbelievable experience," Ty says, "and just having Tristan here makes it even better."
And from Tristan: "It's definitely something that I'll remember for a very long time."
Ty and Tristan Amonte and the Terriers will next take on Boston College at Agganis Arena on Friday, December 10, at 7:30 pm, and the semester calendar will conclude against the United States National Team Development Program's Under-18 Team at home on Saturday, December 11, at 2:30 pm. Students with a sports pass can log in and claim a ticket for free. Find help accessing the sports pass at Agganis Arena's Sports Pass Guide. Purchase single game tickets in advance online or in person at the Agganis ticket office, 925 Commonwealth Ave., Monday to Friday, from 10 am to 5 pm.
Note: Fans attending games at Agganis Arena and any other indoor venue are required to wear masks and must show proof of vaccination or of a negative COVID test within the last 72 hours. All games can be streamed for free at collegesportslive.com/hockeyeast or on NESN, and fans can also follow all the action on the Terrier Sports Radio Network and @BUGameDay .