BU Giving Day Returns Wednesday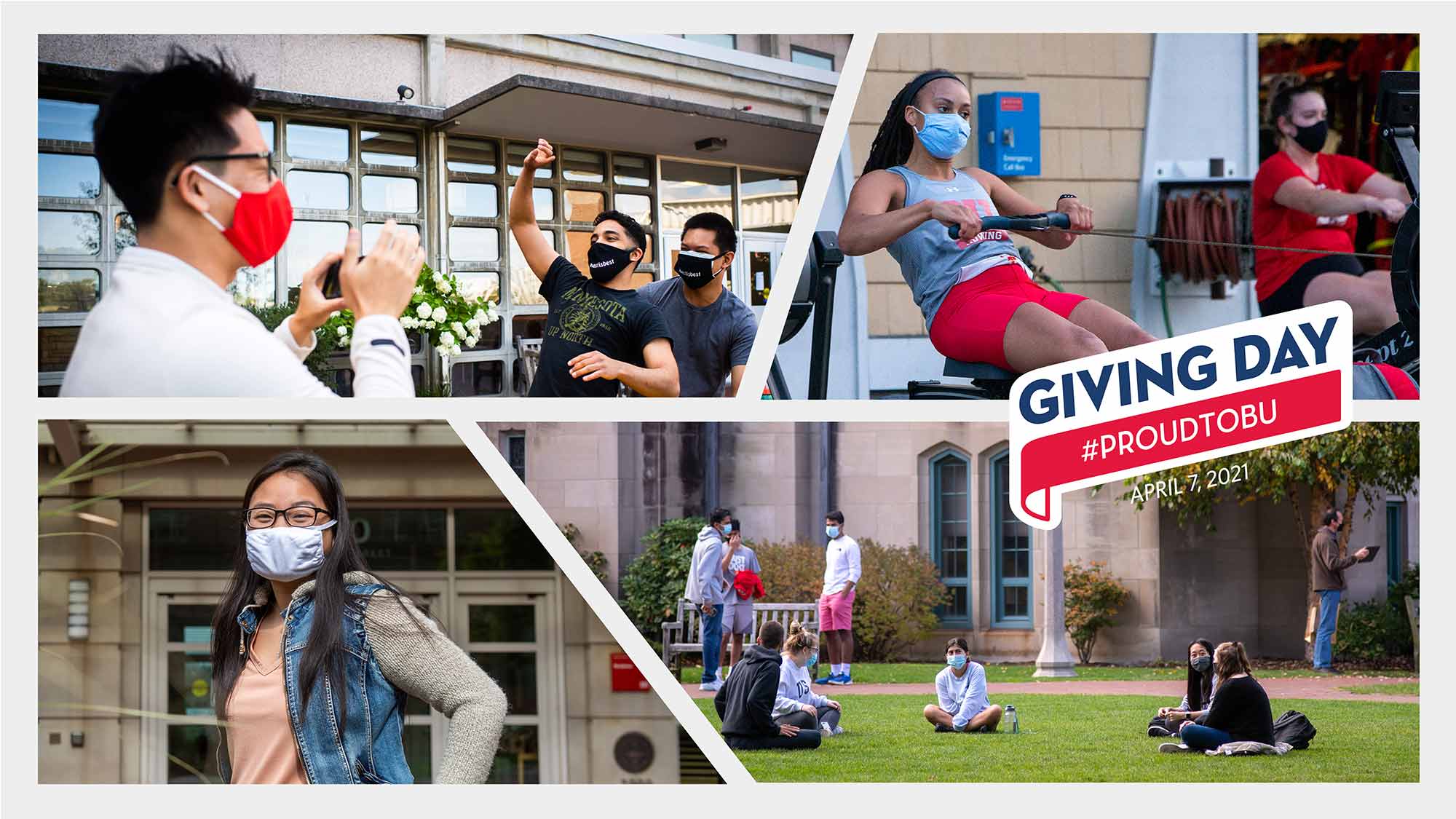 Giving Day
BU Giving Day Returns Wednesday
One-day online fundraising drive on April 7 supports hundreds of causes across the University
BU pride and resilience are the themes of the seventh Boston University Giving Day, being held Wednesday, April 7. This one-day online fundraising drive supports hundreds of activities and programs on all three BU campuses and beyond, from new equipment for sports teams to new lab supplies, from financial aid to community service work, from antiracist research to theatrical productions.
"Lots of people ask why Giving Day is different," says Scott Graham, executive director of Annual Giving. "Two words: bonus funds. This year, we already have more than 275 donors who have stepped up to sponsor giving challenges, meaning they will award matches and bonus funds to causes and groups that perform well on April 7. So your gift could trigger another gift, and that means more funds for the cause you care about."
The pandemic canceled Giving Day in 2020, but on its six prior occasions, it had a big impact. In 2019 alone, donors made more than 11,000 gifts totaling $3.2 million in support of more than 400 causes and programs. And on that day, 61 percent of donations made were between $1 and $25.
"It really goes to show that collective giving is transformative," says Kristen Atwood, director of Annual Giving. "For lots of student clubs, teams, and departments, this is the most significant fundraising opportunity of the year."
A few other things to know about Giving Day:
Anyone can make a gift: alumni, parents, students, faculty, staff, and friends anywhere in the world.
All gifts made on April 7 (midnight to midnight, PDT) count.
100 percent of a gift goes to the fund selected.
Atwood also encourages Terriers worldwide to share why they're #ProudtoBU on social media and to share news of their gifts with #BUGivingDay. "Even though we're all-digital this year, we're doing everything we can to make Giving Day the extraordinary community event it always is," she says. "Every dollar makes BU stronger. And at a place as big as this, there's truly a cause for everyone."