FAQ about BU's Commencement Plans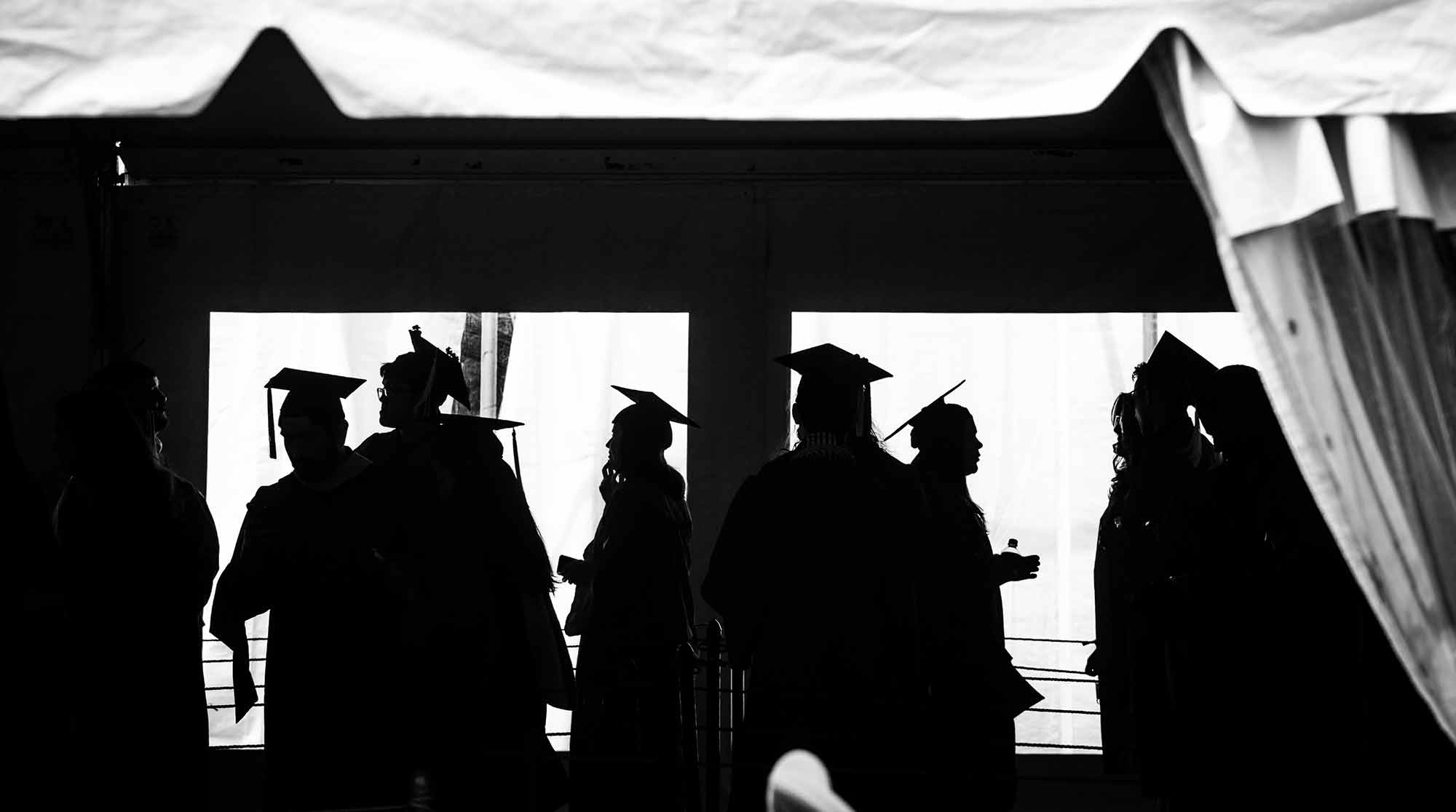 Commencement
FAQ about BU's Commencement Plans
How to get in, who must Zoom in, COVID test requirements, how to pick up your new college graduate, and more
With two graduation ceremonies, one for undergraduates and another for advanced degree recipients, neither with in-person family members and guests, and all held under COVID-19 safety protocols (including mandatory masks on Nickerson Field), Boston University's May 16 All-University Commencement will be like no other.
All graduates at both ceremonies must register in advance to attend. Here are some answers to a range of questions, compiled with information from the University's Commencement website and BU leaders.
So, just who can attend Commencement ceremonies?
All January 2021 and May 2021 graduates, as well as those who anticipate graduating this September with the approval of the appropriate BU school or college, may attend, as long as they register and meet all Back2BU requirements for COVID safety. No one other than current BU students, faculty, and staff are permitted on campus. Graduates returning to Boston for the in-person Commencement will need to make their own housing arrangements, as campus housing is unavailable; for a list of local hotels offering special Commencement rates—you'll need your Kerberos log-in—check here.
Who graduates when?
The first ceremony, for advanced degree candidates, will begin with their arrival at Nickerson Field at predetermined times between 8:15 and 9:15 am. The formal Commencement ceremony begins at 9:30. They will exit by 11 am, and crews will then clean and sanitize the chairs, stadium seats, restrooms, and other equipment. At 12:15 pm, bachelor's degree recipients will begin to arrive at predetermined times for the second ceremony, which will begin at 2 pm and conclude by 3:30. At each ceremony, graduates will be assigned to physically distanced seating three feet apart, in sections organized by BU school and colleges.
How can families and friends of graduates watch the culmination of years of hard study?
The ceremonies will be livestreamed on the University's Commencement website.
What about the May 16 Baccalaureate service?
The hour-long service will be sandwiched in between the two Commencement ceremonies; it begins at noon and has been moved outdoors to the Alpert Mall behind Marsh Chapel. The Baccalaureate speaker is Catherine D'Amato, Greater Boston Food Bank CEO and president. The service also will be livestreamed on the Commencement site.
With two ceremonies, will each event have a separate Commencement speaker?
Yes, two ceremonies, two speakers. Noubar Afeyan, chairman and cofounder of COVID-19 vaccine maker Moderna, will address graduate students in the morning. In the afternoon, speaking duties will fall to US Representative Ayanna Pressley (D-Mass.), who attended BU as an undergraduate. They will each receive an honorary degree at their respective ceremony, while the other recipient, Catherine D'Amato, Greater Boston Food Bank CEO and president, will receive hers at the morning ceremony. That's also when Fadie Coleman, a School of Medicine assistant professor, will receive her Metcalf Award for Excellence in Teaching. The other Metcalf Award (to Dave Sullivan, a CAS master lecturer) and the top award, the Metcalf Cup and Prize (to Steve Ramirez, a CAS assistant professor), and will be presented in the afternoon.
If campus access is restricted, how and where are families supposed to drop off and pick up their students, before and after the ceremony?
Campus parking—limited and subject to availability—will be at these locations:
Accessible parking will be available at the Agganis Arena parking garage, 925 Commonwealth Ave. (enter on Buick Street) and will provide direct access to the east elevators for access to Commonwealth Avenue.
Agganis Arena C-2 Lot, 925 Commonwealth Ave. (enter on Buick Street).
Langsam Garage, 142 Gardner St.
Buick Street Lot & Garage, 25 Buick St.
CFA Lot, 855 Commonwealth Ave.
Essex Street Garage & Lot, 148 Essex St. (Brookline).
766 Commonwealth Avenue Lot, 766 Commonwealth Ave.
Upper and Lower Bridge Lot, One University Rd.
What about alternate transportation?
Boston's MBTA trolley (Green Line B) runs along Comm Ave and will be offering regular Sunday service on Commencement Day. Special BUS (BU Shuttle) service will be available that day between 7 am and 5 pm, as will special restrictions on ridesharing; information on these and other transportation options can be found here.
I'm a graduating student. How do I meet COVID-19 test requirements so they'll let me into Commencement and the Baccalaureate?
Information is here. Key points: you must schedule and complete a BU COVID-19 test (test results must be negative), even if you are fully vaccinated, on either the Charles River Campus or BU Medical Campus between Thursday, May 13, and noon on Saturday, May 15, at any of the BU Healthway Test Collection Sites. (Tests outside of BU Healthway will not be accepted.)
Students can sign up for BU COVID-19 testing beginning Tuesday, May 11, and must make a testing appointment between Thursday, May 13, and noon on Saturday, May 15. You must receive a green badge on May 16, indicating compliance with daily attestations and a negative BU COVID-19 test, prior to your designated arrival time for the All-University Commencement or the Baccalaureate service.
I was diagnosed with COVID, but have since been cleared to leave isolation. I was told I don't need to be tested again for 90 days—does that still apply if I want to attend Commencement?
To confirm if you need to be tested to attend, contact BU Healthway at healthwayhelp@bu.edu, or call 617-353-0550 and press 4, from 7 am to 11 pm, seven days a week. If you have medical questions about COVID-19 (including about vaccines), press 2 when calling to speak with a triage nurse, 7 am to 6 pm, seven days a week.
I'm graduating, but I'm not from Massachusetts. How do I get into Nickerson?
You must fulfill Massachusetts COVID travel requirements, found here.
What about BU's individual schools and colleges convocations?
Each school and college will have its own virtual convocation ceremony, available on the Commencement website on Saturday, May 15, at 2 pm. These ceremonies are school-specific, and may include student or guest speakers, awards presentations, or photo montages. Graduates will be individually recognized with a personalized graduation slide on their school's ceremony page provided by vendor MarchingOrder.
What am I allowed to bring to the Baccalaureate and Commencement ceremonies?
Please arrive wearing your face covering and graduation cap and gown. Face coverings must be worn before, during, and after the ceremonies. To enter Nickerson Field or Alpert Mall (where the Baccalaureate service will be held), you must arrive at your designated time and present your BU ID, your green badge via phone as part of BU's COVID-19 compliance, and your Commencement ticket from registration, preferably displayed on phone, though a paper printout will be accepted.
No backpacks or luggage, food, or beverages are allowed at either ceremony.
Where do I get that cap and gown?
They can be bought through Barnes & Noble at Boston University. Order your cap and gown here and remember: you must have them to be admitted onto Nickerson. You also can visit Barnes & Noble, 910 Commonwealth Ave., to purchase; if you placed an order online by May 1 and have still not received it by Thursday, May 13, visit Barnes & Noble for assistance. The store's hours Commencement week are: Monday, May 10, through Thursday, May 13, 10 am to 7 pm; Friday, May 14, and Saturday, May 15, 10 am to 8 pm; Sunday, May 16, 8 am to 6 pm.
Any special ceremonies for BU's Military Education Program?
There will be commissioning ceremonies on Saturday, May 15, for the Air Force at the US Coast Guard, 427 Commercial Street, Boston. Army commissioning is on Monday, May 17 at Bell in Hand restaurant, 45 Union Street, Boston, and Navy commissioning is at the USS Constitution at the Charlestown Navy Yard.
Please tell me there will be bathroom facilities on Nickerson.
Yes. Nickerson Field guests will use bathrooms located under the grandstands, as well as portable toilets at the east and northwest sides of the field.
Any accommodations (getting onto Nickerson, etc.) for students with disabilities that they should know about?
Students with access needs should contact Disability & Access Services.
This is embarrassing: I'm not sure I'm eligible to graduate. How do I find out?
The University Registrar (617-353-3612 or registrar@bu.edu) can tell you. You can also try contacting your school or college commencement coordinator.
It wouldn't be surprising in this COVID-cursed year if it rained on Commencement. What then?
You get a little wet. Commencement will go on, rain or shine, on Nickerson.