A Deep Dive into Boston University History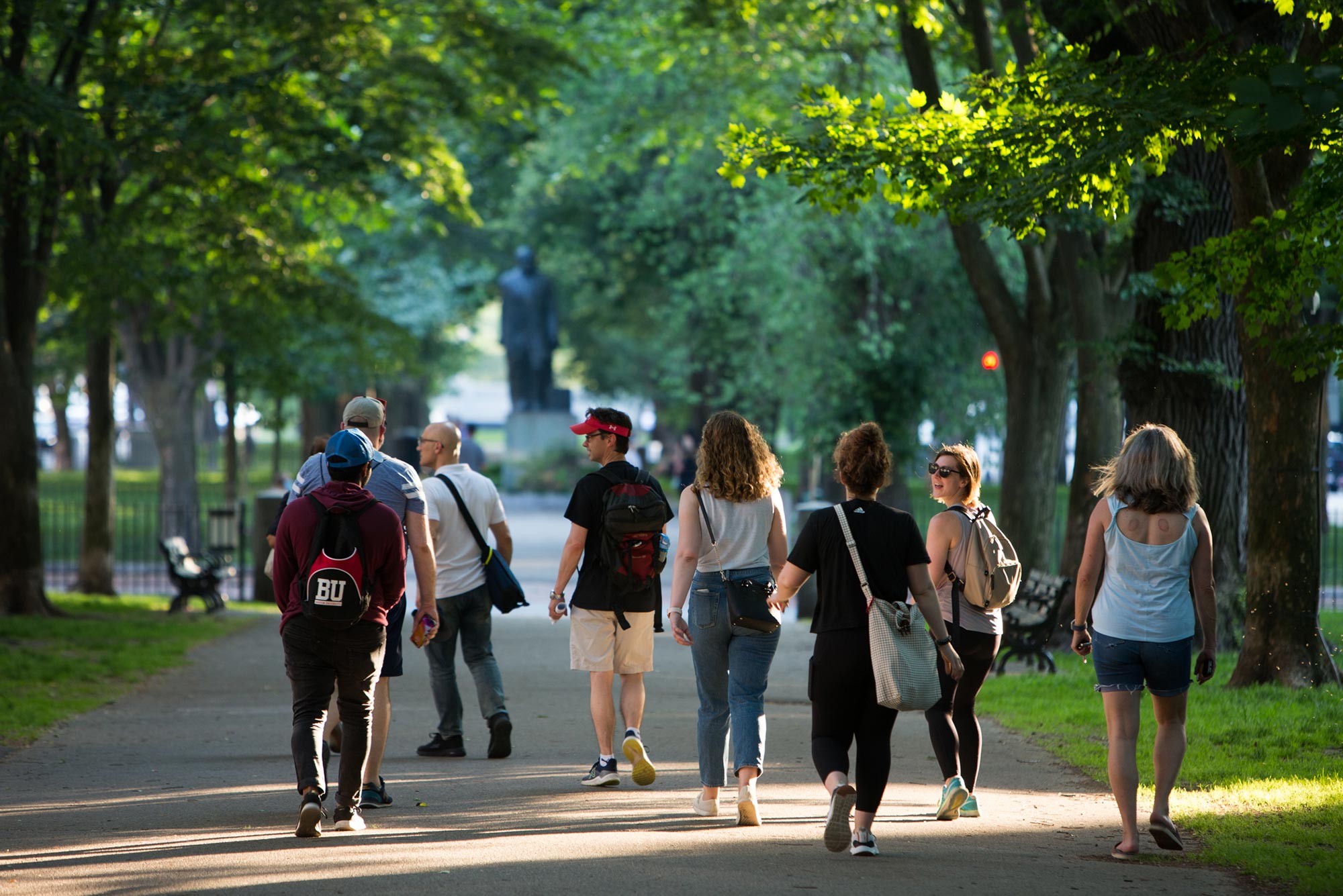 History
A Deep Dive into BU's Past
History of Boston University class offers students a chance to dig into a bygone time
Fun fact: Commonwealth Avenue might be the current address of Boston University's main campus, but it's not where the University started out.
In fact, it wasn't even in Massachusetts. BU's origins trace back to rural Vermont, where it began life as the Newbury Biblical Institute, a small seminary founded by abolitionist Methodists in 1839. But BU as we know it originated in 1869, when it was officially chartered, and after which the first colleges and dorms started appearing around Back Bay and Beacon Hill.
If you sign up for History of Boston University, a four-credit Hub course taught by Daryl Healea (STH'01, Wheelock'11), you can visit those buildings in person on a bespoke walking tour.
"The walking tour is a chance to go back in time and see the University at its origins, and to literally walk the steps of its migration westward," says Healea, College of Arts & Sciences assistant dean for curriculum and enrollment services and a Wheelock College of Education & Human Development part-time lecturer. "You can read about why the University moved from one place to another and understand what cultural and social impacts were at play at any given time. But it takes on a different meaning when you actually go on the tour."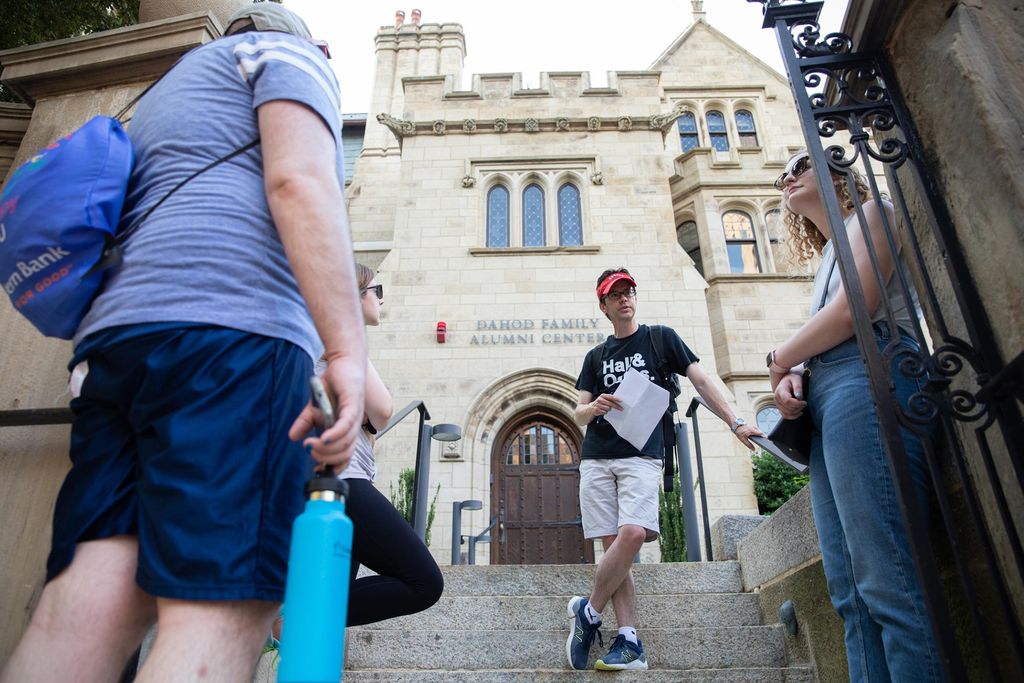 Because History of Boston University is a grad-level Wheelock Hub course (taught this year during Summer Session 1), most students taking the course are pursuing a master's degree in higher education administration. One of the goals of the class: to use BU's past to consider how present-day educational practices might be improved.
And, of course, to get students on the walking tour.
Healea created the tour using PocketSights, an app that allows users to follow pins on a map and access information about each stop. The tour covers just under 4 miles, winding through the city from the Boston Common to Marsh Plaza, and takes about two hours to complete. 
The first destination: 37½ Beacon Street, where founder Isaac Rich lived and where he signed the charter for Boston University along with neighbors Lee Claflin and Jacob Sleeper, the other two founders, in 1869. Among the other 31 stops are 36 Bromfield Street, which housed the School of Theology and the School of Law in the 1870s; 27 Chestnut Street, or Robinson Chapel (a circa 1916, almost-twin to Marsh Chapel), the first building BU constructed from scratch for University purposes; and 4 Charlesgate, purchased in 1947 as the first large residence hall for women.
"Four Charlesgate, along with the soon-to-be purchased Myles Standish Hall, would mark Boston University's transition from a commuter campus to a residential campus," reads the stop's PocketSights page.
Healea emphasizes these pivotal changes in the classroom, too. The curriculum takes students through more than 150 years of University history in just six weeks, including both World Wars, the Great Depression, and student protests during the Civil Rights era—all of which catalyzed major changes on BU's campuses.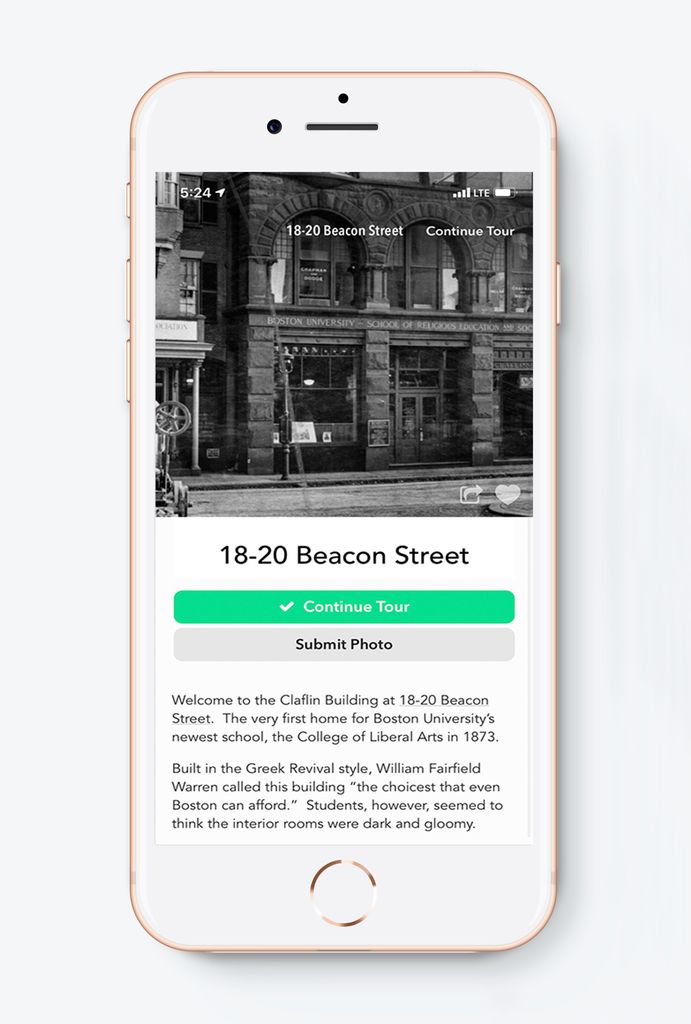 By studying and analyzing the institutional dynamics of the University's past, students learn to think like historians, says Healea, himself a historian. That does require consuming plenty of text: readings include chapters of University presidents' biographies and Buildings and Builders: An Architectural History of Boston University, by Nancy Lurie Salzman, and "Letter from a Birmingham Jail" by Martin Luther King, Jr. (GRS'55, Hon.'59). It also means digging deep into the primary sources at BU's Howard Gotlieb Archival Research Center—which partners with Healea on the course to give students access to thousands of personal accounts, student newspapers, and more—and reckoning with the limitations of historical research.
"In class, we talk about the various historical fallacies that historians can make," Healea says. "When you're reading through scraps of historical memorabilia, you're trying to be as objective as possible and let the sources tell you the story. If you start trying to read those sources through your own present-day mindset, you can end up imposing your own presuppositions on them, which is problematic."
Combating that bias requires as much self-awareness as possible, he explains. One of the things he and the Gotlieb historians try to do, he says, "is to work with students on transparency. Not only do you have to have a self-knowledge of what your own limitations are, but you have to acknowledge that in your writings so that readers know what the limitations are, too."
For their final project, students dig into archival materials and readings to write their own narratives from a particular era in BU's history. That could mean a look at the female experience in the late 1800s, the Black experience during the 1960s, or how World War II impacted the Charles River Campus—plus how lessons from that time could be used to improve a modern-day educational practice.
Since Healea began teaching the course in 2014, student feedback has been decidedly positive. "I think students really appreciate the unknown pockets of history that they never knew about, even though they walk by a certain building or plaque every day," he says. "That's why they enjoy the walking tour—it's where all of this history comes alive."
He says he does get the occasional complaint about the volume of reading. "We are reading almost everything that's been published about the history of the University," he acknowledges with a laugh. "But mostly, students love getting a deeper understanding of the place they thought they knew."