Tonight's University Lecture: On the Front Lines against COVID in the Lab, Science Will Win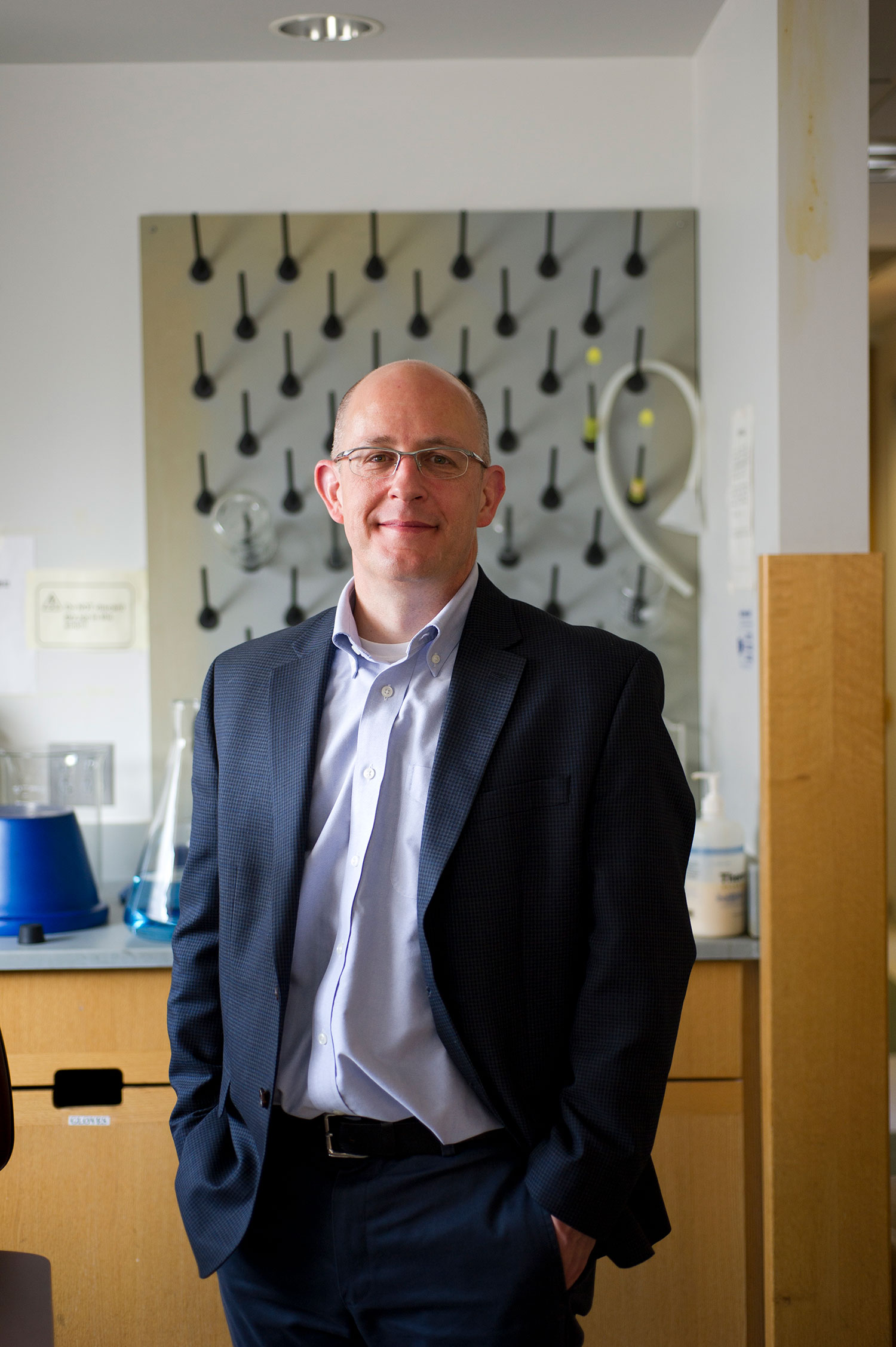 Infectious Diseases
Tonight's University Lecture: On the Front Lines against COVID in the Lab, Science Will Win
Nothing "has had as much intense interest from everybody on earth," says MED's Joseph Mizgerd
Joseph Mizgerd hasn't lost anyone to COVID-19 personally, but that doesn't mean the pandemic hasn't affected him.
"I've had several deaths in the family that were not due to COVID, but they were still deaths that we would like to be getting together and having funerals for, and we haven't done that," he says. "We have not traveled to see each other, including parents and children and siblings, even through really horrible things like losses, and that's been a profound and difficult change for us."
Anyone questioning social distancing, masks, and other coronavirus precautions would do well to heed his example. Mizgerd, a School of Medicine professor of medicine, microbiology, and biochemistry, director of the University's Pulmonary Center, and an investigator at the National Emerging Infectious Diseases Laboratories (NEIDL), has been on the front lines of the struggle to understand COVID-19 and the body's response to it.
Mizgerd has been tapped to deliver the 2020 University Lecture, titled From Cough to COVID: How Respiratory Infections Produce Problems and Our Bodies Fight Back, today, Tuesday, November 17, at 5 pm via Zoom. The event is free and open to the public, but registration is required.
Established in 1950, the annual University Lecture highlights the outstanding and thought-provoking research of a BU faculty member to the BU community and the public.
"I don't think anything has had as much intense interest from everybody on earth as COVID-19 has, and as somebody who's been studying respiratory infections for a lot of years, I get a lot of questions directed to me," Mizgerd says.
The most common one is about the availability of a vaccine, and although it is not his specialty, he, like everyone else, hopes it will come soon. Next most asked: why is the virus' effect so variable? "How come some people get very severe infections and die, and other people don't even have symptoms—that doesn't make sense to a lot of people, but in fact, that's very common to respiratory infections," he says. "A lot of what we are learning about COVID-19 is very similar to other respiratory infections."
In Boston, "most people do take COVID really seriously, they believe it is a threat, and they believe it is up to them to try to prevent themselves from getting it and prevent others from getting it from them," he says. "Things are getting worse here, like elsewhere, and it is going to keep getting worse for the next couple of months, but it is better than a lot of other places."
His own personal COVID precautions include working remotely as much as possible. This semester, he's teaching one class a week, with two-thirds of the students participating remotely. "I have Zoom meetings all day every day, just like everyone else does," he says. And when he does go out, to BU or anywhere else, he is masked, observes social distancing, and avoids crowded environments. And he washes his hands a lot.
Mizgerd's hobby of playing squash—which means breathing hard in close quarters with others—has gone by the wayside in favor of lots of long walks, "but I haven't learned to play the piano or anything," he says.
What he has been doing is working—a lot—in his MED lab or collaborating with other scientists at the NEIDL, and keeping the Pulmonary Center running. "We are ramping up to do everything we can, because we feel our expertise is needed right now," he says. "I spend a lot of time mentoring younger researchers, and the administrative tasks are also very important. There are a lot of things we have to do to make sure we're being safe in the Pulmonary Center and making sure we are part of the solution and not part of the problem."
Mizgerd says being selected to deliver the University Lecture made him feel "shocked and humbled and really, truly honored to be asked. And it's a challenge. I give talks all the time, it's part of life for an academic. But I'm always talking to other scientists. It's a challenge to give a talk to try to make what you do interesting to such a diverse audience, which can include law students and history professors and other members of the community, and still make it interesting to other scientists. But I look forward to it."
Each year's speaker is chosen by the provost from recommendations by the University Lecture Committee, which selects from nominations by the BU community. "We cannot imagine a better—or more opportune—lecturer than Professor Mizgerd," says Jean Morrison, University provost and chief academic officer. "The lasting medical advances he has made as a researcher, his talent and innovation as a storyteller working with broad audiences, and of course, the timeliness and interdisciplinary appeal of his work in the age of COVID make him an ideal choice."
Mizgerd will bring some of his personal history to today's lecture, but the focus will be on his current research. His work is basic science, not clinical—he works with cells and tissues and data, not patients.
"Lung infections are caused by a wide range of microbes, lots of different bacteria, lots of viruses that have basically nothing in common except that they like warm, wet places like our respiratory tract," he says. "I think it's not really about the microbe, it's about how we respond to the microbe."
He spent years studying the innate immune response—the first things that happen when a microbe gets into the lung and how the body reacts within hours. But a few years ago, at the suggestion of a graduate student, he began focusing more on adaptive immunity, the longer-term response that involves antibodies and T cells. The body has a sort of immune memory, he says, in that how we respond to one respiratory pathogen can affect how we react to the next one, even though it's not exactly the same. "That 'heterotypic immunity' is really key to our ability to respond effectively to a microbe in our lungs," he says.
One huge question now, he says, is how that affects our response to SARS-CoV-2 (the virus causing COVID-19), a pathogen we've never before encountered. Are there some aspects of heterotypic immunity that can actually damage the lungs as part of our response to infection? It is becoming clear that subsets of COVID patients have immune responses leading to milder cases, while others have different immune responses that lead to especially severe cases. Deciphering which immune pathways are active and whether they are beneficial or harmful in people with this infection will guide improved care strategies for COVID-19.
Mizgerd applauds the University's efforts against COVID, from promoting social distancing on campus to setting up its own testing lab. "BU has done a fantastic job stepping up to fight this challenge," he says. "I'm really pleased and proud of how seriously the entire institution has been doing it and how much under control the University community, including the undergraduate campus, has been handling it so far."
He was buoyed by two announcements last week—Pfizer's report of a 90 percent effective vaccine that could get fast-track approval from the FDA, and President-elect Joe Biden naming his COVID advisory panel members.
"The Pfizer news is exciting," he says. "It's early days, and I haven't seen full results, but what I heard from media reports sounds extremely promising and is reason for optimism. And the fact that Biden is prioritizing a national strategy to combat the pandemic, while relying on scientists with appropriate expertise and experience, is yet further reason for hope. It won't be easy and there's much work left to do, but we are steps closer to winning this COVID battle thanks to this news."
The late fall and winter are going to be tough for everyone, Mizgerd says, but people should comfort themselves with the long view.
"I would like to suggest continued vigilance, and emphasize that the numbers are getting worse while we're having this conversation and likely to get worse over the next couple of months. But I would also like to emphasize that things are going to get better," he says. "I talk to so many people who are verging on depression. We are going to beat this. We are going to have vaccines that work.
"So much science is being thrown at this problem. The word unprecedented is overused, but in this case it's true. Around the world scientists are fighting this. The number of discoveries that have come out in just the last few months is mind-boggling. It will lead to benefits for the rest of us for other kinds of disease, paradigm-shifting changes that will really help in public health and medicine. This concerted effort is great news for the worlds of pulmonary medicine and infectious diseases."
The 2020 University Lecture, From Cough to COVID: How Respiratory Infections Produce Problems and Our Bodies Fight Back, is today, Tuesday, November 17, at 5 pm, over Zoom. Admission is free, and the public is invited. RSVP here. After registration, you will receive an email with log-in details for the event.