Three BU Students Named Goldwater Scholars for STEM Achievements, Win $7,500 Prize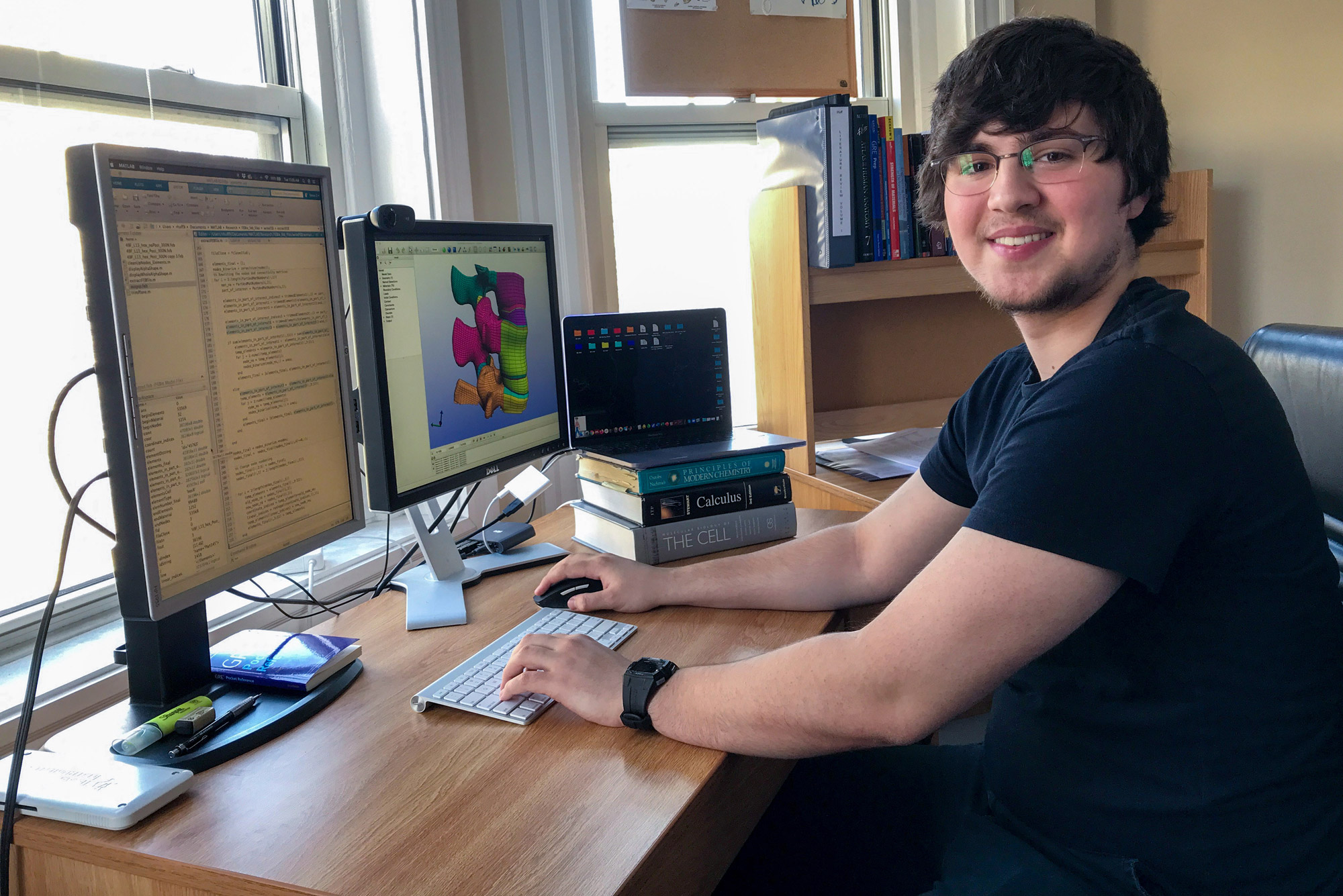 Accolades
Three BU Students Named Goldwater Scholars for STEM Achievements
From one winner, in isolation: "This was just a piece of good news I really needed"
There will be no high fives or group hugs for this year's Goldwater Scholars, the elite students in science, technology, engineering, and math (STEM) who competed against thousands of students across the country to land the respected scholarship. COVID-19 has seen to that.

So Reece Huff, one of three 2020 BU winners, called and texted mentors, friends, and his grandmother from his quiet, roommate-less apartment on Commonwealth Avenue to share the news.
"It feels like my building is abandoned," says Huff (ENG'21). But, he adds, "My family was over the moon about the news."
The two other BU winners, Nik Gjonbalaj (CAS'22) and Kevin Reiss (CAS'22), learned they had won while studying in their childhood bedrooms; Gjonbalaj in upstate New York and Reiss in western Connecticut.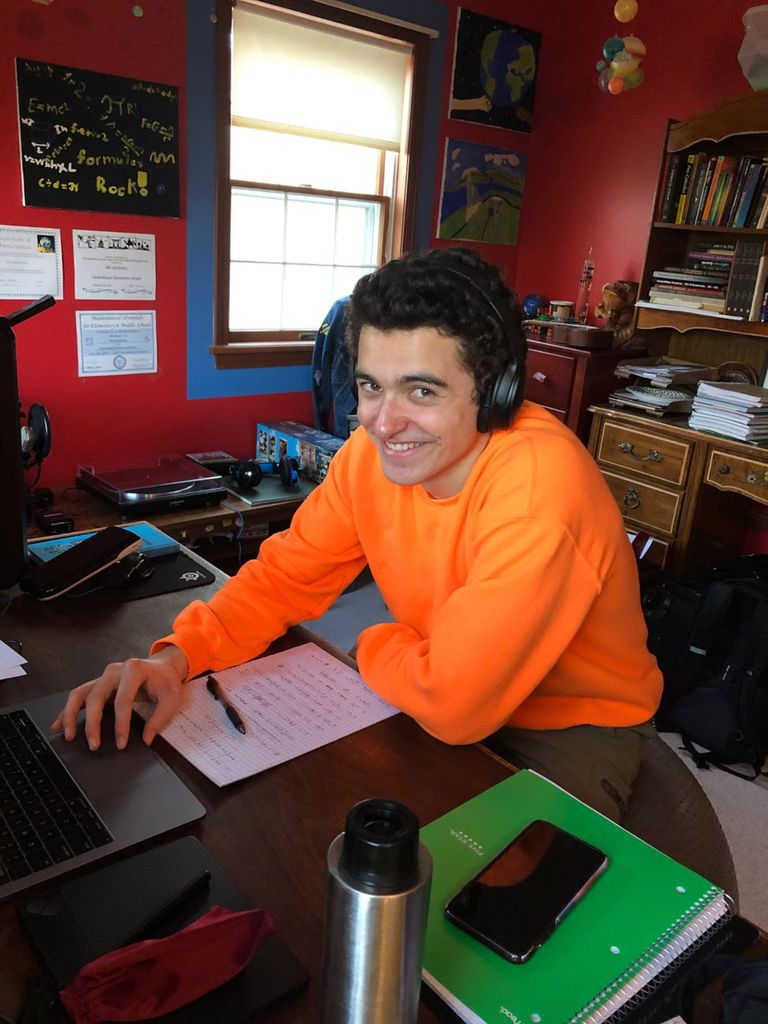 However muted the celebrations may be as students hunker down in isolation, receiving a Goldwater scholarship marks a major turning point in their lives. This year's 396 winners were selected by the Goldwater Foundation from a pool of more than 5,000 applicants from across the United States for their academic accomplishments in STEM fields. All are college sophomores and juniors who plan to obtain a PhD and who show "exceptional promise of becoming this nation's next generation of natural science, mathematics, and engineering research leaders," according to the Goldwater Foundation.
In addition to the prestige of winning the honor, the prize eases the financial weight of college. Winners receive scholarships of up to $7,500 a year to help cover costs associated with tuition, fees, books, or room and board for the remainder of their undergraduate education.
Gjonbalaj says the news gave him a lift as he adjusts to remote learning, dispersed friends, and life at home. On campus, he was a regular in the undergraduate science room, and going there daily to study and see people was part of his routine. It helped him through a tough fall semester, because his courses were harder than he expected and he was juggling a new research endeavor.
He can't visit the science room now, but the award helped break up the monotony of being in his old bedroom for hours on end. He immediately told his father and his two sisters, and texted his mother, an ER doctor.
---

I couldn't help but smile and laugh. This was just a piece of good news I really needed.

---
"I couldn't help but smile and laugh," he says when he got the email that he had won. "This was just a piece of good news I really needed."
It was well-earned and perhaps not surprising for a student who graduated from high school two years early. Gjonbalaj conducted research on deep neural networks, works as a learning assistant leading group discussions in class (and now online), and tutors a student in physics, in addition to his advanced coursework.
He became passionate about math in fifth grade, he says, after a teacher showed him how projectile motion could be calculated with precision.
"I really like the ideas of math," he says. "I like the structure, the nice order. Once you learn how to use it, it just goes, and you can do so much with it."
Kevin Reiss also has a long list of accomplishments as a sophomore. In addition to his graduate-level physics coursework, his name is on a research article that appeared in Chaos: An Interdisciplinary Journal of Nonlinear Science, and he has presented his work at both an American Physical Society meeting and an Undergraduate Research Opportunities Program poster symposium at BU.
An engineering major and Presidential Scholar (a $20,000 award given to students who show leadership) as a freshman, Reiss shifted his major to physics last year. He says he was drawn to the intellectual rigor of trying to untangle the root questions of science.

He's also enrolled in his second semester of French, learning the language in preparation for studying abroad in Geneva, Switzerland, next year. (The physics classes will be taught in French, with English notes, Reiss says.)

That kind of hunger for learning is standard among Goldwater winners, says Jeff Berg, BU's director of national and international scholarships.

"Goldwater is looking for undergraduates who are already working independently in the research environment," Berg says. "They're not carrying out assignments—they're pushing research in new and exciting directions."
And for each successful student, there is a professor who has gone above and beyond to help. Huff says Elise Morgan and Paul Barbone, two College of Engineering professors of mechanical engineering, guided his research and personal development.
Both Reiss and Gjonbalaj call 2018 Goldwater Scholar Salvatore Pace (CAS'20, GRS'20) a friend, mentor, and role model. Pace became BU's first Churchill Scholar this year, an award comparable to a Rhodes or Mitchell scholarship. Reiss credits another key mentor, David Campbell, a College of Arts & Sciences professor of physics, department associate chair, and director of graduate studies, for "helping me push myself."

Reiss says he feels energized to see where his love of science and theory will take him.
"You follow down these avenues of trying to figure out if your assumption is right," he says. "And you get a deeper understanding of the world and everything around us, but also into your own mathematical and physical abilities to ask the right questions."

Reiss and Gjonbalaj have known each other since freshman year, when they bonded as the youngest students in some of their classes. Reiss knows Huff from his days in the engineering program (where they shared an appreciation for the 1995 film Dodgeball, about a group of competitive dodgeball misfits).
Reiss says he misses all the people he used to see day to day on campus and his in-person meetings with professors. A tuba player, he's unsure when he will be able to return to campus to play in the BU Scarlet Band and the BU Marching Band. At least he can look forward to the opportunities that the Goldwater Scholarship will present, including making new connections to previous winners who can offer career insights and advice.
Huff and Gjonbalaj, he adds, were his only friends who applied for the scholarship.
"All three of us ended up getting it, which is just amazing," he says.