BU Launches New Program to Help Students Facing Hunger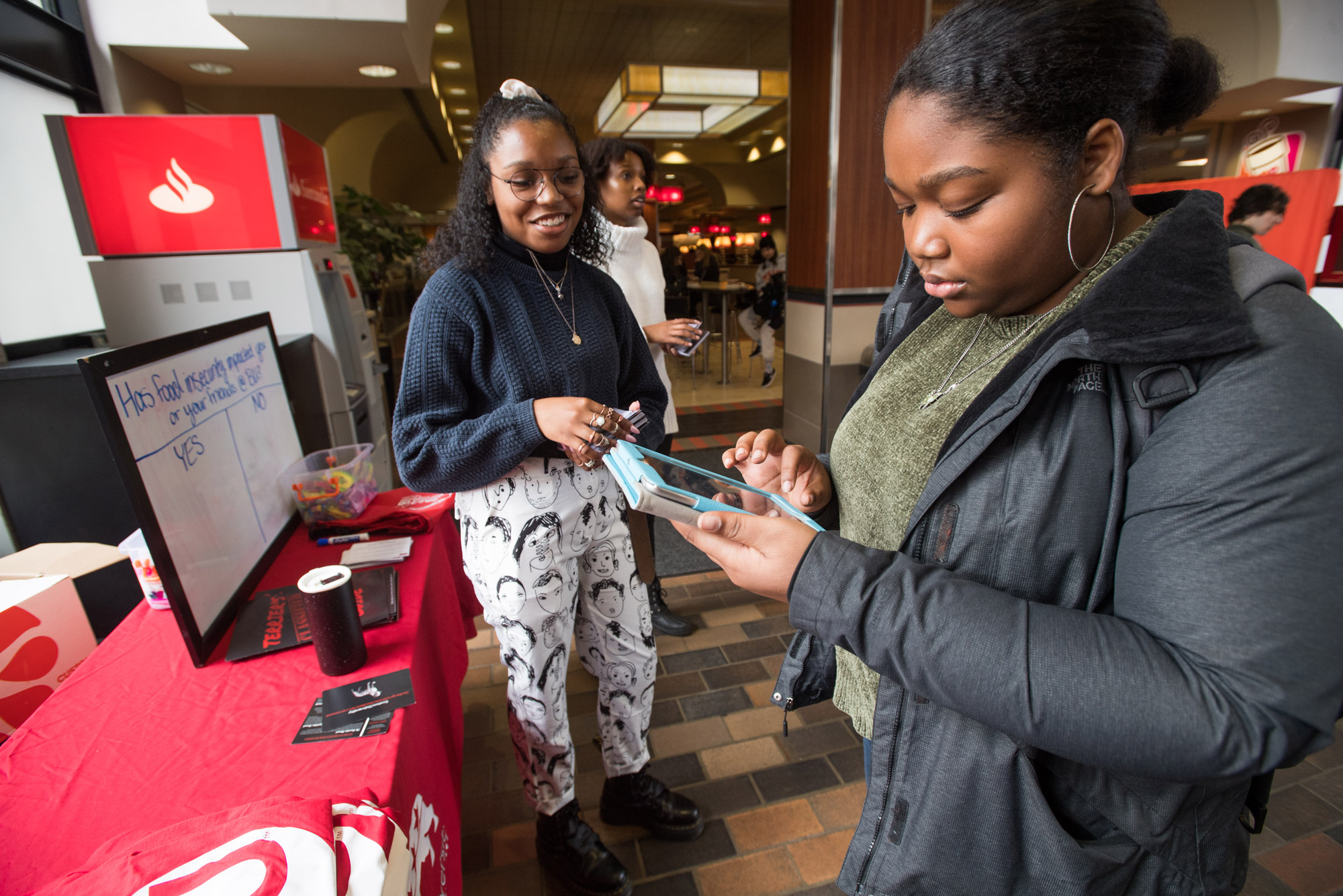 Aid
BU Launches New Program to Help Students Facing Hunger
Terrier Meal Share allows students to donate dining hall meals to others in need
For years the joke has been that college students live on ramen noodles and peanut butter and jelly. But there's nothing funny about the growing problem of food insecurity experienced by college students across the country. In a study conducted earlier this year by the Hope Center at Temple University, 41 percent of students at four-year colleges report that they've been food insecure over the last month.

Food insecurity is defined as lack of access to, or the financial resources to access, a sufficient amount of food. This growing issue on college campuses has been reported by publications like the New York Times and Inside Higher Ed, and while it is true that the problem is more pronounced for students attending state universities and two-year community colleges than for those at a four-year private university, it is still worrisome.

A new program at BU is now seeking to address hunger on campus. Called Terrier Meal Share, the program launched quietly this semester and has quickly gained momentum. Through an online portal, students can donate their extra guest dining hall meals to other students in need. Those needing short-term assistance can sign up and five meals will be deposited on their Terrier Card and can be used in all BU dining halls. The process is completely confidential.

(Find out how to sign up for the Terrier Meal Share program at the end of this article.)
Thus far, 18 students have requested meals, according to Steve Singer, associate dean of students for shared business services. More than 100 meals have been donated to date, and that's on top of the 250 meals Auxiliary Services initially put in the pool. Every meal donated by a student will be matched by Auxiliary Services with another free meal.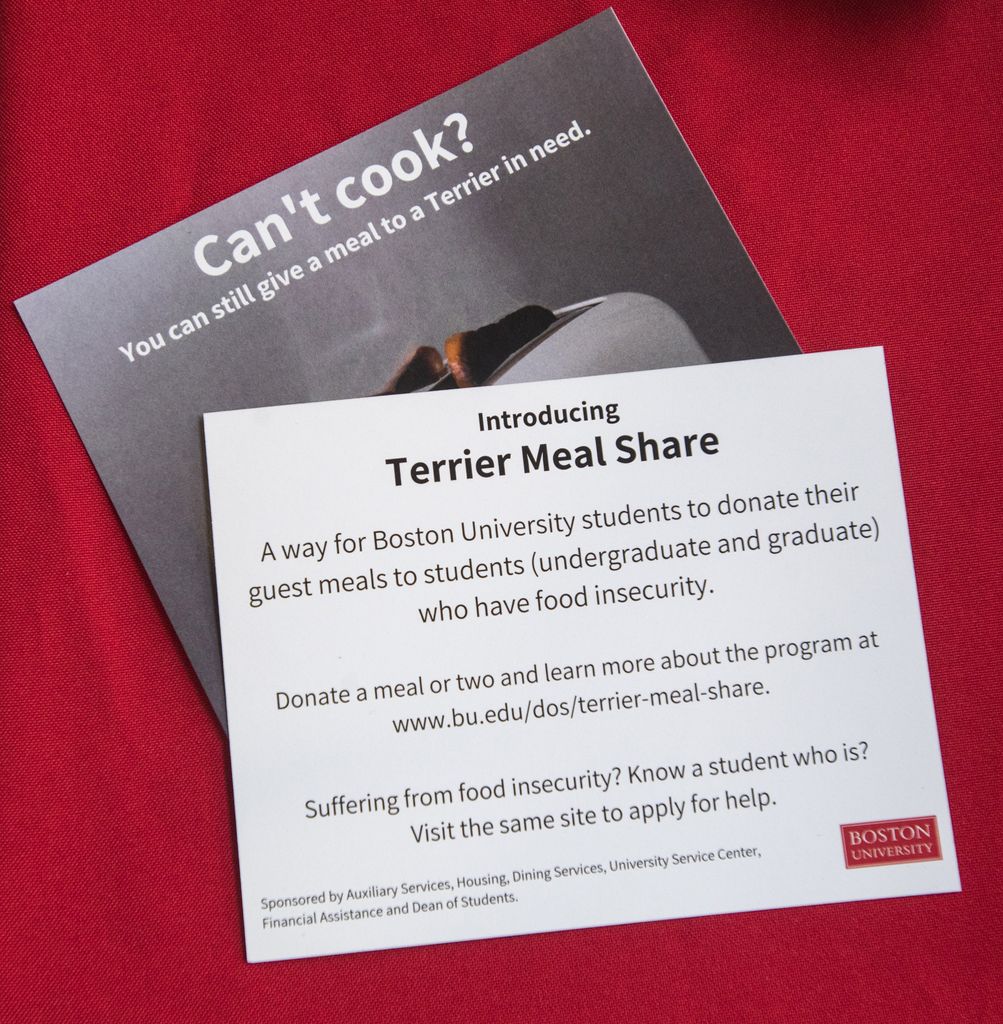 "We knew we needed to create a way to give students access to quality meals in a way that treats them with dignity and respect," says Paul Riel, associate vice president for auxiliary services. "We didn't want to make them feel different, but still find a way to get a free meal on their card. That way no one would know the genesis of where that meal came from."

The program is sponsored by Auxiliary Services, Dining Services, the University Service Center, Financial Assistance, and the Dean of Students office, and its portal was built by Information Services & Technology.

Administrators began thinking of how best to address food insecurity on campus about a year and a half ago, consulting with other colleges on logistics. In the Boston area, Emerson and Suffolk, both members of the College & University Food Bank Alliance, have food banks. BU decided to go a different route, creating a meal donation program. Other schools, like Vanderbilt and the University of Iowa, have implemented similar initiatives.

One of Terrier Meal Share's biggest cheerleaders has been BU Student Government, which has been involved in promoting other food security programming, such as Swipes for Boston, an initiative set up in 2017 by Anthony Dongfack (CAS'20) that encourages students to donate their unused meal plan meals to Boston's homeless. Student Government has also launched a new Meal Prep Sunday, where students learn how to make easy and inexpensive meals.

Student Government's social advocacy arm, led by Michelle Njoroge (CAS'20), has been actively working to get the word out about Terrier Meal Share. On a recent Friday, Njoroge stood in the GSU Link, passing out Terrier Meal Share info cards, and armed with an iPad, helped students sign up to donate meals. Njoroge says she knows of classmates who need meal assistance. "Over the summer, I have friends who work full time and pay rent for an off-campus apartment," she says. "There isn't always much money left over for food."
Lia Valdez (CAS'21, Pardee'21), Student Government's director of communications, has friends with unpaid internships living in apartment-style housing and wrestling with how to feed themselves by the end of a semester, when funds get tight. "They might eat a 'struggle meal,' which isn't necessarily nourishing for the body, like ramen," she says. "Or they might skip breakfast."

The day Njoroge was recruiting students to donate meals, she asked two young women if they wanted to give. One student happily did so (three meals, in fact), but her friend hung back, playing on her phone. Asked if she was planning to donate, she hesitated a minute. "The meal plan is how I feed myself," she said quietly. "I'm basically counting meals all the time. I don't get money sent from home, so I can't afford to donate any meals, because there are some meals that I have to skip." She took a pamphlet and said she would think about signing up.

"There are some students I know who are worse off than me," she said.

BU students in need of food can request assistance through the Dean of Students office, using this form, and a University staff member will be in touch within one business day. If there is an immediate need, students should go to the Dean of Students office in person. This form is for students requesting short-term assistance in a crisis situation. If you are a student in continuing need, reach out to Financial Assistance, the University Service Center, or the Dean of Students office.