"It's Not Time to Let up"—Boston University Athletes React to Canceled Patriot League Fall Season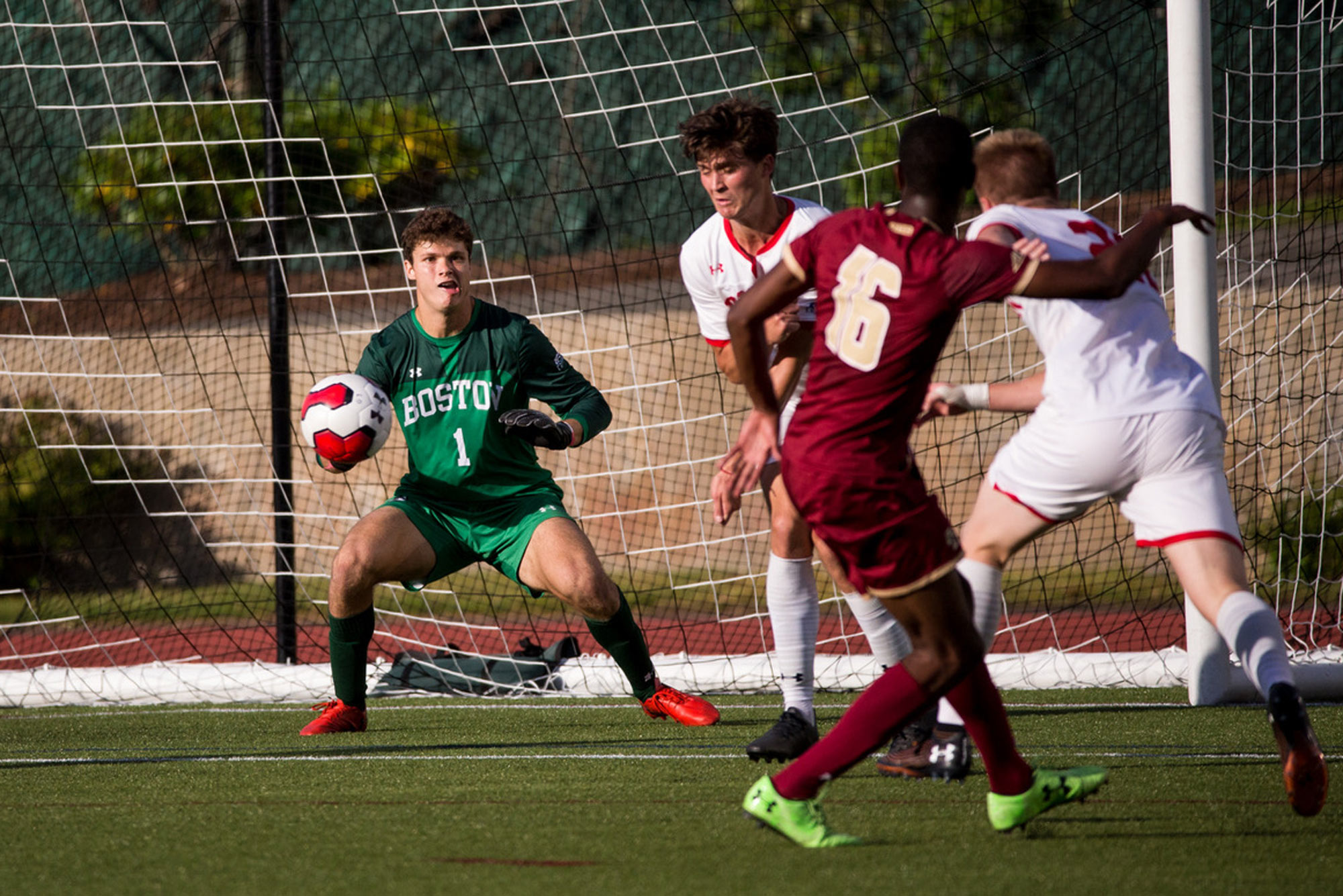 Varsity Sports
"It's Not Time to Let up"—Terrier Athletes React to Canceled Fall Season
BU's teams remain hopeful about continuing practices and possible Patriot League games in the spring
After the Patriot League announced Monday all fall sports schedules have been canceled due to safety concerns regarding COVID-19, Boston University student-athletes say they are disappointed, but keeping the situation in perspective.

"We tried to remain hopeful that we would have a season this fall, but kind of saw it coming that it wasn't going to happen," women's soccer player McKenna Kennedy (Sargent'21) says. "Getting the news today was very frustrating and disappointing, but it's bigger than just our season and we know that."

The decision most significantly affects BU's soccer, field hockey, and cross country teams, but Drew Marrochello, director of Athletics, gathered the entire department in a Zoom meeting on Monday morning to deliver the news.

"In the past if we've had these meetings, they were really more scheduled, but this one was almost like an emergency call," men's soccer goaltender Michael Stone (CAS'21) says. "It was definitely sad, just because it's something that we all look forward to the whole year and we train really hard for."

In addition to losing out on competition this fall, the cancellation also means increased uncertainty for the future of Terrier student-athletes, especially the seniors. The NCAA provided spring athletes with an extra year of playing eligibility after their 2020 season was canceled in the middle, and field hockey player Paige Mautner (COM'21) hopes the same will happen for fall athletes.

"Honestly, there's going to be a lot of thinking to do," she says. "If we're not playing for an NCAA championship, I would hope they give us another year of eligibility."

Shannon Ma (Sargent'21), who typically reports to the field hockey team from Australia, says the cancellation presents an additional complication for international student-athletes. Without a fall sports season to guide their plans, the decision to return to Boston has become more difficult.

"Coming back with the possibility of the semester going online and having to leave the country is not a light decision to be made," Ma says. "I still want to come back to BU, especially going into my senior year—I want to spend as much time with this great group of girls as I can."

Cross country runners who also participate in spring track are experiencing the impact of the coronavirus for the second time. A dozen members of the team are training at altitude in Colorado, and runners Stephanie Forbes (Questrom'21) and Brett Davidson (Questrom'21) say the news will not change their summer activities.

"I feel like this was kind of just a repeat of the spring semester, but obviously it wasn't quite as devastating because we kind of saw it coming," Davidson says. "We're still going to train, we're still going to make the most of our trip out here, and just try and stay positive."

When the team returns to Boston, Forbes says she's excited about practicing alongside her teammates, unlike when college sports were shut down in the spring.

"A silver lining in the situation, more so than the spring, is that we are still allowed to practice as of now," Forbes says. "We're still allowed to see each other and act as a team, be as a team, and practice together like a team."

Despite the somber topic of the Zoom conversation and its ensuing challenges, Ma says she was encouraged by what Marrochello shared, and other student-athletes agreed.

"There's nothing more we could have asked for from our coaches or anyone at BU Athletics during this time," Ma says. "They fought and planned for a fall season too and I appreciate how open and honest they've been throughout this process."

And the fall athletes are remaining optimistic. The league left open the possibility to reschedule fall seasons in the spring if it is safe and reasonable by then, enabling fall teams to now shift their focus to the second semester.

"It's going to kind of be like we're like a lacrosse program or spring sport, where we're just doing what they're doing," Mautner says. "We don't really know the logistics of it, but right now we're just kind of preparing and hoping that we'll get some type of competitive play in the spring."

Adapting to a potential spring season not only demands physical changes for athletes, but mental ones, as well, according to Stone. Rather than putting the finishing touches on his off-season preparation during the summer and arriving in Boston for preseason training in mid-August, a spring season would mean more time to improve during the normal school year, with teammates.

"The last two weeks, I really was picking up my training, picking up the intensity," he says. "I think it's time to go back to working on my game more, as opposed to just kind of fine-tuning the details for the upcoming season."

The off-season may be longer than usual. But if circumstances allow for fall sports to be played in the spring, Kennedy says her team will be eager—and ready—to get back into competition.

"We were left a little dissatisfied after our performance last fall and really just wanted to come back and make a statement," she says. "If we do get a season in the spring, then great, we're going to do everything we can to win a Patriot League title again."

As Stone puts it, BU's fall teams just have to "keep ticking."

"It's not time to let up," he says, "but just kind of time to take a step back and restart a little bit."