Boston University provost addresses faculty's concerns about in-person teaching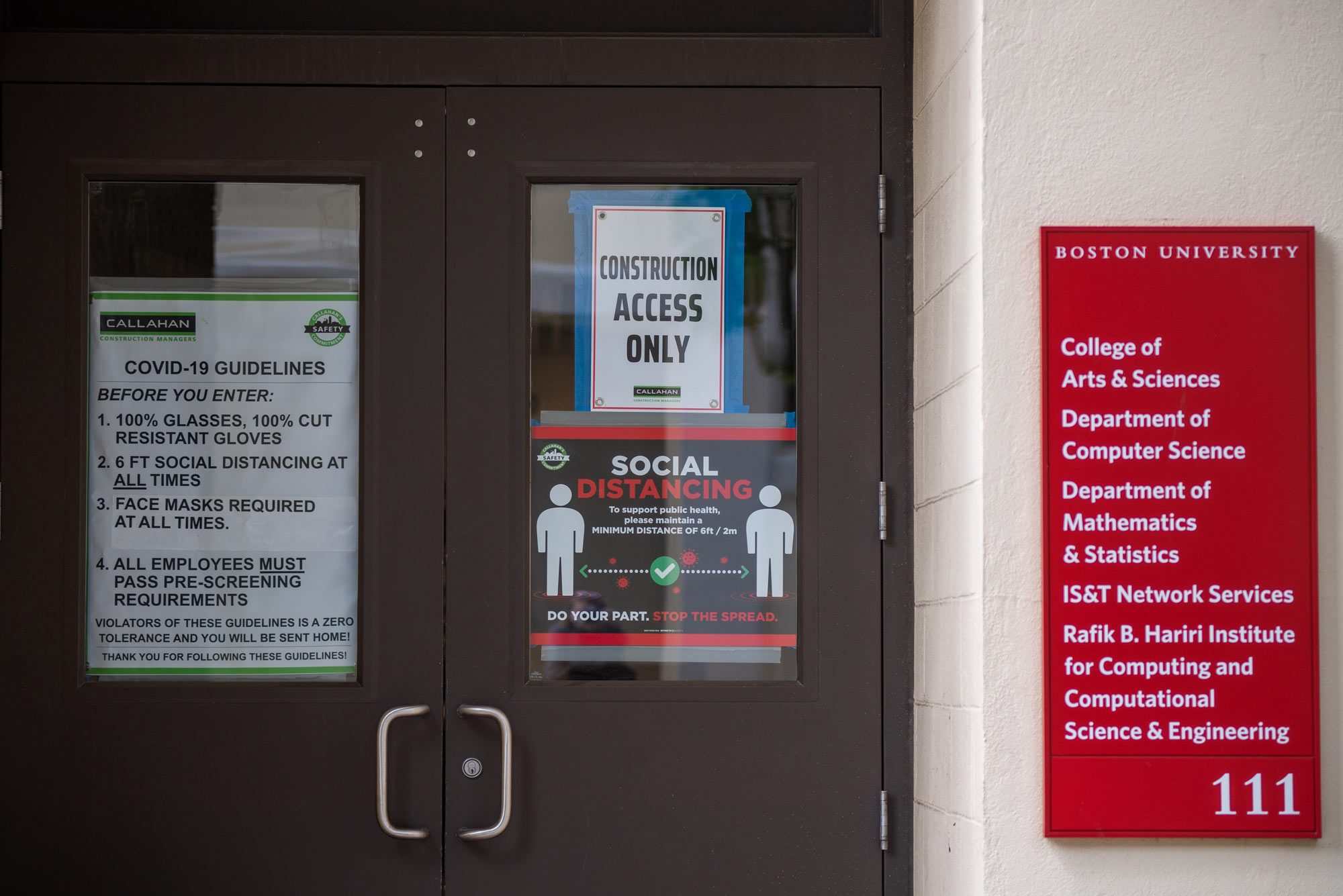 University News
Provost Addresses Faculty's In-Person Teaching Concerns
"There are a lot of ways an adjustment can be given," Jean Morrison writes
A survey of more than 1,000 faculty members revealed that more than 80 percent were concerned for their health if asked to work on campus
Provost Jean Morrison addressed concerns in a letter, saying BU identified "what factors would mitigate those concerns."
Faculty are invited to request a workplace adjustment, but they are not guaranteed approval
With the start of fall classes just over two months away, the Boston University administration has apprised faculty of the criteria and process that will be used to grant workplace adjustments to those who are reluctant to return to the classroom teaching, as part of the fall semester's Learn from Anywhere (LfA) format. In a letter sent on Thursday to faculty and graduate teaching fellows, Jean Morrison, University provost and chief academic officer, detailed the criteria, discussed the results of a recent faculty survey, and described several precautionary health measures that are being put in place to ensure the health and well-being of everyone on campus.
Morrison's letter came after a University survey of more than 1,000 faculty members revealed that more than 80 percent of them were concerned about returning to work on campus, and the major concern was health and safety. "One clear theme that emerged from the faculty survey was that for many, concerns about your personal health, and the health of those in your households, are primary," Morrison wrote. "Another important theme that emerged from the survey was what factors would mitigate those concerns."

In her letter, Morrison said the criteria for workplace adjustment to in-person teaching are conditions that the Centers for Disease Control and Prevention (CDC) has determined put people at high risk of COVID-19 infection, living with someone at high risk of COVID-19 infection, or pregnancy. She said faculty with conditions that qualify as a disability under the Americans with Disabilities Act (ADA) should follow the normal process of seeking an accommodation through BU's Equal Opportunity Office.
"We are a residential research University," says Morrison. "We need to return to that. Providing opportunities for individuals who meet CDC and ADA criteria to work with their deans to identify an appropriate adjustment to how they engage in teaching is one of a series of steps the University has taken to develop precautions that will allow us to do that."
Morrison says that while the University is inviting faculty who do not meet CDC and ADA criteria, and staff, to request a workplace adjustment, it is not promising the University will grant them. She says adjustments granted to those whose conditions do meet the criteria could take several forms.

"It might mean teaching your class at a different time," she says. "It might mean teaching remotely. It might mean banking a class so that you owe the University two classes in the spring. There are a lot of ways an adjustment can be given."
Faculty concerns about safety have emerged at colleges and universities across the country, as administrations struggle with difficult decisions about how and when to reopen. The Chronicle of Higher Education, which has been tracking 985 schools, reports that 65 percent are planning to hold in-person classes this fall. About 12 percent are proposing some kind of hybrid model similar to the LfA model that has been the source of concern for BU faculty.
---

They take pride in the quality of the instruction they provide. They have concerns and ideas and reservations and questions, and some of the answers are just not there yet. I completely understand where people are coming from, given all of the uncertainty.

---
That model, which calls for in-person teaching, is a major source of discontent among BU faculty, who complain that while LfA offers students the option to attend classes in person or remotely, similar options are not offered to faculty. A letter signed by 31 members of the College of Arts & Sciences department of English urging the administration to give all instructors at BU the choice of teaching remotely or in person was sent to Robert A. Brown, BU president, Morrison, and Stan Sclaroff, dean of Arts & Sciences, on June 12. Three days later, a petition demanding that all BU teachers should be given the choice of teaching entirely online was sent to University leaders. The petition was signed by more than 1,000 professors, lecturers, medical professionals, graduate teaching fellows, and members of the public.
Morrison's letter assured faculty that modifications to in-class teaching assignments are available to faculty whose situation meets the University requirements. "Although we are working to ensure that the campus is as safe as possible for faculty, students, and staff," she wrote, "we recognize that some faculty and graduate teaching fellows may still be reluctant to return to on-campus teaching. This may include individuals who are in a COVID-19 high-risk category, as defined by the Centers for Disease Control, who live with someone in a high-risk category, or are pregnant."
The letter advises faculty members and graduate teaching fellows in those categories who seek a workplace adjustment to complete and submit the required form, and to note that all requests based on risk categories other than age require medical documentation. The process for accommodation under the ADA is distinct from the COVID-19 Workplace Adjustment Request Process and is available here.
For those faculty and teaching fellows who have concerns about returning to campus for reasons other than the conditions described above, Morrison said, the administration would like to collect more information to understand the scope of those concerns. Those seeking a workplace adjustment who have a nonmedical concern are asked to complete and submit the same form and to use the "Other" box at the end of the form to provide details about their situation. "After we gather this information," Morrison wrote, "we will determine whether or not there are ameliorative steps we might take."
All requests will be reviewed by the COVID-19 Workplace Adjustment Response Team, made up of professionals from Human Resources and the Equal Opportunity Office. "If the criteria are met to document that an individual is in a COVID-19 high-risk category, is living with someone in a high-risk category, or is pregnant, the individual will be conditionally approved to receive a Workplace Adjustment," Morrison wrote.
The names of conditionally approved faculty and staff will be passed on to deans, who will work to determine what adjustments may be made. No personal medical information will be shared with schools or colleges. The request form includes a field where individuals can specify what modification they are seeking. The academic leadership at each school will work with people who are eligible for an adjustment to determine whether the requested change may be made or if another approach is more appropriate.
Faculty with questions about the process or the form are advised to call the COVID-19 employee support line at 617-358-4990. The support line is staffed Monday through Friday, 9 am to 5 pm. The University asks that requests for workplace adjustment for the fall 2020 semester be submitted no later than Thursday, June 25. Administrators hope to work through all requests by Monday, July 20.
Ken Freeman, interim vice president for human resources, says his department will be sending a survey to staff early next week that will help staff members tailor their Staff Workplace Adjustment Requests process accordingly and in concert with the phased approach applicable to staff. That process will be announced in the next couple of weeks.
Morrison said the faculty survey revealed particular safety measures that respondents considered impactful, and many of those measures are included in the University's plans for the fall. "In partnership with our Medical Advisory Group," she wrote, "subject-matter experts across BU, other similarly situated universities, and local public health authorities, we are developing a comprehensive set of measures to make our campuses as safe as possible."

Key components of the University's health and safety plan include:

An on-campus COVID-19 testing facility with the capacity to test all BU students, faculty, and staff. Details about testing frequency and locations are still being finalized and will be shared with the community as soon as they are available;
A symptom-monitoring app to encourage all community members to actively monitor themselves for COVID-19 symptoms;
Required use of face coverings and physical distancing at all campus locations;
Building-specific reopening plans that include signage, visual cues, and de-densification where necessary;
A comprehensive review of all HVAC systems, upgrading filters as needed; and
A planning effort, currently underway, to establish new maximum occupancies for all classrooms and ensure appropriate physical distancing for faculty and students.
Morrison promised more information about the safety plan in the coming weeks, as the University continues to monitor and implement best practices in safety protocols and procedures as they develop.
Sclaroff says that while many faculty members and staff are concerned about returning to campus, his sense is that they would like to do exactly that—with careful consideration for health and safety. "Everyone is committed to the University's mission," he says. "They all miss the students. They miss being on campus. They are eager to know what a return to teaching on campus will look like, with all the health and safety protocols that will be in place.
"We are faced with a huge challenge," Sclaroff continues. "We have to get through this period and find a way where our students can continue progress toward their degrees, and that we deliver on the type of education they expect and also empower the faculty and departments to devise what they think is an appropriate format, subject to these expectations. Faculty are committed. They take pride in the quality of the instruction they provide. They have concerns and ideas and reservations and questions, and some of the answers are just not there yet. I completely understand where people are coming from, given all of the uncertainty."
Eileen O'Keefe, a Sargent College of Health & Rehabilitation Sciences clinical professor of health sciences and chair of the Faculty Council, says that in discussions with University leadership the council members did a very effective job of representing the views of the faculty.

"We had three meetings with the provost and the president since the end of the semester where we expressed concerns about health and childcare," she says. "We asked for more input and the provost conducted a survey of faculty."

O'Keefe believes the concerns expressed in the survey are taken seriously by the provost, and she approves of the provost's recent letter to faculty. "It addressed a lot of the faculty concerns," she says. "It allows faculty to apply for workplace adjustment for health or other reasons, and it makes it clear that we will open the campus with social distancing and mask wearing and with our own lab to do testing. Those addressed major concerns."
Pary Fassihi (Wheelock'04,'10), a CAS senior lecturer in the Writing Program, had a different reaction to Morrison's letter. Fassihi says she found communication regarding workplace adjustments extremely concerning on many different levels.

"There is a great deal of concern among faculty regarding the exemptions and the process," says Fassihi. "For now, it seems that only those with medical conditions would be exempt, but every person's life situation is different: we have faculty with newborns or small children, and they are just worried they may transfer something home to their loved one. Many of us have K-12 children who have been told by our districts that school will certainly look very different next year, and that as parents, we will most likely have a choice on whether we want to send our kids to school or pursue remote instruction. What would happen if our kids are home from school or if we simply decide to keep our kids home? Who will take care of our kids?"
Seth Blumenthal (GRS'13) a CAS senior lecturer in the Writing Program, says he is sympathetic to concerns on all sides, but it's clear that many faculty members feel that they have been excluded from the process.

"Personally, if I had the choice I would still teach on campus, with many reservations," Blumenthal says. "But now that we've actually had some time to train in distance learning, my colleagues have been teaching online this summer with very positive results. To be sure, face-to-face teaching is better—anybody who has taken my classes will tell you how energized I am by the classroom environment—but is it worth the risk for faculty, staff, students, and the surrounding community? Most of the research I'm looking at says no."

David Hamer, a School of Public Health professor of global health and a School of Medicine professor of medicine, is a member of the University's Medical Advisory Group; he says the faculty has raised many very appropriate concerns. "Those concerns need to be honored and respected by BU leadership," Hamer says. "We need to do our utmost to protect vulnerable members of our campus and their family members. At the same time, we need to remember that education must continue to be a primary mission of BU and doing this effectively requires an open campus.
"If we work together as a community to adhere to the multipronged approach that BU has designed to enhance the health of students, faculty, and staff," Hamer says, "we will be able to greatly reduce and potentially eliminate the risk of disease outbreaks on campus. This will require cooperation with a range of relatively novel approaches that require a positive attitude towards both our personal health and those who we work with; these include frequent testing (a necessary hassle), honesty with daily attestations about our health status, adherence to mask use, careful attention to hand hygiene, and caution with close person-to-person interactions in the classroom and on campus."