Students Express How They Feel about Returning to Campus This Fall amidst the Coronavirus Pandemic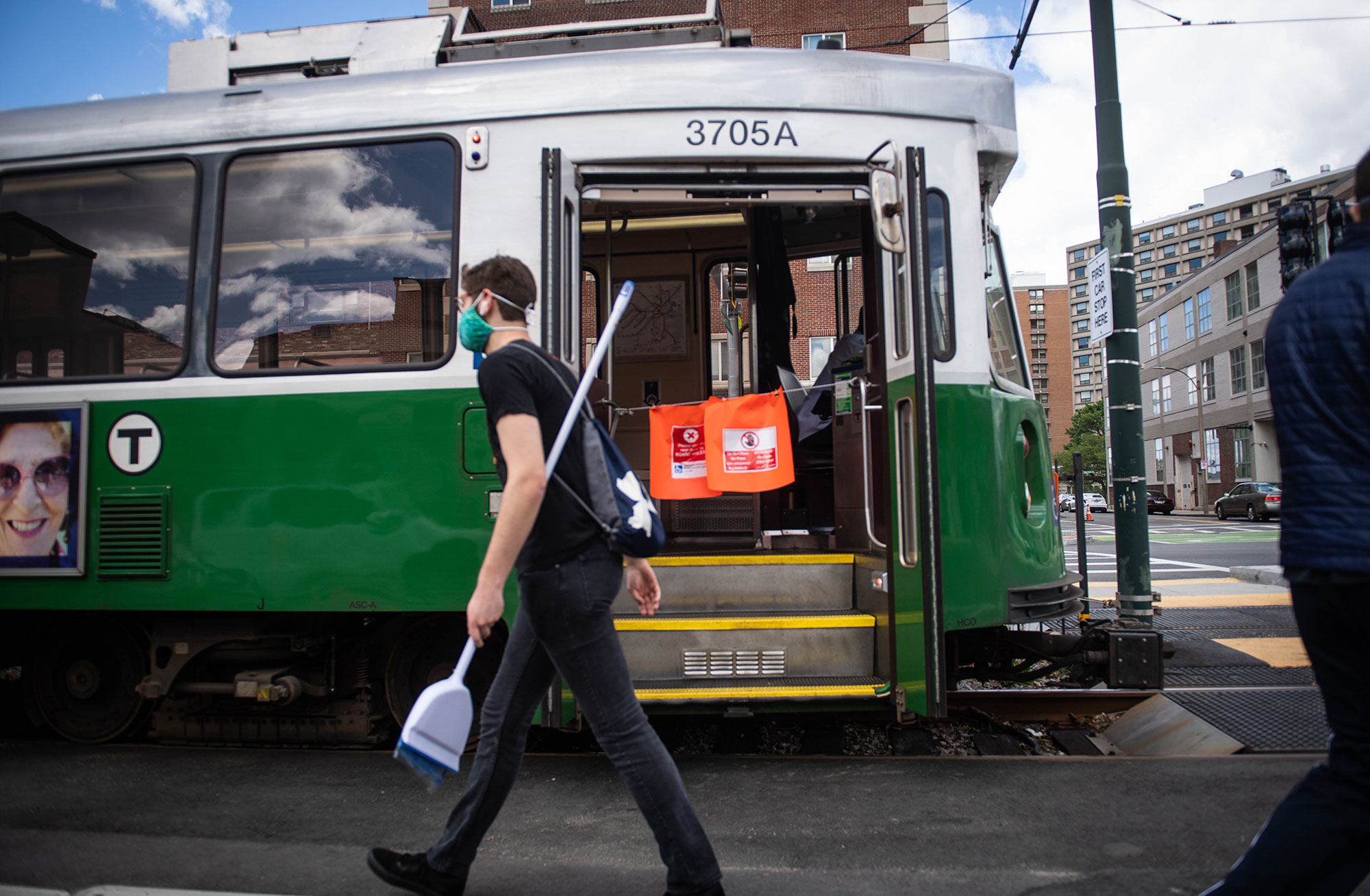 Student Life
Students Voice Range of Emotions about Returning to Campus This Fall
Excitement, anxiety, concern for their parents among reactions
Excitement, worry, and concern for their parents back home were among reactions students voiced on learning that the University will reopen this fall, amidst the coronavirus pandemic. In a letter to students on Tuesday, Robert A. Brown, BU president, gave some details about the University's plan to combine in-person and remote teaching and learning (Learn from Anywhere, or LfA), and new norms for safe interactions in dorms, dining halls, academic spaces, and labs, as well as widespread testing.

BU joins the majority of American colleges in planning to return this fall. In fact, the Chronicle of Higher Education polled more than 900 colleges and found that two thirds are planning to hold in-campus classes.

BU Today reached out to several students across the University, asking them to share their feelings about the fall reopening. Their remarks have been edited for length and clarity.

Amos Mwaura (CAS'22)

I'm excited to come back. Being away from BU really made me appreciate my friends, professors, and the opportunities the University and city present more than ever before. I recognize fall 2020 will be very different from my previous two years at BU. Though this change will be difficult to navigate, it is important to be flexible during these times.

I have many questions regarding what the fall will look like. Many of my questions are focused on the social aspect. Right now, people are socializing outdoors and are able to physically distance effectively. Furthermore, many reports have shown the virus spreads less in large outdoor spaces. However, as Boston's weather starts to cool down in the fall, I wonder what social life will be like at BU, as I'm guessing many gathering spaces, like dining halls, libraries, and residence halls, will have restrictions.

Maansi Desai (CAS'22)

Reentering a college environment, especially at such a large school, is going to be a risk, but I personally wasn't a fan of Zoom learning and would love the opportunity to return to classroom learning. I hope that returning to campus doesn't give students an excuse to be reckless and completely ignore health and safety guidelines, but rather be extra precautious so we can continue in-person learning. I'm feeling a mix of nervousness and excitement, but definitely looking forward to the fall semester.
Faisal Halabeya (CAS'22)

I am currently living on campus and will be here all summer. Like most, I look forward to having residential campus life back, and I am excited to hear that BU is working hard to make that happen. I will say that I read an open letter by two professors of philosophy at BU about the risks of essentially forcing all faculty to teach in person via the Learn from Anywhere model. I largely agree with them, and given that it seems we will have the option to choose whether to attend classes in person or online, I will likely be electing to do all my classes online despite living on campus. I remain skeptical that all my peers who would be in class with me are actually going to be practicing proper health protocols.

Because our campus blends into Boston itself, it is really going to be difficult to monitor student health and to keep up testing. I worry that unless we have widespread access to an on-campus test [for COVID-19] with a turnaround of a few hours or less—at most a day—it will be difficult or impossible to control infection rates. I'm really curious to see how BU will manage these complex problems, and I really do have faith in the people working on them. At the same time, I will always err on the side of caution, both for myself and for the vulnerable people in our community.

Henry Bojanowski (ENG'21)

I am currently on campus and I actually stayed on campus during the entirety of the spring 2020 semester. Campus feels different, though. Some things right now are frustrating, like not being able to have visitors to my on-campus apartment, and not having any libraries open. Having to quarantine during my birthday was difficult. I also believe my social skills have tanked since the pandemic began.

That being said, I hope many students choose to return to campus in the fall, as I believe not only is it better to learn in an environment designed for learning, but I also believe we are getting more for our money's worth. Additionally, I think many people would benefit from a more social environment like the BU campus, since the vast majority of us have been socially distancing for quite a while.

Hessann Farooqi (CAS'22)

Regarding campus reopening, my feelings are a bit mixed. On one hand, I am excited about being able to return to a campus and city I love so much. As the past several months of virtual learning, from a different time zone no less, have taught me, in-person classes have a ton of value.

On the other hand, I wonder how much of the campus experience I love will remain. On-campus life will certainly not look the same, with in-person events, communal dining and gathering, and classes dramatically altered. That's sad to me, as someone who enjoys hanging out with friends and going to events. My biggest fear about this fall is a COVID-19 outbreak on campus. Not only could this outbreak cause students to be sent home once again, but in doing so, could spread the virus all over the world again.

As a rising junior, I am worried about whether life will ever return to the pre–COVID-19 normal before I graduate. The feasibility of large-scale events, such as Commencement—even two years from now—weighs on me heavily, as it undoubtedly does on my peers, too. I'm hopeful that a vaccine will be found by then, maybe even at BU.
Kelsey Brown (CAS'22)

Many of my friends and myself are mostly anxious because of the uncertainty, around dining, testing, and living in general, even though that uncertainty is of course inevitable and we know that the University will have plans released soon. That being said, I think that the plans that the University has made so far are very well-thought-out and inclusive.

I think social interactions in general will be a whole new terrain to navigate—there will be people that are just ready to see their friends and party, and there will be people that are extremely anxious and cautious.

Personally, I feel glad that I am living off campus this coming semester, and feel like it takes some of the anxiety away.

Pearl Zhong (COM'21)

Part of me feels relieved that we are officially going back to campus, and I'm thankful that BU is working diligently to make a safe environment for us, but the other part of me is concerned because there are still a lot of unknowns, what-ifs, and kinks to work out. College campuses are a breeding ground for viruses, and it really only takes one mass transmission to spread across hundreds of people. I'm also concerned about a second wave.
Yannick De Guchteneere (CAS'21)

I think it's great that BU is putting a system in place where all students, faculty, and staff can be tested if they want to. The only thing I'm worried about is going home to see my parents. I think it would be a smart idea to just get tested.
Guthrie Kuckes (CAS'22)

The decision about whether to come back to campus isn't really my decision; it is my parents' because I don't own a car or have a means of getting there on my own. They are much more worried about this than I am, and seem to want to keep me at home.
I'm also worried about the idea of platooning. I know a lot of lecture classes that have very low attendance, or very low attendance after the first handful of lectures. While I don't know another way to do it, it doesn't seem fair to equally rotate the opportunity to go to class in person, given that if attendance isn't required, many students don't attend class after the first handful of lectures, and there are also students like me that have gone whole semesters without missing a class.

I'm also thinking about rehashing my schedule to take smaller classes.

---
These comments were posted in the Comment section of BU Today's story Wednesday announcing the University's plans to reopen this fall:
"I truly don't understand why BU's administration is not communicating these details in letters sent directly to their community. As a grad student who will be teaching this fall, finding out about institutional changes through BU Today and not directly from the groups and admin making these decisions is beyond frustrating."
"As a student, I don't have as much realistic flexibility as others make it out to be, either. Many students are concerned that they are going to miss out on vital learning aspects if they don't attend in-person classes, leaving them with realistically no choice but to return, despite safety concerns."
How do you feel about returning to campus this fall? Let us know in the Comment section below.

Alexander Puri (COM'21), Sara Rimer, and Rusty Gorelick (COM'22) contributed to this story.