Reading List: Alumni Books that Caught Our Eye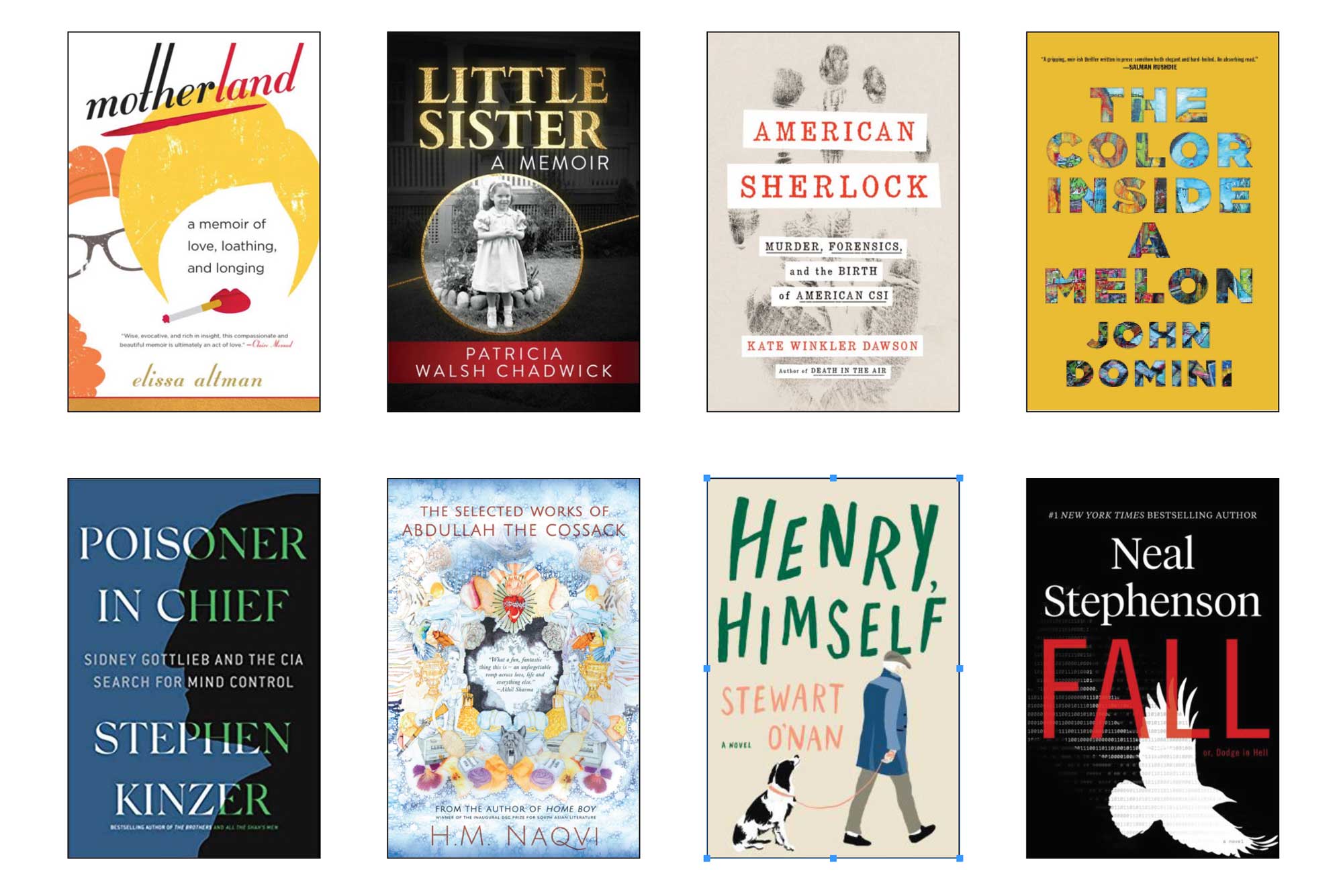 Books
Reading List
Alumni books that caught our eye
Motherland: A Memoir of Love, Loathing, and Longing (Ballantine Books, 2019) by Elissa Altman (CGS'83, CAS'85). The James Beard Award–winning author confronts caring for an aging mother and navigating their brittle relationship.
Little Sister: A Memoir (Post Hill Press, 2019) by Patricia Walsh Chadwick (MET'75). Raised in—then banished from—a closeted religious community, Chadwick details a life of resilience and eventual success.
American Sherlock: Murder, Forensics, and the Birth of American CSI (G. P. Putnam's Sons, 2020) by Kate Winkler Dawson (COM'97). A nonfiction account of the life of Edward Oscar Heinrich, a chemist and forensic investigation pioneer.
The Color Inside a Melon (Dzanc Books, 2019) by John Domini (CAS'74). A noir crime novel set in Naples, Italy, which the Washington Post calls "sagely, genre-tweaking."
Poisoner in Chief: Sidney Gottlieb and the CIA Search for Mind Control (Henry Holt and Co., 2019) by Stephen Kinzer (CAS'73). The author and journalist delves into the history of the CIA's secret experiments with mind-altering drugs.
The Selected Works of Abdullah the Cossack (Grove Press, Black Cat, 2019) by H. M. Naqvi (GRS'06). A fictionalized memoir following a 70-year-old in Karachi, Pakistan, as he fights to save his home and his past.
Henry, Himself (Viking, 2019) by Stewart O'Nan (ENG'83). The author returns to the fictional Maxwell clan of 2002's Wish You Were Here in a book the New York Times says is "beautifully spare and poignant."
Fall; or, Dodge in Hell (William Morrow, 2019) by Neal Stephenson (CAS'81). The science fiction author conjures the moment when a human brain is uploaded to the cloud—and the consequences of taking the mind online.
Three Women (Simon & Schuster, 2019) by Lisa Taddeo (GRS'17). The New York Times best seller explores female desire and sex. Read a Q&A with Taddeo here.