Clothes for Women, with (Much Needed) Pockets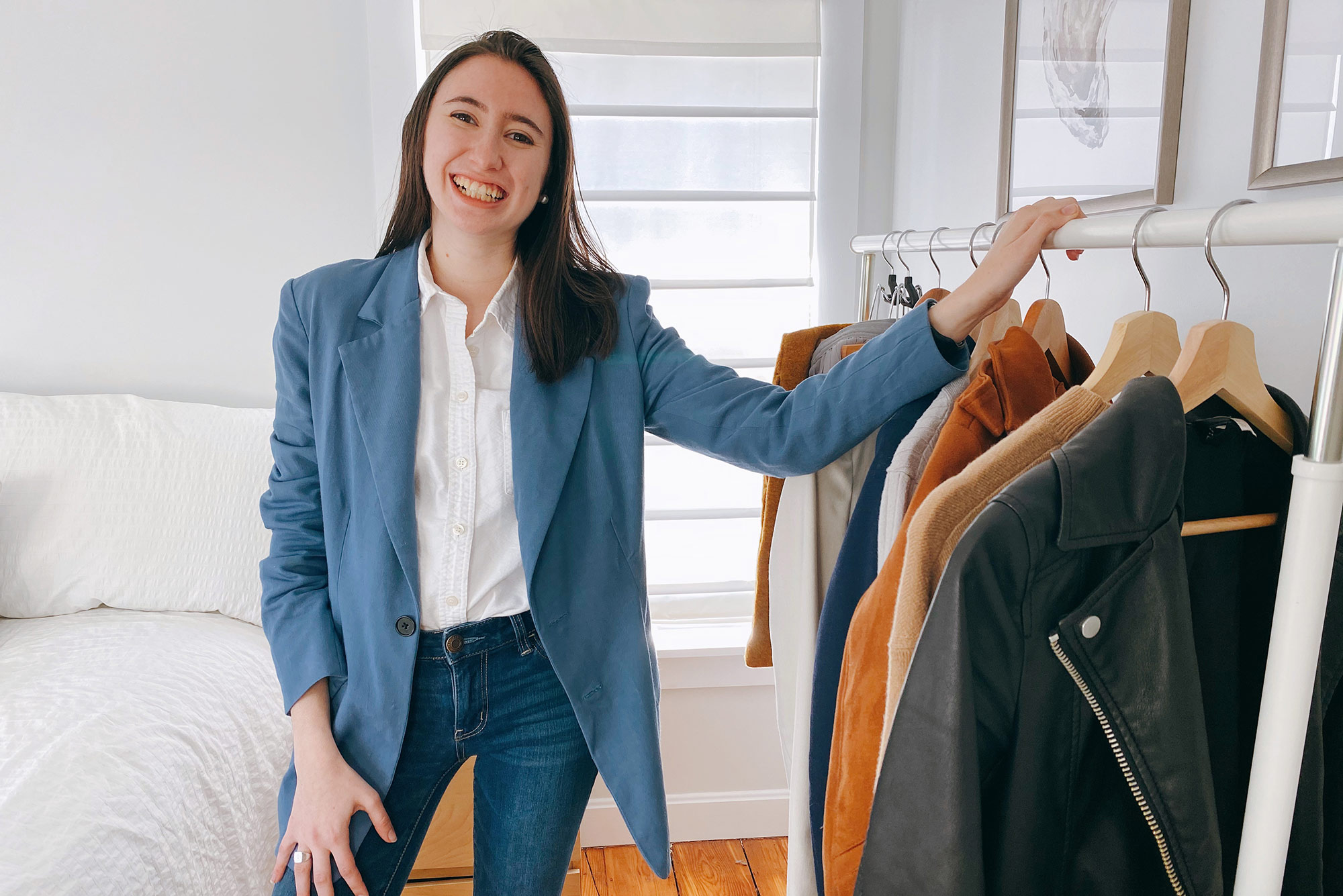 Strategy & Innovation
Clothes for Women, with (Much Needed) Pockets
CAS grad's start-up, Holdette, holds fundraiser for first round of production
Sarah Greisdorf used to leave the house clutching her phone, wallet, and keys, annoyed that she didn't have big enough pockets to stash everything. She started to wonder why men's clothes allowed for holding things, but women's rarely did. And when she could find clothes with pockets, those pockets were significantly smaller than men's.
After a quick Google search came up with no clothing lines offering this perk, Greisdorf (CAS'20) decided to do something about it. So, even though she had no experience designing clothes, much less manufacturing them, the computer science major founded women's workwear company Holdette. "Over the last year and a half I've taught myself those things," Greisdorf says. "I like to joke that I graduated with a second degree in fashion/business/supply chain."
When she first became interested in clothes with pockets, Greisdorf started a newsletter aggregating clothes she found across the internet, planning to turn it into a website where she could sell them. She took advantage of resources at the University's BUild Lab, which shaped her entrepreneurial career, she says. She went on to flesh out her idea at Innovate@BU's summer accelerator and the BU Spark! fellowship program.
But after pitching the website aggregator idea at Spark's Dolphin Tank + Demo Day in May 2019, the judges suggested she try making the clothes herself. "They told me I would cut so much risk, because I wouldn't have to rely on the other companies' supply chains to work out," she says.

Greisdorf, who finished BU in three years, now leads Holdette's staff of seven women, some current BU students. To design the first iteration of her suit, she worked with independent designer Philip Sawyer, a Rhode Island School of Design professor. She says she learned that every time you add a pocket, you're adding to the number of pieces needed to build the suit. "On top of the sexism, and the theory that fashion companies want to sell you purses, I think that's why women's clothes don't have pockets: more pockets cost money," she says. "We have eight pockets on our suit, which greatly increases how much it costs us to produce the garment. But it's worth it."
The prototype suit, which will be made in sizes 0 to 14, has two outside and four inside pockets on the blazer and two deep pockets in the pants. The suits will be manufactured in Los Angeles by the female-owned Vertical Collective, a fashion design consultancy and manufacturing firm. Greisdorf owns one of the first suits and has worn it for promotional photos. The company is asking potential buyers for feedback about the colors for the suits, which will retail for $250. Part of the reason for the delay in launching the line is the coronavirus pandemic, Greisdorf says, which has slowed down suppliers and then the design prototype shop.

In April, Holdette launched a virtual mentorship program called Back Pocket, which provides paying members with weekly check-ins, a special podcast, workshops, and more. Holdette PR director Shea Robinson (COM'21) says the team supports women in business beyond just offering them apparel alternatives. When the pandemic hit, women they knew were laid off from jobs or internships, and they realized their peers needed mentoring and a sense of comradery more than ever. "Now we have mentors and mentees who meet on their own time," Robinson says, "accompanied by weekly community-wide check-in calls, podcast club meetings, and workshops for career development."

Holdette is currently running a fundraiser on IFundWomen, with the goal of raising $25,000—$5,000 is needed to finish designing the suit and $20,000 to produce the first 200. Currently, they've raised just over $21,000 (the campaign ends June 19).
Rachel Spekman, director of business ventures at Innovate@BU, who worked closely with the CAS alum as mentor, coach, and "biggest fan" during her time at BU, says Greisdorf is talented and a hard worker who listens well and is fun to work with. Spekman believes Holdette will be successful because Greisdorf "is at the helm of the ship. She is so attuned to customer feedback, knowing her own skills, rallying others, and driving success forward."

Greisdorf says starting Holdette has taught her that there is really no right way of going about launching a business—trying and failing is part of the process.

"For students thinking of founding a start-up, I'd say go for it and never stop talking about your idea," she says. "People will learn to associate you with it, and that's really valuable for building connections with your customers when you start selling the product. You won't know how it will all turn out, so you might as well put yourself out there and see what happens."