In Dolphin Tank, Alums Advise Student Innovators, Gently
BU Spark! event helps Terrier entrepreneurs take their ideas to the next level
"Do you want somebody that's an axe murderer to park in your driveway?"
Judith S. Hurwitz's question was strictly business. She and three other alumni with innovation expertise were listening to a pitch about a start-up, ParknGo. Looking for a Boston parking space can be as much of a marathon as—well, the Marathon; ditto for other cities. A Terrier student team thinks they've licked the problem with ParknGo, an online platform matching people who have available space with drivers willing to book it for a price. Hurwitz (CAS'73, COM'73) wondered how the start-up would vet space-renters.
Not to worry, said junior Kamoltat Sirivadhna (CAS). The company would run background checks to screen out the axe murderers.
Sirivadhna's was among four student businesses seeking the alumni panel's guidance. Another, Holdette, the brainchild of sophomore Sarah Greisdorf (CAS), is a website for women who want a convenient alternative to a purse for their belongings. (Women's pants often have fake or downsized pockets, Greisdorf said.) Holdette would curate an online inventory of functionally pocketed clothing from independent designers, which Holdette's customers could purchase.
George Zaczac, Jr. (CAS'95) urged her to control the clothing production itself. If that's cost-prohibitive, he said, "You should think about white label [putting your brand name on clothes you didn't make yourself]. Have you thought about that?"
"I have not, but now I will," Greisdorf answered.
It's precisely such insight that she and the other students hoped to hear at the second annual Dolphin Tank earlier this month. It's BU's less razor-toothed take on Shark Tank, the popular ABC reality show that matches wealthy investors (the Sharks) with contestants plugging their Really Big Ideas. The Sharks can be aggressive in their criticism, says Ziba Cranmer, director of BU Spark! a program of BU's Hariri Institute for Computing and Computational Science & Engineering. BU Spark! co-runs Dolphin Tank with California venture capital firm Springboard Ventures.
By contrast, swimming with dolphins means fewer bites and more gentle nudges for students to sharpen their business plans. Dolphins go out of their way to impart "constructive and actionable input. No Debbie Downers," said one of them, panel moderator Elizabeth Lawler (CAS'96, SPH'98,'06), as she kicked off the event at the BUild Lab on May 2.
Kinder and gentler doesn't mean pushover panelists. Lawler cofounded xxAngels, a women-focused investment network; Hurwitz is CEO of Hurwitz & Associates, a research and consulting firm on emerging technology; Zaczac's résumé includes growing and developing the fast casual restaurant chain Au Bon Pain; and Aaron Rasmussen (CAS'06, COM'06) has founded companies and products from consumer packaged goods to robotics.
These business sages heard two other ideas during Dolphin Tank. LodgingWise is a texting-based service that allows hotels, motels, and restaurants to solicit guests' feedback on service so they can improve performance and draw more five-star reviews. It's already being used by a handful of establishments, said its CEO, senior Harsh Patel (CAS), who got the idea from his childhood experience as the son of motel operators.
The fourth idea, HigherPlace, is a mobile app for finding and hiring freelance artists in a given city, developed by junior Leithland Kilburn (CAS, ENG).
Most of the pitchers wanted advice for getting their ideas off the drawing board. Since Patel actually has some hotels using LodgingWise, he wouldn't mind $20,000 to help pay for travel and other expenses connected to hospitality conventions, where he could pitch his business to more takers. The panel didn't offer him money, but they did heap praise.
"I like your business," Zaczac said, "and I think you can springboard it to Airbnb." The online lodging broker has its own messaging platform, but "it's terrible," piped up a member of the audience.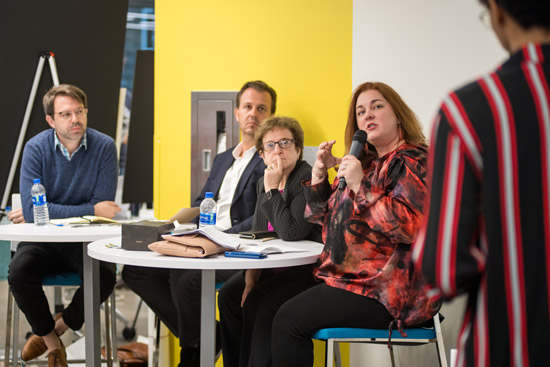 Although it's not televised, Dolphin Tank was held before an audience that was invited to ask their own questions of the student entrepreneurs. Audience members also voted afterwards on ideas they especially liked, awarding ParknGo Best Design and Best Development honors.
Interaction with these spectators can be as useful to the students as the experts' advice. After Greisdorf made her presentation, Adam Alpert, cofounder of a Rhode Island company that connects students with internships, told her he knew of a clothing design firm in Providence. "Would it be helpful to have an intro with those owners?" he asked.
"That would be incredible. Thank you so much," Greisdorf replied, grateful for the prospect of swimming with more dolphins.