Work Resumes on Key BU Building Projects, with COVID-19 Precautions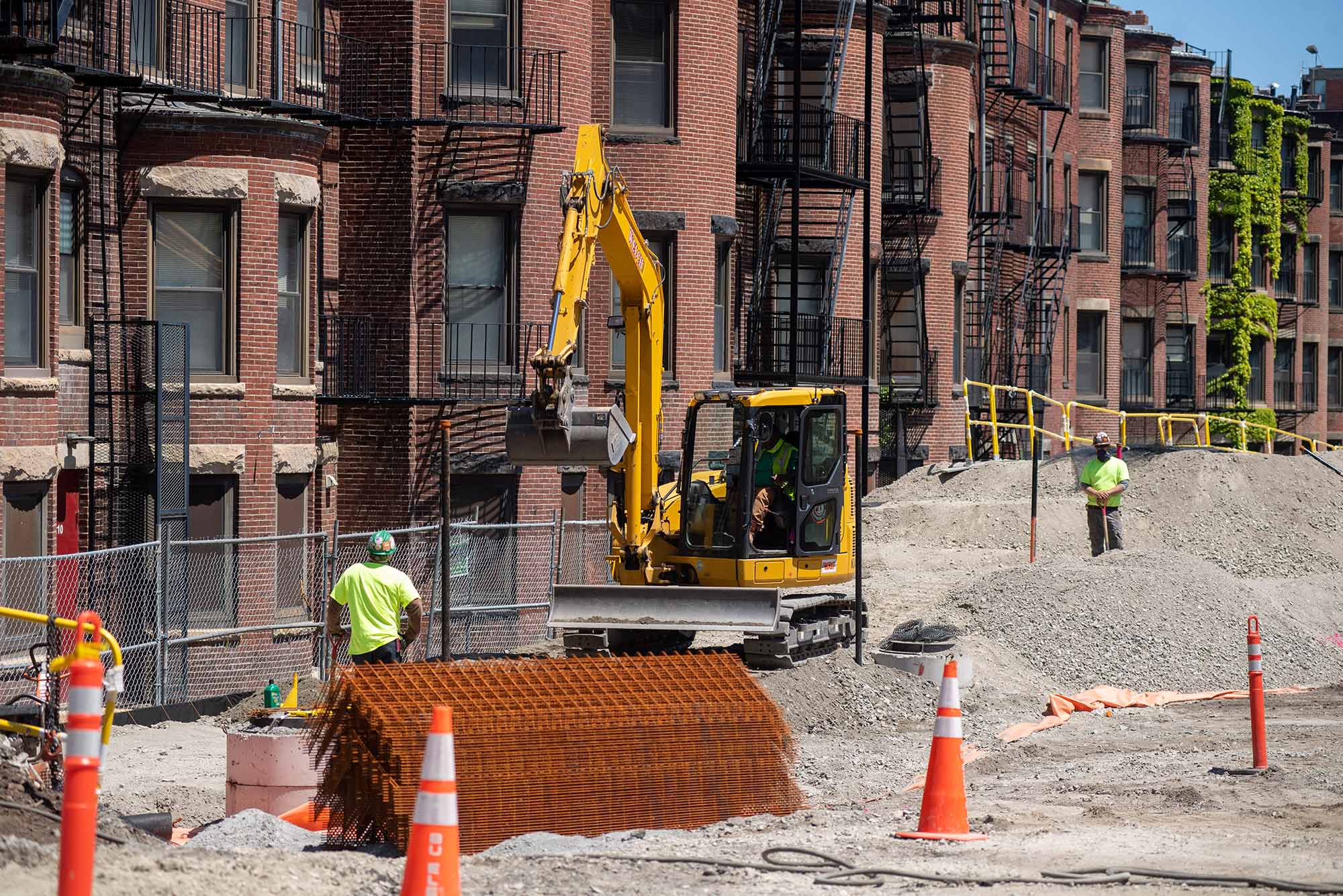 Campus & Facilities
Work Resumes on Key BU Building Projects, with COVID-19 Precautions
Center for Computing & Data Sciences and SDM expansion move forward
Work on the new data sciences building and School of Dental Medicine expansion resumes
University contractors negotiated construction moratorium waivers from Boston
State reopening plan won't affect return of campus researchers/clinicians
Work on two coronavirus-stalled University projects—the Center for Computing & Data Sciences and the Goldman School of Dental Medicine expansion/renovation—got permission to resume starting Monday, May 18, after BU's contractors negotiated waivers from the city of Boston's pandemic-related construction moratorium.

The city agreed to let the work proceed after approving the contractors' safety plans against COVID-19, says Walt Meissner (CFA'81), the University's associate vice president for operations.

"Over the next week, activity will increase" at the center's site, Meissner says, "with fences and pedestrian walkways going up and demolition of the parking lot beginning. In early June, the sheathing for the support of excavation will start installation, with hopes of completing this most disruptive phase by the end of July."

Starting work anew on SDM's 48,000-square-foot addition on Albany Street "is a bit more phased, starting with some exterior work and interior work outside of the clinic areas," Meissner says. The state public health department must inspect and approve new clinic spaces, completed before the moratorium, before the next phase of work begins, he says. When finished, the addition will hold a student lounge and study space, two new elevators, new office and patient treatment spaces, the school's Simulation Learning Center, and a 140-seat auditorium.

It's unclear for now what the delay will mean for the projects' completion schedules and budgets. "Clearly, there will be impacts to construction site efficiencies, with additional costs to be determined," Meissner says. "We are still assessing, as well as looking for ways to combine resources and reduce costs. But obviously, our primary concern is safety for the workers and doing it right."

The construction manager on another project halted by the pandemic, the renovation and facade restoration of the College of Fine Arts, has submitted a COVID-19 safety plan to the city and is awaiting approval to resume work, says Amy Barrett, assistant provost for academic space planning.
Work on the new BU Children's Center at 10 Lenox St., Brookline, has continued during the pandemic under strict COVID-19 safety guidelines, Meissner says.
The waivers took effect on the same day Massachusetts Governor Charlie Baker announced a phased resumption of public activity in the state. Offices in Boston can reopen under the governor's plan starting June 1, but they can have no more than 25 percent of their employees on site. The restrictions won't affect BU's proceeding with its own Phase 1 in its Back to On-Campus Work plan, released last week, says Kenneth Freeman, interim vice president for human resources.

---

Obviously, our primary concern is safety for the workers and doing it right.

---
Under that Phase 1 plan, research and clinical activities will return to campus in the coming weeks. "The governor's announcement is what we were expecting and does not really change our plans for opening the labs," says Gloria Waters, vice president and associate provost for research, adding that the University is reviewing plans from about 320 faculty primary investigators to reopen their labs.

Reviews of plans for common spaces in multi-lab buildings are underway as well. Those reviews include making sure that reopening proceeds "without overextending the capacity we would like to have in the buildings and core facilities," Waters says. "I think the plans we have asked the faculty to come up with address the governor's workplace safety standards for labs very well," though "there may be some small areas where we will need to ask for additional information. For example, the standards require labs to keep cleaning logs that include date, time, and scope of cleaning, and so we will need to include that guidance to the faculty."

Baker's plan also permits religious worship to resume, with restrictions, as of May 18. While allowed to begin on-premise services, houses of worship are restricted for now to 40 percent of their staff-and-congregants capacity, with people sitting six feet apart. Congregations are encouraged to worship outdoors, and if feasible, distribute "prepackaged communion or sacraments."
The gubernatorial go notwithstanding, Marsh Chapel will remain closed, with no on-premises worship "until further notice," says the Rev. Robert A. Hill, dean of Marsh Chapel.

"Our main concern is health and safety, and to that end, we will continue to be guided by governmental, University, and ecclesiastical protocols," Hill says. Worshippers can continue to listen to Marsh's virtual interdenominational worship service Sundays at 11 am on WBUR 90.9, the University's National Public Radio station. Hill also urges people who have questions to call him at 617-358-3394.

The University hopes to reopen as a residential learning community in September, with social distancing and other protocols in place to protect students, faculty, and staff. Ultimately, the reopening will involve testing, contact tracing, quarantine strategies, and a teaching model that is flexible for all students and teachers, allowing for in-person and remote education.