A Cookbook for Your COVID Kitchen
Food
A Cookbook for Your COVID Kitchen
MET gastronomy students share recipes to raise money for food charities
Some people spend the quarantine cooking elaborate recipes they would never have attempted in a normal world. Others use up whatever odd, expired food they find at the back of their refrigerators, hoping to avoid a trip to the grocery store.

And a lot of people are making sourdough bread.

Cooking During COVID, a new 78-page digital-only cookbook from the Metropolitan College Gastronomy Student Association, aims to upgrade our quarantine cuisine while at the same time illuminating what is happening in our kitchens during this long national time-out.

"I'm definitely cooking a lot more now that I'm home all the time," says association event coordinator Hannah Spiegelman (MET'20), who contributed a recipe for a home version of a popular coffee drink. "I've been experimenting a lot, cooking with my roommates, using things from the pantry in creative ways."

The cookbook launched after Barbara Rotger, Gastronomy Program assistant director, shared the cover of the first association cookbook from six years ago as a Facebook "Throwback Thursday" post. The association officers, most of them holed up at home, decided it was a good time for a new edition, says Sarah Hartwig (MET'20), copresident with Kate Cherven (MET'20). And they wanted to make it a fundraiser. (Although it's been out for just a few weeks, the cookbook has already raised $1,700.)

"We wanted to focus on the food system, not only because we are part of a food studies program, but because the food system has been so drastically affected by this global health crisis and the subsequent economic effects," Hartwig says. "More and more people are facing food insecurity, especially Black and indigenous communities of color, farms and restaurants are struggling, and supply chains are in disarray."

The group saw it as their responsibility, she says, to provide awareness and financial support throughout the food system.

To get a copy of the cookbook, available only as a downloadable PDF, donate at least $5, if you can afford it, to one of a list of food charities and nonprofits providing COVID relief, such as the Greater Boston Food Bank, World Central Kitchen #ChefsforAmerica, and WhyHunger's Rapid Response Fund. Email bugastronauts@gmail.com for the full list, and after you donate, send your receipt to the same email address. You'll get the PDF by return email. If you can't afford the $5 donation, state that in the email. The cookbook is free to essential workers.
The Gastronomy Student Association is not an official University club at the moment, though that's in the plans. The 4 officers and 10 to 15 active members had monthly get-togethers before the pandemic, but a planned service event had to be canceled, so the cookbook came together online.
While some members of the student group look toward careers in the kitchen, others study food from a variety of perspectives for what it tells us about our society. The cookbook recipes certainly do that, offering a peek into our kitchen mindset at this trying time.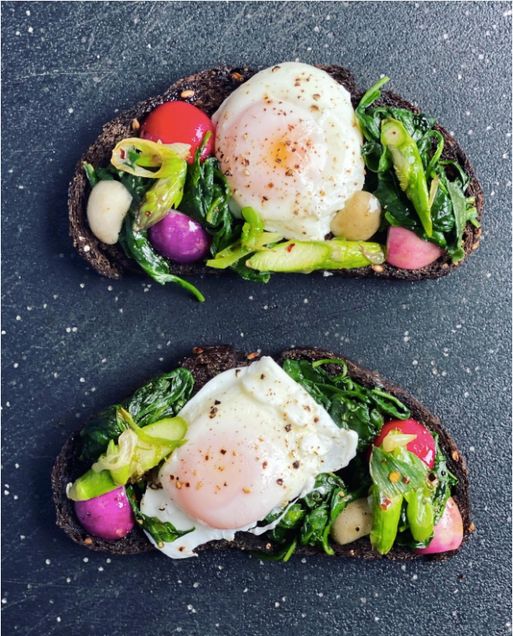 For example, Back of the Bag Corn Tortillas by Sarah Critchley (MET'20) is adapted from the Bob's Red Mill masa harina recipe that's literally on the bag. It comes with a look-on-the-bright-side admonition that many of us will recognize: "When you don't know what day of the week it is anymore, ANY day can be Taco Tuesday."

Ariana Gunderson (MET'19) offers up a Quarantine Vermouth recipe for making your own version of the fortified wine with botanicals such as wormwood and citrus peel, but also ties it to the times: "Make a boozy diary of your quarantine by making vermouth: bottling scents and flavors from this moment in time to take a snapshot of this self-isolated life."

The recipe for Gourmet Quaran-toasts by Danielle Jacques (MET'22) begins with a confession that her quarantine baking has been disappointing: "My brownies were an oddly chewy, unpleasantly crispy texture and hemorrhaged oil when I cut into them. My muffins were inexplicably, inedibly salty. When I wanted chocolate chip cookies and the only chocolate in my apartment was an old Advent calendar I hadn't finished, I chopped up the waxy, chocolatey stars and stockings and added them to the dough, marveling at my resourcefulness. They liquified in the oven."

But she recoups with some rather unusual toast recipes, such as the Blue-querones, featuring blueberry jam and Spanish anchovies: "An original tosta from Bar Txepetxa in San Sebastián! The tart, vinegary, oily fish paired with sweet berry jam is as pleasant as it is puzzling. Try it with Black & Blue from Bonnie's Jams. Best on a slice of baguette."

Jacques grew up on a dairy farm in Maine and works as a cheesemonger at Formaggio Kitchen in Cambridge, but her current studies focus on race and representation through food.

"We're going to be unpacking how COVID has affected the food system and the way people eat and think about food for years," she says. "This cookbook is going to be a really interesting snapshot of what people are actually eating, not just what they're posting on Instagram."
We've added a couple of quarantine recipes from the cookbook below—for Candied Orange Peel and Easy Butter Chicken—to give you a taste for what's inside.

---
Candied Citrus Peels
by Ariana Gunderson (MET'19)
To eek out every bit of immune- and mood-boosting goodness from sunny citrus, candy your leftover peels. You'll get the sweet treat of your peels and a bonus batch of citrus syrup you can use to flavor drinks, soak cakes, and more!
You can use any kind of citrus peel; pictured here is a mix of tangerines, mandarins, and navel oranges. Because you're eating the outermost (usually discarded) part of the fruit, be sure the citrus is unwaxed and pesticide-free. Perhaps you have a large volume of citrus peels left from a juice-extravaganza, eager for a second life. Or you can save peels up over a few weeks or months: every time you finish a citrus fruit, throw the peels in a bag in the freezer, removing any clinging fruit from the peels before you do so. I candy a batch once I've got a plump sandwich bag-full in my freezer, but you can adapt this recipe to any amount of peel.
The peels and the citrus syrup keep for months in the fridge in airtight containers. You can impress surprise guests by setting these peels out for a nibble (once it is safe to have people over), or you can chop the peels to use in baking. Give the peels as a thoughtful, handmade gift in a glass jar or wrapped in parchment paper and tied with ribbon. Add the citrus syrup to iced coffee, fruity tea, or cocktails, or use it to soak cakes or desserts in the baklava family. You could even drizzle it on yogurt or vanilla ice cream.
Ingredients

Citrus peels
Water
Granulated sugar
Optional: Chocolate, any kind
Directions
Gather peels in the freezer.
Blanch citrus peels in boiling water, drain, blanch again in fresh boiling water, and drain again. This removes bitterness from the pith. For very thick peels, boil for 5-10 minutes each time.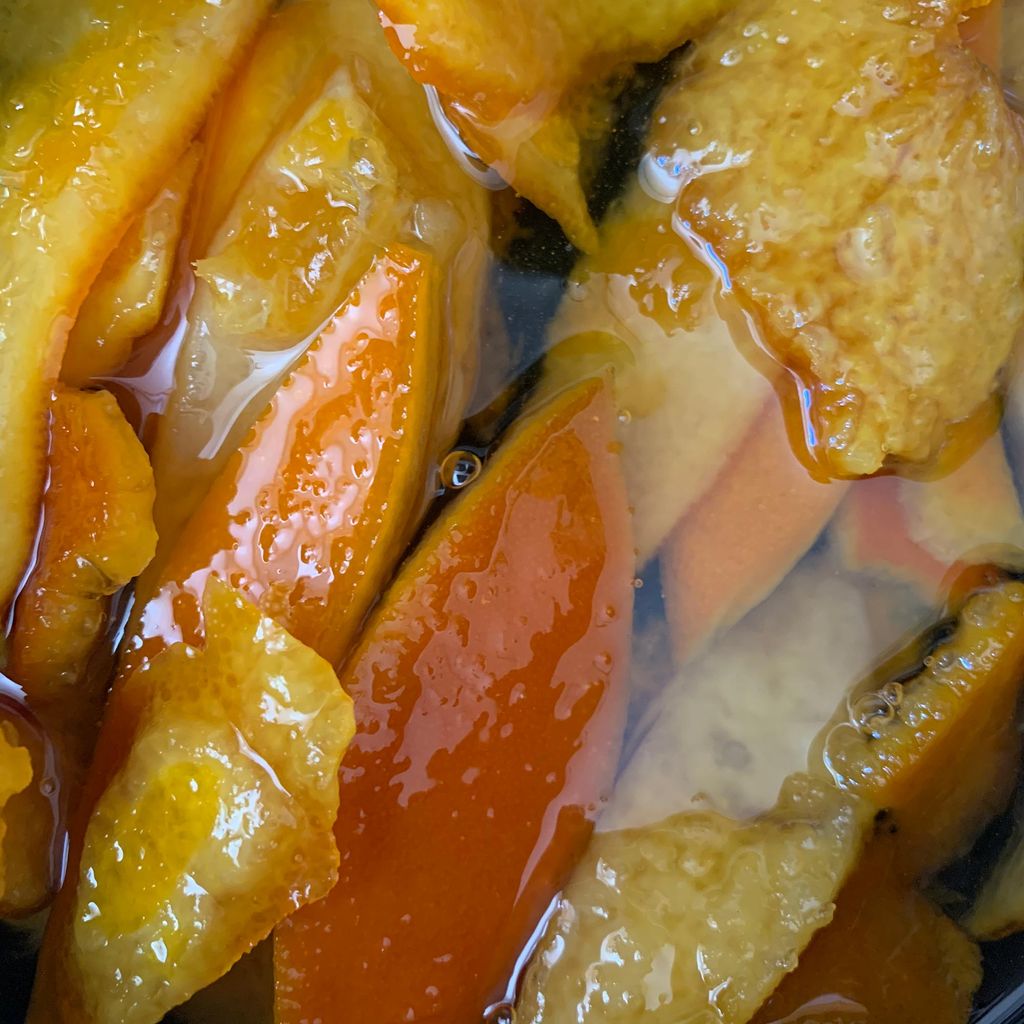 Estimate the volume of your peels if you were to squish them down as compact as possible. In a pot, add that same volume of water and same volume of granulated sugar to your peels, so you have (by volume) 1 part peel, 1 part water, and 1 part sugar. Simmer uncovered for 45 minutes. Let cool.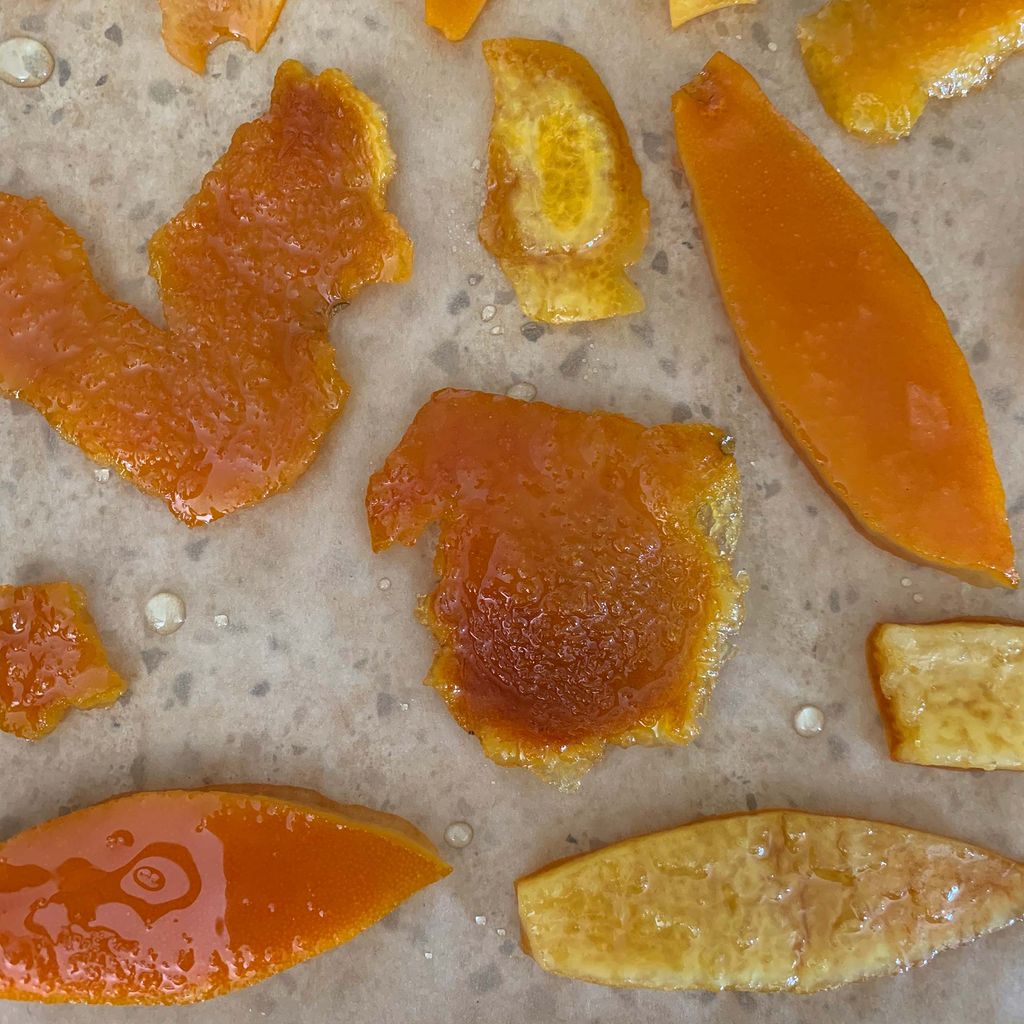 Remove peels from syrup and set out for 12-24 hours to dry. This works best on a wire rack set over wax or parchment paper, but if you don't have a rack you can rest the peels on the parchment or wax paper directly and turn the peels a few times as they dry. Transfer the syrup to an airtight, glass jar and store in the fridge.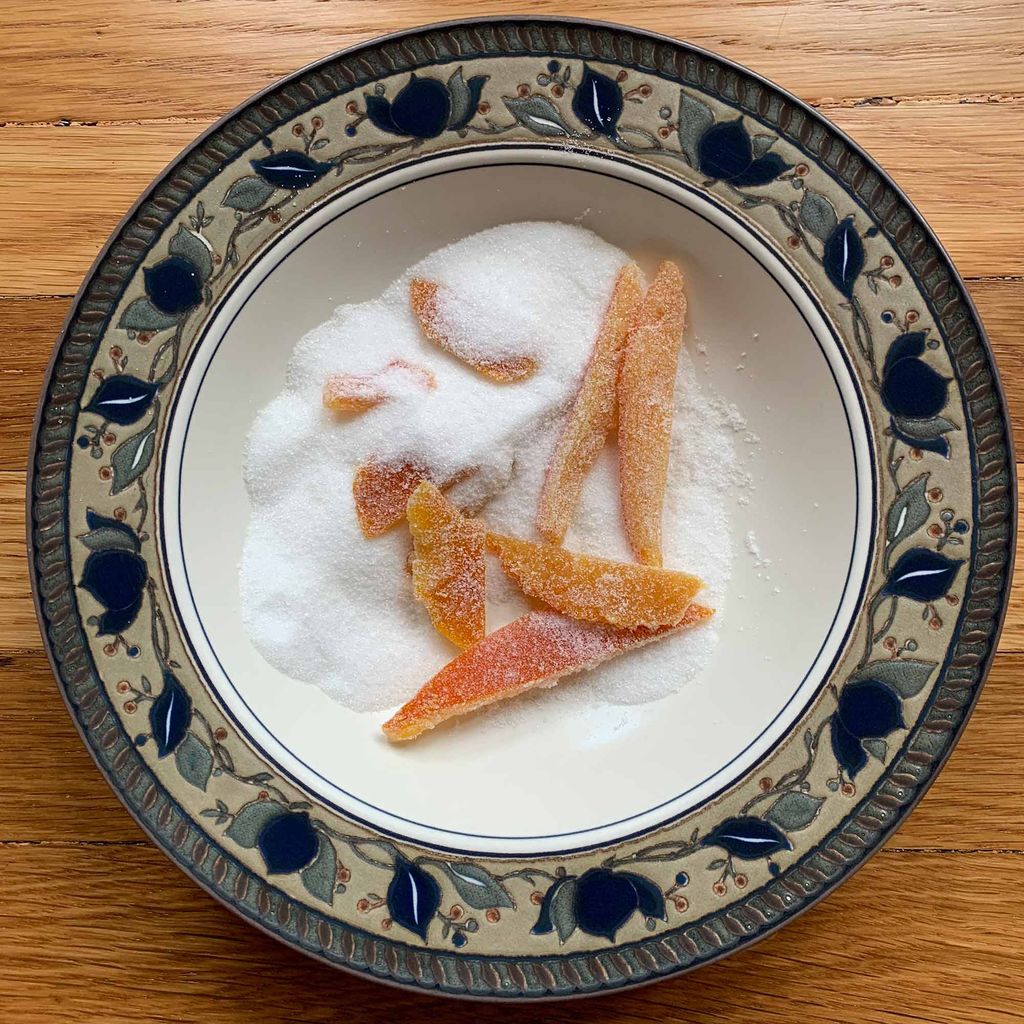 When the peels are tacky but not syrupy to the touch, slice them into strips and toss in more sugar.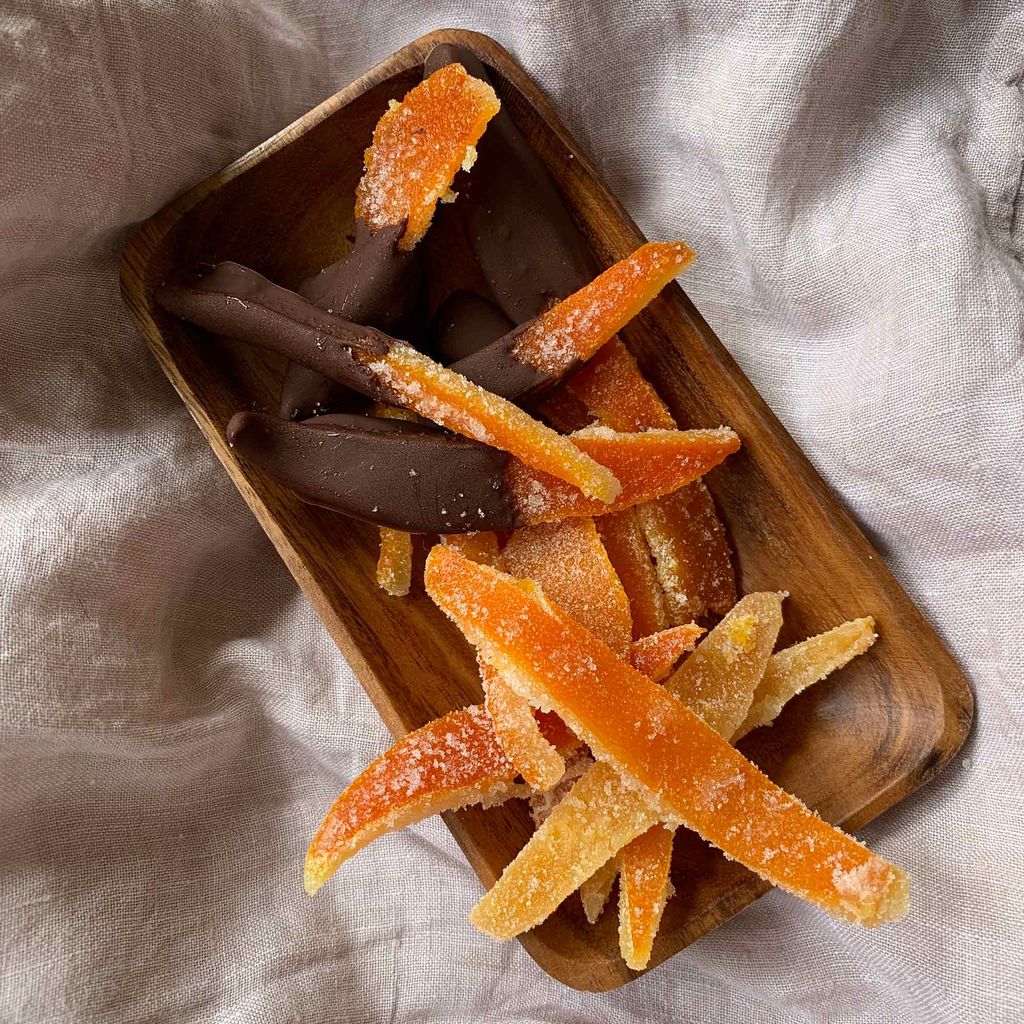 Optional: To turn your work from candied peels to orangettes: melt chocolate in the microwave, stirring every 10 seconds. Line a baking sheet with wax paper. Take a strip of candied peel and dip in the melted chocolate. Place dipped peels onto the wax paper and place in the freezer for 10 minutes, or until chocolate hardens. Remove from wax paper and store in an airtight container in your fridge.
---
Easy Butter Chicken
by Payal Parikh (MET'20)
Ingredients
Chicken Marinade
1 tablespoon tomato paste
1 teaspoon garlic, microplaned*
1 teaspoon ginger, microplaned*
½ cup full-fat, plain yogurt
2 teaspoons salt
1 teaspoon ground cumin
1 teaspoon red chili pepper, fresh or powder
1 lb. boneless, skinless chicken breast or thighs, cut into roughly medium-sized cubes
*Or you can use ginger garlic paste
Butter Chicken Sauce
2 tablespoons butter
1 teaspoon vegetable oil
1 medium onion, small diced
1 serrano pepper, diced, optional
½ tablespoon garlic, microplaned*
1 teaspoon ginger, microplaned*
1 tablespoon tomato paste
1 14.5 ounce can crushed tomatoes
1-2 teaspoons red chili powder, to taste
1 teaspoon ground coriander
2 teaspoons ground cumin
½ teaspoon garam masala
½ teaspoon white sugar
½ cup heavy cream (or to make it lighter, use a mixture of 2 tablespoons yogurt and 2 tablespoons of whole milk)
Lemon juice, to taste
Cilantro to garnish
Salt to taste
*Or you can use ginger garlic paste

Directions
Chicken Marinade
In a medium bowl, whisk together the marinade ingredients except for the chicken. Add the chicken and mix together and allow to marinate for at least an hour, up to overnight, covered in the refrigerator.
Butter Chicken Sauce

Melt the butter and oil in a dutch oven or a heavy-bottom pot over medium heat. Add the onions and saute until they turn translucent, then add the serrano pepper, garlic, and ginger and stir for a minute.

Add tomato paste and stir for a minute.

Add the crushed tomatoes along with salt, chili powder, coriander, cumin, garam masala, and sugar and continue to cook for 5 minutes at a simmer.

Optional step: Remove from heat, add the mixture to a blender (or use an immersion blender) and blend until smooth; you may need to add a little water to help it blend.

Bring the sauce back to the pan and bring to a simmer. Add chicken pieces to the sauce, scraping off excess marinade.

Stir so all chicken is submerged. Add a little water if needed. Cover pot and cook for 10 minutes.

Uncover the pot and check to see if the chicken is cooked through by shredding a piece—it should be white.

Once cooked through, reduce heat to low and stir in the cream. Simmer for 5 minutes, while stirring so everything is homogenous, and taste for salt and lemon juice. Adjust as needed and garnish with cilantro.

Serve with hot rice or a flatbread of your choice (such as the Easy Yogurt Flatbread on page 26 of Cooking During COVID).
To obtain a PDF copy of the cookbook, donate at least $5 (if you can afford it) to one of the food charities and nonprofits listed here and email your receipt to bugastronauts@gmail.com.