Virtual Ceremonies Held for the Class of 2020, for Now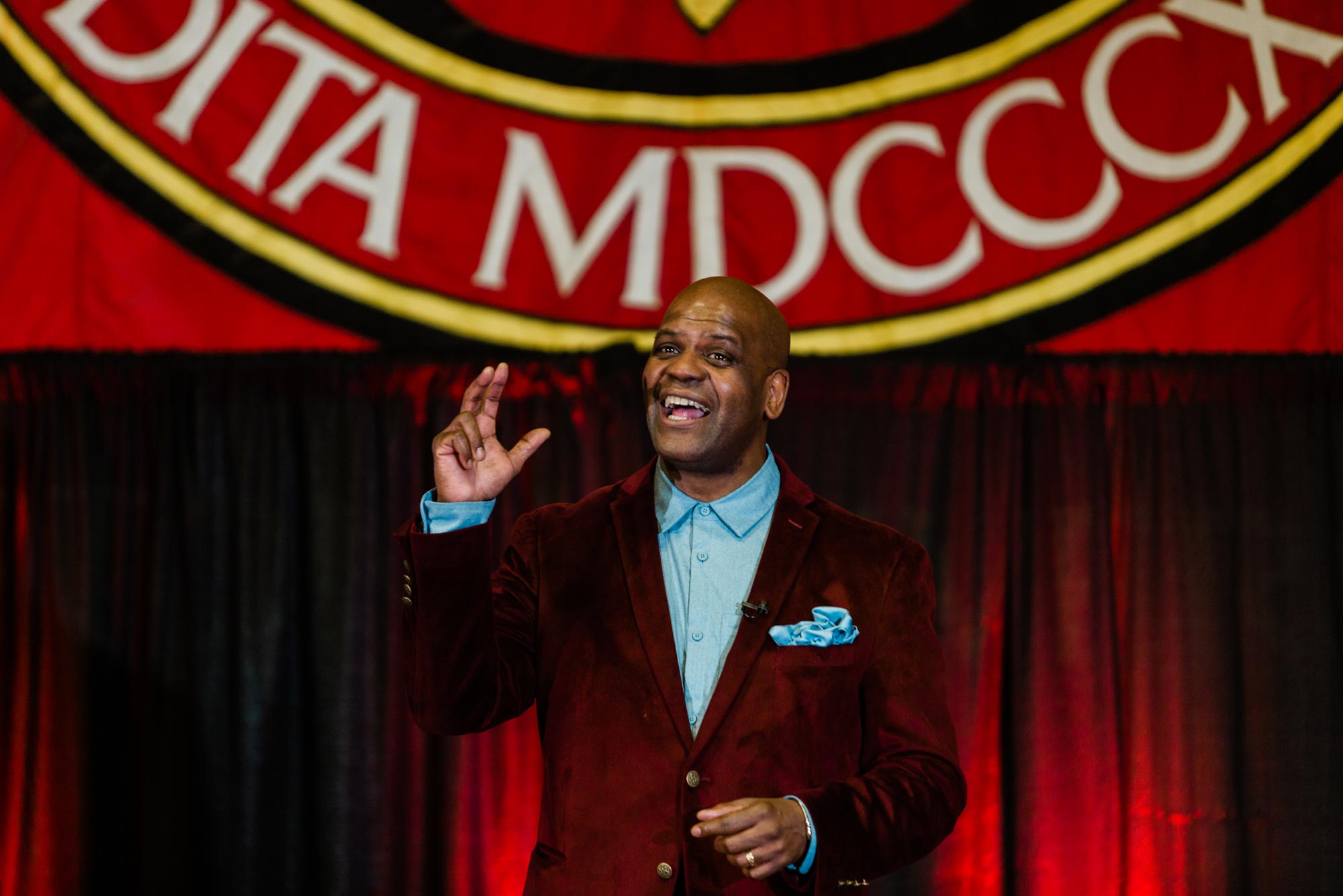 Student Life
Class of 2020 Gets a Virtual Send-off, for Now
BU schools and colleges hold mini celebrations; Senator Elizabeth Warren (D-Mass.) addresses poli sci students
Commencement weekend at BU is normally abuzz with activity, grads in scarlet gowns stepping on the seal, being cheered on by a crowd of 20,000 family and friends at Nickerson Field, and so much more. This year, COVID-19 has painted a different picture: a shuttered campus and graduates forced to return home.

But the pandemic couldn't stop the Class of 2020 from celebrating this weekend, both on their own and at dozens of ceremonies hosted by BU's schools and colleges and a general University virtual toast hosted by Kenneth Elmore (Wheelock'87), associate provost and dean of students. Alums from across the world Zoomed in to congratulate the grads, and Senator Elizabeth Warren (D-Mass.) prerecorded remarks to students in the College of Arts & Sciences political science department.

The postponement, or cancellation in many cases, of commencement ceremonies across the country is historic, and not a decision to be taken lightly, University President Robert A. Brown said when announcing the news in March, assuring the graduates and their families that a University Commencement would be held at a later date. It's the second time BU has canceled or postponed its All-University Commencement. The first instance was in May 1970, following the killing of four Kent State University students by Ohio National Guardsmen during a Vietnam War protest, which touched off campus unrest across the country.

At Sunday's virtual hour-long celebration, shot by a bare-bones crew in the Metcalf Ballroom, Elmore kicked off by declaring it was Terriers 2020 Day and diving into a shout-out to the University, "an incredible, marvelous place that has been built over time," he said. "A place that has become a true beacon for social justice, change, and moving society forward."

With that, the broadcast showed highlight clips from last September's Campaign for BU celebration, with Dana Robert, the School of Theology Truman Collins Professor of World Christianity and History of Mission, detailing the University's humble Methodist beginnings and its transformation into a modern research university, and Walter L. Fluker (GRS'88), STH Martin Luther King, Jr., Professor of Ethical Leadership, relating the University's long commitment to social justice and highlighting the pioneering work of famous BU alums and faculty such as Martin Luther King, Jr. (GRS'55, Hon.'59), Howard Thurman (Hon.'67), Marsh Chapel dean from 1953 to 1965, the first black dean of a predominantly white US university, and Carmen Yulín Cruz Soto (CAS'84, Hon.'18), mayor of San Juan, P.R., who battled President Donald Trump over the federal government's lack of help after the island was devastated by Hurricane Maria in 2017.

Next, BU Today's annual Advice to Seniors video was played, with words of wisdom both humorous and heartfelt from BU professors, staff, and alums.

"Think about as many other people as you can right now, people who are living very different pandemics based on their income, faith, you name it," said Raul Fernandez (COM'00, Wheelock'16), Wheelock College of Education & Human Development associate dean for equity, diversity, and inclusion, one of the video's more than a dozen speakers. "Take whatever your chosen profession is and turn it into an opportunity to help others."

Robert Pinsky, a William Fairfield Warren Professor and former three-time US poet laureate, read "Incantation," by Polish-American poet Czeslaw Milosz, who lived through World War II and the Holocaust. "Human reason is beautiful and invincible. / No bars, no barbed wire, no pulping of books, / No sentence of banishment can prevail against it," Pinsky read. He was immediately followed by Moisès Fernández Via, founding director of the College of Fine Arts Arts Lab @ Med Campus, who played "Étude No. 17," one of contemporary American composer Philip Glass' piano études. The BU Pep Band, along with band alums, then played the "Go BU!" fight song from their homes.

JR Hipple (COM'88), president of the BU Alumni Association, closed the event by welcoming the graduates to a global community of 340,000 BU alumni around the world. He invited everyone to take a virtual step on the BU seal, which was made possible by a downloadable Zoom background. Feeds of grads, many in their caps and gowns, were shown stepping on the seal.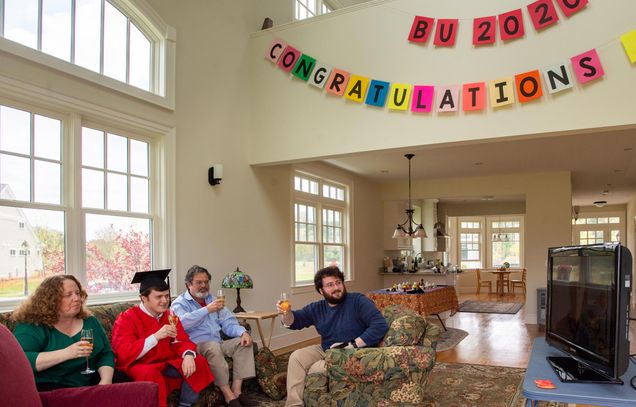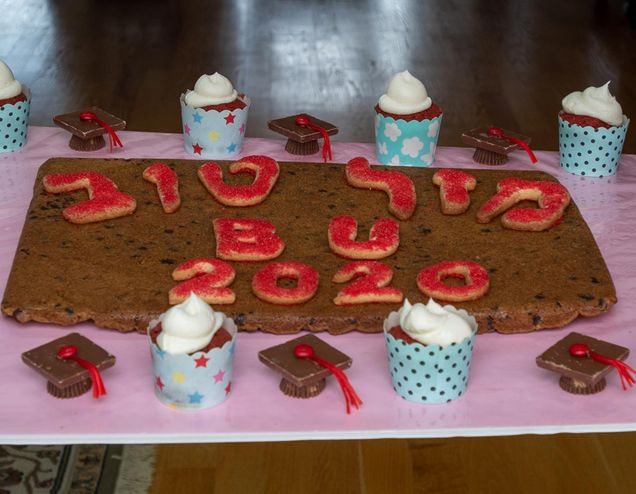 BU schools and colleges held individual virtual ceremonies as well this weekend. Among the highlights was the School of Public Health event, held Friday afternoon, where Sandro Galea, dean of SPH and Robert A. Knox Professor, told his audience that the COVID-19 pandemic has exposed shortcomings in the US approach to health. "Our pandemic response has been patchy at best, suffering from lack of investment in public health; our leadership at the political level has been likewise variable," he said. And thus, "our response to COVID-19 and the steps we take to build the post-coronavirus future may well be the most critical period in shaping the health of this country. While this may sound intimidating, I urge you to take it as an opportunity. Not many graduating classes have the chance to so immediately shape a new world. But you do."

Student engagement was high during the individual events. The SPH convocation had approximately 400 remarks and messages of encouragement left by viewers, who especially cheered on class speaker Rafik Wahbi (SPH'20).

The College of Communication celebrated Friday by asking its community to tweet with the hashtag #KeptCOM, as professors and students highlighted work they were particularly proud of from the past academic year and tweeted congratulatory messages. On Saturday, the School of Hospital Administration surprised its students with a virtual address from industry veteran Anthony Melchiorri, the creator and host of the Travel Channel's Hotel Impossible and Extreme Hotels, as well as with a musical performance by SHA faculty. And at the Questrom School of Business ceremony, also on Friday, Susan Fournier, Allen Questrom Professor and Dean, reflected on how the business world has adjusted during the pandemic and how technology and the platform economy have changed the way we work and live, as well as how facts and data drive decisions, yet raise new questions about ethical conduct in business.

---

Think about what hits you right in the heart—the cost of college, access to voting, clean water, hunger, bullying, criminal justice. Whatever it is, dig down deep and fight for it

---
During the CAS political science ceremony, held Sunday afternoon, Warren acknowledged that this spring's virtual events aren't how anyone expected to spend graduation and told students that they are entering into a world with more uncertainty than ever before, where planning cannot always prepare them for the twists and turns that lie ahead. She urged the graduates to stay the course, and to not give up.

"Whether you go into public service or not, I know some of you are already deeply committed to issues that matter to you," the former 2020 presidential candidate said. "Think about what hits you right in the heart—the cost of college, access to voting, clean water, hunger, bullying, criminal justice. Whatever it is, dig down deep and fight for it. What gives me hope is that we can make this a country that reflects our best values, and that hope comes from you… You are the future of America and the America that reflects our best values… Cheers to you, Class of 2020."