BU's Ongoing Commitment to "the Kids from Boston"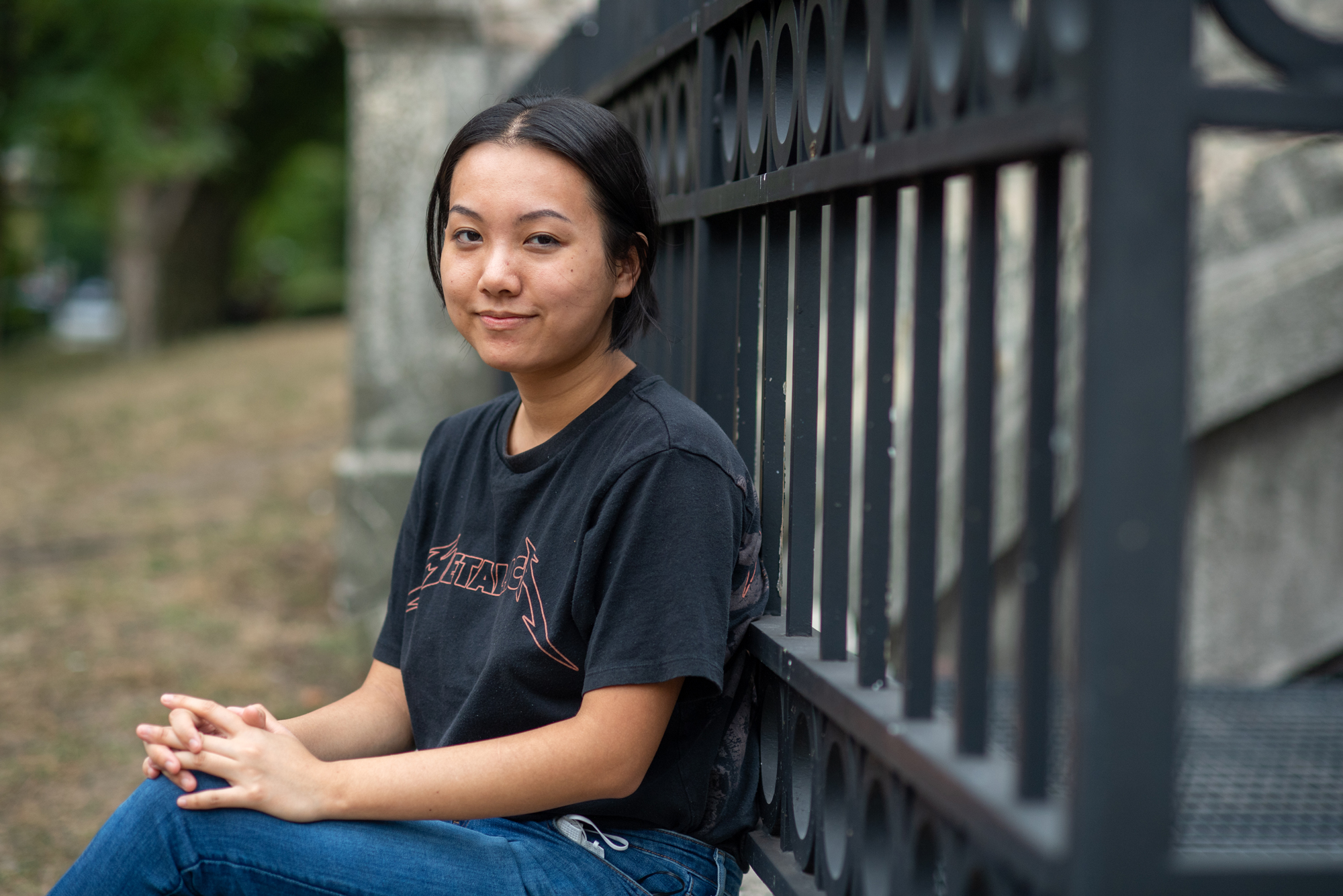 University News
BU's Ongoing Commitment to "the Kids from Boston"
Menino Scholars, Community Service programs provide scholarships to public school students
"I consider myself to be from Boston," says Peiling Li, who came to the city from China with her family when she was 10 and attended Boston Public Schools, graduating from the John D. O'Bryant School of Mathematics and Science in Roxbury last spring.
When it came time to choose a college, Li says, "I applied to a lot of schools, but I got the most financial aid from BU. It made a huge difference for me. If I didn't have that, I would probably have gone to a community college and tried to transfer."
Li (CAS'24) is one of 31 Boston Public Schools (BPS) 2020 graduates receiving a Boston University Community Service Awards scholarship this year. Through this scholarship program, Boston University meets the recipients' full calculated financial need without loans. An additional 27 new transfer students have also received Community Service scholarships. And this year the University is providing 33 graduates of Boston high schools with full-tuition merit scholarships based on their academic record through its Thomas M. Menino Scholarship program. Menino Scholars are also eligible for need-based aid for the cost of room and board.
That's 91 Boston Public Schools graduates starting classes at BU this year on scholarships that will total $18 million over four years. And those are just this year's arrivals. A total of 347 BPS graduates are attending Boston University through the Menino and Community Service programs during the 2020-2021 academic year. All told, more than 2,400 students have received one of the two scholarships since the programs began.
"They are doing this because they want to support the kids from Boston," Li says.
"BU is deeply committed to the Boston Public Schools, and this is one manifestation of that," says Michael Dennehy (CAS'92), executive director of College Access and Student Success at BU's Wheelock College of Education & Human Development. "It's part of the BU ecosystem."
A graduate of Boston Latin Academy, Dennehy is himself a one-time Menino Scholar. "The Menino Scholarship was a life-changing experience for me," he says. "Beyond the world-class education that I received, I was introduced to Upward Bound, where I found my calling to work in education, and specifically, college access and student success. I am eternally grateful to my Menino Scholar advisor, Ruth Shane, who oversaw the program until 2014, when she retired and I moved into the role."
"We are never swayed from our commitment to Boston," President Robert A. Brown said in a Zoom ceremony in September welcoming all the scholars to BU. "The Menino and Community Service programs are a key component to our service to the city."
Boston Mayor Martin J. Walsh knows the value of the programs. "Ever since I was elected mayor, I have called on local colleges and universities to play a bigger role in providing opportunity to Boston's public school students," Walsh told the scholars. "Young people like you deserve access to the world-class education available right here in your own city. BU continues to rise to the challenge. This scholarship program is a perfect example of that."
The Menino Scholars program has existed under other names since 1974, but in 2013 was named for the late Boston Mayor Thomas M. Menino (Hon.'01), who was a founding director of BU's Initiative on Cities. Each year's Menino Scholars meet regularly with Dennehy, who serves as their mentor. "Student meetings are my favorite part of my job," says the Brighton native.
The Community Service program welcomed its first scholars to campus in 2009. They are each assigned a faculty or staff mentor they meet with at least a couple of times each semester throughout their BU career. Mentors assist them with such issues as establishing strong study skills and finding tutoring to help them figure out their post-BU plans and serving as a sounding board throughout their years here.
Students from the two programs have gone on to successful careers, among them former Menino scholars Dion Irish (CAS'94, MET'07), Boston's commissioner of inspectional services, and Deborah Dong (Questrom'86, LAW'07), an attorney with expertise in the technology field. Community Service scholar Mirian Alfaro Ortiz (CAS'19) now works for the BU College Advising Corps, which places near-peer college advisors in city high schools to support students as they plan for, and apply to, college. Other former scholars now work in BU Admissions and the School of Public Health, and are sometimes tapped as mentors for scholars who come after them.
Current Menino Scholar Angelee Verdieu (Sargent'21, SPH'22), the daughter of Haitian immigrants and the student speaker at this fall's welcome ceremony, says the programs are life-changing.
"At the time I was applying to college, only one of my parents was working, so we were definitely a little bit worried about how sustainable any type of financial aid would be over the course of the four years," says Verdieu. "The scholarship was extremely helpful—a godsend one might say—in terms of consistency over the next four years, which is what we were looking for. I am very grateful."
The Boston Latin School graduate is pursuing a bachelor of science degree in human physiology and a master of public health under a special five-year dual-degree program. She will still have a year of classes at the School of Public Health after the scholarship ends, and she then hopes to go on to medical school, a dream since middle school.
"Around the time I was thinking medicine might be something I was interested in was when the earthquake occurred in Haiti, and just being in communication with family over there and hearing about the living situation and seeing pictures really kind of shook me," she recalls. "At that age I wasn't thinking how fortunate I was, and that's when I started thinking about things on a global scale."
---

Receiving this scholarship is a call to action to find ways to be a leader as you go about your time as a member of this community.

---
As if her studies aren't enough, Verdieu is deeply involved on campus, including serving as a learning assistant in biology and helping to found Transition to BU, which provides mentors to transfer students.
"Receiving this scholarship is a call to action to find ways to be a leader as you go about your time as a member of this community," she said at the welcoming ceremony, "and to me being a leader means finding a way to help your group of people if you know that there's a way that you can."
"BU is one of the top-10 colleges and universities chosen by BPS graduates, and that's a pretty cool thing," says Clare Fitzgerald, program manager for BU's College Access and Student Success, who oversees the Community Service program. "It adds a richness to life on campus, and it's a cool thing for Boston students to come to BU and share their knowledge of the city with their friends."
Starting with their second semester at BU, the Community Service scholars must complete 25 hours of volunteer work each semester. If they meet this requirement through the fall of their senior year, they get their final semester waived. The Class of 2020 scholars contributed 6,798 volunteer hours to the Boston community and beyond during their time at BU.
BPS graduates who start at another school—often a community college or other non-four-year institution—are eligible for a Community Service scholarship if they transfer to BU. One who did just that is Shanice Bryan (CAS'22), a native of Jamaica who transferred this year after graduating from Charlestown High School and studying at Bunker Hill Community College for a year and a half. But she's had her eye on BU since her high school held its graduation ceremony here. She got lost that day and ended up with a bit of an informal self-guided campus tour.
"BU has always been number one on my list," says Bryan, who is studying political science and has her eye on law school. "I wanted to go there, but I didn't think I would be able to afford it. So I went to Bunker Hill and did a really good job, and then I heard about the scholarship. I wrote an essay talking about what the scholarship means to me.
"And now that I've got it, I just thought that I have to do really well, because not a lot of people get this opportunity," she says. "I am humbled and grateful."
Ultimately, the importance of the scholarships is not what they do for the students, but what the students do for the world.
"I challenge you to broaden yourselves and prepare for life as a citizen of this great country and as a leader in our society," Brown told the students on Zoom. "We need you. We are counting on you to succeed."