Updated: BU Moves All Classes Online Due to Coronavirus—Questions and Answers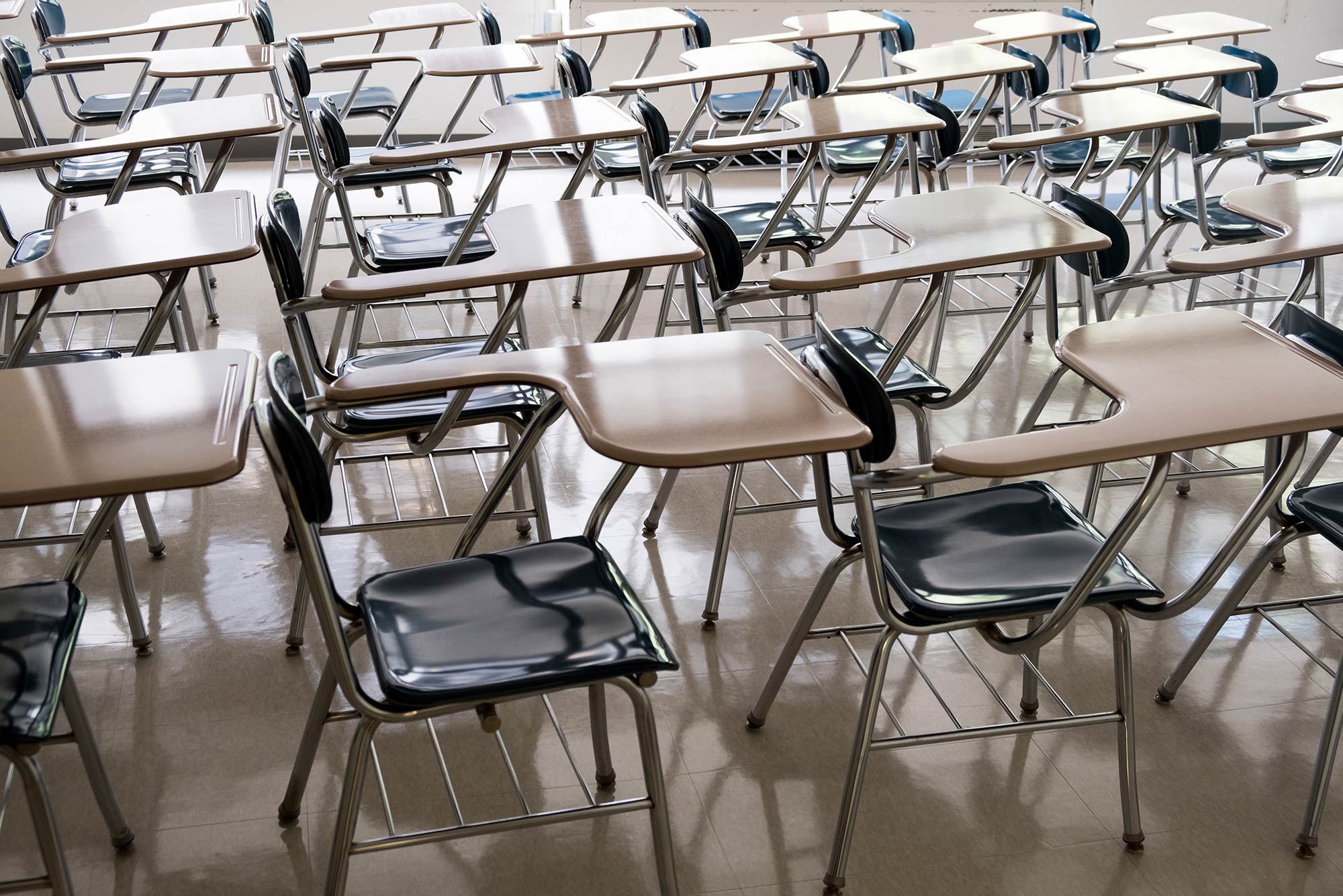 University News
Updated: BU Moves All Classes Online Due to Coronavirus—Questions and Answers
Students are encouraged to return to permanent residences, but some campus housing options remain for those with extenuating circumstances
This story was posted at noon, Wednesday, March 11; it was updated throughout the week and weekend. The word "New" appears before any added updates.
Boston University, reacting to the fast-spreading coronavirus, announced on Wednesday, March 11, that it is moving all classes to online only. Students who are away for spring break are advised not to return to campus after break ends Sunday—but residence and dining halls will remain open for those who need to remain on campus because of particular challenges, according to BU's leadership.

In a letter to all students, faculty, and staff, Robert A. Brown, University president, and Jean Morrison, provost and chief academic officer, outline the reasoning behind various decisions related to COVID-19 and explain how the changes would be implemented.

The changes, effective Monday, March 16, until Monday, April 13, do not impact BU's day-to-day routine staff business or University research, but employees who are uncomfortable being on campus are encouraged to speak with their managers about working from home. Officials plan to assess the situation around April 1 and consider whether in-person classes might resume after April 13.

"Our first priority is to ensure the health and well-being of our community, while also making sure that our students are able to complete their courses, advancing their progress toward graduation, while preparing contingencies to ensure the functioning of our campus operations," the letter says. "Discontinuing in-person instruction is a difficult decision, as it interrupts an essential element of our learning community, the interactions that occur in our classrooms, laboratories, and studios. We recognize that this will cause significant disappointment to many students, faculty, and staff. However, our first priority must be to keep the members of our community as safe as possible."

BU's decision came a day after Massachusetts Governor Charlie Baker declared a state of emergency, as coronavirus cases in the state surged to 95 (77 of them tied to a single Biogen conference held in Boston), and passed 1,000 in the United States, across more than 30 states. BU joins a number of other Massachusetts colleges and universities, including Amherst College, Harvard, MIT, Emerson, Tufts, and Suffolk, that have just decided to move courses online in reaction to the virus.

Globally, coronavirus has infected more than 125,000 people and has killed more than 4,700. The same day BU made the decision to move its classes to online only, the World Health Organization officially declared the spread of coronavirus a pandemic.

Are BU's campuses closing?
No. BU is saying that students who are away for spring break are advised not to return, and they should continue their coursework online through remote procedures outlined by their professors. The decision, regarding the Charles River, Medical, Fenway, and BU Academy campuses, reflects public health advice, which says a critical way to reduce the spread of COVID-19 is to limit or eliminate the number of assemblies or events where large groups of people gather.

However, BU is not requiring students who are currently on campus to leave, nor is the University ordering them to stay home if they traveled within the US for spring break. There may be a number of reasons why returning home, or learning online from their home, is not possible. For example, some students' home countries are on the government's restricted travel list, or students may live in an area with limited access to broadband internet and Wi-Fi. For these sorts of extenuating circumstances, BU is leaving residence halls and dining facilities open.

In a letter about BU maintaining business continuity on campus, Brown wrote: "While we hope and expect a large number of undergraduate students will choose to study and attend online classes from their homes, our dorms and dining halls will remain open, and we will need to continue to provide academic and administrative services to our faculty and students who remain on campus and to those who are studying remotely."

New: Will BU be offering housing and dining refunds due to the COVID-19 situation?
At this time, the University will not be refunding room and board charges for students who choose to stay off-campus through April 13.

While students are strongly advised to attend online classes from their homes until at least April 13, the BU dorms and dining halls remain open for those who choose to stay on campus or are unable to return to their homes.

This refund decision will be reevaluated if BU extends its COVID-19 health precautions and remote learning beyond April 13. Students experiencing financial hardship should contact the University Service Center at usc@bu.edu or at 617-358-1818.
If students are advised to not return to campus after spring break but the campus is still open, what does that mean exactly?
It means that staying away from campus is the best and preferred course of action from a public health and safety perspective. But in the end, the choice to stay away or return, if personal circumstances make staying away impractical or difficult, is up to individuals.
New: For individuals returning or arriving from abroad, is there a required prohibition period from campus?
If you are returning to the US from international travel anywhere in the world, including spring break travel, you must follow the direction provided by Provost Jean Morrison in her email to the BU community, "Policy for Individuals Returning or Arriving from Abroad", on March 7, 2020:

1) do not return to campus, and
2) self-quarantine for 14 days from your date of return to the United States, even if you do not feel ill.

Self-quarantine means that you return to your permanent residence. For students who live on-campus, this means that you do not return to your dorm on-campus, but that you return to your permanent home address.

At both the beginning and the end of the period of self-quarantine, students must contact Student Health Services here. Faculty and staff must call BU Occupational Health at 617-353-6630 at both the beginning and end of the period of self-quarantine.

More information on how this impacts BU students, living both on campus and off campus, and BU employees, can be found here.

What about classes that have a lab component?
Faculty have the discretion and flexibility to work with their students to find a way to complete their lab requirements.
New: Will nonacademic buildings and facilities, such as FitRec, parking garages, Mugar Memorial Library, remain open?
The plan is to keep some BU facilities open. FitRec will be closed for personal fitness and recreation from March 16 until April 13. All recreation programs and activities that cannot be offered online will be cancelled during this period. Students enrolled in Physical Education (PDP) courses will be emailed instructions for course participation during this period as well. Please find additional information here. All parking lots and garages will remain open, with regular hours. The GSU Food Hall will be open, although hours and food options may be adjusted. You can view the adjusted schedule for BU Libraries from March 16 to April 13 here.
New: Are BU Study Abroad programs being canceled or moved online as well?
BU Study Abroad is closely monitoring the situation and is in regular communication with BU staff in-country on an ongoing basis, as well as with students, parents, and partner institutions. These efforts are part of the University's criteria for assessing whether to continue or cancel a scheduled program, which include several critical factors, including Presidential Proclamations from the White House, guidance from the US Department of State, the CDC, local health agencies in-country, and impacts on individual health and well-being. For instance, spring programs in China and South Korea have been canceled, as well as the residential portions of our programs in Denmark, France, Germany, Italy, Spain, and Switzerland. For questions about other specific study abroad programs, contact abroad@bu.edu.
New: What's happening with BU athletics?
The men's basketball Terriers won their first ever Patriot League championship Wednesday, March 11, over Colgate. This victory advanced them to the NCAA March Madness tournament, but that has now been canceled. The women's basketball team was supposed to play at home March 12 in a Patriot League semifinal game, but that tournament has also been canceled. And all Patriot League spring sports have officially been canceled.
Are all events canceled across campus?
The University is strongly encouraging outside groups who have scheduled events on the BU campus to cancel or postpone them. All BU-sponsored events are canceled.
Does this also impact general large gatherings that were organized?
Yes. The University will not hold any nonacademic large gatherings or meetings; only meetings with a research purpose and fewer than 10 participants will be permitted.
Is this change to online learning for both undergraduate and graduate courses?
Yes. And for Boston University Academy as well. All course content will be moved online and classes will meet remotely at their regularly scheduled times. Students with questions about courses or academic accommodations should contact their professors directly.

"We are committed to providing the necessary resources to equip all faculty for success in this mode of delivery," the letter from Brown and Morrison says. "Through our Remote Teaching Readiness Plan, schools and colleges have already begun preparing. We encourage faculty to contact their school or college's Remote Teaching Coordinator (RTC) with questions about migrating course content online. We also encourage instructors to email students in their courses before Monday, March 16, to alert them to the class plan for the next week."
How will this impact the remainder of the semester for students?

"We are developing and will shortly distribute a set of Guidelines for Semester Completion to help faculty and staff think through how to ensure students are able to complete all their scheduled coursework this semester," the letter from Brown and Morrison says.
What about international students in F-1 status or students in the J-1 Exchange Visitor program?
The F-1 Visa program normally does not allow students to remain in the United States if they are doing online education. In light of the virus, however, the government is providing flexibility so students with F-1 Visas will be able to switch to online learning temporarily. J-1 students in the Exchange Visitor program will also be able to transition to online coursework temporarily. Contact the ISSO at isso@bu.edu with specific questions regarding your visa status.
What is the University saying about travel during the coronavirus crisis?
All domestic and international travel by faculty, staff, and students that is supported by funds administered by the University is suspended.

If faculty are being asked to teach remotely, and students are being asked to learn remotely, do other BU employees still need to come to work?
Employees should speak with their managers about working from home if they have misgivings about coming to campus, and managers are encouraged to consider requests as long as responsibilities can be accomplished remotely.

Right now, public health officials are not asking institutions to close or cease operations. BU is moving to remote learning and canceling University-sponsored events to reduce the amount of large gatherings, which follows CDC recommendations to increase social distancing and decrease the risk of transmission. But core business and research aspects of the University should continue, with basic preventive health measures and without any large group gatherings. Those measures include washing hands often, for at least 20 seconds, with soap and water or an alcohol-based hand sanitizer, avoiding touching your eyes, nose, or mouth, staying home when ill, and communicating proactively with managers if you have specific health-related concerns.
How should research labs prepare for the impact of COVID-19?
The Office of Research has created a website to provide the BU research community with information related to the coronavirus outbreak. For now, research activities should continue—however, labs should plan for reduced workforce due to illness. Labs should also anticipate a shortage of lab supplies, including personal protective equipment (PPE), and should limit the number of personnel entering lab areas requiring donning and doffing of PPE (masks, gowns, face shields, etc.) to those necessary for tending to critical lab functions. Anyone with specific questions about their lab roles should reach out to their PI; if PIs have questions, they should consult with their department chair or dean, and then the Office of Research.
New: If students have health questions, what should they do?
Students should contact Student Health Services by following these instructions to send a message to a nurse.
What should a sick employee do?
For personal medical illness or injury with an absence of more than three days, people should fax medical documentation and a return-to-work note from their personal provider to 844-537-3577. BU health officials will review it and if the documentation is adequate, will call to notify the employees that they are cleared and fax a return-to-work note to their supervisor.

Anyone with a COVID-19 related illness, or who is under self-quarantine, should call Occupational Health for clearance to return to work and contact the HR Service Center at hr@bu.edu or at 617-353-2380 to discuss Leave of Absence requirements under the Family and Medical Leave Act (FMLA).
New: Will the BU Shuttle (BUS) continue to run?
The BU Shuttle Bus will run its regular daytime service from Monday, March 16, through Friday, March 20. Additional information on service changes effective Saturday, March 21, through Monday, April 13, will be forthcoming.

The BU Shuttle Bus operator has implemented the following precautionary steps for the health and well-being of passengers and drivers: all buses are being thoroughly cleaned/disinfected daily, and all buses are equipped with alcohol-based sanitizer dispensers or wipes available for passenger and driver use.
If faculty or staff have questions about remote learning and technology or about working from home, who should they contact?

To learn about working and teaching remotely, visit the IS&T website or contact ithelp@bu.edu (regarding working remotely) or askedtech@bu.edu (regarding teaching remotely). "We ask that staff supervisors work with members of their unit to assess their capability of working remotely during the period defined above," the letter from Brown and Morrison says. "It is our hope that we can accommodate staff who would rather not come to campus, but who can accomplish their responsibilities from home."
What if an individual department isn't sure of what next steps to take?
Managers are encouraged to meet with their staff and to assess what work and services must be done on campus and what can be done remotely. The University's Emergency Preparedness Office can also assist managers with this review and assessment. Rene Fielding, director of emergency management, is available for assistance at 617-353-7556 or at rmfield@bu.edu.
Here are a few additional resources that might be helpful:
For students' questions regarding financial situations: Contact the University Service Center at usc@bu.edu or 617-358-1818. For those with medical questions or concerns about COVID-19, contact the applicable on-campus health centers listed below for more information.
For students: Contact Student Health Services by following these instructions to send a message to a nurse.
For employees: Contact Boston University Occupational Health Center at 617-353-6630.
The University leadership will continue to provide regular updates over the next few weeks. Well in advance of April 13, we will announce to the community the plans for the remainder of the semester. For regular updates and additional information on the University's response to the coronavirus outbreak, visit this website.