Could Anti-Lockdown Protests in the United States Help Trump Win This Fall?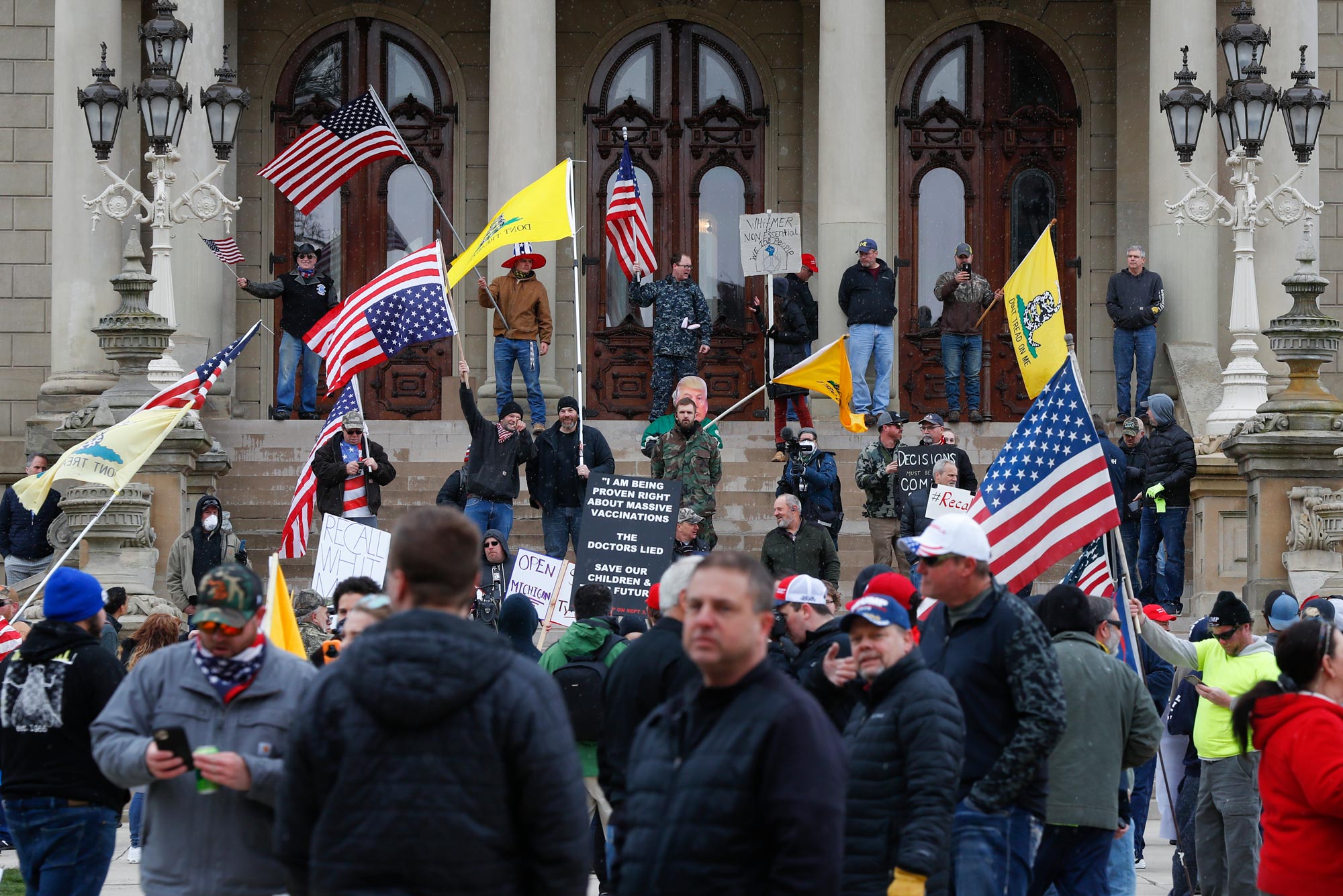 Politics
Could Anti-Lockdown Protests in the United States Help Trump Win This Fall?
Pardee scholar says they are serving to distract from the president's record
"It's tempting to dismiss the protesters in MI, VA, TX, CA, and MN as irrelevant wakadoddles [sic]. That's a mistake."
So began a recent Twitter thread from Jeremy Menchik, a Pardee School of Global Studies assistant professor of international relations, arguing that the protests against coronavirus-induced business lockdowns will help Donald Trump's reelection, distracting from his missteps in handling the pandemic.

Menchik, whose views garnered the attention of the New York Times, is a scholar of comparative politics who has observed anti-democratic movements in the West in recent years. He tweeted that the lockdown protests don't reflect grassroots opinion, but rather are "astroturf": manufactured outrage, ginned up by right-wing interest groups.

It's tempting to dismiss the protesters in MI, VA, TX, CA, and MN as irrelevant wakadoddles.

That's a mistake.

Social science research suggests continued protests could effect the 2020 US presidential election in at least 6 ways.

A thread/

— Jeremy Menchik (@jeremymenchik) April 20, 2020
He predicts multiple consequences for the November election, including higher turnout by conservative voters (as happened after Tea Party protests in 2010, he notes); reframing the election as Trump supporting a reopened economy against business-depressing governors; rebuilding Trump's winning 2016 coalition, as protesters connect via social media; and rallying GOP officials to Trump, as they perceive protesters to represent majority public opinion. (They don't.)

"Let me suggest," Menchik tweeted, "that this argument will be unsurprising to view[er]s of Fox who are being flooded with images and stories about the protests, how perfectly Trump has handled COVID-19, and how it's a Chinese conspiracy to hurt Americans but Trump is fighting back!"
BU Today asked Menchik to parse the potential fallout in November from April's spring of discontent.
BU Today:
What's the evidence of right-wing organization of these protests, as opposed to their being spontaneous and genuine?
Jeremy Menchik: People across the world are being hurt by the business shutdowns, and they are mobilizing to register their discontent. They are sending letters, writing emails, making phone calls, and sharing news about related news and events in social media. But in the United States, the actors organizing the protests against state shutdowns and channeling it toward specific targets are not grassroots.

We are witnessing a large-scale exercise in social manipulation, led by Convention of States, a Republican operation funded by the billionaire Robert Mercer, with support from the far-right groups FreedomWorks, Tea Party Patriots, and others. As reported by the Washington Post and the New York Times, Convention of States created a sock puppet organization called Open the States to hide their role in the campaign. They created dozens of Facebook groups with nearly a million members and are coordinating information, fomenting anger, channeling discontent toward governors, and organizing protests.

The evidence of the top-down nature of the protests is their coordination, timing, messaging, and overt links. Their group names are similar. The content is similar. Their history is similar. Their calls to action are similar. They have daily "watch parties" for President Trump's press conferences. There is never a whiff of criticism of the current administration in the discussions.

It's once you see the coordination at a macro level that you recognize this is not a grassroots movement. This is being orchestrated by political operatives in order to mobilize support for Donald Trump's reelection campaign.

BU Today:
For all the distraction from Trump's record the protests might offer, doesn't history suggest that incumbents ultimately own economic busts occurring on their watch, as well as catastrophes like a pandemic?
Jeremy Menchik: History can tell us a lot. The organizations behind these protests are the same ones who orchestrated the Tea Party movement that shaped election outcomes in 2010, 2014, and 2016. April 15, 2010, Tea Party rallies had measurable effects at the ballot box in November 2010; they boosted turnout, shifted voters toward Republicans, and moved elected officials ideologically to the right. They have ample funds and an enviable track record. They are already playing dirty. It is folly to assume that they will not have an impact in November 2020.
Jeremy Menchik: That said, it is also too early to predict the outcome of the election with any precision. Much will depend on when the states reopen, the state of the economy, the growth and durability of the social movement, and the administration's response to the pandemic. The pandemic itself is a giant X factor. Those kinds of predictions are best left to election forecasters.
BU Today:
While right-wing media like Fox are supporting the protests, might real-world events peel away enough voters to threaten the reelection of a president who, after all, lost the popular vote in 2016?
Jeremy Menchik: I don't have a crystal ball. But real-world events have to be heard to impact voter behavior. We know that most Americans get their information from social media, and social media tends to filter people into ideological bubbles. This is not a representative sample, but judging by Fox News and the Facebook groups I mentioned, not all Americans are getting information about the failures of the administration—including the highest number of cases of any country in the world and some of the highest rates of infection and deaths per capita. Comparative perspective is totally absent from these news sources.

Scholars of comparative politics have been ringing alarm bells for several years about democratic backsliding in the United States. The administration's bungled response to the COVID-19 pandemic is likely to further erode already declining trust in the American government. That's another predictor of democratic decline. If BU students prefer living in a democracy, I hope they will participate and help to ensure that American democracy withstands this period of crisis.

If we want the country to emerge from this pandemic stronger, with a better capacity to fight the next crisis, provide for our neighbors, and protect the values we cherish, like democratic representation, then we need to fight for those values. Crisis is a fantastic opportunity for populist authoritarian leaders to increase their power. In Hungary, the Philippines, and China, we are seeing entrenched authoritarianism become even more intractable. That can happen in the United States, too. Democratic institutions are being eroded, and they may be demolished. Authoritarianism can happen here.