Why Is It So Hard for White People to Talk about Race?
A conversation with White Fragility author Robin DiAngelo, speaking at BU Monday
"I'm white—check me out, everybody," sociologist and author Robin DiAngelo said as she launched into a talk about race at a recent higher education diversity conference.
DiAngelo has led racial justice training for corporations, nonprofits, government agencies, and educators for more than 20 years. That work inspired her to write the New York Times best seller White Fragility: Why It's So Hard for White People to Talk about Race (Beacon Press, 2018), and it's the subject of the keynote address she'll give Monday at BU, sponsored by the Associate Provost for Diversity & Inclusion office.
DiAngelo wasn't raised to think about herself in racial terms, but she has come to understand that she moves through the world with a "most particularly white experience in a society that is profoundly separate and unequal by race."
"People of color from a very early age have to know my reality in a way that I'm very sorry to say, I don't have to know theirs."
A University of Washington affiliate associate professor of education, DiAngelo came up with the term "white fragility" in 2011 to describe the way many white people respond when their assumptions about race (especially their own) are challenged—and how that response continues racial inequality.
In advance of her talk, BU Today spoke with DiAngelo about her book and why she thinks people are more open to racial justice work in the post-Obama era.
BU Today: You write in your book that "white fragility is the inability to tolerate racial stress." Can you talk more about that?
DiAngelo: The fragility part is meant to capture how little it takes to completely unravel us. For many white people, the mere suggestion that being white has meaning will cause umbrage—in particular, generalizing about white people will trigger umbrage.
But the impact of our umbrage is not fragile at all. It's a weaponized defensiveness. It marshals behind it centuries of institutional power, and so the impact is quite profound. We make it so hard for people of color to talk to us about their experiences that most of the time they don't, because it tends to get worse for them when they talk to us, rather than better.
What do you mean when you talk about the difference between people who say they're "color-blind" and those who "color celebrate"?
My area of research is discourse analysis. That's the critical examination of everyday narratives and how they function. In talking to white people day in and day out for years, I see two general categories of everyday white narratives that white people use as evidence that we're not racist—color-blind and color celebrate.
Color-blind is probably number one—that's some version of: "I was taught to treat everybody the same." When I hear that from a white person, there's a bubble over my head saying, "This person doesn't understand basic socialization…this person is not self-aware."
I need to give a heads-up to white people—when people of color hear us say, "I was taught to treat everybody the same," they're generally not thinking, "All right, I'm talking to a woke white person right now."
No one was taught to treat everyone the same.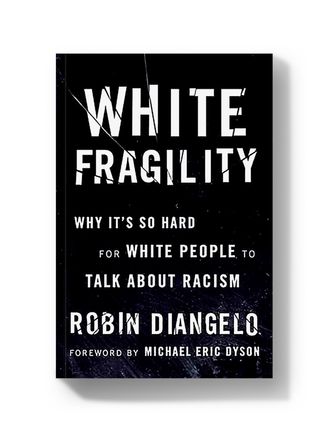 Color celebrate is more popular with white progressives, where our evidence is some version of proximity. We'll say things like, "I have people of color in my family," or "I used to live in New York City," or "I've been to Costa Rica." If this is the evidence that white progressives use to establish their lack of racism, then apparently a racist could not take a trip to Costa Rica or work three cubicles down from a person of color or live in a major city.
How did you get to the point of being able to talk about what it means for you to be white?
I grew up in poverty, under patriarchy… With the feminist movement, I began to have a critical consciousness fairly early about sexism. But I had absolutely no critical consciousness about where I experienced privilege, where I actually colluded with the oppression of someone else. It wasn't until I started working side by side with people of color in racial justice trainings at the same time that I was trying to talk to majority white groups about racism that my eyes were opened. It was a parallel process and it was was profound.
I got a job as a diversity trainer, as we called it in the '90s, and I had no idea what I was in for. The state of Washington Department of Social and Health Services had been sued for racial discrimination, and as part of the settlement the federal government mandated that every employee receive 16 hours of diversity training.
I applied for the job and I thought I was qualified because I was a vegetarian. How could I be a racist? I had that classic white progressive mentality. Here I get this job and I'm working side by side with people of color. They're challenging me to the core of how I saw myself in the world. Part of being white is that I could be that far in my life—I was in my 30s and college-educated—and never before had my racial worldview been challenged.
My whole world was blown open. I was working side by side with some very strong people of color, but also going into these white workplaces trying to teach white people about racism, and the hostility was just jaw-dropping. I was very intimidated and very inarticulate in the face of it, but I hung in there. I had some amazing mentors of color who hung in there with me, and after years and years of work, it became clearer and clearer how we white people manage to claim race has no meaning in a society wholly stratified by race. Over time, I got better at laying it all out.
Then I got my PhD. So I could apply all I'd learned; I went from practice to theory. Now, because I'm older, I have a degree of credibility that allows me to push harder.
Has your racial justice work become any easier now, the post-Obama era, as a lot of people seem to have become more aware of structural and systemic racism and inequality?
Yes. That surprised me because I thought it would be more difficult. I think this thin veneer of post racial-ness in the Obama years was just ripped off. I think a lot of white progressives were in shock, and there is a kind of urgency that I didn't see during the Obama years. That seems to make white people more receptive. At the same time, there is more permission for explicit racism than there was. I don't think that anyone is in denial anymore that racism exists.
You've said that your intention is not to make white people feel guilty and this is not about being a good person or a bad person. Can you expand a bit on that?
As long as we understand racism as individual acts of intentional meanness, we will feel defensive about any suggestion of our complicity. When we understand the systemic nature of racism, however, we understand that our complicity is inevitable. It's actually liberating to start from that premise, because then we can turn our attention to identifying what our complicity looks like and how we might change it.
I don't feel guilt and I do not want other white people to feel guilt. It's a useless emotion, and we are not effective when we feel that way. Quite contrary to guilt, I have found this to be the most intellectually, emotionally, and psychologically rewarding journey I have ever embarked on.
This interview has been edited and condensed for clarity.
In her keynote address, Robin DiAngelo: What Does It Mean to Be White? on Monday, March 4, DiAngelo will explore such questions as What prevents us from moving toward greater racial equity? How does race shape the lives of white people? What makes racism so hard for white people to see? She will speak at the George Sherman Union Metcalf Hall, 775 Commonwealth Ave., from 11 am to 12:30 pm. This event is free and sponsored by the Associate Provost for Diversity & Inclusion office. Register here.