University's Black Graduates Celebrate Community, Togetherness
Alum and Facebook exec tells Umoja audience: "Find the people who lift you up, but keep it real"
When Facebook executive Anthony Harrison arrived on BU's campus nearly 40 years ago as a first-generation college student from Queens, he became part of a group of close-knit friends. And he found community again in his career, whether it was the middle-aged woman who took him under her wing at work or the colleague who showed him how to navigate the workplace as a gay man "before it was cool."
In a speech on Thursday at BU's Rite of Passage ceremony, sponsored by Umoja, BU's black student union, Harrison (COM'81) urged BU's black graduates to embark on a quest to find their authentic selves with fearlessness, curiosity, and openness to others.
"I am who I am because of the many people in the many communities I belong to," Harrison told them. "Find the people who lift you up, but keep it real."
Harrison's keynote address in Jacob Sleeper Auditorium capped a ceremony that honored the accomplishments of more than 85 black students in the Class of 2019. More than 300 people attended the ceremony. The event theme: "Ubuntu," a South African word often translated as "I am because we are."
And it was the "we" that shined at the event. The graduating seniors were called individually to the stage to cheers and applause to accept a kente stole from a family member or friend. The colorfully woven stoles are a symbol of graduates' pride in their African heritage, and they accepted them from teary parents, relatives, and friends. One woman received her stole from her young daughter, another was given hers by Kenneth Elmore (Wheelock '87), associate provost and dean of students.
"This is what black joy feels like," said senior speaker Jordan Exum (COM'19). "Always remember this moment."
Many said sharing the experience of being a black student at BU, which is predominantly white—black students comprise 6 percent of last year's freshman class—helped them build a sense of community and feel less isolated on campus, even though many are from different ethnic and cultural backgrounds.
Featured speaker Jonathan L. Allen (LAW'19) said BU had given them a community of lifelong friends that together would continue to make them stronger. Encouraging students to be change-makers, Allen also announced, to whoops and cheers, that he would be running for Boston City Council in the fall.
"There has never been a time greater than now to make a difference in the world," he said. "Our reach is unlimited."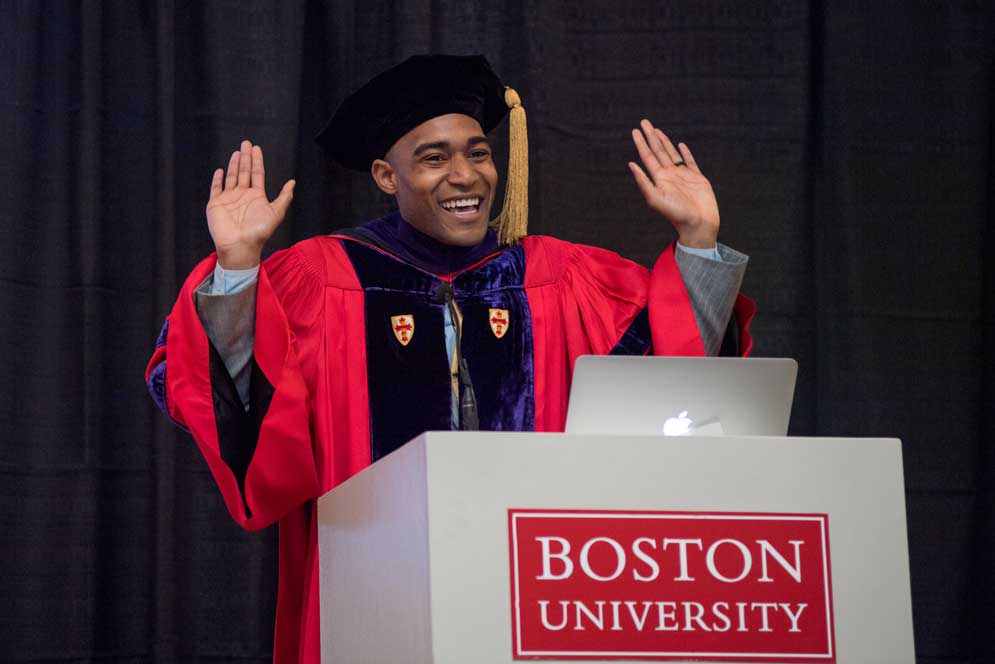 This year's ceremony was the second annual Rite of Passage. Last year, BU's first-ever Rhodes Scholar and former University trustee Richard L. Taylor (COM'71) spoke on the heels of the smash movie Black Panther about BU's long tradition of diversity. He invoked the memory of BU's first president, William Fairfield Warren, who in 1874 predicted that universities would someday admit "all comers, without respect to creed or race or sex," and the late Howard Thurman (Hon.'67), the first black dean at a predominantly white US university when he was appointed dean of Marsh Chapel in 1953.
Donavon Young (CAS'19), president of Umoja, said the group, which takes its name from the Swahili word for unity, helps black students connect across colleges within BU, building a sense of community for students who may have previously lived in largely black communities or attended predominantly black high schools. Membership is voluntary.
"We wanted to incorporate students of color, marginalized students, in a ceremony," Young said. "It's about being able to relish those friendships, those relationships."
Harrison said he was overcome with hope when he looked out over the "black magic" in the auditorium. The event's theme of Ubuntu is a principle that has guided much of his life, he said. With his degree in public relations, he has held senior positions at Verizon, the New York Times Company, Starbucks, Disney, and Microsoft.
"I've done some interesting things, but that only tells part of my story," he said, noting that he is married to a man and has a family that "keeps me humble." He recalled all-night dance parties as an undergrad living in Danielsen Hall, as well as the BU professors who helped lift him up when he felt defeated, challenging him to stay focused.
"I wanted to do this for others whenever I had the chance," he said. "If you don't remember a single thing I say, hear this: starting right now, help each other and everybody you meet in our community to be better."
Students at the reception following the event said Harrison's message resonated with them, noting the major challenges society faces in eradicating discrimination, including higher incarceration rates for blacks than for whites, police violence against blacks, and a newly emboldened white nationalist movement in the United States.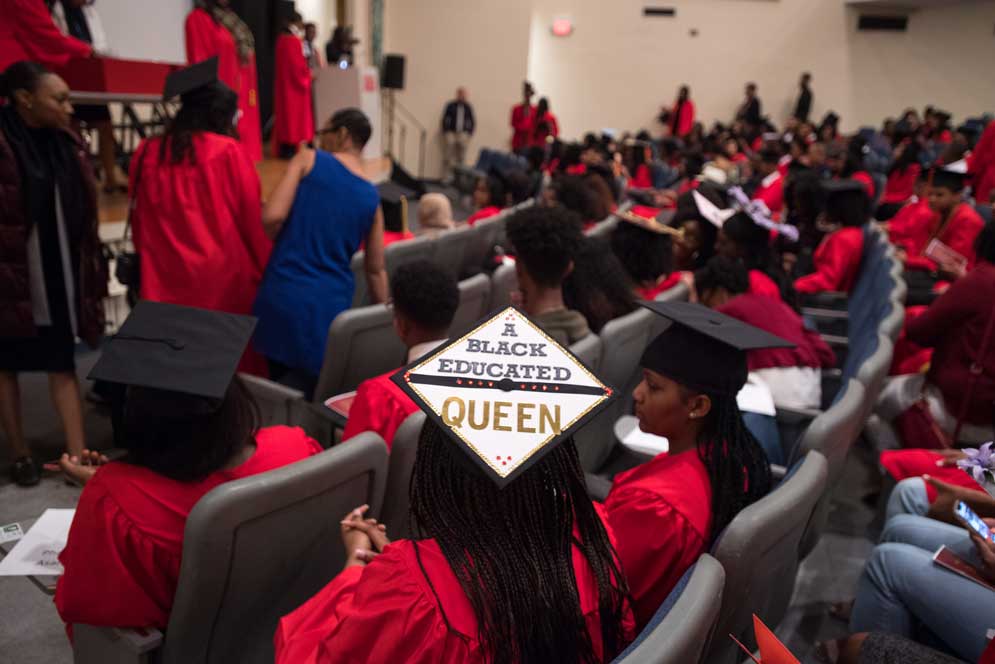 But the day was about celebrating persistence and the pride that comes with accomplishment, said business major Qurubel Asefa (Questrom'19).
"We go through a lot of things people don't necessarily see, and there's a sense of appreciation here for what we go through," Asefa said, looking around at the sea of red graduation robes. "For me, personally, it feels really good."
Computer science major Jade Sessions (CAS'19) said she couldn't think of a better way to celebrate her degree and move into the next phase of her life. She will soon start a full-time job as a software engineer at Goldman Sachs in Manhattan.
"It's hard to navigate private white institutions, and it's tougher to navigate them as a black woman," Sessions said. Then she beamed. "But I've accomplished most of my goals, so this is a joyous space."
Find more Commencement coverage here.
Megan Woolhouse can be reached at megwj@bu.edu.