Teaching Impeachment during an Impeachment Inquiry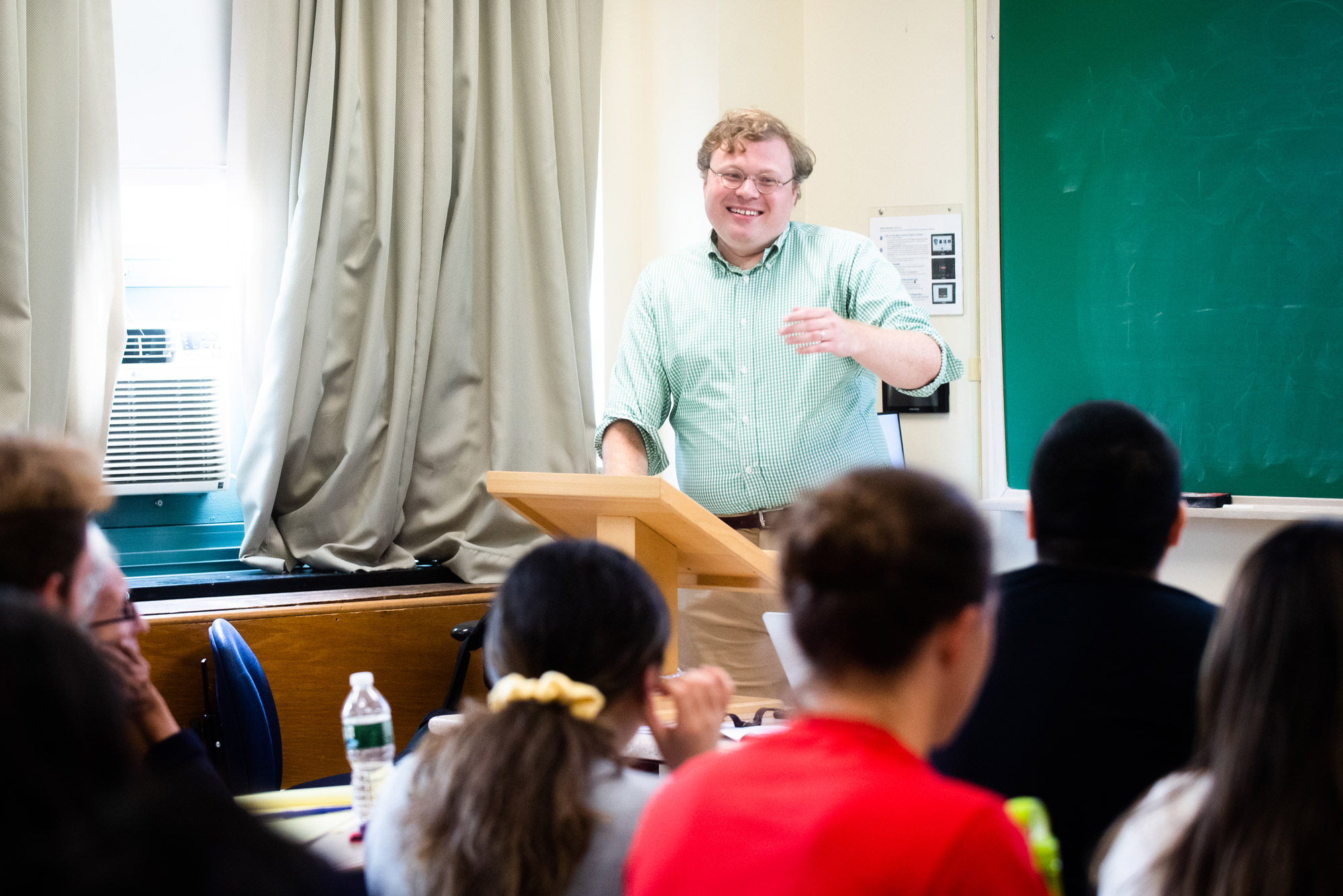 Classes
Teaching Impeachment during an Impeachment Inquiry
CAS historian Andrew David pivots his lecture to teach about American presidential history as it unfolds
Andrew David was a week away from delivering his scheduled lecture on Eleanor Roosevelt and other first ladies in his 20th-Century American Presidency course when another important woman in politics, Speaker of the House Nancy Pelosi, uttered two history-altering words: impeachment inquiry.

So David (CAS'05, GRS'18), a College of Arts & Sciences lecturer in US history, who remembers being riveted in high school by the Clinton impeachment proceedings, ripped up his syllabus. History was being made, tweet by tweet. Eleanor Roosevelt would have to wait. 

Short on time—he and his wife have a five-month-old son—David hustled to put together a new 75-minute lecture, complete with PowerPoint slides, tracing the impeachments of two presidents, Andrew Johnson and Bill Clinton, the almost-impeachment of Richard M. Nixon, and the short-lived push to impeach Ronald Reagan.

Why take on the extra hours of work just to deliver a different lecture to his 50 students?
Because it's not every day a history professor gets to teach about historic moments as they are happening. "It was an opportunity I just couldn't pass up," David says.

So he didn't.

A new lecture

For professors of business, politics, history, economics, ethics, even communication, the Trump administration has provided a bounty of opportunities to teach not just about history from past presidents, but history as it's being made in the moment.

So on a Tuesday in early October, David, in a green-checked shirt and rectangular glasses, paces around the lectern as he speaks, taking occasional swigs from a Coke. "When I signed up to teach this course," he tells his students, "I never thought I'd be teaching about impeachment as an impeachment inquiry was unfolding.

"When Americans talk about impeachment," he says, "there's a lot of confusion over what that means. When the Congress starts impeachment proceedings against Richard Nixon, they do a poll asking Americans what impeachment means for the office. And there are at least some respondents that say, 'Well, what this means is that the person who lost in the 1972 election will become president if Nixon is impeached.'

"Just in case anyone's curious, that's not how it works," David says. "But we'll get to that later."

---

It's easy to think, of course, [Andrew] Johnson will get off, Nixon will resign, and Clinton will be found not guilty. But none of that was clear at the time.

---
He flashes a slide outlining the process. He explains that it starts with the US House of Representatives, where a call for impeachment is either sent to, or originates from, the House Judiciary Committee. "Basically saying—and it could be a whistleblower saying it—that the president is not fulfilling the obligations for office," he says.

What exactly can a president be impeached for? Well, that question has been asked since quill pens were being wielded by the Constitution's authors. One of them, Gouverneur Morris, warned that the document's wording was too vague, David tells his students. More than two centuries later, he says, it's still vague. Congress gets to decide what constitutes "high crimes and misdemeanors."

David keeps the lesson entertaining, sprinkling historical bonbons every few minutes:

Ben Franklin, making his point with a joke, told the Constitution's other authors that if they really couldn't agree on an impeachment option for awful presidents, then—in David's words—"We'll just have to assassinate them."
Morris evidently wasn't devoting all his attentions back in the late 1700s to writing the Constitution. As David explains in class, legend has it that Morris broke his leg one night climbing out of a woman's bedroom window fleeing from her husband.
Speaking of sex, David asks the class what Newt Gingrich and two other top Republicans who led the drive to impeach Clinton for lying about his affair with Monica Lewinsky had in common. The answer: in the midst of that drive, all of them had to confess to their own extramarital affairs.
David asks the class how all this history connects with the latest Trump news. A hand shoots up.

"In all the cases you talked about, once they [the presidents] start to come under scrutiny in this way," Jack Ullrich (COM'21) says, "they kind of chill out as a means to save themselves. But what's happening right now is obviously the complete opposite—where as soon as it started, Trump is just getting angrier and angrier, and, like, more crazy and yelling and tweeting and stuff."

David reacts swiftly. "Very good point! Nixon didn't get aggressive. There were all these fears that he'd concoct a foreign policy crisis." But it didn't happen, and likewise, others presidents facing impeachment went into best-behavior mode, he says. Not Trump.

Class member Julia Dudley (COM'21) asks: "When you elect someone as president, this person is supposed to be the face that represents the United States and its interests, and what the US people stand for." But what if that person turns out to have "very questionable" morals? Even if he has broken no laws, is impeachment an option? "Do we want this person representing our nation as a whole?"

Actually, David explains, Dudley has identified the same issue the nation's founders wrestled with: Congress decides what's impeachable and what isn't. He makes it real by asking: What if the class required each student to bring a cell phone? It's as if the class could impeach any student who forgot.

David plays it straight in class, neither defending nor denigrating the 45th president. But he does have strong views on how the current impeachment drama looks through the lens of history.

He has been reading scholars' and essayists' latest views on the Trump drama, and straining them through the sharp mesh of history.

When critics on the left fault Pelosi for being too cautious or process-focused, David points to two actors in the 1973-74 Nixon impeachment drama: Democratic New Jersey Congressman Peter W. Rodino, Jr., the silver-haired World War II veteran who chaired the House Judiciary Committee, and John Doar, the lanky Wisconsin-born lawyer who quietly built the case against Nixon for Rodino's bipartisan committee.

"It was Rodino and Doar's 'process' that saved impeachment in 1973-74," David says. "There is such a thing as too much caution, but none of this is simple."

To those who suggest that the Democrats could actually boost Trump's flagging poll numbers by trying to impeach him, David advises looking at the few previous impeachments, from Clinton back to Andrew Johnson: "Name me an impeachment inquiry that wasn't full of political risk. Even the slam dunk of 1867 was fraught."

David also warns his students not to assume they know how this movie ends. That's not what history teaches us.

"It's easy to think, of course, [Andrew] Johnson will get off, Nixon will resign, and Clinton will be found not guilty. But none of that was clear at the time," he says. "And the actions of the people involved helped shape these outcomes."

David has been, in his words, "a jack of all trades" in the history department, teaching courses on race, civil rights history, and diplomatic history, as well as on the presidents. So he's used to turning on a dime, and more so now as a dad: as part of his course preparation this fall, David watched tapes of the Kennedy-Nixon TV debates while taking care of his baby boy. ("He shows good judgment," he quips—"he got a bit agitated during one of Nixon's longer answers.")

David doesn't remember exactly when the history bug first bit him—just that it was before high school. "It's a lifelong fascination I've been lucky enough to turn into a profession," he says.

He is mindful that the ranks of college history majors have thinned in recent years. And that's another reason he likes to convert real-time events like the impeachment inquiry into fresh fuel for his teaching—even if it means reshuffling the syllabus for HI 283: The 20th-Century American Presidency to make the first ladies wait.

"I try to make those modern connections in my courses to show how the past is rarely ever past."