Sammy Davis: Triumphant Return to the Ice
After missing last year to injury, women's ice hockey tricaptain is having a career season
When the unranked BU women's ice hockey Terriers (13-6-5) faced off against number eighth-ranked Providence College earlier this month, a win looked like a long shot. But tricaptain Sammy Davis (CGS'17, Sargent'19) was undaunted, delivering a give-and-go with forward Jesse Compher (CGS'19) to score the first goal of the game. Just a minute later, Davis swerved around the defense to smack in another goal.
Those two goals not only tied, then broke, a personal single season scoring record for the 5'4" forward, but also catalyzed the Terriers to a 5-3 win over the Friars. Davis currently leads the team with 15 goals, a notable feat by any measure, but especially given that she spent last year sidelined from the sport she's loved since she was a kid.
"Ever since I could walk, I was on skates," says Davis, who started figure skating as a five-year-old, moving on to hockey the next year. The Pembroke, Mass., native played four seasons at Tabor Academy, earning the John Carlton Award from the Boston Bruins for athletic and academic excellence. In 2015 she was an assistant captain for the US Under-18 Women's Hockey Team, which won gold at the IIHF Women's World Championship.
Not surprisingly, she quickly drew the attention of nearby BU.
"The recruiting process was all over the place. I was definitely looking at a bunch of different schools," Davis says. But after receiving handwritten letters from women's hockey head coach Brian Durocher (Wheelock'78) during sophomore year, she knew BU was the right fit. Growing up, she had attended hockey camps at the University, and "when BU contacted me," she says, "I didn't have to think about it…. I went to visit a few other schools, but in the back of my head, I was like, this is where I'm gonna end up."
Davis made an immediate impression as a Terrier, notching 17 goals freshman year, finishing as runner-up in the 2015–2016 Hockey East Rookie of the Year polls and earning a place on the Hockey East All-Rookie Team.
A pain that wouldn't go away
But the next season Davis began to experience intermittent pain in her hips. She thought it was just soreness, but it didn't go away. She tallied just seven goals that year and occasionally required extra time with the athletic trainers.
But she didn't let on how much pain she was in.
"Sammy's such a competitor and a driven kid that she never made it a big issue, and hence, we couldn't read her mind," Durocher says.
By summer, the pain had become constant. She had trouble driving, and was uncomfortable sitting for any extended period. She realized something had to change. "That's when I decided that I wasn't happy anymore," Davis says. "I knew that if I played hockey my junior year, and I wasn't the best I could be for the team or be in the best shape and be comfortable in my body, then I wasn't gonna be happy."
Soon after that, she was diagnosed with a bilateral hip labral tear, an injury that could be treated with either rehab or surgery. Rehab would allow her to continue playing, but with a lot of pain and discomfort likely. Surgery would mean she'd miss the entire 2017–2018 season.
Davis felt she was letting her teammates down, but Durocher urged her to take the long view: "The next two years aren't what's driving the bus here," Durocher told her. "It's the next 50 years."
Davis underwent surgery in July 2017.
"I think being an athlete, the physical part in coming back, that's the easy part," Davis says now. "It's not easy, but it's just like another bump in the road, just another thing to tackle."
But the mental part? Another story. "I think people don't really realize that if you're sitting up in the stands watching more than 30 games, just watching them, it's not fun to feel like you're not a part of anything and like nobody knows what you're going through," she says.
During her recovery, Davis spent early mornings working with assistant coach Liz Keady Norton to regain her strength on the ice and be ready to return to play.
Without hockey, she poured her energy into her studies, but success in the classroom didn't completely make up for the void left by not being able to play the game she loves. "When you get a good grade back, it's just so different from winning a hockey game," she says. "Everybody gets a different high, and I guess hockey is mine."
The longer she was sidelined, the more restless she felt. She didn't know where the team needed her or when she'd be able to start skating again. "I felt like my identity was taken from me, but I had to replace it with something else. I had to find peace with not playing and be comfortable with not being around hockey."
Although eventually, Davis managed to do that, she couldn't hide her excitement when her long-awaited return to the ice came this fall.
"Wow, it's really here," she says she told herself. "I've waited like a year and a half to play, and I'm finally getting to play."
A career season
Since her return, the redshirt junior is having a career-making year. She's played every game, and with her 15 goals, is ranked 17th nationally in points per game. And she's relishing every moment.
"My freshman and sophomore year I put way too much stress on myself," Davis says. "I just thought about stuff, and it was way too much in my head. This year, I'm just trying to let everything go, relax, and enjoy it…. At the end of the day, it's just a hockey game, and if you put too much pressure on yourself, then it's not gonna be fun."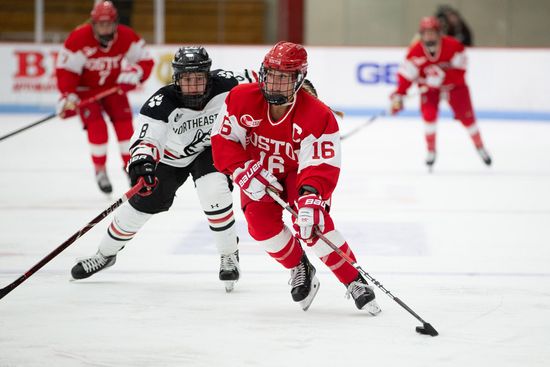 And as tri-captain, she says, she's trying to help build a team culture defined by acceptance and hard work.
So far, her efforts have paid off. "At first, I was scared to be on her line, just because she's older and she's so good," says forward Mackenna Parker (CAS'22). "But she's always encouraging, and she doesn't act like she's older. Everybody's part of the team, and that's her mind-set. It's awesome."
Davis plans to pursue a career in occupational therapy, a field she developed a passion for after being treated for an earlier hand injury. She was recently accepted to the master's program at Sacred Heart University, but she hopes to stay at BU (she's waiting to hear whether she's been accepted into Sargent's OT doctoral program).
"I want to play hockey here next year," she says. "I'm probably going to…get my master's in public health or special education here."
But for now, Davis says, it's hockey that's on her mind. The annual Beanpot Tournament is just over a week away. A win by BU would be a first for the program since becoming a varsity sport in 2005.
"I remember watching last year's game from the stands, when they made it to overtime with BC," she says. "I was on the edge of my seat. I've been waiting for a year and a half now, and watching the games last year was pretty tough. I'm just so excited to play in the Beanpot against all the Boston teams."
The BU women's ice hockey team hosts Merrimack on Friday, January 25, at 7 pm, at Walter Brown Arena, 285 Babcock St. Admission is free for students with a sports pass, $5 for faculty, staff, and students without a sports pass, and $8 for the general public. The game will be broadcast live on NESN.
Jonathan Chang can be reached at jchang19@bu.edu; follow him on Twitter @jonathanychang.