Rebound Year Has BU Women's Hoops Thinking Big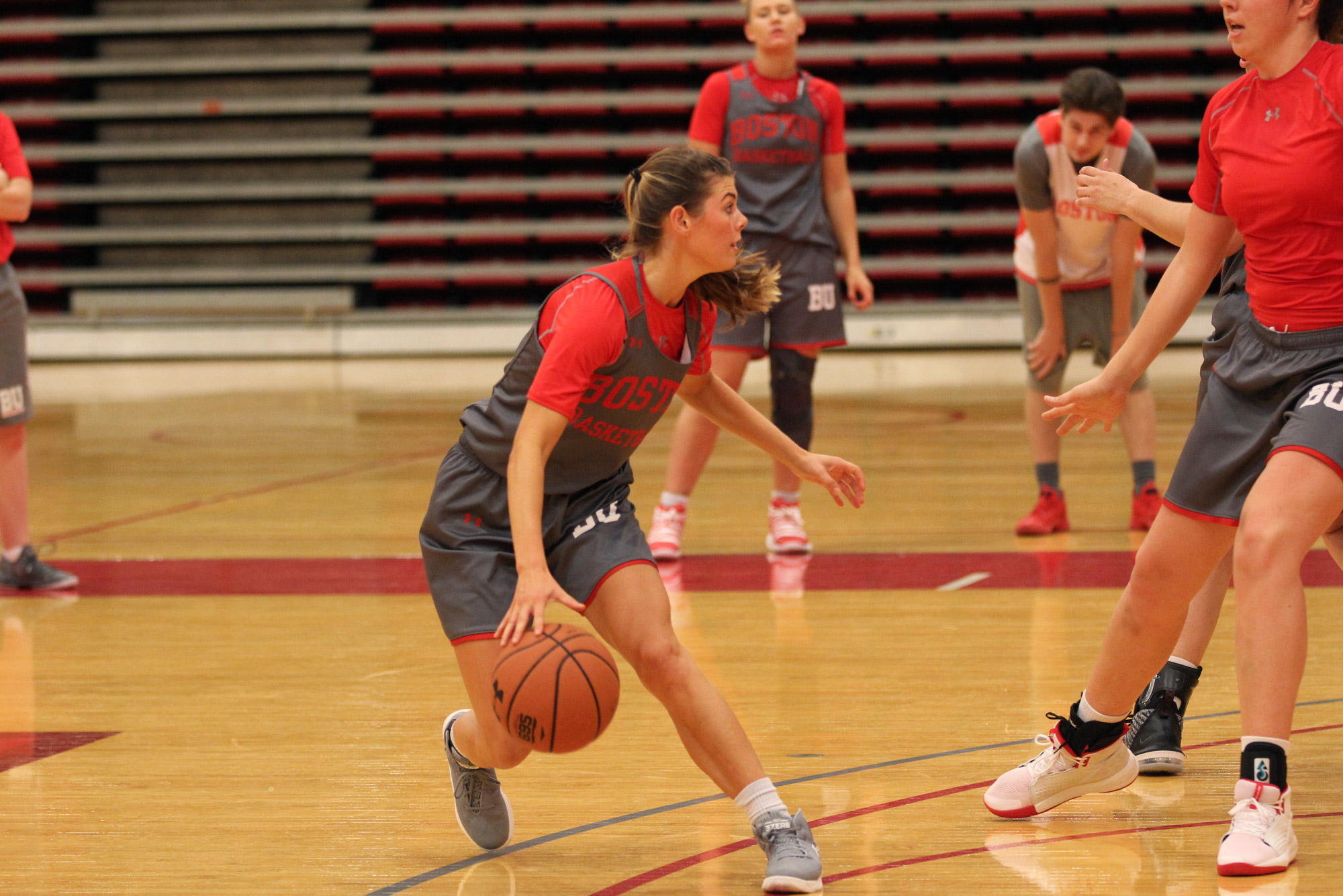 Basketball
Rebound Year Has BU Women's Hoops Thinking Big
Second-year head coach Marisa Moseley and her team set high expectations after winning season
Katie Nelson has played nearly every minute of every game during her two years with the BU women's basketball program, and that shouldn't change this season. But who Nelson (CGS'19, Questrom'21) passes to, as the team's point guard, may look a lot different this season.

As Terrier women's hoops opens the 2019-2020 campaign on Friday night against Marist College at Case Gym, Nelson and her teammates are thinking seriously about a goal that only a few years ago didn't seem realistic: a Patriot League championship.

But that's what a new coach—and a turnaround season like last year's—can do for a team's confidence.

"That's a goal that not only myself, but collectively, the whole team has," Nelson says. "Every single one of us has bought into that, and we're all about having the championship mentality."

The left-handed point guard and Third Team All-Patriot League pick last year is one of three returning starters—and one of three returning players who played significant minutes. Nelson averaged 10.3 points and 3.7 assists per game. Nia Irving (Sargent'20) and Riley Childs (CGS'20) also played key roles last year. 

Now in her second year as head coach, Marisa Moseley (CAS'04), who left an assistant coach position at women's basketball power UConn to come to BU, guided the Terriers last season to a 15-14 overall mark that included finishing 11-7 in Patriot League play, but also a disappointing 72-70 loss to Holy Cross in the league tournament quarterfinals. With BU picked in the Patriot League preseason poll to finish fourth this year, there is excitement building around the team. The roster includes five freshmen and a transfer, and newcomers will be asked to blend quickly on court with Nelson, Childs, and Irving.

"It's incredibly valuable to have those three, especially in the roles that they're in and the positions that they're in," Moseley says.

Irving, a two-time All-Patriot League selection, is one of the league's best post players. With 11.8 points and 8.5 rebounds per game, she nearly averaged a double double last season. Moseley describes Nelson as the quintessential point guard: "a coach on the floor." Nelson played the entire 40 minutes of 12 games and averaged 37.9 minutes per game last season, seventh most in the country. Childs emerged as a strong wing with a tenacious drive during her freshman campaign.

Injuries forced BU to play a rotation of six players for the majority of last season. Three of them, Payton Hauck (ENG'19), Lauren Spearman (Sargent'19), and Naiyah Thompson (CAS'19, Sargent'19) graduated, leaving openings for playing time.

"I feel like we're a really confident group right now," Moseley says. "We have some depth. More depth than we had last year, and knock on wood, we've been relatively healthy."

Nelson, Irving, and Childs provide the experience and stability necessary to develop the newer players. Nonetheless, with 13 healthy players, it's a new-look team. "There're a bunch of different combinations we can go with," Moseley says. "It's created a really great environment of competition at practice, because there isn't a set anything." 

---

It's just having a mind-set of demanding more of yourself and really giving 100 percent of everything that you're doing in the moment, learning how to compartmentalize where you are in each part of your day, and focusing everything on that.


---
This year's team has a different look for Irving, who spent the summer at an internship in Washington, D.C., and returned to a squad with a majority of different players. Classmate Vanessa Edgehill (COM'20) was away for the summer doing an internship as well. The team's lone seniors began practices a bit unsure of what to expect, but they approach game play with a tinge of excitement.

"We didn't really get to have that time to kind of learn how to play with the team and everything, so I came in here thinking that things might be a little different than they were last year," Irving says. "Honestly, I've seen a tenfold improvement from where we are now to where we were last year, so I don't necessarily think things are different."

With Moseley at the helm in year two, relationships between players and coaching staff continue to grow stronger. Building camaraderie is one of Moseley's goals; she has implemented a "Coffee with coach" program, where players meet with her one-on-one for 30 minutes at a coffee shop of their choice to talk about life outside of basketball.

And for a championship mentality, Nelson says, it's all about focus.

"It's just having a mind-set of demanding more of yourself and really giving 100 percent of everything that you're doing in the moment," she says, "learning how to compartmentalize where you are in each part of your day, and focusing everything on that."

Event Details
Women's Basketball vs. Marist
The BU women's basketball team opens the season against Marist College. Tickets are $7 for the general public, $6 for faculty, staff, and students without a sports pass, and free for students with a sports pass.