How Good Are Brookline's New E-Scooters? Our Interns Took Them for a Ride and Tell You What You Need to Know
Transportation
How Good Are Brookline's New E-Scooters? Our Interns Took Them for a Ride and Tell You What You Need to Know
The town of Brookline, Mass., is conducting an eight-month pilot program for shared electric scooters
The cost is between 15 cents and 25 cents a minute, depending on which of the two makes of scooters you use
BU Today interns take them for a spin and offer advice on what you need to know
---
This past April, the town of Brookline, Mass., became the first in the commonwealth to launch an electric-powered scooter pilot program, using e-scooters from two California-based companies, Lime and Bird. The scooter program operates like a bikeshare. It's easy to use: you download an app on your smartphone to find a scooter, unlock it ($1 to unlock), then pay an additional per-minute fee, 15 cents for a Bird scooter, 25 cents for a Lime. Users must be 18 or older. The program is designed for use within Brookline, but users can travel beyond town boundaries, although they may be fined for parking or leaving the scooter in a municipality that does not participate in the program. The trial run is scheduled to end in mid-November.

BU Today wanted to find out how good the program was. How easy is it to find a scooter? How well do the apps work? Is a Lime scooter preferable to a Bird scooter or vice versa? And most important, how much fun are they to ride?

To answer those questions, we asked our summer interns to take the scooters for a spin. Some chose to run errands; others simply went for a joy ride around campus. Here's what they discovered.
Sophomore Nathan Lederman (COM)
Scooter used: Lime-S scooter
Where I started: Corner of Beacon Street and Hawes Street

Where I went: I initially took the Lime-S scooter from Beacon Street over to the Brookline Public Library and enjoyed the experience so much that after next trying a Bird scooter I hopped back on a Lime-S and rode an additional 7.5 miles to Newton Centre.
Miles traveled: 9.5
The experience: I had heard a lot about e-scooters before trying Lime, but I had never understood the buzz. It only took two miles on the Lime two wheeler for that to change. The Lime-S is steady, easy to maneuver, and all-around user-friendly. The Lime scooter included a built-in speedometer and a manual brake on the left handle bar similar to what you'd find on a bicycle. I could continue raving about Lime, but from experience I know it's better to just urge you to try it for yourself.
Cost: $29.75
Grade: A
---
Scooter used: Bird ESB and Bird Zero
Where I started: Longwood area
Where I went: Public Library of Brookline, 361 Washington St.
When we initially tested out Lime's and Bird's scooters in Brookline the only Bird model we saw was the ESB. However, Bird recently introduced a newer model called the Bird Zero, so we all went back and tested those as well. While none of us liked the Bird ESB, we all found that the Bird Zero was comparable to the Lime scooters in both ease of use and sturdiness.
On my first Bird ride, using the ESB, I consulted the app and found the nearest available Bird scooter in the middle of a parking lot near the Brookline Public Library. The scooter showed a battery life of 50 percent, so I planned on riding it from Brookline to Newton Centre following the MBTA Green Line. However, I was forced to abort the trip because the battery had drained to 14 percent after less than a mile and a half.

Following the release of the Bird Zero in Brookline I took a similar ride on the newer model.
Miles traveled: ESB: 1.4; Bird Zero: 1.5
The experience: The ESB scooter is smaller than the Lime-S, which made it feel less steady. There is also no speedometer, which makes you feel less in control of the scooter.
Fortunately, the Bird Zero experience was much more enjoyable. The newer model feels steadier because it's a bit larger, and it has a speedometer, a welcome addition. The ESB's switch-like brake has also been replaced by a grip brake similar to the Lime-S. Overall, riding a Bird Zero is a far better experience than riding its predecessor.
Cost: Bird ESB: $3.75 (16 minutes); Bird Zero: $5.26 (25 minutes)
Grade: Bird ESB: C; Bird Zero: A

Abby Freeman (COM'19)
Scooter used: Lime-S scooter
Where I started: Corner of Beacon and Carlton Streets
Where I went: I rode from South Campus to FitRec to see how a commute to campus would work on the scooter.
Miles traveled: 1.6
The experience: I had already used a Lime scooter before this assignment. However, my past rides were typically short—only about half a mile, so I was looking forward to seeing how a longer ride would feel on Beacon Street. I entered my payment information in the Lime app and found the process very straightforward. I scanned a code on the scooter that identifies it within the app by using the camera on my phone, and shortly after heard a chime sound as a small screen between the handlebars lit up. I could see that the scooter was fully charged and that I would be able to check my speed on the screen while riding.

The Lime scooter takes off quickly with one push. Because its handlebars reached up to just below my chest, the scooter felt sturdy under my feet, even when I was traveling over uneven surfaces on roads and sidewalks. My average speed was about 11 miles per hour: after I was feeling more confident, I went as fast as 15 mph. Lime's boundaries did not allow me to park on the FitRec side of Comm Ave since it's in Boston not Brookline, so I parked nearby on St. Paul Street and walked across Comm Ave. Overall, I was very pleased with the ride, but was surprised when I saw the cost. I remembered that I had the meter running on the scooter while taking photos with my fellow interns, but considering that I traveled just over 1.5 miles, the price felt a bit steep. I recommend not activating your scooter until you're about to begin your ride: remember, Lime charges for time, not distance.
Cost: $9 (25 cents per minute)
Grade: A-

---
Scooter used: Bird ESB and Bird Zero
Where I started: Amory Street
Where I went: BU Today office (43 Hawes St., Brookline)
Miles traveled: 1.3
The experience: After leaving FitRec, I was lucky to discover a Bird scooter available close by, on Amory Street. Looking at the app, there were far fewer Bird scooters available than Lime in the area when I left Brookline earlier that morning. Bird's setup is similar to Lime's—however, Bird requires riders to start with $5, $20, or $50 and chip away at that total with each ride, rather than pay as they go. For someone on a budget, this feels like a bit of a trap, because your balance automatically renews once it is used up, even if you go over by only a few cents.

The wheels on the Bird ESB scooter were smaller than those on the Lime scooter and didn't handle bumps and uneven surfaces with the same ease as the Lime scooter. The handlebars were also much lower, making me feel less in control. I still felt safe, but didn't appreciate that I was unable to see what speed I was riding at (no speedometer, unlike the Lime scooter). As an experiment, I rode into the Fenway area onto Park Drive to see whether I could still ride the scooter outside of Bird's boundaries. As soon as my wheels hit Park Drive, I heard a beep and felt the scooter slow down. A notification from the app on my phone told me that I was outside of the boundary and that the scooter would resume normal speed once I was back within Brookline. I understand that this is designed to keep riders inside town limits, but it seems unreasonable that riders cannot travel outside the boundary as long as they don't park the scooter there.

Following the same route using the Bird Zero, I found the handlebars were much closer to the height of those on the Lime, and the wheels were also larger, which made me feel more secure. The scooter rolled smoothly over T tracks. However, going uphill, it slowed to about 5 mph, which was nerve-wracking as cars sped by. It would be great if the scooter could travel more quickly uphill so riders aren't in danger of getting hit by other vehicles in the bike lane behind them.

Cost: Bird ESB: $6.30; Bird Zero: $2.68
Grade: Bird ESB: C; Bird Zero: B+
Sophomore Rusty Gorelick (COM)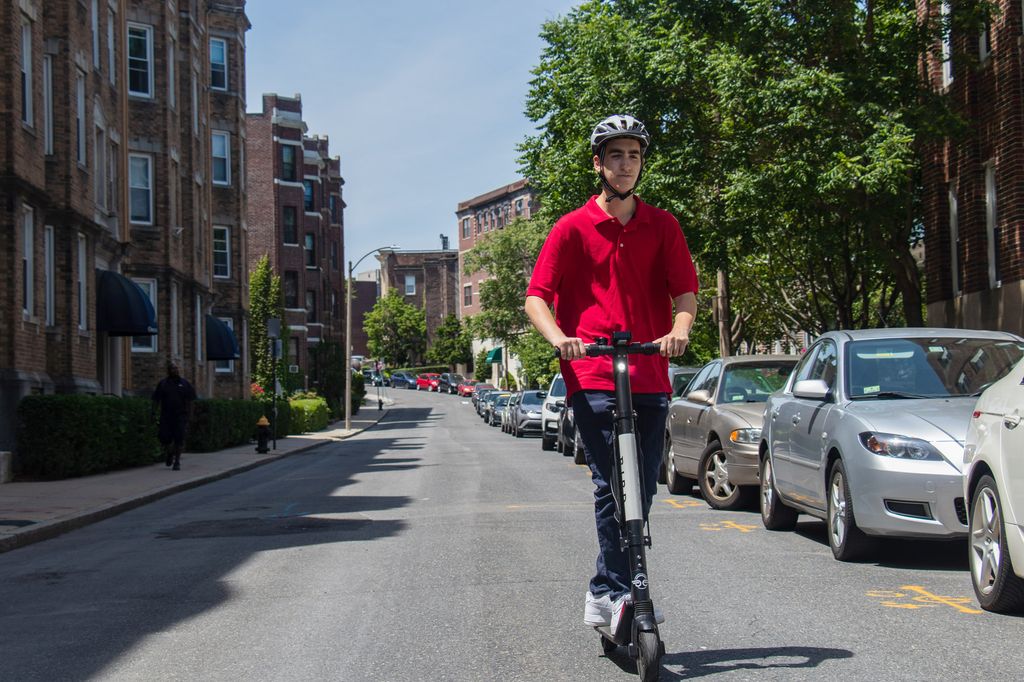 Scooter used: Lime-S scooter
Where I started: Corner of Tappan and Beacon Streets
Where I went: Corner of Beacon and Hawes Streets
Miles traveled: 1.7 miles (13 minutes)
The experience: I had a smoother experience on the Lime scooter than on the Bird ESB. I did the math and the Lime would have cost $17.30 if I had ridden it as long as I rode the Bird, so it is also less expensive. Lime scooters don't have the back foot brake that Bird scooters do, but the hand brake functions like that of a bicycle, so it feels more familiar and allows the scooter to stop more gently than the hand brake on the Bird ESB. The speedometer is both cool and helpful. The main issue I had with the Lime was that it felt like the vehicle wanted to come out from under my feet when I hit the accelerator to try and go more than 8 mph, but once I gained some momentum, that problem went away.
Cost: $4.25
Grade: B+
---
Scooter used: Bird ESB and Bird Zero
Where I started: Corner of Beacon and Hawes Streets
Where I went: Cleveland Circle
Miles traveled: 1.76 miles
The experience: During my first trip using a Bird (the ESB), I had to use two different scooters since the first one went too slowly because of a mechanical issue. The accelerator did not make the scooter lurch too much (a problem I did encounter using the Lime scooter), but the button-like brake made it stop abruptly. Additionally, the ESB handlebars felt like they were positioned too low, which made me feel less secure and made the Bird ESB harder to handle than the Lime.

The Bird Zero proved much easier to use: it felt almost identical to the Lime scooter. Bird dispensed with the button brake and replaced it on this model with a handbrake, which felt more familiar and easier to operate. But when I tried to reach 15 mph—the scooter's top speed—the front wheel made a grinding noise. The handlebars on the Zero made me feel more secure than the ones on the ESB, because they are higher and thus easier to hold onto. The app makes customers preload money onto their account in increments of $5, $20, and $50. If you exceed that amount, even by a dollar, the app automatically charges another $5, $20, or $50 to your card. The app gives the option to turn off the automatic reload feature, but it's not prominently placed on the app, especially for those setting up their accounts for the first time.

Cost: Bird ESB: $4.07; Bird Zero: $3.13
Grade: Bird ESB: D+; Bird Zero, A-
Graduate student Lindsey Vickers (COM)
Scooter used: Lime-S scooter
Where I started: Coolidge Corner, near Trader Joe's
Where I went: I rode towards Fenway and along Brookline Avenue. I parked the scooter just outside the town of Brookline boundary.
Miles traveled: 2.6
The experience: I really enjoyed using the Lime scooter. The baseline cost, at 25¢ cents per minute, is 10 cents more than Bird Scooters. The deck of Lime scooters is wider, making them more comfortable and easier to use, especially for longer rides. From what I've seen, they are also easier to find than Bird scooters. One drawback: I had to type in the unlock code because the QR code was unreadable. I parked the scooter outside city boundaries to see what the fee would be for parking it in Boston, and did not receive an additional charge.
Cost: $6.75
Grade: A-
---
Scooter used: Bird ESB and Bird Zero
Where I started: The MBTA Green Line C trolley stop at St. Mary's Street
Where I went: I went to Trader Joe's in Coolidge Corner to pick up a few groceries, and from there to Beals Street, off of Harvard Street.
Miles traveled: 1.5
The experience: During my first foray on a Bird scooter (the ESB) I had to use several different scooters because the first two I tried were painfully slow. I wrote customer service later and they responded: "Oops! Sounds like slow-mode. Go ahead and double-tap the power button on the center of the handlebar to toggle between speed modes…" It's great that the Bird scooters have different modes, but that isn't clear in the app's quick tutorial on using the scooters. I also didn't particularly like the braking toggle on the handlebar. It was less apparent than the brake on Lime scooters. Additionally, the deck (where you place your feet during the ride) was narrow.

My experience on the Bird Zero was significantly better. The brake was far easier to use, and more obvious. This new version can really cruise; I hit over 20 mph on a slight downhill incline. The Zero also has a QR code that's easier to scan and less likely to be defaced and become unreadable. The deck is larger on these scooters, a definite plus. Going over bumps and/or branches was rough, especially when traveling at higher speeds, so be mindful of road conditions and slow down in advance. The experience of riding the Zero significantly improved my opinion of Bird. I would suggest avoiding the older model and looking for the newer one, which has a white box attached to the front.

Cost: Bird ESB: $15.50 (total for four separate scooters and rides, given the slow mode and changing scooters after stopping at the grocery store); Bird Zero: $5.20
Grade: Bird ESB: D; Bird Zero: A-

Find more information about Brookline's shared electric scooter pilot program here.