It's Late at Night, You're Hungry: Where Can You Go?
The best places around campus to grab an after-hours bite
Food
Late-Night Dining around Campus
The best places at or near BU to grab an after-hours bite
Maybe you grabbed an early dinner or had to skip it altogether to cram for an exam or finish a presentation. It's now midnight or later and your stomach starts to rumble. The dining halls closed hours ago. Where do you go? The good news: there are a number of places on and around campus that will cater to your late-night/early-morning hunger pangs. Take a look.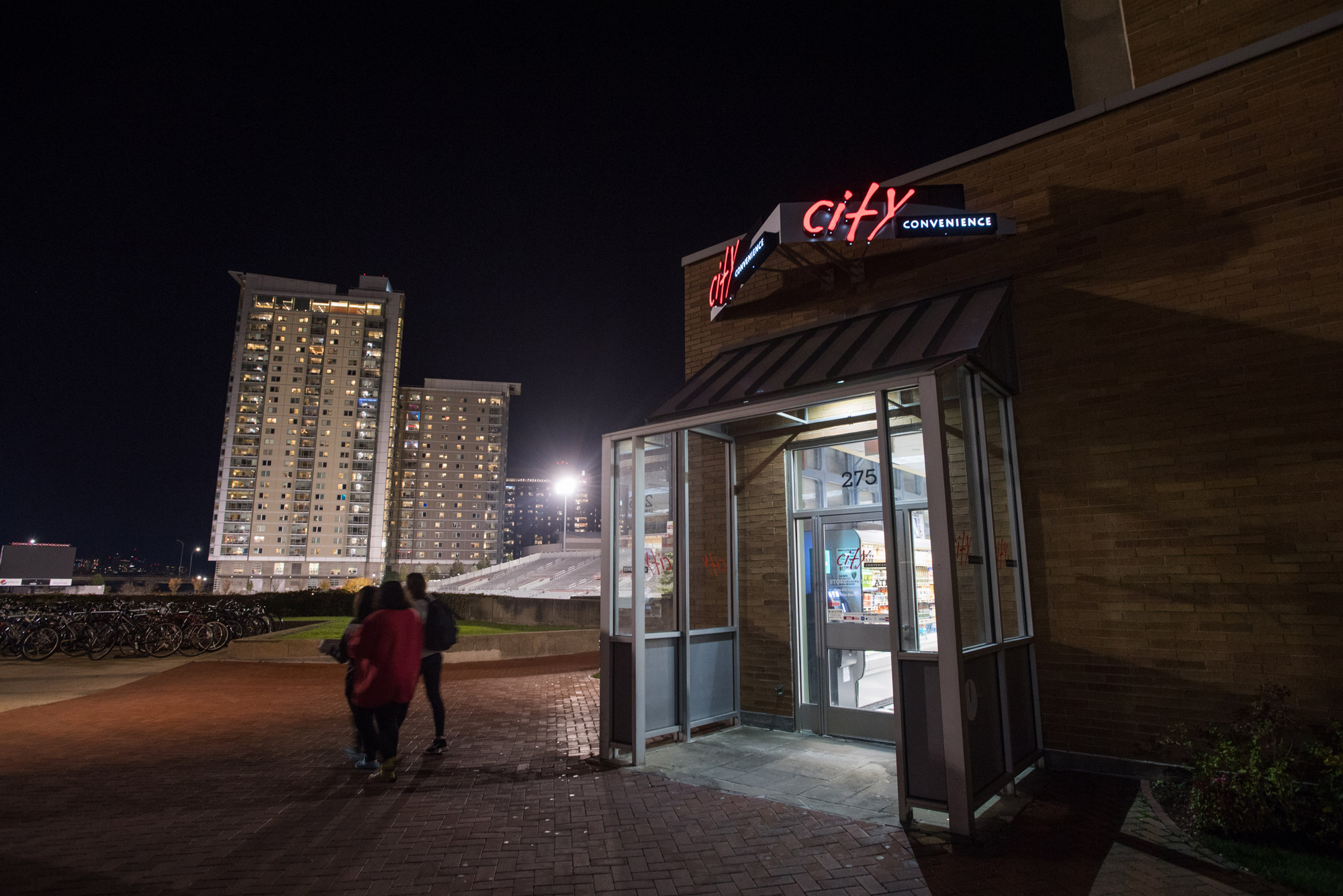 Warren Towers, 702 Commonwealth Ave.; Sleeper Hall, 275 Babcock St.


Have a late-night sugar craving? Need something nourishing you can zap quickly in your microwave? These two convenience stores are, well, convenient for stocking up on junk food, soda, microwaveable meals, frozen treats, and cereal. Best of all, they're open late to accommodate those after-hours munchies.
Hours: City Convenience at Sleeper Hall is open daily until 1 am and at Warren Towers is open Sunday through Thursday until 1 am, Friday and Saturday until 3 am.


Just across the street from Fenway Park, you'll find one of the city's favorite burger joints. Tasty Burger keeps its grill going until the wee hours of the morning, offering all manner of delicious combinations for $6.50—from the Big Tasty (cheese, lettuce, pickle, red onion, tomato, and Tasty sauce) to the Rise 'n Shine (cheese, fried egg, and ketchup) and beyond.
Hours: Open daily until 2 am.

Bay State Underground, in the Yawkey Center for Student Services basement, is now two distinct cafés: Bay State Underground serves up classic comfort food like burgers, fries, chicken fingers, brick oven pizzas, and more. The recently opened O-Mori Ramen Bar offers a modern twist on classic ramen noodle bowls, letting diners create their own bowls. Customers can eat in or take out, and there's plenty of comfy seating for late-night lounging or studying.
Hours: Sunday through Wednesday, 7 pm to midnight, Thursday through Saturday, 7 pm to 2 am.

In 1943, Uno Pizzeria & Grill founder Ike Sewell allegedly created the first Chicago deep-dish pizza. Since then, Uno has grown into a chain with nearly 100 restaurants. Deep-dish pizzas remain its specialty: options include the Chicago Classic (extra cheese, extra sausage) and the vegetarian Farmer's Market (caramelized onions, spinach, tomatoes, eggplant, pesto, and feta). Don't feel like a pizza? Also on offer is a wide range of pasta, seafood, steaks, burgers, soups, and salads. There are even options for those who are gluten-intolerant.
Hours: Open daily until 12:30 am.

The Warren Towers Late Nite Café, BU's original, opens a half-hour to an hour-and-a-half after the Warren dining hall closes each night. Famous for its BU Platter—a plate of fries, mozzarella sticks, and chicken fingers ($7.99) (great for sharing)—the café also offers a large selection of wings, sandwiches, quesadillas, and smoothies. You can even order a stack of pancakes. And for those craving something sweet, it has a small selection of ice cream and candy.
Hours: Monday to Thursday, 10:30 pm to 1 am, Friday to Sunday, 9:30 pm to 1 am.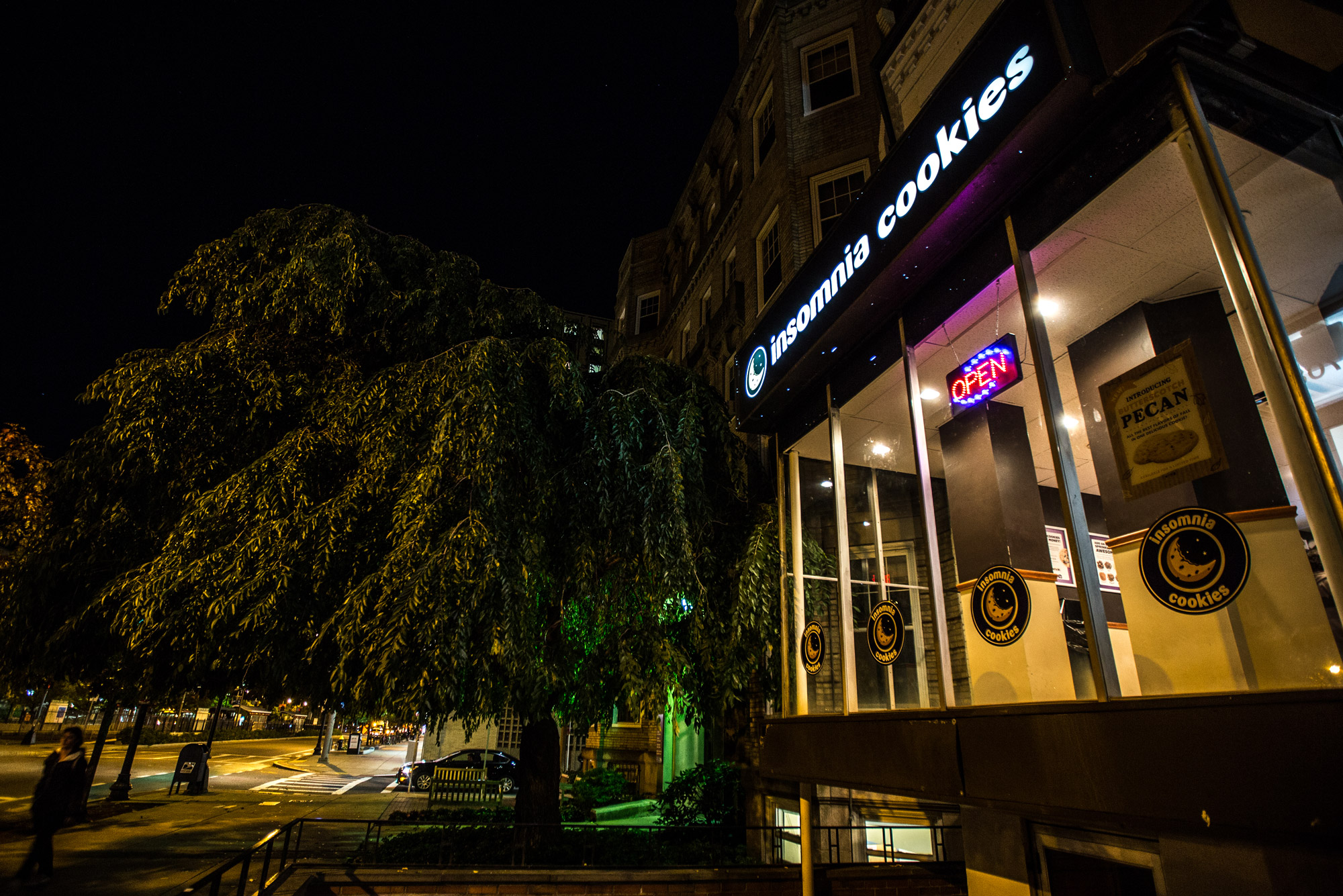 Few desserts are as iconic—or as comforting—as a freshly baked chocolate chip cookie. Don't have an oven of your own to whip up a batch? No worries. Insomnia Cookies is the answer. In addition to chocolate chip, you can stock up on sugar, oatmeal raisin, and s'mores cookies, chocolate-chip brownies, and more. Best of all? In addition to being open late, Insomnia will even deliver if you live nearby.
Hours: Sunday through Thursday until 3 am, Friday and Saturday until 4 am.

Founded in Portland, Maine, in 2009, Otto Pizza has earned a reputation for imaginative pies. Think mashed potato and bacon or three-cheese tortellini. And yes, you can still get a slice of plain cheese or pepperoni to go.
Hours: Open daily until midnight.
This affordable Mexican establishment won BU Today's inaugural Lunch Madness tournament in 2016, where we asked members of the BU community to vote for their favorite lunch spot. New owners took over the restaurant in January 2019, adding new dishes, daily lunch and dinner specials, and homemade salsas and sauces. Its expansive menu includes monstrous portions of nachos, wings, ribs, and more, and they are available well after most places have closed, making it an ideal spot for a group looking for a late-night gnosh.
Hours: Sunday until midnight (food served until 10:45 pm), Monday through Thursday until 1 am (food served until 11:45 pm), and Friday and Saturday until 2 am (food served until 12:45 pm).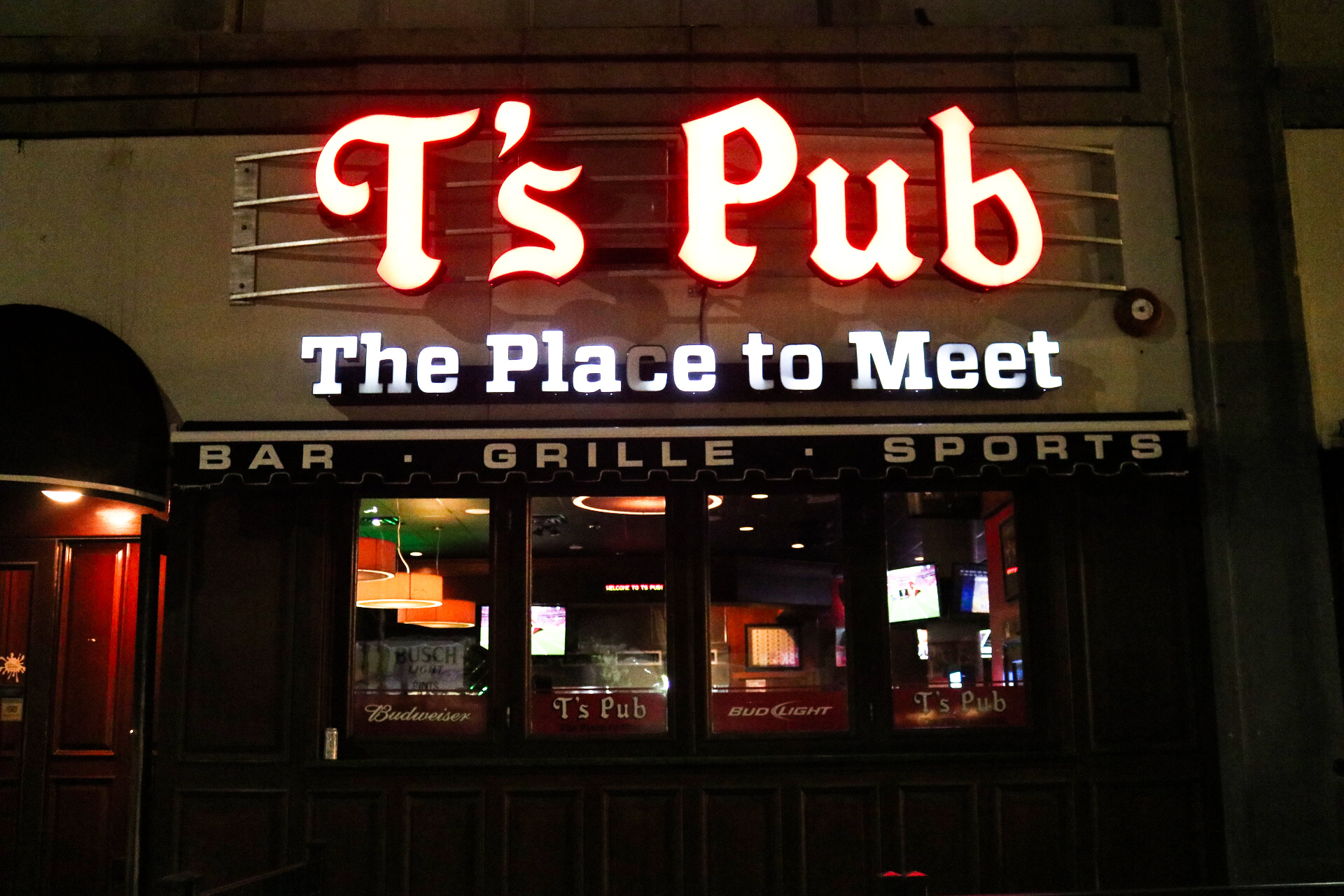 Whether you're looking to catch a Boston sports game or grab a late-night bite, T's Pub on West Campus has you covered. T's is popular with students and residents alike. The pub boasts a great selection of wings, burgers, sandwiches, and salad bowls. If you dare, try the Terrier wings: their house-made habanero sauce makes them "fiercely hot."
Hours: Open daily until 2 am (food served until 11 pm).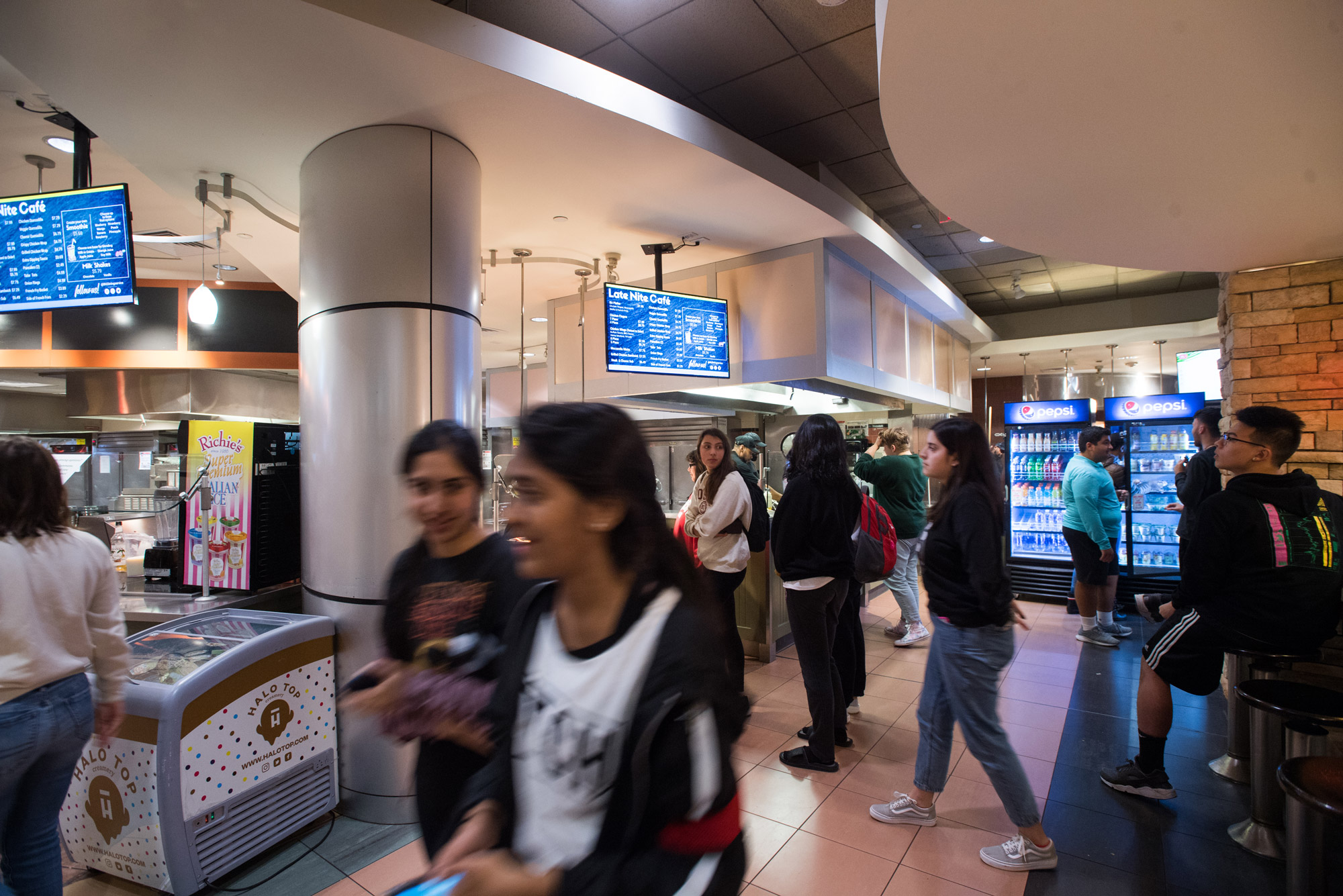 When Rhett's West was shuttered this past summer to make way for a new study lounge, BU Dining Services decided to open a second outpost of the popular Late Nite Café in the West Campus Dining Hall. The café has retained some of the Rhett's West most popular items, like the crispy chicken wrap, grilled chicken sandwich, smoothies, and milkshakes.
Hours: Open daily from 9:30 pm to 1 am.


T. Anthony's, which has served BU's West Campus since 1976, is as much an institution as University mascot Rhett the Terrier. Drawn by its low prices and reliably good entrées (think grilled chicken, steak tips, fried shrimp, and lasagna), this no-frills restaurant is always packed with hungry patrons. It's perhaps best known for its pizzas, which feature an amazing tomato sauce and a not-too-doughy crust. Be sure to try the Mozzarella Stick pizza, and bring a few friends because it's available only as a full pie.
Hours: Open Sunday through Thursday until 1 am, Friday and Saturday until 2 am.

446 Harvard St., Brookline


The popular Boston chain is a short walk from West Campus, and well worth the trip. You'll find choices from a supersize burrito to all kinds of Mexican street food. You choose your own fillings and toppings, the food is delicious, and you can't beat the price ($7.49 for a regular burrito).
Hours: Open daily until 11:30 pm.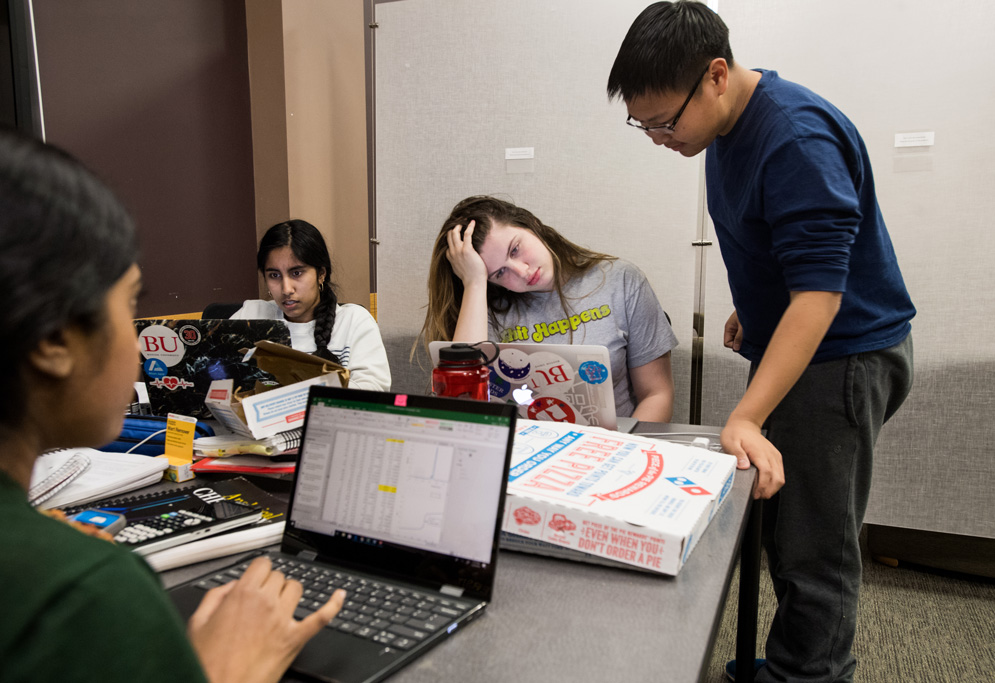 When it's cold and snowing, you may not feel like leaving the warmth of your dorm room or apartment. For nights like that, there's always Domino's. They deliver up until 3 am seven days a week. As an added bonus, these two locations will honor BU dining and convenience points. Just say you're paying with cash when you place your order. Another bonus: the coupon code "RHETT" gets you 50 percent off your order if it's over $14 after the discount (you'll probably be able to feed your entire dorm floor with that much food).
Hours: Delivery until 3 am daily.