ICA/Boston Honors CFA's Josephine Halvorson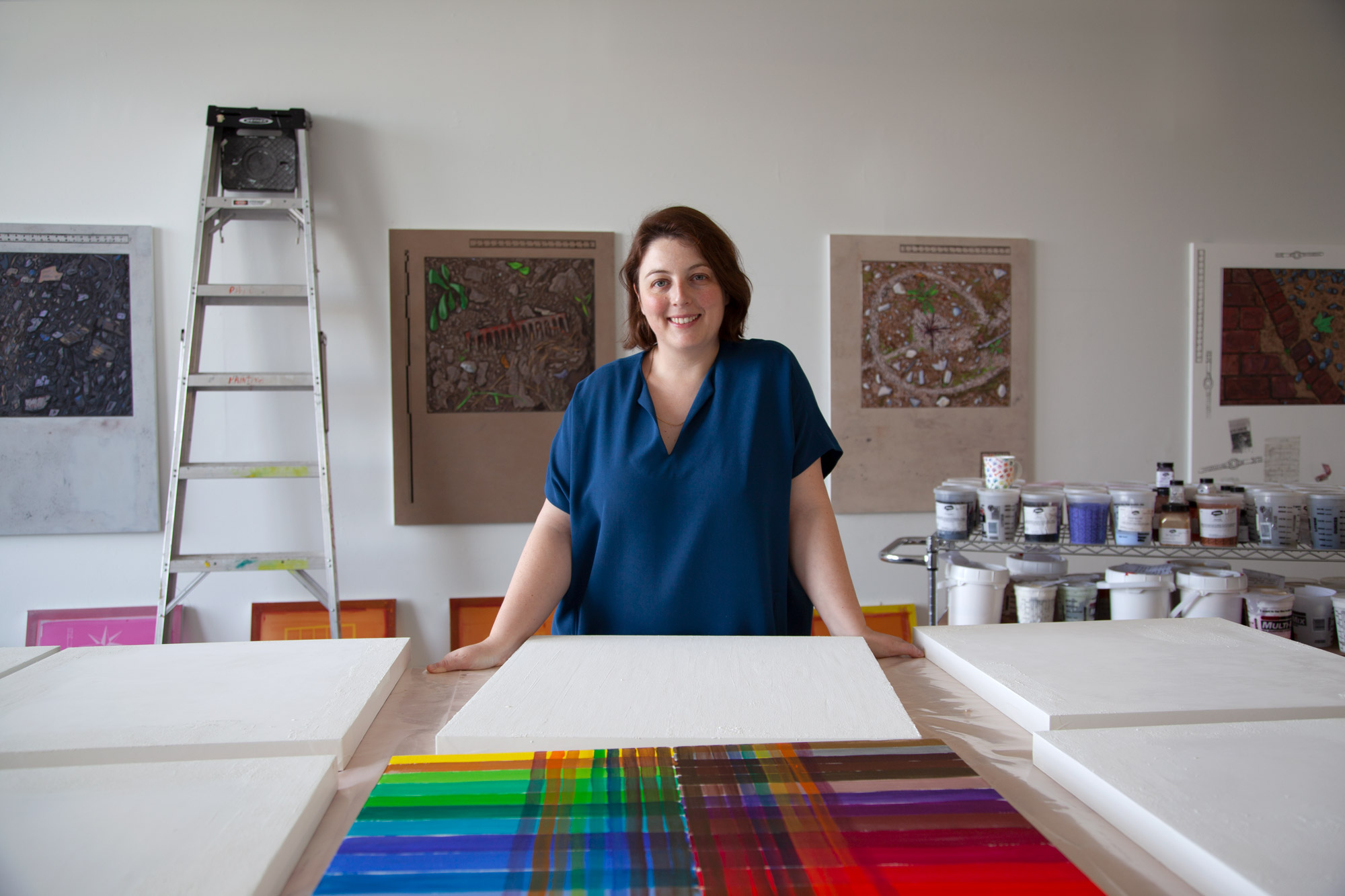 Arts & Culture
ICA/Boston Honors CFA's Josephine Halvorson
One of four local artists selected as museum's 2019 James and Audrey Foster Prize winners
Josephine Halvorson was a high school student on Cape Cod when she first painted still lifes in the plein air tradition—working out of doors in all elements and changing light conditions. She was drawn to the spontaneity and serendipity that comes from painting on site.

"It's this experiential way of working in real time, responding to one's environment and the changing conditions of light and people and the kind of chance that's involved—I like that as an artist," says Halvorson, a College of Fine Arts professor of art and chair of the School of Visual Arts graduate studies in painting program.

The practice of plein air has continued to inform her work for much of the two decades since she graduated with a BFA from Cooper Union and an MFA from Columbia. Halvorson vividly captures the physical appearance of subjects ranging from shutters, doors, and machinery to closely observed meditations of the woods surrounding her home and studio in western Massachusetts.

Executed without benefit of photographs to later refer to (she often completes her paintings in a single sitting), Halvorson's works reveal a masterful use of color, texture, and scale that has won her international recognition and numerous honors, among them a Fulbright fellowship, a Louis Comfort Tiffany Foundation Award, and the distinction of being the first American to be awarded the Rome Prize from the French Academy at the Villa Medici. The New Yorker has hailed her as "a remarkable and quietly inventive young artist" whose tight compositions are "dumbfounding."

Now, her paintings have earned yet another distinction: she is one of four local contemporary artists whose work has been selected for inclusion in the Institute of Contemporary Art/Boston's respected biennial James and Audrey Foster Prize exhibition, on view now through December 31.

"Josephine brings together an incredible set of painterly skills with conceptual rigor to create a clear and sharp vision that is distinctly her own," says Ruth Erickson, the ICA's Mannion Family Curator, who selected this year's Foster Prize winners. "Her work means so many things to me, but at the core is what I might call a 'politics of paying attention'—a commitment to observe quietly and patiently; to look at the overlooked; and to hold these places, things, and experiences, dearly."

On the ground
The seven paintings by Halvorson in the ICA show, she says, are a continuation of her longtime practice of "making paintings in relation to specific objects and places." In this case, the works examine a singular motif—the ground—and the often overlooked details that we miss beneath our feet. 
The paintings include a series of five works painted at an old mine in Death Valley, Calif., as well as two large panoramas of the ground near her studio. Both places, as Erickson notes, "bear evidence of human transformation, the earth having been turned up by mining, agriculture, and human development."

The viewer is drawn to the intimacy of the paintings. There is also a sense of the unexpected: Halvorson's ground paintings are a reminder of the ways the Earth is constantly revealing secrets—something suddenly brought to the surface. In the Death Valley paintings, pieces of old machinery, a bright blue stone or shard of pottery, and the lush vegetation following a rare rainstorm are conveyed with startling bursts of color—the brilliant blue of the stone, a turquoise leaf, the striking pink ribbons used to denote a property line.

"I think the kind of radical attention to the world around oneself is something that I'm after, paying attention to the little things and thinking sensitively about these encounters," Halvorson says. "We all have some kind of encounter with the banal perimeter of our daily lives, and taking a look at it, or taking time to reflect on the small stuff, can actually, oddly, provide a window into something larger at stake."
Harvey Young, dean of CFA and a professor of theater, says Halvorson's ability to "embed and evoke a profound psychological depth in often overlooked or underexamined elements of the rural and urban outdoors" has made her "among the very best realist painters working today."

A labor-intensive process
Halvorson's ICA paintings are the result of years of experimentation and a departure from the way she usually works. In the past, she's painted with oils, but for this series of paintings, she chose to use gouache—opaque pigments ground in water and thickened with a glue-like substance applied to a very absorbent ground she's carefully prepared. The process requires planning, foresight, and preparation and less of the spontaneity that's been the hallmark of much of her previous work.

"As opposed to oil paint, with gouache paint, when I make a stroke of color onto the surface, it stays there and I can't wipe it away," she says. "Like fresco, the pigment soaks into the ground of the panel and becomes indelible. With oil paint, after 10 hours, I could wipe away my stroke entirely and you would never know it was there. With gouache, I can't. I make a stroke in real time and it stays right there…it's more descriptive, more like handwriting."
Long before she began painting these still lifes, Halvorson spent months preparing the ground, or surface, of her paintings. The recipe she devised took a long time to refine, created largely with the help of "some very chemically minded friends and wizards, former students, and BU alumni," she says. It was applied onto panels of Dibond, an aluminum and plastic composite, and then sanded down so it feels like paper, although it's an actual panel.

The frames Halvorson created for the ICA paintings proved equally labor-intensive. She gathered pebbles, rocks, clay, and minerals from each site, and using a mortar and pestle, ground the material down and sanded it into each frame, as further evidence of the sites she paints.

"It takes a long time—the design of the format, the fabrication, the preparation of the ground," she says. "They're almost like sculptures that are then painted."

The Foster Prize is particularly meaningful, Halvorson says, because it not only recognizes her work as an artist, but also as a teacher at BU and what she's brought to Boston since arriving from Yale in 2016. She launched a free public contemporary artist lecture series that to date has brought more than 45 renowned contemporary artists to campus. These artists share their various approaches and methodologies with Halvorson's graduate students. Several of them have had work included in the Whitney Biennial or the Venice Biennale, two of the world's most important showcases for contemporary artists. The series, which originally focused just on painting, has expanded to include sculpture, and Halvorson hopes it soon will include graphic design artists as well—both disciplines are the other graduate degrees the School of Visual Arts offers. The goal, she says, is to "bring a diversity of voices and approaches to speaking about art in a contemporary context."

"Professor Halvorson, in her leadership, provides a wonderful and transformative model of teaching through inquiry, example, and through the dialogue with a stellar roster of visiting critics," says Dana Clancy, director of the School of Visual Arts and an associate professor of art, painting. "A well-known curator told me that she is now watching what is going on at BU to help stay in touch with important contemporary artists and conversations."

The ICA's Erickson agrees. "Josephine has changed the landscape of contemporary art in Boston, supporting the growth of new artists and bringing many of the most exciting artists working nationally to town. Her impact on the city has been palpable."

The James and Audrey Foster Prize exhibition is on view at the Institute of Contemporary Art/Boston, 25 Harbor Shore Drive, Boston, through December 31. Hours are 10 am to 5 pm Tuesdays, Wednesdays, Saturdays, and Sundays, 10 am to 9 pm Thursdays and Fridays, closed Mondays. Admission is free for BU students, faculty, and staff with a valid ID. Find directions here.